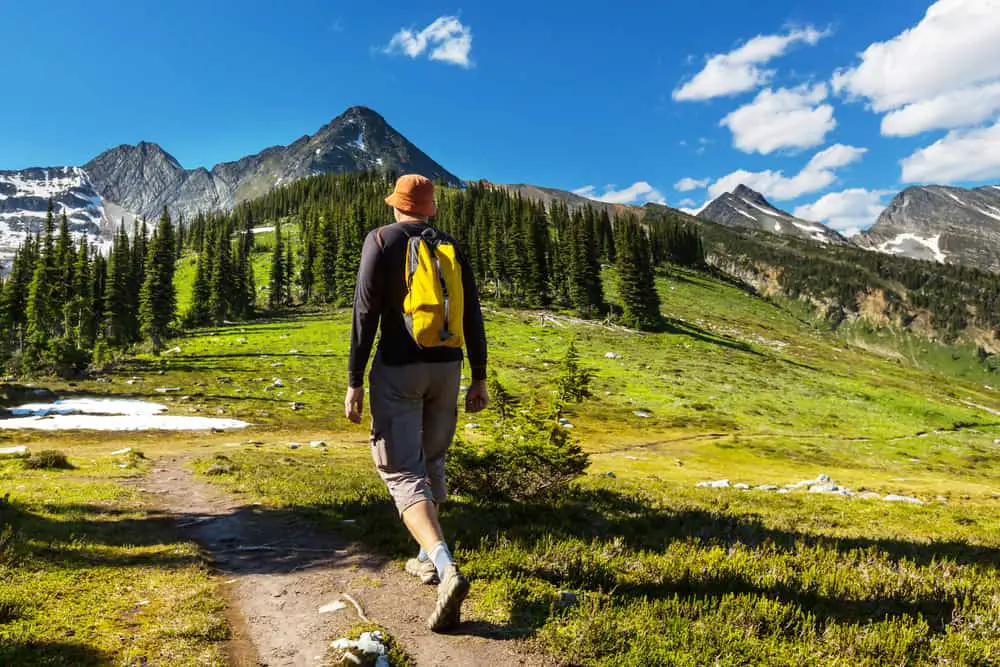 The 7 Best Hiking Packs For Big Guys Of 2021 (MUST-READ)
So you're tall and strong, and hunting for some awesome hiking packs for big guys?
You just might have come to the right place on the internet. Seriously.
AT A GLANCE: OUR TOP 5 PICKS FOR HIKING PACKS FOR BULKY GUYS
Here at Gear Up Hiking, we are fanatic about providing our readers the information they are looking for in the most thorough, well-structured way possible.
I know how tough it could be to search endlessly in Google, reading forum threads, and going through a plethora of customer reviews online. And in the end, you're still unsure that you're making the right choice for you. Moreover, you might end up feeling confused.
Finding a high-quality backpack that would comfortably fit a tall, bulky guy is an overwhelming task. There are a lot of things to consider such as level of adjustability, torso length, storage capacity, padding, and ventilation. And that's far from all.
We invested many hours to dig the Internet, evaluate, and select only the X most appropriate backpacks that deserve your attention. We looked at many factors and features including value for money ratio so you don't waste your hard-earned bucks for nothing.
These are all bestsellers with proven quality that are known not only to perfectly fit larger torso lengths but have also flawless performance on the trail.
To make things even easier for you, we compiled an informative buying guide. Thanks to it, you will learn what to look for when choosing a pack for a taller guy. Sure enough, we also expose the pros and cons of each backpack and show you where's the cheapest price online.
Let's get started.
Our Top 3 Picks
An award-winning pack, Atmos AG has been a quality benchmark in the industry for years. The torso length of the L version adjusts to up to 23" and delivers outstanding comfort and offers tons of insanely useful features that will guarantee you an exciting trip.
Professional hikers praise this backpack for its detachable structure, proven durability, and lightweight design. Perfect for tall guys, you can expand the torso length to up to 24". It has 4 roomy external pockets and it's hydration-ready. See it!
Ideal for those on a budget, the Explorer boasts with premium features at an unbelievable price. This backpack has a highly adjustable torso length, sleeping bag compartment, tons of pockets, and an included rain cover. Plus a limited lifetime guarantee!
The competition was once again fierce, but one backpack stood out. And that is the award-winning #5 Osprey Atmos AG 53 L. To choose the winner, we carefully examined and compared key features and factors such as:
The Atmos AG is a winner of the Backpackers Magazine prestigious Editor's Choice Award in 2015. The pack is very appropriate for tall guys, coming in three different sizes and fully adjustable harness. The largest version could easily fit men that are 6'4.
To just scratch the surface, its highlights are led by the outstanding Anti-Gravity™ suspension system, the incredibly well-ventilated backpanel, and efficient load-bearing abilities. These are the areas where the Atmos AG truly excels.
Don't miss checking the full features and read the customer reviews. You'll see why this has been one of the best outdoor backpacks for many years.
And below you will see a neat comparison table featuring all backpacks on our list.
The Best Hiking Packs For Big Guys: Quick Overview
#1 Deuter Futura Pro El 44 L
Equipped with tons of innovative features that will guarantee you a more comfortable hike, the Futura is an explicit demonstration of Deuter's impeccable quality. Offering great torso adjustability, this pack will surprise you with its carrying comfort thanks to the impressive Aircomfort Sensic Pro suspension that promises 25 percent less perspiration. And the storage capacity is just awesome! But we're just scratching the surface. Check it out!
The characteristics and the storage of the Futura Pro make it a fantastic weekender pack. It's also suitable for camping trips as well as 2-4-day mountain trail adventures. The pack can easily carry 23 lbs or 10-12 kg. It's a top loading pack with a draw string closure and a large top lid.
The fabrics used on the Futura Pro 44 are a combination of bluesign® 600D polyester and abrasion-resistant 210D polyamide. So, the pack is quite robust and long-lasting, as also reported by many hikers who own it.
The EL in the pack's name stands for Extended Length. Designed for the tall among us in mind, the Futura Pro has a seamlessly adjustable back length. You can expand it to up to 24 inches. So even if you're between 6'1 and 6'6, you wouldn't have any issues achieving a great fit with this pack. All the harness is highly adjustable and ergonomic for an ultimate comfort.
Given the volume of 44 L, the weight of the pack is only 3.7 lbs or 1.7 kg which makes it perfect for all those who love to pack ultralight. As usual, Deuter have included an SOS label on the inside of the top lid with clear instructions what to do in case of emergency.
In addition, Deuter didn't forget to include an easily deployable rain cover in a zippered pocket. It has a reflective logo, and it's removable. A truly handy feature when you hike in bad weather. On top of that, the pack has a lined internal pocket that would fit a 3 L water reservoir. Sure enough, there's a tube port too.
Let's head to some of the most exciting features about this pack and also mention some areas of improvement. Continue reading, it gets interesting.
#2 Granite Gear Crown 2 60 L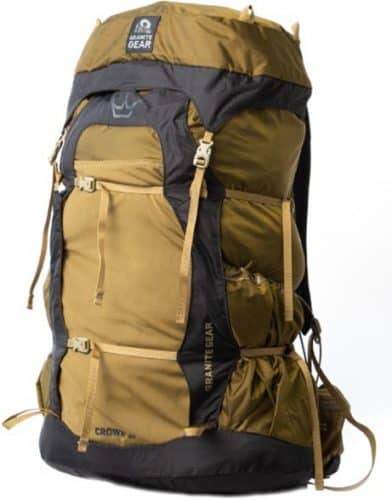 A high-end pack for serious hikers with spacious and lightweight design. This is what Granite Gear Crown 2 is. With an expandable roll top design, highly water repellent materials, and detachable structure, the pack also offers stunning amount of options for strategic packing. This is a versatile and highly utilitarian multi-day pack that fits like a glove. Folks, this pack rocks!
Thin in weight – only 2.62 lbs or 1.2 kg for a 60 L volume (without the top lid which is 75 grams), you have the possibility to shrink the pack even more. This is done by disconnecting the top lid and removing both the hip belt and the internal frame.
Speaking of the internal frame, it's one of the main reasons for the impressive lightness in the weight of the pack. The polypropylene Vapor Current Mark 2 frame has die cut holes that minimize the weight while at the same time it's strong enough to carry up to 35 lbs or 15 kg. Not bad!
The Crown 2 is made out of 210D tear-resistant nylon and 100D abrasion resistant nylon. Needless to say, the pack is quite sturdy. The fabrics are also very water repellent, meaning that they will withstand moisture and light rain for some time. The zippers are also weatherproofed. This partially compensates the lack of integrated rain cover.
The backpack is available in 3 fixed torso sizes. The regular fits torsos between 18 and 21 inches, the short fits torsos between 15 to 18 inches, and the long version fits torsos between 21 and 25 inches. So, you have a good choice here, no matter how tall you are.
Let's mention what we like and what we don't like about this pack.
#3 Teton Sports Explorer 4000 (65 L)
This rock-solid rucksack continues to be the number one best-selling hiking backpack on Amazon and that's been for years. Honestly, it would be impossible to match that low price with all those high-class features elsewhere. The Explorer boasts of a rain cover, incredible suspension and ventilation, sleeping bag compartment, and plenty of adjustability options. Let's check it out!
You'll notice that the advertisement for this pack claims that it has features that you normally see on expensive, upper-class backpacks. We took that with a grain of salt because, you know, an advertisement is just that – an advertisement whose purpose is to sell.
However, after testing this pack and having some experience with Teton Sports (see our review of Teton Sports 3400 and Teton Sports Oasis 1100) that's undeniable. This pack REALLY has remarkable features that doesn't correspond to its low price. So, here you don't exchange affordability for quality and that's something rare.
With that being said, don't expect something extraordinary but rather an affordable pack that gets the job done pretty well.
The fully customizable torso length on the back of the pack would fit you well even if you're 6'5. The Explorer has a small, medium, and large adjustment. It expands from 19'' to 23'' or 48-58.4 cm. To change the length, all you have to do is flip up the velcro and attach it to the respective loops. Sure enough, you can also adjust the chest and the waist strap. The waist strap fit dimensions are quite big – 28" – 70".
The materials used are super solid – 600D ripstop polyester. That allows for years of rugged usage. Besides, there's a limited lifetime warranty.
The weight of the pack is 5 lbs or 2.23 kg that you won't feel much once the load is well-distributed and the pack well-fitted. Here are some key highlights of the Explorer 4000 as well as some shortcomings.
With an ergonomic ultralight design, legendary AirSpeed™ ventilation system, and strippable structure, the Exos is one of Osprey's finest. There's a lot to love about this pack. Whether it's for the super comfy ExoForm™ harness, the Stow-on-the-Go™ trekking pole attachment, or the ErgoPull™ adjustable hip belt, there are plenty of reasons to make the Exos your preferred hiking pack. But don't take our word for it. Read the reviews!
Excellent for ultralight long-haul backpacking and hiking the Exos is proven to carry heavy loads (up to 40 lbs) with an extreme comfort. The Lightwire aluminum frame creates a stable overall structure of the pack without making it heavy. The weight of the L-sized version is only 1.24 kg. That's impressive.
The Exos comes in three sizes – small, medium, and large. Since we are aimed at helping big, tall guys, this review is for the L version. There's a slight difference in the weight, fit size, and volume of each version. The torso length fits sizes between 20 and 23 inches. That means it's suitable for guys that are 6'4 and more.
The main textile used is a sturdy 100D high tenacity nylon. Reportedly, the pack is water repellent, and it beads and sheets the water away. Unfortunately, a rain cover is not included for maximum weather protection.
Let's see the good and the not so good about the minimalistic, yet quite comfortable Exos.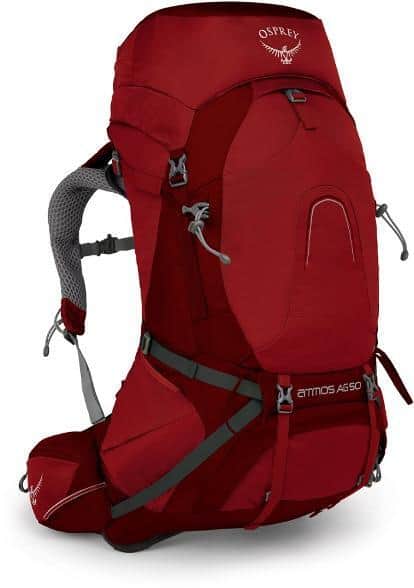 Another lightweight backpack from Osprey, the Atmos AG has 9 exterior pockets and cool features that will easily handle multi-day overnight trips. Claimed to be one of the best-fitting packs in the industry, the Atmos will steal your heart with its Anti-Gravity™ suspension, BioStretch™ harness, and Fit-On-The-Fly™ hip belt. It's not a surprise that this pack has plenty of excellent reviews and prestigious awards. Check it and see for yourself!
A long-time bestseller, Osprey applied some innovations on the Atmos Ag in 2018. Namely, they added more colors, improved the durability on stress points, and enhanced the fit by adding additional features. And in case you don't know, all Osprey packs come with the unmatched All Mighty Guarantee.
Just like the Exos, this pack is available in three sizes. We are looking at the L version. It allows for a larger fit of the hip belt – 29-55 inches and the torso – 20-23 inches. Very good for tall guys 6'3 and more. However, if you're still wondering about which size to choose, go ahead and use Osprey's Pack Sizer 2.0 app that will help you match your torso length to the right pack size using your smartphone's camera.
The weight of this particular pack for the large version is 4 lbs. 4 oz. or 1.92 kg. Still lightweight but not as much as the Exos. It allows you to carry up to 40 lbs but it will excel with loads of 30 lbs or less. When it comes to the fabrics, the guys from Osprey don't joke around. The Atmos AG is sturdy and durable with 630D nylon dobby material that's tear and water resistant.
Let's quickly expose some of this pack's great features and mention some quibbles.
#6 Mystery Ranch Terraframe 3-Zip 50 L
Sturdy as an oak, meet the winner of Carryology Best Active Backpack Of 2019. Mystery Ranch are known for building the best load-bearing equipment in the world. Their mega-successful Terraframe model is a right example. This pack features some incredible innovative technologies such as the Guide Light MT™ hybrid internal-external frame, the OVERLOAD™ load harness, and the 3-ZIP design for quick access to your gear. Just check it out!
Now read this carefully. The volume of the Terraframe is 50 L. How much load do you think you can carry with it? The answer will surprise you.
Thanks to the reinforced suspension system and the Overload storage feature, you can seamlessly fit up to 150 lbs of gear. That's 68 kg.
And this is what separates the pack from its competitors. So with this pack, you have the option for going light or going big. It depends on the nature of your journey.
Fully adjustable, the pack comes in 4 sizes, making it super easy to fit ALL body types. We will take the small and the medium versions aside and concentrate on the biggest sizes. The L and the XL version can fit torso lengths that are between 17 and 24 inches. The difference is in the fit of the waist (hips). For the L version that's 35-40 inches and for the XL that's 39-45 inches. The entire harness is easily customizable so no matter how big and tall you are, this pack will fit!
The size of this outdoor champion is 5 lbs or 2.26 kg. Not your traditional ultralight pack, but it definitely can carry monstrous loads comfortably. Let's take a look at the pros and cons.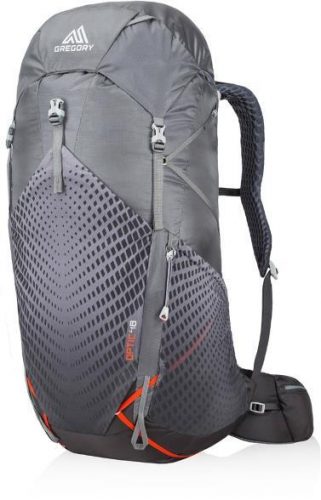 Crazy light and with superior breathability, meet the fabulous Gregory Optic. Offering a great balance between minimal and comfortable this pack will take your hiking to a whole new level. It features an Aerospan suspension with moisture-wicking mesh, supportive, yet highly ventilated LifeSpan EVA shoulder harness, and custom-fitted rain cover. A fantastic choice for 3-5-day trips where you need to bring more load and spend less energy. Considering this pack is a must!
If you want to have a minimum base weight without sacrificing storage capacity and carrying comfort, then you'll love the Optic.
This backpack is excellent for thru-hiking when often you need to strip weight. Ultralight hikers will certainly appreciate its design that gives the pack great load-bearing abilities and unmatched fit.
Thanks to the tubular aluminum frame with anti-barreling support, you can safely carry 30 lbs of gear. The load sits close to your body for improved stability.
The Gregory Optic comes in three sizes. Most suitable for tall guys would be the L version. It has a volume of 51 L and it fits torsos between 20" and 22" (50.8 - 55.9cm). The superior hip belt (more about it in a minute) would easily fit bulky guys with a waist size of 30"-53" or 76.2 - 134.6cm. For an enhanced fit, the shoulder harness is adjustable on the go.
The fabrics used for this backpack are of exclusive quality but don't expect anything else from a reputable brand like Gregory. The main material is a water-repellent nylon. If you need further protection from water, check out our list of the most popular waterproof backpacking packs this season.
The body of the pack uses sturdy 100D nylon, and the bottom is even more reinforced with a combination of 210D nylon and 135D tear-resistant polyester. The craftmanship is flawless, and it's visible that the pack is made to last.
The weight of the L size is impressive - only 2.51 lbs or 1.14 kg. It is important to notice that this weight is measured with the top lid and the rain cover removed.
Let's get straight to the point and mention some of the outstanding benefits that the Optic provides.
How To Pick The Best Pack If You're Above The Average Height
A genuine solution would be to ask for help Shaquille O'Neal or Dwayne 'The Rock' Johnson. Jokes aside, it turns out that for a lot of tall people it's difficult to find a hiking backpack that matches not only their size but their preferences and budget.
Grasp this – it's not about the height but mostly about the torso length and proportions. And what's most important – you might be tall, but that doesn't mean your torso is long. Yes, often it works that way. But there are exceptions.
There are many people that are 6'4" and above and at the same time they have short backs. Instead, they have long legs.
Luckily today, most brands are aware of this and make their backpacks adjustable and in several sizes. All the packs in our list above fall into that criteria.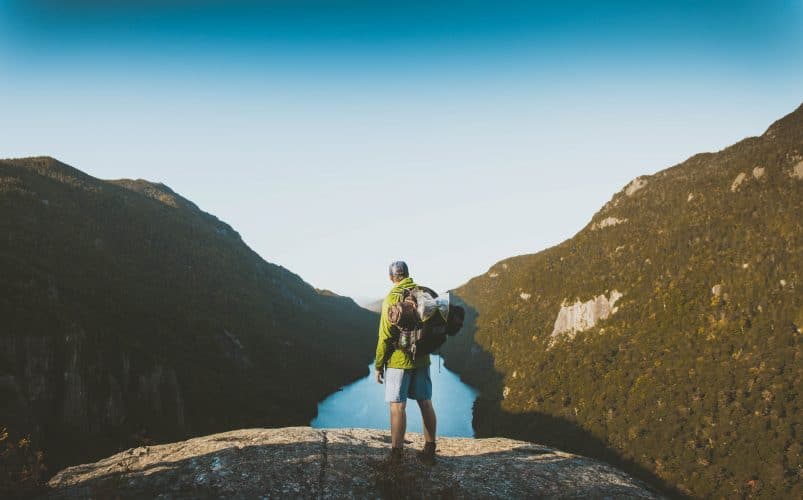 So the first step to finding the right pack if your nickname in high school was Stretch or Beanstalk is to know your torso length. And you'll know it when you measure it.
Before jumping to that, however, you might want to consult our general guide on how to find a hiking pack. Also, this article describes the most common mistakes people tend to make when choosing a backpack.
Now let's get straight to the point.
Measuring Your Torso Length
While it's not a rocket science, there are some small, yet important details to take into consideration. Here's a very good guide. You can start by locating the top and bottom points of your back.
The top point of your torso is where your shoulders meet your neck. It's at the bony bump at the base of your neck. The medical name of that bump is C7 Vertebrae.
You'll find the bottom point of your torso by placing your hands on your hips and have your thumbs pointing to the middle of your lumbar area. To sound academic again, that place is called Illiac Crest.
It's recommended to have someone measure the distance between both points on your back using a flexible tape measure. It'd be difficult for you to do it alone. Here's a very useful video on the topic.
Congratulations! Now you know your torso length. But things don't end up here. For a big guy like you, the waist size matters too!
Measuring Your Waist Size
The hip strap plays a big role in transferring the load to your hips. And that's essential for your comfort, and endurance on long treks.
Truth be told, it's super rare for a backpack to not fit the hip belt area, given the fact that you've correctly measured your torso length. Still, it won't hurt knowing this measurement. It will help you make sure that you won't have any issues with the hip belt fit of your backpack.
You'll immediately have an approximate idea of your waist size if you know your pant size waist measurement. In case you don't know it, you can use a tape measure and calculate the circumference at your hip points. A reference point could be the Illiac Crest you found when measuring your torso size.
And that's it. Knowing these two sizes will guarantee that your hiking pack will fit your particular body type. Next, it's a matter of adjustment and achieving the proper fit. That's done by fine-tuning the shoulder straps, the hip belt, the load lifters, and the sternum belt.
FAQ
What's most important when it comes to finding the right backpack for big guys?
Does the volume of the backpack matter if I'm above the average height
Are packs for taller men more expensive than others?
Conclusion + Infographic
Being tall has many benefits. Just check the infographic below.
I hope that our guide will help you find an appropriate backpack for your height and size. Any comments and remarks are appreciated. Also, if you have other relevant backpack suggestions, don't hesitate to mention them below. We can update the article which will help our readers. Thank you for reading!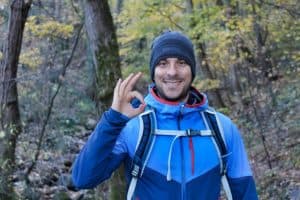 Founder of this website, Asen is a passionate hiker and writer who is also a gear nerd. He's been featured on many established hiking websites where he gives hiking advice & tips. When he is not trekking with his family or friends, he is writing articles and product reviews. Asen spends most of his time in Bulgaria but he constantly travels the world in seek of more unforgettable experiences. Read more about Asen here.