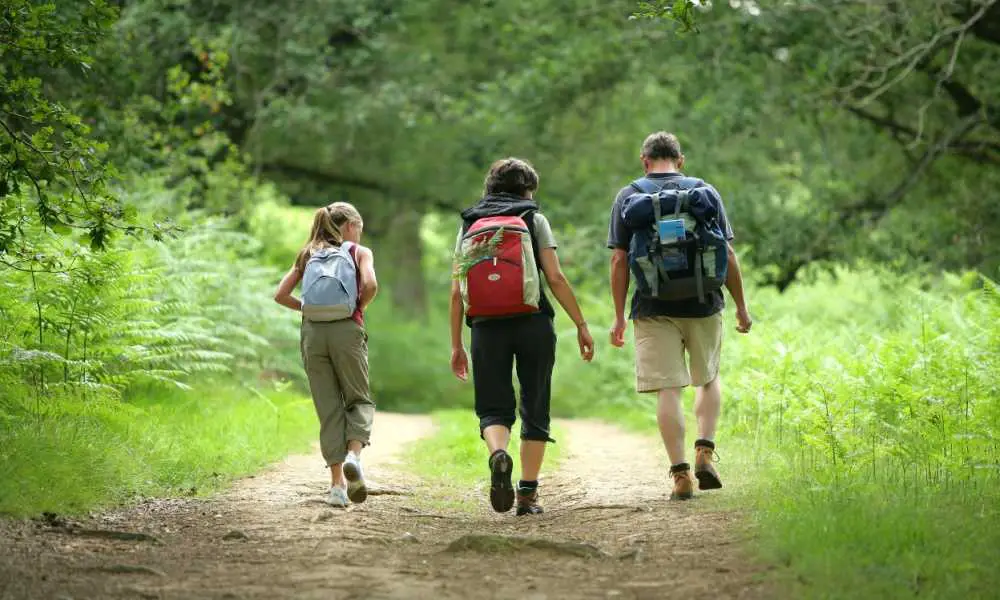 NEEKFOX 35L Backpack Review
NEEKFOX 35L Backpack: QUICK OVERVIEW
Review of: NEEKFOX 35L Backpack
Are you getting ready to head out on day adventures or multi-day hikes where you could benefit from having a great bag to bring with you? Look no further for the backpack that can work for all your hiking and your travel adventure needs!

This 35L backpack from Neekfox is one of the top choices for those who need a useful hiking backpack that isn't too big or too small. The question is, "Does this one has all of the features that you need?"

The only way to find out is to take a closer look and evaluate the features of this backpack and who it is meant for.
This article contains affiliate links. As an Amazon Associate I earn from qualifying purchases. That means if you click on a link and make a purchase I'll earn a small commission. This is at no extra cost for you. If that's the case, thanks a million!
NEEKFOX 35L Backpack Review
This 35L backpack, which comes in six different colors is a top choice among outdoor adventure enthusiasts, but what features does it have?
Who Is This Product For?
This backpack is for anyone who likes the outdoors and plans to go on day hikes, overnight hikes, or even short, multi-day hikes. The bag is big enough to hold supplies for these trips, and it might even be a smart choice for those that want to use a backpack for travel purposes rather than just hiking.
What's Included?
This backpack comes with nothing, but when you look at its features, you no longer need any other accessories except a lock if you want to keep your items safe.
Overview of Features
This foldable bag from NEEKFOX is built to be a great crossover backpack that can be used by those who love the outdoors, to travel, and to do both. Most of its features will appeal to both crowds, and that is where this bag gets its popularity.
Compartments
Altogether, this bag has all the useful compartments that you might need for a brief trip into the woods or on a plane. There is a big, main zip compartment.
Outside of that, there are also two front, zip pockets, two mesh side pockets, several inside pockets, and even a space in the main compartment for a 13" laptop to fit. With all of those compartments and pockets, it will be easy to organize your belongings in a way that makes sense.
Size
When folded up, this bag only has a size of 8.66 x 9.8 x1.18 inches, and when it's unfolded, the bag has a dimension of 20.86 x 12.6 x 9 inches. The ability to fold up this bag so that it takes up next-to-no space is very helpful if you ever need to store it or pack it for your next adventure.
Ease of Use
On top of those general features, this bag also has a few great add-ons that make it super smart and functional to use. For one, the mesh padded straps are very comfortable while the smooth zippers are unlikely to get caught as you try to close everything up. Second, this bag is water resistant.
Weight and Durability
When it comes to carrying weight, this particular hiking backpack is manufactured to hold up to 44 pounds. This is about average for a pack of this volume, but it is possible to find 35L packs that can hold more weight.
Finally, one more noteworthy thing about this backpack is that it remains light while still being durable. It performs well even when you put a lot of weight in the bag, though it could benefit from having a waist strap to help to more evenly distribute the weight on your body during your hiking or adventuring.
How to Pack Your Backpack
Once you have a nice backpack like this one, you might still be struggling to figure out the best way to use it. If you haven't used a large hiking backpack before, deciding the best way to pack your items inside can be difficult.
But don't worry! Packing doesn't have to be impossible. Instead of struggling with the pack, follow this simple video to pack your 35L bag:
Once you have practiced packing a few times, you'll find that you get faster and faster each time that you are ready to pack up your items. Eventually, doing this will be like second nature!
Alternatives
While this bag is great, it certainly isn't going to be the number one choice for everyone. For those who want something bigger that is still reliable, the TOPSKY Outdoor 70L Backpack is a smart choice for its large and expandable size options.
If you prefer to go with something smaller rather than larger, the Gonex 35L hiking backpack is just large enough to carry the essentials for an overnight or weekend trip out on the trails that you love. The Sumtree 35 L would be interesting for many because it is inexpensive, comfortable, and very durable.
Another top-performing backpack worth taking a look is High Sierra Swerve. It's very spacious and suitable for daily use in the city but also for daypacking.
You can also check our list of the best cheap hiking backpacks of 2019. There are some treasure there.
Conclusion
Not every backpack is created equal, and this backpack stands out for a few of its features. The NEEKFOX 35L Backpack is a great crossover bag that is made to work well for both traveling and hiking.
Whether you plan to take it out on the trail stuffed with your overnight supplies or you want to use it as a carry-on bag, this hiking backpack will not disappoint you.