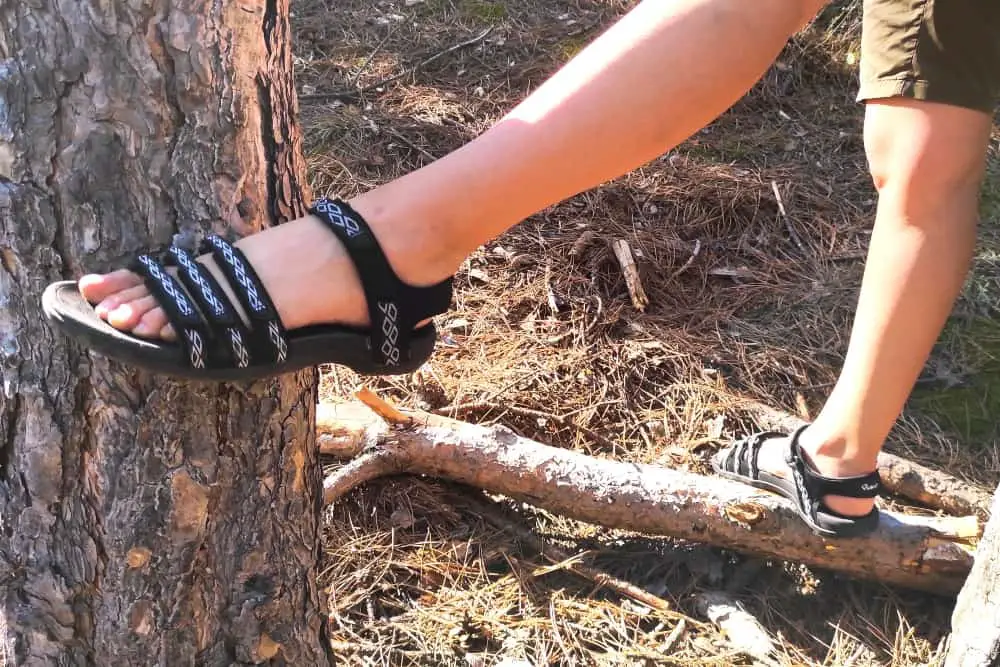 Viakix Sandals Review – Do They Live Up To The Hype? [2021]
Are you looking for a genuine, hands-on Viakix sandals review?
Look no more, because you're at the right place.
In this article, I put the highly praised Napali model to a thorough test in the mountains where we went on a summer day hike. Several times.
We paid strong attention to several important aspects:
Durability
Overall comfort
Stability
Flexibility
Weight
Slippage
So if you want to learn some insider information about the Viakix sandals, continue reading. By the end of this review, you will know whether these sandals are worth the buy.
Ladies, let's dive in.
Viakix Sandals Review – Our Process
Viakix are widely advertised as walking and hiking sandals. That's why I did just that – I walked in them extensively on various terrains. A total of roughly 25 miles so far.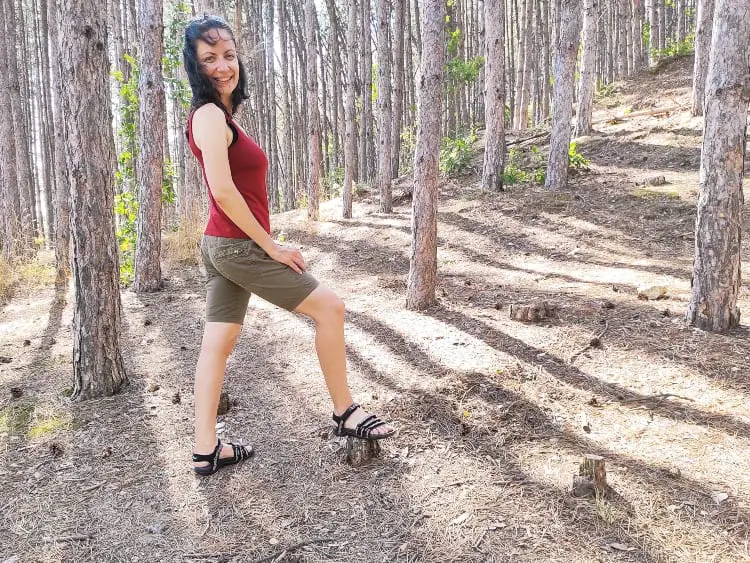 That involved light hikes in the woods, casual walks in the park, and several laborious mountain treks. All that happened in a period of a little over one month.
I desperately needed hiking sandals, so I was pretty excited to try the Napali and give you guys my honest opinion.
Viakix Company Overview And Reputation
Viakix is a young US company founded by the husband-and-wife duo Adam and Elissa. They created a company with the main purpose of delivering the best quality footwear possible. All sandals are USA made which is rare these days.
What's really impressive about them is that they don't execute expensive marketing campaigns. Instead, they focus on investing their funds in the manufacturing process to achieve the best quality possible.
But I like something else more.
These guys are not only passionate about exploring the great outdoors like you and me, but they care a lot about sustainability and giving back.
Viakix is involved in several philanthropic activities that aid poor people around the world. That includes partnering with Soles4Souls to distribute free shoes and clothing around the world.
I decided to mention that because I believe it speaks about the quality and legitimacy of a brand. As for the reputation of the products they design and sell, I did my research. Viakix receives raving reviews about their shoes and sandals.
I will talk about that later in the article. Bottom line is, the overall reputation of Viakix is positive.
Who Are These Sandals For?
First and foremost, as of now, Viakix have only a female product line. Sorry, guys. But hey, use the opportunity to make a present for your girls!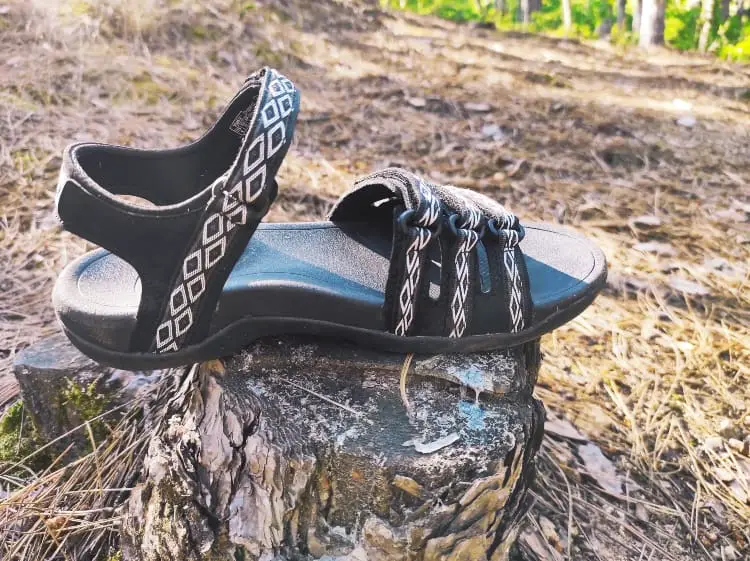 The good thing about the Viakix Napali is that they are versatile.
They don't look like traditional hiking shoe or sandal, and are quite comfy for everyday wear. With that being said, I like to wear mine only on outdoor adventures. I just like to have sperate stuff for every occasion so that it doesn't wear off too fast.
The Napali model is great for hiking (even on technical terrain) and extensive walking in the park (or in the mall). Because they are designed with a lot of webbing and foam, they dry quickly. That makes them suitable for wet adventures as well.
I cross streams in them without issues. After all, there's not much of a fabric on a sandal to keep your feet wet, right?
I wouldn't wear my brand-new sandals on the beach, though. That's because I found the combination of wet sand and sun destroys pretty much every footwear quickly.
Design
As you can see, you don't have to sacrifice comfort for style. One of the reasons I love my Napali is they are so cute!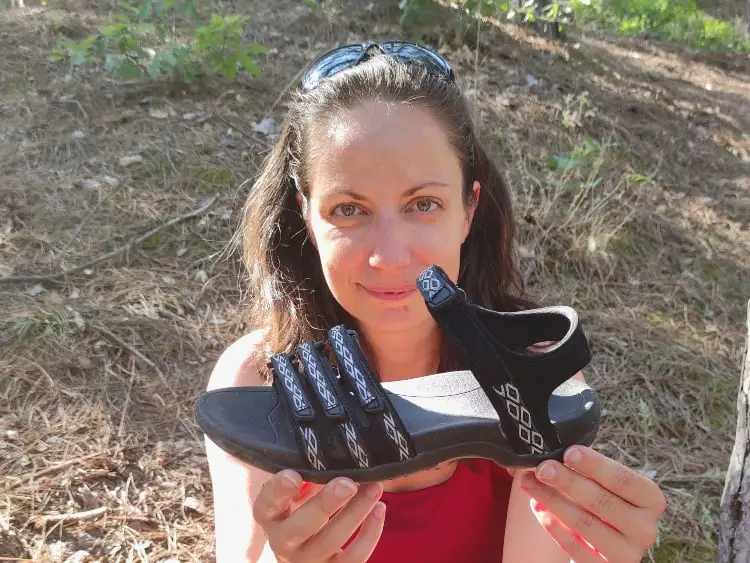 You have several colors to choose from.
As mentioned, I don't like wearing my outdoor footwear elsewhere, but you can certainly wear yours practically anywhere. They don't have that mountaineer-ish look that most hiking sandals have.
Comfort
To be honest, I didn't expect the Napali to be so comfortable from the first wear. Usually, it takes time for a footwear to break in.
But these sandals aligned with the shape of my foot easily.
They are very easy to put on. In addition, the Napali are super adjustable – you have four hook and loop straps with a Velcro at the front and one strap towards the back of your feet around the ankle. Just watch the short video I recorded below to see how it's done.
They are designed to accommodate large widths with ease.
I love that because besides allowing for a customized fit, I can loosen the straps at the front when my feet become swollen after walking for a few hours.
Many cheap sandals from shabby brands don't have that feature. I'd also like to mention that there's no rubbing whatsoever. Many sandals I've worn in the past rubbed my feet. Not the Napali. Yay!
What about the midsole?
Glad you asked.
It's very cushioned thanks to the superior EVA foam. Viakix have their in-house materials that are advertised as being of the highest quality. And I must say, it's true.
The ergonomic insole snugs around my feet nicely and absorbs the shock of walking, even on rocky terrain very well. At the same time, the midsole isn't too soft – something that makes most sandals uncomfortable in the long run.
You can consider those flats. The heel is 1 inch high and the side in the back is 1.5 inches. The contoured arch support is what makes the Napali superior to other sandals. Maybe Keen are close to quality.
You actually feel that arch support on the back of your foot, without it being too tight. My feet never shift inside the sandals when I walk. It's like the sandals become part of my body.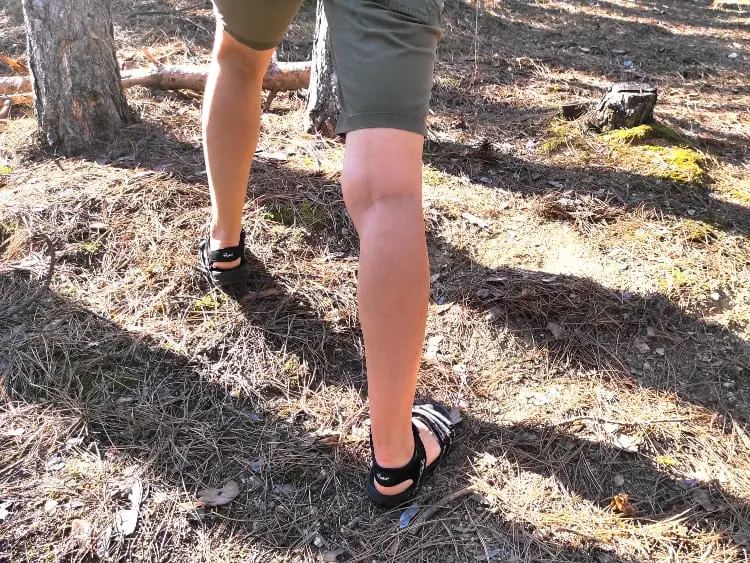 One advice I can give you is to properly adjust the Velcro strap at the back. It's crucial for getting that perfect arch support. Otherwise, it will just sink.
However, if you have back pain issues or arch pain issues, I suggest getting an additional arch support. The Napali's is not of orthotic quality. The same goes if you have an unusually high arch.
The rubber outsole on the Viakix Napali is lightweight and provides firm grip on flat trails. Be careful on wet surfaces and more steep trails, though, as it isn't too stable. I hiked downhill recently when it rained and I almost slipped several times.
Weight And Material
The Viakix Napali weigh close to nothing and I really love that on those long summer hikes. I've had sandals from Keen in the past and they were definitely heftier.
The fabrics are visibly premium. The upper material is a durable PU leather. I will continue to update this review and provide feedback on the durability.
Sizing
I'm size 6 and the sandals fit me perfectly. So I'm confident to say the Viakix are true to size. Other verified buyers also report that. Still, if you're between sizes, the manufacturer recommends sizing down. Keep that in mind, as it's important for your comfort.
What Others Say About The Viakix Napali Sandals?
Sure enough, to get a more objective overview of any product, you need more than one opinion. I did research to find out that most verified buyers are supper happy with their sandals too.

Best Place To Buy
My recommendation would be to buy the Vaikix sandals directly on the website of the manufacturer using the (affiliate) link below.
You can find the Sandals on Amazon too, but you will see that they are more expensive there. Plus, you can directly talk with them if you have questions or any issues.
The guys from Viakix are super polite and extremely helpful.
FAQ
Are The Viakix Sandals Waterproof?
Are the sandals made in the USA?
Are the sandals appropriate for bunions or wide feet?
Do the sandals require long break-in period?
Are the sandals good for narrow feet?
Final Verdict
With some minor remarks, the Viakix Napali sandals are definitely the most comfortable sandals that I have ever worn. Because they are adjustable, lightweight and flexible, they are excellent for outdoor use.
I have worn many sandals throughout the years, but none of them match the quality of Viakix. If you're looking for a dependable pair of sandals for many summers ahead, I'm sure you will thank me for recommending you the Viakix Napali.
I hope you liked this Viakix sandals review!
If you have any impressions about the brand and their sandals, please drop a comment below!
See you on the trail!
Galina is a sporty gal who loves good nature, high-quality gear, and chocolate muffins. Her expertise lies in researching, evaluating, and testing women-specific hiking equipment. You can often see her in front of the laptop, watching "The Bing Bang Theory" on the couch or hiking with her friends and family. More info on our About page.