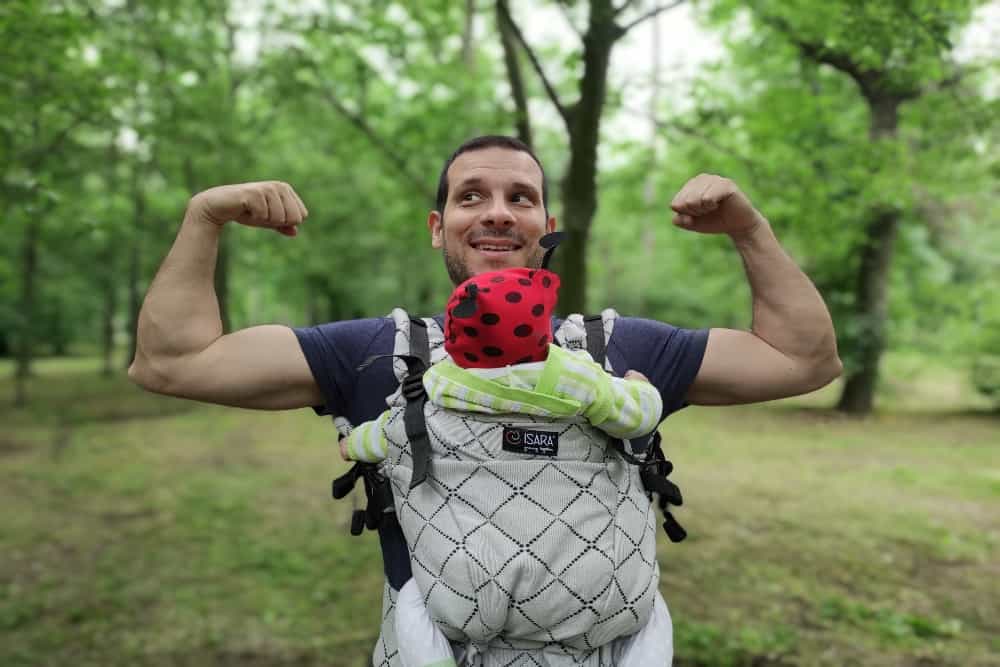 A Hands-On Isara The One Review (By A Cool Hiking Dad)
For a long time I really wanted to write this Isara The One Review because of two main reasons.
First, I needed to brag about how cool I am wearing my baby daughter in a child carrier.
Second, I wanted to share with you my genuine impressions about it. I've been asked many times:
Is it really as comfortable as advertised?
What child's age does it support?
Is it easily adjustable?
Is it good for hiking?
Can you wear your puppy in it? (For real)
In the following sentences, I will do my best to describe all the pros and cons of the highly popular Isara The One carrier. I will also show you how it works.
Let's dive right in.
About Isara
Isara is a largely known and award-winning Romanian brand, founded by a loving mom with an entrepreneurial spirit and desire to help other parents.
They have been manufacturing innovative and sustainable child carriers since 2012.
As of now, they are regarded as one of the most popular and reputable names in the industry. They have three principal child carrier models and they constantly innovate them.
That's why you will see that there are different variations of each model. They manufacture all their products in Romania according to strict quality and safety standards.
Isara The One Review – Our Process
Me and my wife have been using the carrier for a little over two months now. Count our 7-month daughter too.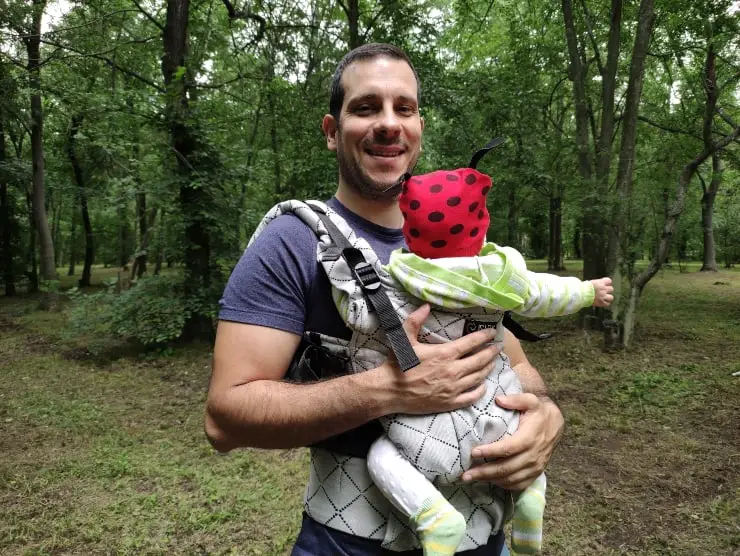 Being outdoorsy parents, we really wanted to have a versatile and comfortable carrier for our daughter, no matter if it's for the trails or for the city parks.
We took the Isara on multiple easy mountain trails and on numerous strolls in the city and in parks. My wife even uses it at home to carry our baby when doing some home work.
So we pretty much use it every day on different occasions. I believe it's safe to say that our testing process comes from a real-life experience.
Who Is Isara The One Carrier For?
Isara The One is suitable for parents and grandparents of all ages and sexes.
I emphasize on the latter because many people wrongly assume that only moms can wear child carriers.
We, dads can do it too! In fact, it's me who carries our daughter on longer treks and I love it.
As for the age of the child, this is where Isara The One stands out.
Thanks to its innovative adjustability features, Isara is suitable for newborns and toddlers who are at the end of their preschool years. It's a one-size-fits-all type of carrier.
The weight limit of Isara The One is 20 kg or 44 lbs. Pretty impressive! And it's certified to ASTM standards.
That's why I love it – because I know I can use it for many years to come, unlike other carriers in which you can carry only little babies. Such is the quite comfy "Co Carrier" for example, which is still very good.
Comfort
I've been fighting lower back pain issues for quite some time.
That's why my primary concern when choosing a carrier was for it to be ergonomic. Not only on the advertisement but for real. Not only for me, but for my little daughter, too.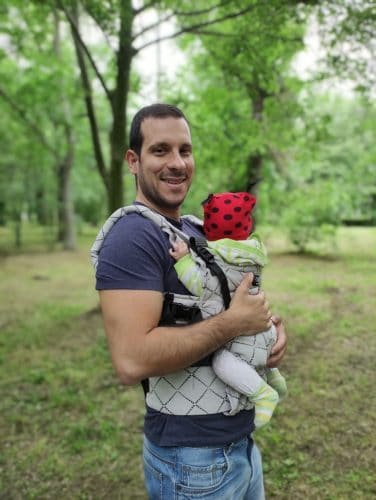 I wanted our future carrier to be certified that it has been tested for that.
So when doing a preliminary research about Isara The One, I was delighted to learn that others who also suffered from back issues praised it for its comfortable carry.
Most importantly, Isara The One has a certificate from the International Hip Dysplasia Institute as a manufacturer of back pain-friendly and hip healthy products.
When properly adjusted (I will talk about that in a while), the weight of my kid is evenly distributed to my back and hips. Just like a regular hiking backpack should fit.
This is very important for me and my wife, especially when we carry our baby for a long time. Sometimes, even, almost all day.
As for the safety of our baby (which is far more important), Isara The One is designed with the safest and most comfortable position for your little one in mind.
When in the carrier, the legs of the baby follow a specific shape, as per the standards for hip dysplasia prevention.
To be honest, I don't know what that is, but it sounds horrible and I'm glad to have a carrier that takes care of this.
At first, our daughter didn't like to be in the carrier and we dreaded it will be like that forever. But after several wears, she got used to it. Now she loves it.
I suspect that at the beginning we didn't adjust the carrier properly, and that played a role. Our baby just didn't feel comfy enough.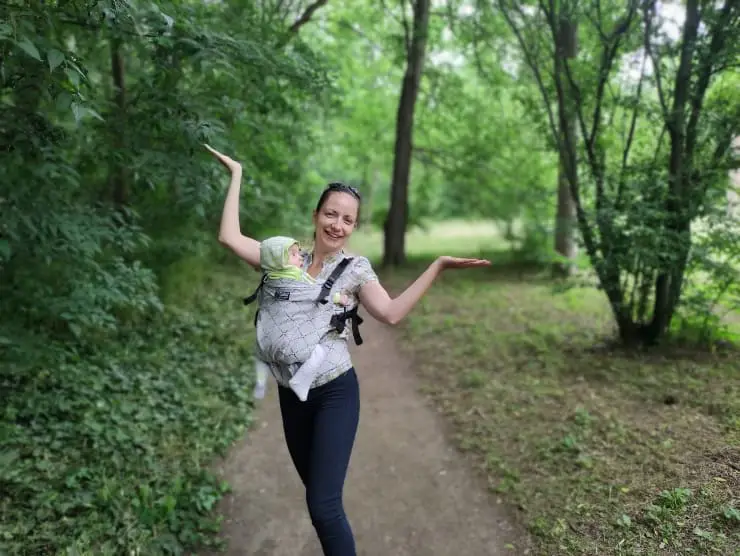 And it's true that adjusting takes some time. Watching videos helps, as I found. Plus, the guys from Isara were super helpful in explaining to us how the baby should sit exactly in their Facebook group.
More on that later.
With all that being said and after more than two months of use, I must say that Isara The One is the most comfortable child carrier that I have ever used. My wife shares my opinion. I'm sure that our daughter would say the same.
Not a surprise given that thing was designed by a babywearing consultant and a team of doctors.
Besides the awesome weight distribution, the shoulder and the hip straps are well padded. I experience no strain whatsoever neither my wife does.
I especially like the padding (and I suppose our baby does too) at the arm and leg area.
Our baby is tightly positioned in the carrier, so that she doesn't swing uncontrollably when I walk on uneven terrain. At the same time, she feels free enough to move inside.
The organic canvas fabric is soft to the skin and our baby likes the touch of it. Other carriers we've used resulted in irritated skin and sometimes rashes.
At the bottom of the Isara, you have two detachable seat transformers. With them, you can extend the size of the seat by 18 cm, so it fits toddlers and pre-schoolers. We haven't used that feature yet, as our baby is small.
There's a detachable hood as well, which is suitable for newborns when you need to support their head. It's also good for keeping your baby warm and cozy. We haven't used that one, but it's pretty handy.
As you might guess, the heavier your child becomes, the more tiresome walking with the carrier will be.
So far, I'm very happy with the carrying comfort. I'm able to walk for miles without issues – something that never happened before when we were using other carriers.
I mentioned that the great comfort of the carrier comes from its adjustability. Knowing how to adjust it is crucial to your comfort and to the comfort of your kid.
Adjustability
I think this is the feature that makes all parents that own the carrier raving about it.
It's truly a one size fits all baby sling that you can custom fit so it follows the curves of your body. And your baby's curves too.
Without doing so, both you and your baby will suffer. I learned that the hard way. Adjusting the carrier might take some time at the beginning, but you will get the hang of it after two or three uses.
There are some straps and buckles to adjust. And especially at the beginning, it might be a challenging task.
It would be easier for you to see how it's done with your own eyes, so watch the video below to have an idea.
And here's a cool picture that shows more details: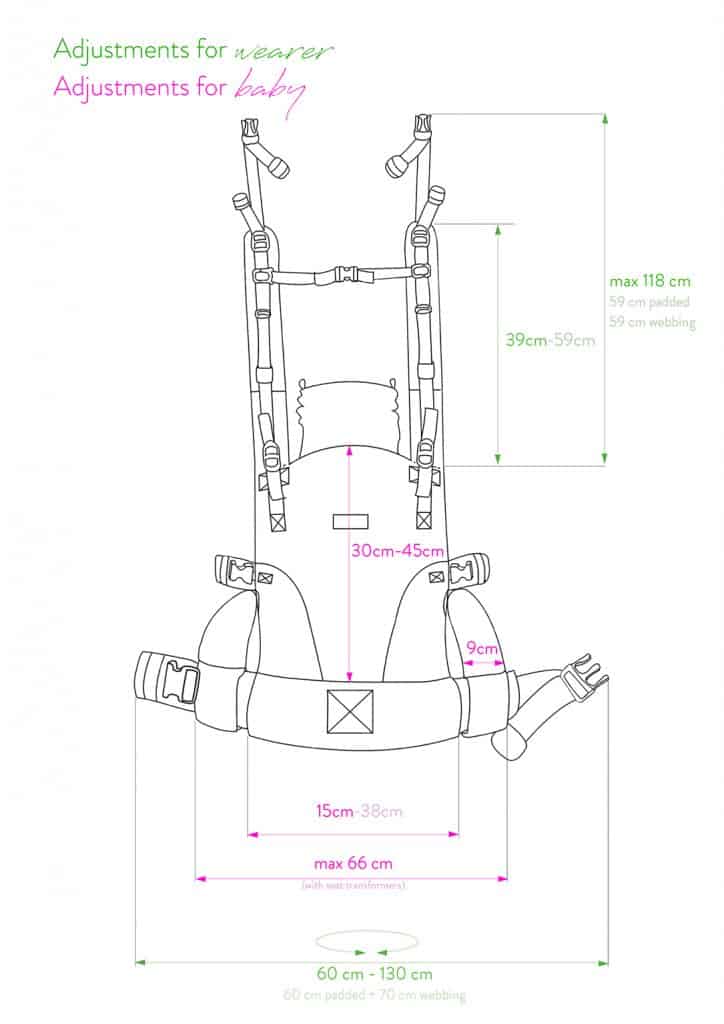 For newborns (3 kg. min.), it's recommended to detach the seat transformers for maximum stability.
That will also allow you to modify the width of the base of the carrier from15 cm to 38 cm., as shown in the picture.
The base of the sling should fit the opening of the baby's legs from one of the knees to the other.
If your kid is bigger, like a toddler or preschooler, you have to attach the seat transformers. In that way, the seat size will extend to up to 18 cm.
Check out the picture below that shows what you need to do to adjust the strap transformers for a little baby.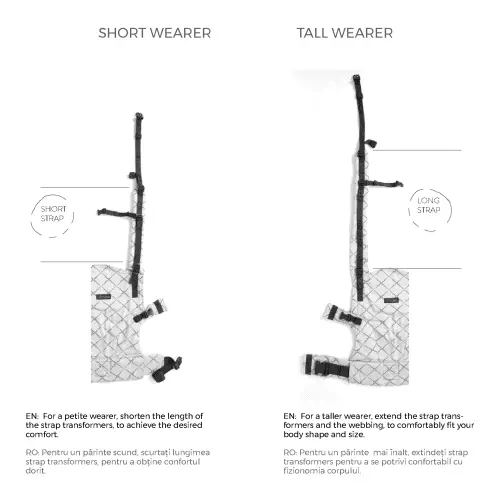 For safety, the back of your baby shouldn't arch too much. Loosen a bit the shoulder straps from the buckles set on the middle of the panel.
The panel should cover nicely the back of the baby in order for him/her to feel comfortable. When properly sited in the carrier, the baby shape should form the letter "M". This is the natural clinging position for infants.
The cool thing is that Isara have plenty of articles and videos on how to adjust the carrier for different carry positions.
Materials And Durability
Another thing worth mentioning is that "Isara" are all about sustainability. All their carriers are made of organic cotton that's not treated with any chemical crap.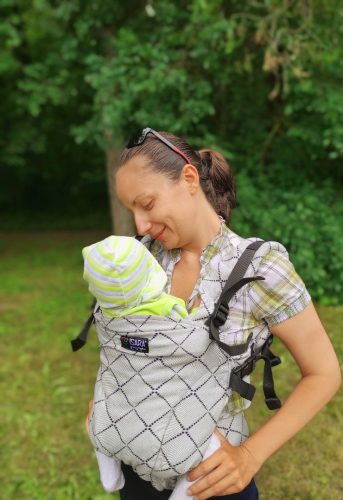 These are one hundred percent organic cotton fabrics that are GOAT certified. All carriers should be like that in order to be safe for the baby's skin. Stay away from cheap brands.
As for the straps and buckles, it's immediately visible that they are of the highest quality possible. They are very durable and when properly positioned, stay firmly on my body for a long time.
Carry Positions
Isara "The One" supports front carry, back carry, and hip carry. I haven't used the hip carry because it doesn't seem very comfy to me.
Whatever position you choose, just make sure that the baby always faces you. That's the recommended way by the certified safety authorities.
Avoid experimenting as this might hurt your little one.
Is Isara The One Good For Hiking?
I've been hiking with the carrier for quite some time now. I love the ergonomic fit and the excellent weight distribution.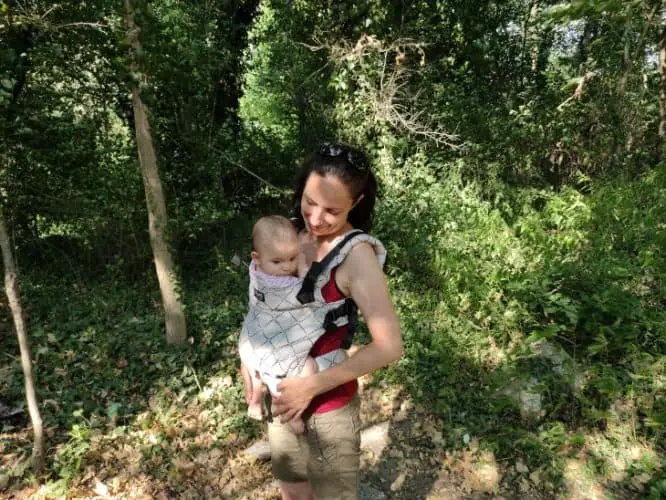 The thick padding immensely contributes to the overall comfort. So far I haven't experienced any strain or rubbing.
This is crucial for keeping your energy levels from draining faster than you wish.
With that being said, Isara The One is suitable for light day hikes only. You will struggle on longer, more demanding trails.
That's because of two main reasons:
The carrier is not waterproof
It's not breathable
While the beefy padding does a great job in alleviating the strain, it doesn't breathe well. Especially in summer, I sweat a lot wearing the sling to the point that it becomes uncomfortable.
Besides, as you may know, cotton is not even water resistant.
That's why avoid going on strenuous hikes with the Isara. Go hiking with your baby on shorter, easier hikes. For that, the carrier is just perfect.
What About A Warranty?
The guys from Isara back up their products with a two-year warranty against manufacturing defects.
Plus, their customer service is awesome and you can easily communicate with them on their Facebook page.
You can also join their Facebook group where there's a vivid community of parents who own Isara carriers. They are very helpful too, should you have any questions related to the carrier and its use.
Final Verdict
After over two months of regular use, I can vouch for the impressive quality and unbeatable comfort of Isara The One carrier.
It works well for me and my wife and for our little daughter who loves being curled inside. The raving reviews are totally justified.
If you're looking for a reliable child carrier that's not only stylish and comfortable for you, but before everything else, comfy and safe for your little one, then you should definitely consider purchasing it.
You can find cheaper carriers, but I've been there and I know that Isara beats them all in every regard. I hope you found our review helpful.
Don't hesitate to shoot us a question in the comments section below if you have any questions!
Founder of this website, Asen is a passionate hiker and writer who is also a gear nerd. He's been featured on many established hiking websites where he gives hiking advice & tips. When he is not trekking with his family or friends, he is writing articles and product reviews. Asen spends most of his time in Bulgaria but he constantly travels the world in seek of more unforgettable experiences. Read more about Asen here.