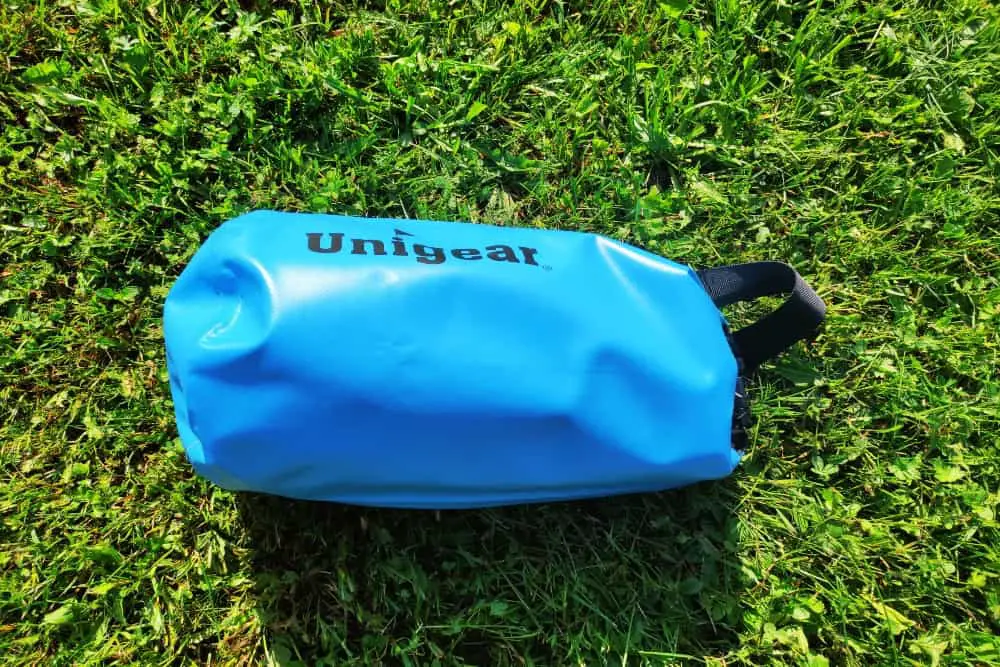 A Real Unigear Dry Bag Review (Plus Exclusive Bonus)
In this Unigear dry bag review, I share my honest impressions about the bag based on several wet hikes.
I've used it in downpour rain, to hike near a waterfall, and on a beach hike.
So, unlike other reviews you might read I won't just regurgitate product specifications. I will reveal little-known facts about the dry bag and will show you its real pros and cons that one can see only after actually using the bag.
In that way you will know what to expect and decide whether this dry bag is for you.
If in the end you like the bag, I will also provide you with an exclusive 20 percent discount code, that's available only for Gear Up Hiking readers. For a limited time.
Ready to see the bag in action?
Let's dive right in.
Unigear Dry Bag Review Process
It's actually simple.
To review this 10 L dry bag, I took it with me on several hikes that involved water one way or another. Just to be sure of its waterproofness, I tested it at home beforehand. Watch that below!
To do that, I filled a bucket with water and sank the dry bag inside. I really wanted to be sure my belongings will stay dry no matter what.
That's because I usually pack some electronics. Plus, I regularly store my wallet which has cash inside. So, once I was satisfied with the result of the home testing, I took the dry bag with me on a hike near a gorgeous waterfall.
Best Use
The Unigear dry bag is suitable for a variety of wet activities. It's perfect when you need to protect your essentials from getting wet in adventures involving serious amounts of water.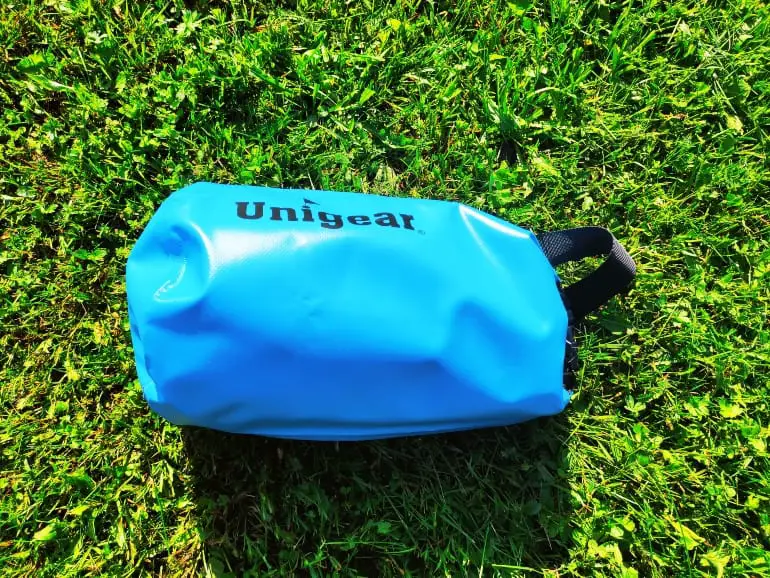 No matter if it's for hiking, camping, rafting, kayaking or just to protect your stuff from heavy rain when you're out, this bag will do the job. It even acts as a comfortable camping pillow. With that being said, the bag is not appropriate for extensive hikes on technical trails. That's simply because it's not designed for that.
Many unexperienced folks think they can use the bag for laborious hikes requiring long hours of walking with heavy loads.
In such cases, it's best to go with a regular hiking backpack (such as this Osprey) that has a rain cover. The Unigear dry bag doesn't have those trail-friendly features you need when going on a long hike.
I'm mostly talking about a breathable back panel, full suspension and padded harness. Heck, the Unigiear bag has only one shoulder strap.
If you want to learn more about dry bags suitable for hiking, read our comprehensive guide on the top hiking dry bags this summer.
Still, the Unigear dry bag is ideal for short easy hikes when you need to cross a river or even jump in the sea for short time, when you are hiking a beach trail.
Better yet, if you need it for rafting or kayaking, this is the bag for you.
Features Overview
As this is a basic 10 L dry bag, there's not much to say here. No bells and whistles. The bag has everything you need to protect your essentials from splashing water. And it does it quite well.
The one thing I especially like is that the dry bag comes with a fully waterproof smartphone pouch. So, for better protection you can shove your smartphone in and store it in the bag.
But your phone will be well protected in the pouch itself. I've used it twice already and can vouch for the security it provides.
I swam with it in the sea, and it stayed dry. Just make sure to seal it tightly. You can also make a good use of the neck strap that comes with the pouch. I attached it to the pouch and wore it on my neck, so that my hands were free for swimming.
That also allowed me to make some cool pics. To precise, the touchscreen works through the plastic bag like a charm. As a precaution, be sure to test the waterproofness of the pouch at home first. A faulty batch could happen to any product.
Plus, it might take you a while to seal the pouch properly the first time. Give yourself some time to get used to it. The smartphone pouch fits my 6.7-inch phone just fine.
Size
As mentioned earlier, I have the 10 L version of the dry bag. It's enough for me to put my waterproof shoes, several t-shirts, a towel, and some snack.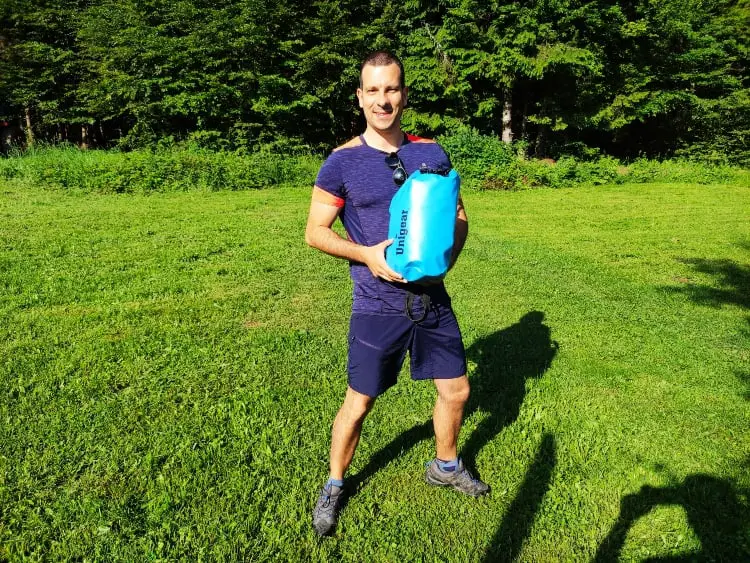 It's compact enough, especially when it's empty. It's foldable. It perfectly fits in my hiking backpack. It works really well as a small daypack when you want to make short trips near camp and you don't need much gear.
The size of the 10 L bag is 31x49 cm.
Unigear offer the dry bag in 6 sizes (2, 5, 10, 20, 30, and 40 L) and 10 colors, so you can choose the ideal bag for you depending on the type and duration of your adventure.
Weight And Materials
The weight of my 10 L bag is 12 oz or 340 grams. It adds almost nothing to my main hiking backpack weight.
Still, you might find it slightly heavier than a regular backpack of the same size. Given the robust materials used on the dry bag, that's normal.
Similar to other dry bag manufacturers, Unigear use 500D PVC woven fabric. I must say that I'm very happy with the durability and the waterproofness of my dry bag.
It doesn't leak at all, and the fabrics are tear and abrasion resistant. I often throw my bag on rocks and there are no scratches so far.
Unigear implement high-frequency welding of the seams, as compared to many other brands that still use sewn-and-taped seams, which is the obsolete technology.
I also noticed that the buckles and the D-ring are quite sturdy as well. The stitching there is visibly reinforced.
For a dry bag, two are the most important factors to consider – waterproofness and durability. I'm more than happy with my Unigear in this regard so far.
Comfort And Usability
For a basic dry bag, Unigear is comfortable to carry and easy to use. I explain how to use it in another section, so read on.
Now, I have used fancier dry bags that have two padded shoulder straps, foamed back panel, and even a chest strap. And I would really appreciate at least a second shoulder strap on my dry bag. It would be even easier to carry. Especially on longer treks when you have more gear.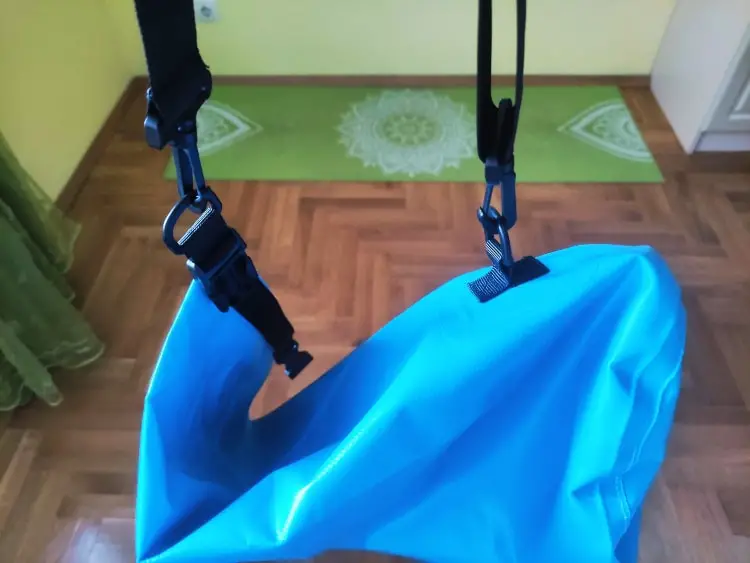 But as I said, this is a simplistic dry bag to quickly jump in to a canoe that also comes at a very low price, so that's perfectly fine with me.
There's a single adjustable shoulder strap that you can easily attach and detach. It allows you to carry the bag in several ways over your shoulder and even like a duffel bag.
You can also carry it by holding the top closure, which acts like a handle.
Storage And Compartments
The bag has a single main compartment with a roll top closure. This is where you store all your stuff. I would be happier if the bag had at least one zippered pocket somewhere on the front or an internal sleeve on the inside.
That would help with the compartmentalization of my gear, as I like to keep some of my essentials aside from others.
With the current organization, I just have to stuff everything in one place, which sometimes makes it difficult to find a specific item.
I already mentioned the waterproof compression pouch. I really like it and it definitely comes in handy. It has a secure lock seal, and it's touchscreen friendly.
You can use your phone to make pictures for Instagram when you're in the water, which is cool. My phone is 6.7 inches, and it fits just fine. No leaking and no issues whatsoever so far.
Using the neck strap, you can conveniently wear your phone on the neck. In that way, your hands are free. I do that when I swim or when I walk on wet rocks on the beach and I have to use my hands to keep my balance.
Waterproofness
If you haven't watched my video at the beginning of the article, now it's the time to do so. I tested how waterproof is the dry bag at home by submerging it in a bucket of water for 20 seconds.
The bag was packed with clothes that stayed dry after the test. Since then, I've used the bag several times on trips that involved high amounts of water.
The bag has a waterproof rating of IPX4. That means it can hold up to water splashes from any direction. In fact, my test was too harsh for the dry bag because I submerged it entirely underwater, which is not recommended at all. Avoid doing it. Especially for a long time.
Still, my clothes were not wet, which is quite cool. There was no condensation build up either.
The smartphone pouch has a waterproof rating of IPX8, though. That means it could be submerged even deeper than one meter. As mentioned above, I swam with it and had no issues whatsoever.
Warranty
Unigear offers 30 days trial period during which you can return the bag if it doesn't meet your expectations.
In addition, they will replace it if it's faulty.
How To Use The Dry Bag?
This is a classic dry bag with rolltop closure.
Put your stuff inside but don't overpack it. As a rule of thumb, fill it up to 3/4. Remove the excess air and don't forget to pinch the top blades together.
After that, fold it several times down until it's properly sealed. Finish by clicking the buckles together. That's it. It's pretty easy.
Avoid stuffing it too much because you have to fold the top part 3-4 times.
What Others Say About It?
In fact, verified buyers are raving about this dry bag.
It has a highly positive rating and excellent feedback both on Amazon and on the site of the manufacturer.
Best Place To Buy
The best place to buy is directly from the website of the manufacturer. This is the best possible price you will get.
For a limited time only and exclusively for Gear Up Hiking readers, use code GEARUPHIKING20 at checkout for 20 percent off.
Alternatives
Here I will quickly give you four great alternatives of the Unigear dry bag.
Table setup not completed.
I've used them all, mainly for hiking, and I highly recommend each of them. As you will notice, they are more feature-packed than the Unigear.
Final Verdict
I hope you liked my Unigear dry bag review.
While there are fancier, more feature-rich dry bags out there, the dry bag from Unigear strikes with minimalistic design, proven durability, and unbelievable price.
It's ideal for short hiking trips that involve water, beach adventures, and kayaking.
I'm super happy with mine and I'm sure you will love this dry bag too.
Drop a comment below if you have any questions.
Founder of this website, Asen is a passionate hiker and writer who is also a gear nerd. He's been featured on many established hiking websites where he gives hiking advice & tips. When he is not trekking with his family or friends, he is writing articles and product reviews. Asen spends most of his time in Bulgaria but he constantly travels the world in seek of more unforgettable experiences. Read more about Asen here.