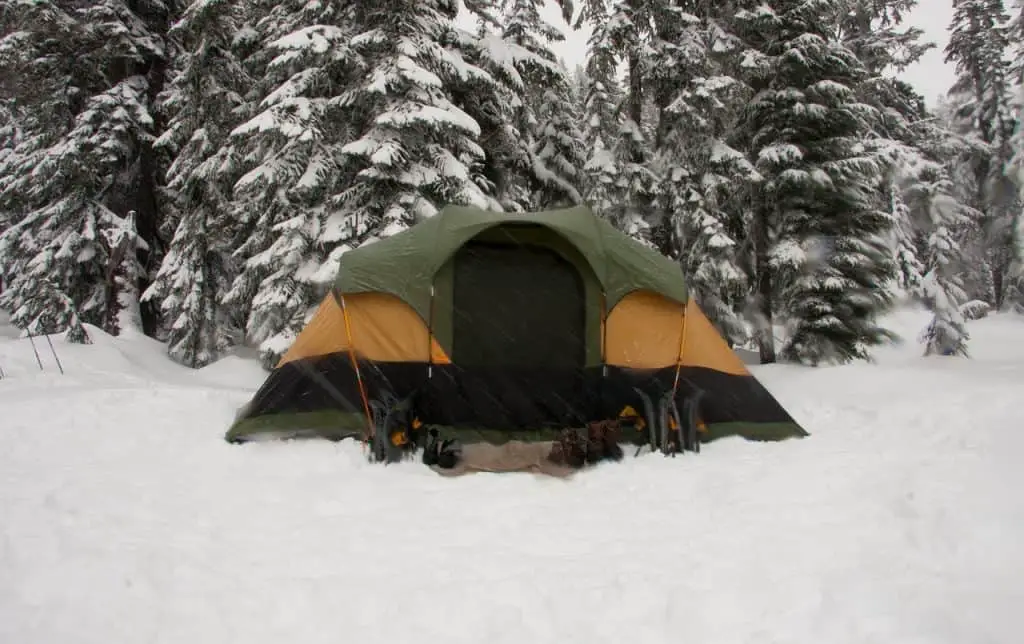 5 Best Cold Weather Tents with Stoves
After long days out trudging in the snow or slippery patches of ice, a comfortable place to warm up sounds like paradise. Cold weather tents are made to combat the cold and wet – with the addition of wood or coal burning stoves, you're set for a very cozy winter camping experience. 
What can the best cold weather tents with stoves do for you? From cooking to drying wet clothes quickly, even ice fishing; you can do it all without stepping foot outside. 
Our team has tried out and combed through reviews of the best winter tents with stoves to present you with the top 5. Several essential criteria include:
Material

Size and shape

Ease of set up

Stove jack design 

Ventilation
Our Top 3 Picks
Editor's Choice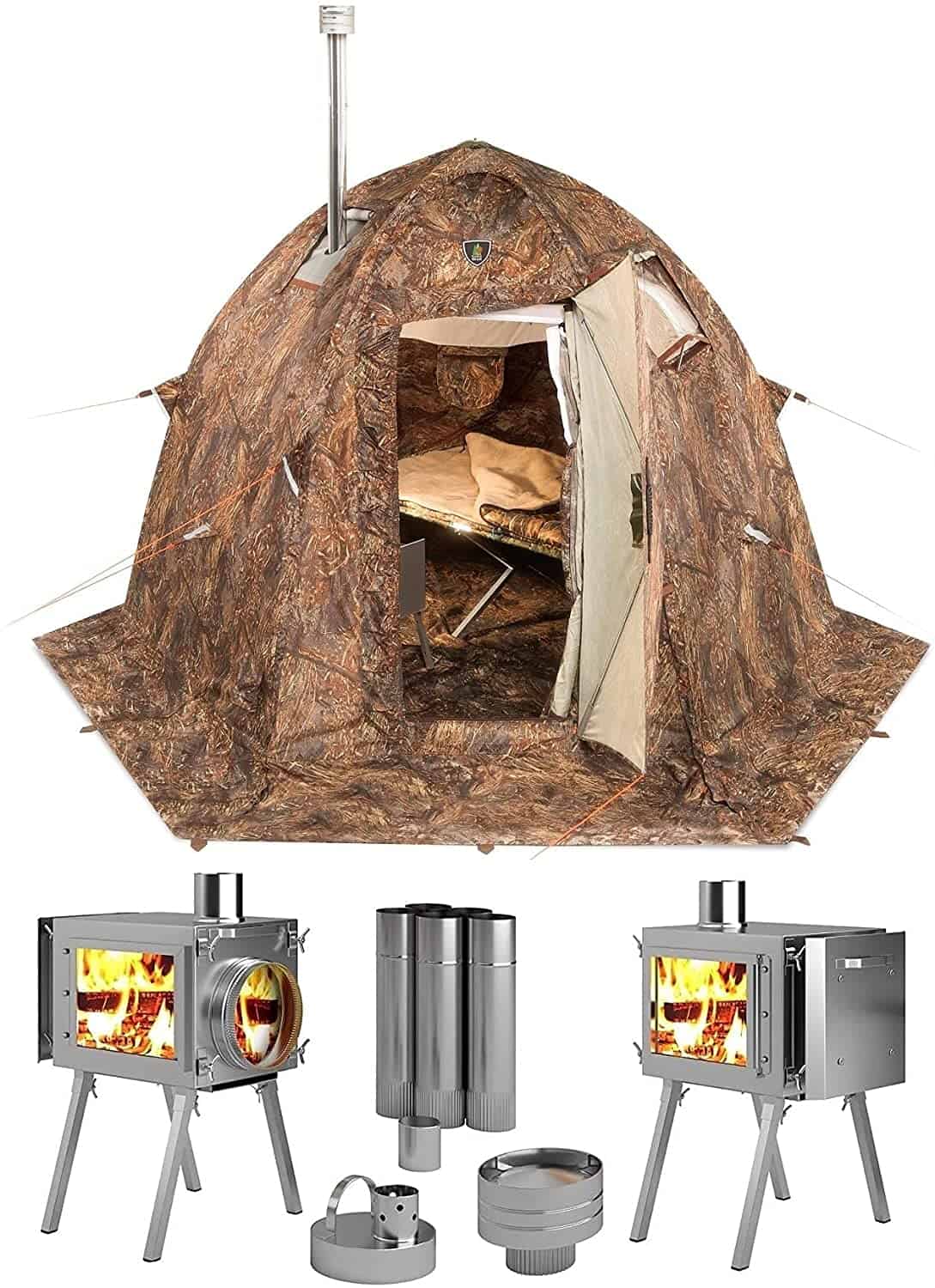 Embark on Arctic expeditions with the Russian-Bear Hot Tent; hunker down safe and warm all night. Smartly designed insulation layers accommodate your every need.
FEATURES:
Umbrella-type instant setup.
Airplane-grade steel frame to withstand strong winds.
Constructed with fire-resistant material and steel ring for chimney pipe.
Detachable 3-layer flooring for extra insulation.
RUNNER UP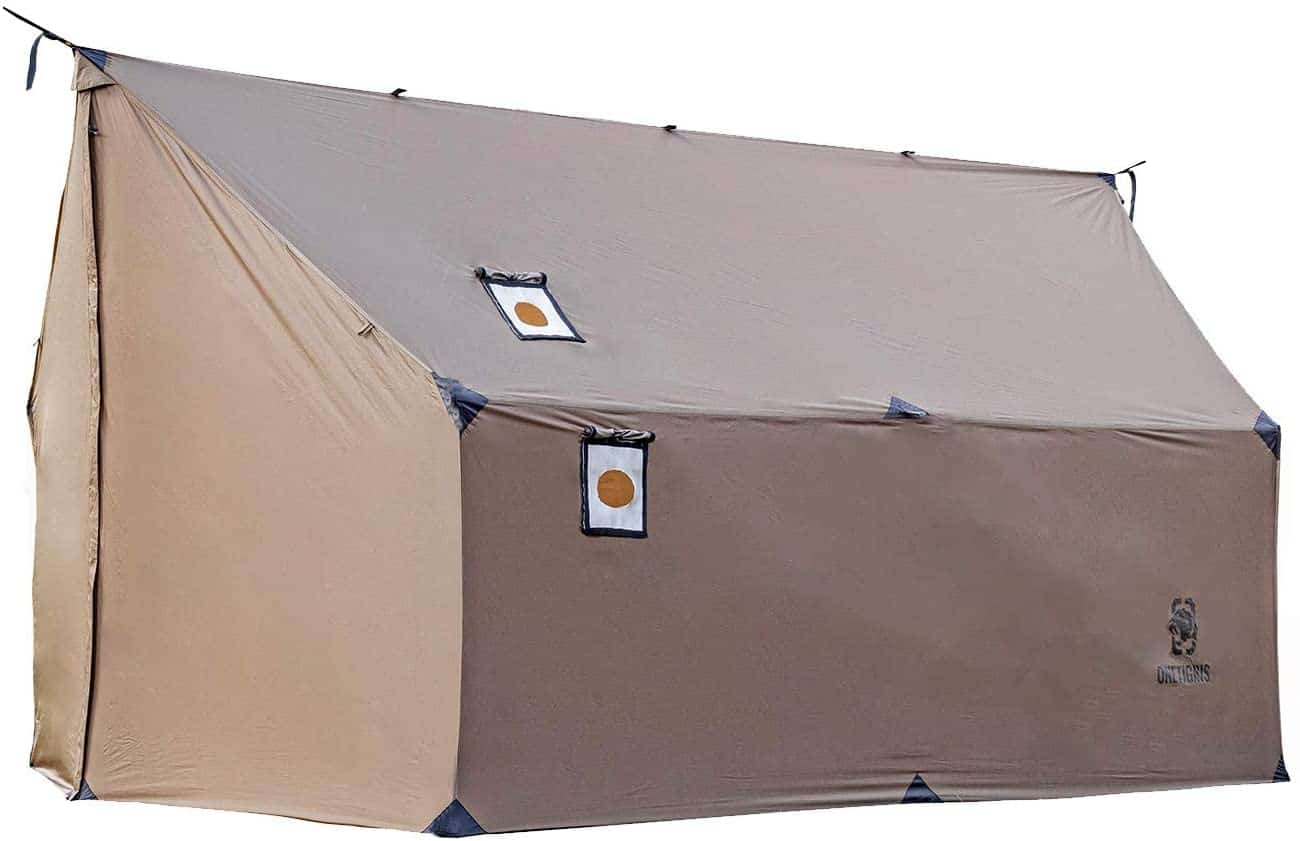 Waterproof, pole-free and with a durable nylon canvas, this hot tent lists among the most versatile cold weather tents on the market. The deliberate floorless design allows for cold-appropriate hammock use.
FEATURES:
Highly durable 70D Ripstop Nylon; dirt, water, and abrasion resistant.
2 stove jacks for flexible campsite use.
Spacious design allows for various sleeping configurations.
TOP BUDGET CHOICE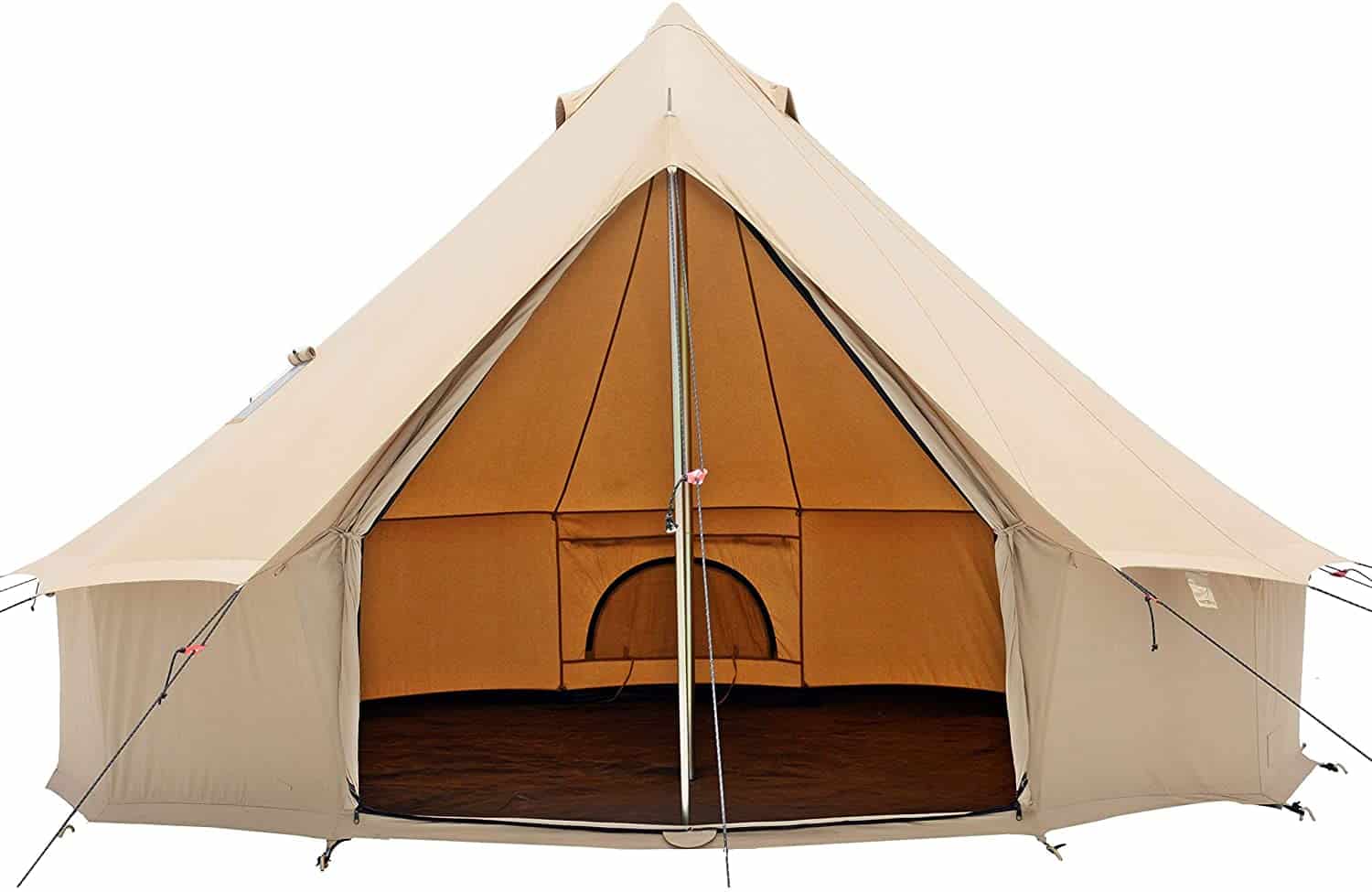 This all-rounder Whiteduck Regatta Canvas Bell Tent will shelter you for years thanks to high quality materials. It's easily the strongest contender for 'best 4-season tent' at a very reasonable price.
FEATURES:
Breathable 100% cotton canvas with weather-proof treatment.
Strategic ventilation via mesh door, windows, and extra vents.
Features sewn-in groundsheet to protect against wet and cold terrain.
Fire-retardant stove jack to prevent a fire hazard.
5 Best Cold Weather Tents with Stoves Compared
| IMAGE | PRODUCT | |
| --- | --- | --- |
| TOP CHOICE | OneTigris TEGIMEN Hammock Hot Tent | VIEW ON AMAZON → |
| RUNNER UP | Russian-Bear Hot Tent | VIEW ON AMAZON → |
| TOP BUDGET CHOICE | WHITEDUCK Regatta Canvas Bell Tent | VIEW ON AMAZON → |
| | DANCHEL OUTDOOR Canvas Yurt Tent | VIEW ON AMAZON → |
| | UNISTRENGH 4-season Canvas Bell Tent | VIEW ON AMAZON → |
#1 OneTigris TEGIMEN Hammock Hot Tent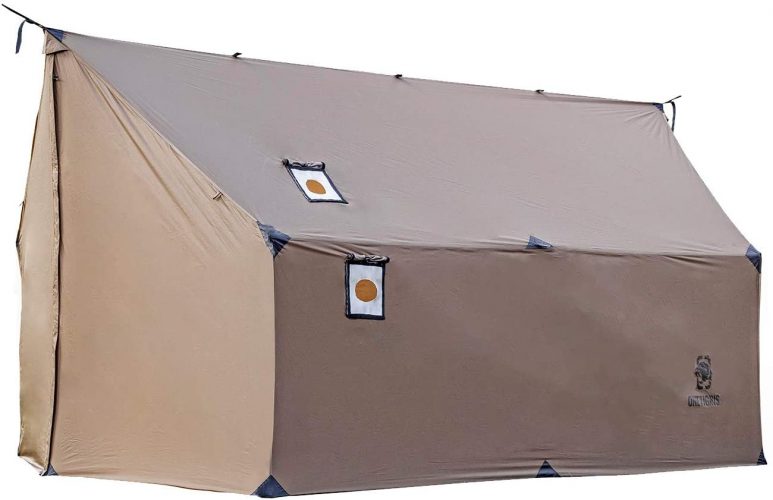 Minimal can be functional; the OneTigris TEGIMEN Hammock Hot Tent sets the standard for best cold weather tents with stoves. Capable of molding to the environment, this floor-less shelter can be strung up between any two points. Protected by Ripstop Nylon canvas and with 2 stove jacks to let the exhaust out, you're set for a cozy night outside.
Designed with raw, immersive camping in mind, the OneTigris TEGIMEN Hammock Hot Tent seems rather minimalistic at first glance – there's no floor. But the single-layer shelter without poles come with many unexpected advantages, like immense versatility. 
You can customize your own pole setup to use as a regular frame tent, or string it up as intended. The two openings on opening sides let you poise it between any two anchorage points, meaning it's suitable for various landscapes. 
As one of the first hammock hot tents on the market, the hammock feature keeps you nice and dry above ground when cold weather camping. To secure your hammock ropes in place, the tent employs YKK zippers; two zippers connected by pull loops so they don't open independently.  There's a third zip to seal the door opening.
If you feel more comfortable on camping cots, this cold weather tent has dimensions of 380cm (L) x 200cm (W) x 190cm (H). It sleeps 3 people comfortably with plenty of storage space underfoot. 
While it's extremely compact and lightweight at only 3.1kg, the 70D Ripstop Nylon ensures that it stands up against dirt, water and abrasions. In fact, the 3000mm waterproof rating will keep you dry even under a deluge. You don't have to worry about unexpected rain storms, or even snowfall. 
Additionally, the tent retains heat in several ways. The lack of windows and mesh openings make the tent slightly stuffy in warmer seasons, but keeps the warmth in where necessary. To keep you completely protected from the elements, the package includes a sod skirt to stop cold from leaking in. 
Most importantly, the tent features 2 stove jacks (3.3" x 3.3"). Sewn into the top and side wall respectively, they allow for different stove pipe angles so that you can customize your setup to fit the campsite. This is especially helpful in windy terrain, as you want to keep any embers and smoke away from your tent fabric. 
The setup kit is extremely comprehensible; it includes guylines that are 3m and 6m long, 14 stakes and pegs. Storage is easy and efficient too. Simply fold it into the handled stuff sack to carry.
Unfortunately, it doesn't come with any instructions so you may want to test drive it before hitting the wilds. Our tip is to stake the four corners down and pull the canvas taut – this makes it more wind resistant.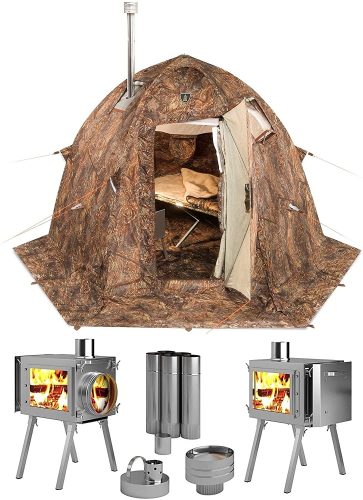 Fishermen, hunters and outdoor enthusiasts praise the Russian-Bear Hot Tent for its intuitive and thoughtful design. Details like ventilation valves, fire-resistant attachments, removable awnings and insulated flooring allows for versatile use across the seasons. Better yet? Pop it up instantly like you would an umbrella. The efficient setup system is perfect for extreme weather conditions.
You might wince at the price of the Russian-Bear Hot Tent but it's hands-down one of the best cold weather tents with stoves. Not only does it come with a stove for perfect fit, but the stainless steel chimney pipe and stove top keeps your tent fire-hazard free. 
The stove itself offers superior heat emission thanks to ceramic glass sidewalls. As Alaskan explorers and campers attest, the tent warms up quickly and wraps you up in warmth. It also lets out a comfortable light source, reducing the use of torch batteries. 
Depending on your needs, the tent comes in several sizes to comfortably host between 2 to 8 people. You can unscrew the center pole in the center once it's up, easily laying three sleeping bags side by side. 
Instead, the tent is designed in a dome shape. Setup is efficient – it opens like an umbrella. This comes in handy if you're being buffeted by winds, or need emergency shelter due to freezing weather. The all-metal frame is also designed to be sturdy, crafted out of aviation aluminum and steel for durability at minimum weight.
When it comes to the tent canvas itself, a double-layer awning design allows for 4-season use. Simply remove the inner awning in the summer for higher breathability, and use the stove to keep warm in the winter. 
The external awning is made of waterproof oxford fabric with reinforced seams to keep the worst of rain and snow out. To prevent moisture from gathering and to seal the heat in, there's also a protective skirt on the outside bottom.
What I love most about this tent is that it's built with safety in mind. The multitude of safety features includes a heat-resistant stove jack and wall, fireproof mat, vent valve behind the stove, and a 5-layered transparent window for cross ventilation.
The removable heat resistant panel behind the stove is tested to withstand up to 1200 degrees. Likewise, the stainless steel chimney ring prevents the hot pipe from making contact with the fabric. Any carbon monoxide emissions will be drawn out of the ventilation valve. 
Insulation also comes through the 3-layer floor. The Zip-detachable tent floor is designed to withstand extremely low temperatures without melting the snow; the additional insulated floor guarantees comfortable to sleep on the ground without freezing. 
There's a nifty secret to this tent too! A secret zippered spot opens on the floor; you can drill holes into the ice to enjoy fishing within warm confines. Imagine hunting, cooking, and eating without being outdoors.
The downside is that the tent comes highly-priced and with a hefty weight. Great customer service does ensure the tent and stove reach you in one piece, however; worth the investment.  
#3 WHITEDUCK Regatta Canvas Bell Tent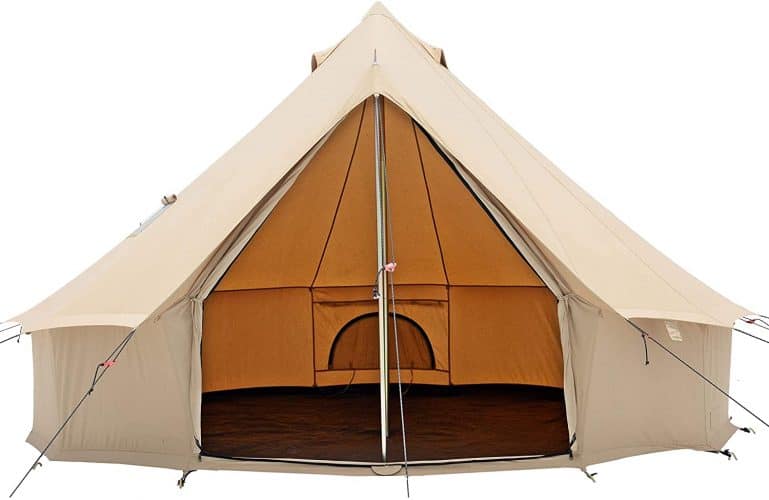 For recreation, hunting trips and even long-term survival, WHITEDUCK Regatta Canvas Bell Tent is among the best cold weather tents with stoves. Durable cotton canvas and sturdy poles stand strong against rain, sleet and wind. Thanks to its sizing options, the spacious interior is suitable for multipurpose use. An electric cable outlet keeps you in touch with the world.
The WHITEDUCK Regatta Canvas Bell Tent is an all-rounder – easy setup, excellent construction, and 4-season compatible. I find it a worthy investment despite the price; it'll last you a very long time. 
Before we discuss its high-quality materials and construct, let's take a look at the overall design. The bell-shaped style makes it easy to stand; designed with higher than standard wall height, ease of movement is guaranteed. 
The product comes in several sizes to accommodate the occasion. Depending on whether you're camping solo or hosting a family retreat, opt between the 10ft, 13 ft, and 16.5ft versions. They hold 4 people, 6 people, and 10 people respectively.
Tents with 100% cotton canvas are suitable across seasons because cotton is a highly breathable material, keeping you cool in warmer temperatures. Luckily, cotton can also be treated to be waterproof and UV resistant. For stove-friendly tents, we recommend paying a little extra for a fire retardant finish.
To hold up the thick material, you're equipped with entrance and center poles. Both are made out of galvanized steel, sturdy enough to withstand up to category 5 winds. Reflective guylines are also provided to further ground the tent; the reflective nature makes them easy to spot if in need of fixing during harsh weather conditions. 
Any experienced camper understands that complete toolkits are blessings. This heavy-duty tent comes with a neatly arranged toolkit of pegs, pins, rain caps, stake mallet, and more – packed into a waterproof tent bag. 
To keep rainwater out plus provide insulation against the cold ground, there's a sewn-in PE groundsheet. Doline blankets on top for extra padding (if you're on dry grass or rocky terrain). To protect the floor, you should also put a welding blanket or fireproof mat under the stove. 
Comfort and functionality can also be found in the mesh doors and windows. Combined with heavy-duty waterproof zippers, both mesh and canvas covers are sealed shut against critters and rain. 
Additionally, 4 strategic vents offer extra ventilation. Any excess heat or exhaust will expel through roof vents above pole. This regulates temperatures and minimizes risk of carbon monoxide poisoning.
The stove jack opening (5" wide) itself is also made durable. Fire retardant material protects the canvas, while a weather flap keeps the cold air out when not in use. 
For those planning a glamping experience, this tent comes with a surprising benefit. An electric cable outlet is provided so you don't have to disconnect with the world – keeping your phone or laptop fully charged.
#4 DANCHEL OUTDOOR Canvas Yurt Tent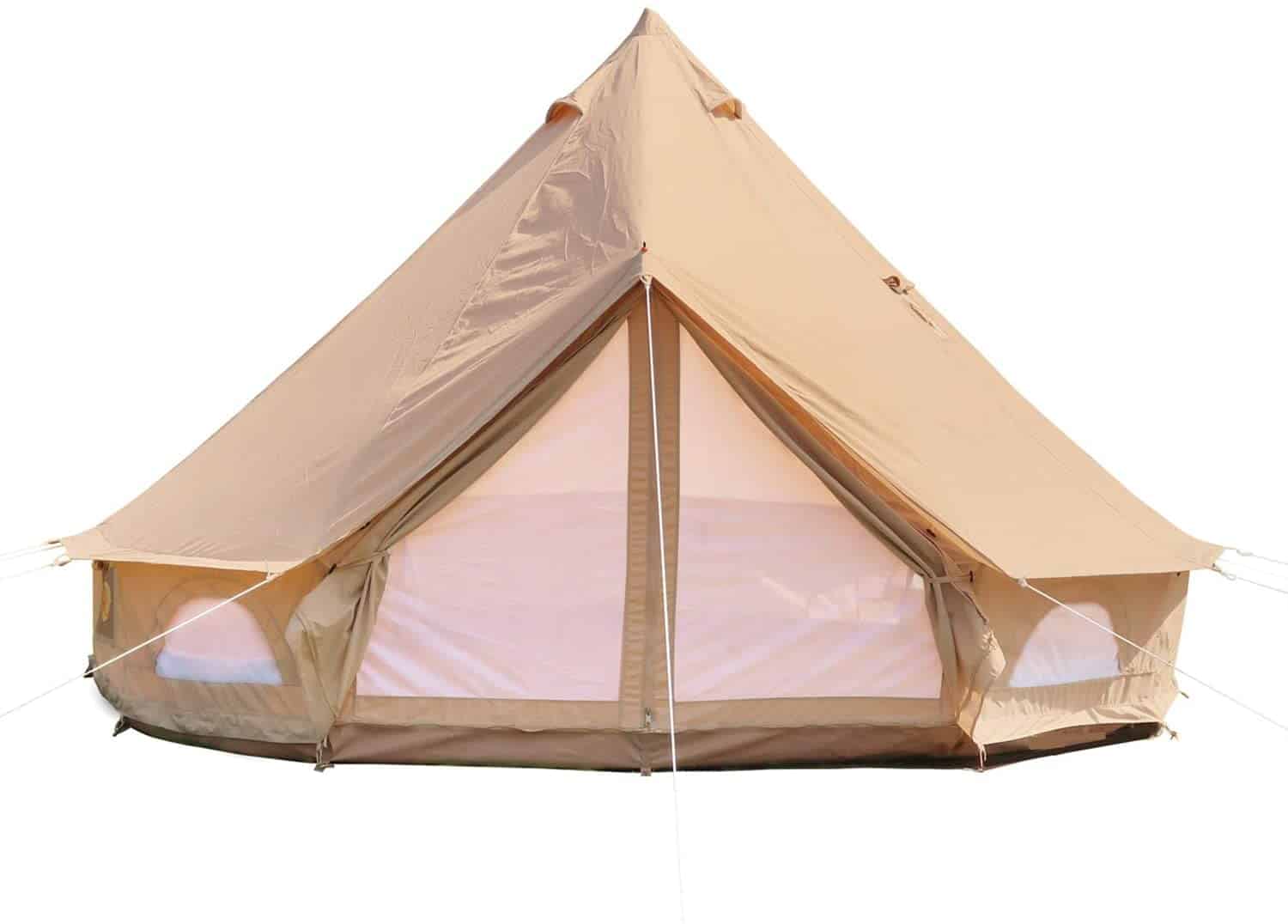 Looking forward to a comfortable glamping experience? Danchel's Outdoor Canvas Yurt Tent offers a breezy setup with roll-up sidewalls and plenty of ventilation. To cozy up, simply set up your stove and zip up the mesh openings. Wide enough to fit full-sized beds inside, it almost feels like a house!
Another 4-season camping tent made from 100% cotton canvas is the DANCHEL Outdoor Canvas Yurt Tent. Of course, it's been treated to offer 3000mm waterproofing, making it cold-weather appropriate. 
Similar to the Whiteduck tent we reviewed above, this heavy-duty yurt is cozy and spacious. While slightly lower with a top height of 2.5 meters, the 4 meter diameter is more than enough for two full beds or five standard sleeping bags. Notably, many users employ it for glamping experiences and as lounge space.
A clever design feature is how the tent raises slightly above with bathtub style bottoms to prevent splashes. You don't want to bring mud or rain in with you, especially during a backyard soiree. 
The detachable ground sheet is also a welcome feature, allowing more versatile use. The heavy-duty PVC is great for wet grounds and offering protection against the cold, but too thick for summer use. It's not fire-resistant either; better put a thin sheet metal under the stove to prevent jumping embers.
For extra comfort, look to the mesh door and windows. You can completely roll up the sides to enjoy the breeze, or simply open the 4 mesh windows for cross ventilation. The anti-mosquito stickers are a sweet touch too.
Opt between 2 stove jacks (5" wide), both lined with fire-resistant strips to protect outer canvas. To prevent rain leakage, close the outer flaps when not in use. 4 roof vents also ensure that all exhaust fumes are funneled out. 
Simply pack it away in the accompanying carriage bag; the A-frame pole structure is easy to dismantle. 
A small tip: aim for slightly smaller chimney pipes as the stove jack is sized slightly smaller than stated.
#5 UNISTRENGH 4-season Canvas Bell Tent
There's no need to limit your guest list with the UNISTRENGH 4-season Canvas Bell Tent. With its largest sizing up to 6 meters wide, you can easily fit groups of ten. The sturdy cotton canvas and PVC flooring keeps you blanketed in warmth; simply unzip the bottoms and roll up the sides for a summer-weather transformation. Complete your cozy getaway with a woodburning stove, safely added thanks to the fire-resistant stove jack!
Arguably the roomiest of the bell-shaped tents mentioned, the most purchased UNISTRENGH 4-season Canvas Bell Tent measures 5m wide and 3m tall. It comes in different sizes as well, hosting over 10 people at its largest.
Treated with water and UV repellent, the 100% breathable cotton canvas has proven to hold strong in rainy conditions. The reinforced seams survived strong winds; countless reviewers praise it for its durability. 
To hold the tent in place, galvanized steel tubes treated with anti-rust from the center pole and A-frame door poles. The rubber cups are a thoughtful touch, preventing the bottoms from punching holes in the floor.
The functionality of this tent extends to the flooring as well. PVC flooring keeps you happy and dry, preventing unexpected groundwater from entering. It's also detachable via zipper so that you can sit on breezy picnic mats during summer. 
The full zip around the bottom applies to the side walls too. For 360-degree views, simply roll them up. Viola – you have an unfettered breeze! 
That's not to say that ventilation is a problem. This product is well-ventilated with 4 side windows and 4 ceiling vents. They're layered with mesh to keep you safe from the mosquitos without sacrificing fresh air. 
Both windows and doors are constructed for easy access and closure. You'll find the double-sided and double-handle SBS zippers easy to spot and grip, great if you need to seal up in a hurry.
What makes it a good cold weather tent is the stove jack itself. Clearly marked in red, the pipe opening is made out of fiberglass fire-resistant cloth to prevent fire hazards. It emerges through top at 5" wide – just remember to position your tent downwind. 
As a tiny treat, there are also 4 inside pockets for storage. This is perfect for families with kids; store any toys, first-aid kits, and fun accessories away once it's bedtime so you won't trip over them in the morning. 
We highly recommend this tent for bigger group gatherings.
BUYING GUIDE
Should You Buy Stove-friendly Tents?
It all boils down to what you need on your winter camping trip. 
Pros of Using Tents with Stoves
There are several practical reasons why camping in the cold weather goes smoother when employing tents with a stove. 
Generates extra warmth

– You no longer have to worry about freezing in a snowstorm. Watching wood crackle is also quite mesmerizing; a luxury post-meal activity within the comfort of your tent.

Indoor cooking and eating

– Instead of starting a fire where it's wet and feeling the cold seep into your limbs, having an indoor stove makes life much easier.

Dry off your gear quickly

– The heat from the stove helps to dry off any wet gear quickly; there's no need to slip into cold, wet gear the next morning.

Much roomier

– Most hot tents are sized from 4 people onwards, meaning you have plenty of space to sleep, store gear, and host more friends. 
Cons of Using Tent with Stoves
Like with any other outdoor gear you trust to keep you safe, remember to consider potential risks as well. Depending on the conditions of your hike, you may come across these cons:
Fire hazard

– Fire, itself, should not be underestimated. Make sure that your stove jack is made out of fireproof or inflammable material, and that the area around your stove is kept clear. Wood-burning stoves may throw off embers and sparks from any exit points.

Carbon monoxide

– Because carbon monoxide is odorless and deadly, ensure you have proper ventilation. Your exhaust pipe should not have any leaks. 

Extended setup time

– Pitching the tent and setting up your stove will add to the setup time. Account for that if you're on a tight schedule; set up your campsite earlier.

Heavier and bulkier tent

– Since tents with stove jacks are larger than your regular tent, expect to carry bigger tent poles and heftier tent bodies. Cold weather tents in particular use heavier materials.
Essential Features of Cold Weather Tents with Stoves
Not all cold weather tents are designed to hold stoves – what you're looking for are tents with stove jacks. Stove jacks refer to openings in the ceiling or wall where stove chimney pipes are passed through; it lets the fire exhaust out. 
There are several other factors to consider when looking for the best cold weather tents too. 
Material
Instead of buying winter-only tents, our team recommends 4-season tents for maximum versatility and usage. Keep in mind that the material has to retain warmth, minimize moisture, and withstand strong winds and snowfall. Solid fabric choices include:
Canvas – Highly breathable and durable, the canvas is a versatile material that can be treated with waterproofing and fire-resistant coating. Don't assume that it has been treated; make sure to check the specifications. On the other hand, the canvas is relatively heavier; not the best option if you have a long hike to the campsite.

Nylon – Nylon doesn't sacrifice durability for lightweight, making it a great option for longer hikes. However, nylon can melt. Play it safe and make sure the stove jack is reinforced with fire-resistant material. You may also want a longer chimney pipe to keep it well away from the tent roof. 

Cotton – A relatively popular material for 4-season tents, cotton is highly versatile when it comes to waterproofing, UV repellent and other treatments. Another pro is how lightweight and breathable it is. You do, however, want to make sure it is treated to be flame resistant.
Don't forget the material used for your tent frame as well. Aluminum frames are common as they're both durable and lightweight, but there are other options as well. 
Waterproofing 
Cold weather often means wet weather, so waterproofing is a must. Always check before purchase if yours is made with waterproofed tent fabrics and whether the stove jacks are sealed against water entry when not in use. 
Ventilation 
For safety purposes, ventilation is a key feature to observe if you're using a stove in your tent. The stove jack plays a huge part in this as it directs any exhaust fumes outside of your tent. Additionally, we advise you to have cross ventilation – two windows or doors facing each other. This will ensure that the air inside your tent gets exchanged regularly and that no carbon monoxide gathers.  
Stove jack design 
The most crucial feature of your cold weather tent is the stove jack itself. Typically, stove jacks are placed on the tent roof, although wall tents may offer them on a side wall too. The material around the opening pipe vent must be fire-resistant; preferably reinforced at the seams. A good stove jack will also seal against water. 
Check that your stove's chimney pipe fits the diameter of your stove jack! It should be the same size or you risk leaks and movement. 
Style and Shape 
Think about how many people you'd like to accommodate and what you want to put inside your tent. The condition of your campsite may also affect your decision. Will you be able to stake your tent, or do you need something freestanding? 
Wall tent – For maximum floor space when catering to a large group of people, opt for tents without a pole in the middle. Some even come with stove jacks on both roof and side wall for more configurations. 

Bell tent – For those seeking a comfortable, aesthetic glamping experience, a bell tent comes with high ceilings. We recommend bell-shaped tents if you plan on changing your camping spot frequently, since they're easy to set up. They're also a great option for camping with an indoor stove, as the sloping roof ensures the chimney pipe is far from the fabric. 

Teepee tent – For a fast setup time and minimalist experience, a teepee tent is more than enough.

Dome tent – Relatively rare, the dome tent is a cozy alternative to your regular camping tent. It gives you more headroom without the sloping roof. 

Free-standing tents – If you're camping on frozen ground, framed tents are generally the best choice. As they're free-standing, you don't have to struggle with staking them properly.
Portability 
It's also important to consider how you're carrying your tent to the campsite. If you're hiking a long way, avoid the bulk and heft. Driving to the campsite? A few extra poles won't hurt, but consider if you need something bigger than necessary. 
Safety Tips for Setting Up Your Wood Burning Stove
Of course, you can do plenty to mitigate these risks! While most of it may seem like common sense, it's easy for details to slip by when you're having fun out there.
Don't keep flammable materials near your stove – or on it. You never know if sparks will fly (literally). 

Put a fire mat under your stove, especially if your tent fabric isn't fire or heat resistant. What most people don't realize is that the stove feet may heat up too. You don't want to damage the floor of your tent. 

Keep a fire extinguisher in the tent just in case. 

Orient your tent smartly so that the stove jack faces downwind. Keep those sparks, embers and smoke blowing away from the tent.

Choose stoves that are designed to be used in a camping tent – this means an exhaust chimney that goes up and out of the jack. Carbon monoxide is seriously toxic; don't keep burning flames inside your tent without a valid ventilation system.

If the top of your tent or stove jack is not made out of fire resistant material, use a fire-resistant fly tarp to protect it from any sparks. 

For those who plan on keeping the stove burning throughout the night, use a carbon monoxide alarm. You don't want to be put to sleep permanently. 
In Conclusion
Whether you're treating your stove as a fancy add-on, or are truly in need of one for warmth and cooking purposes, the tent itself should be designed to hold a stove. 
The best cold weather tents with stoves should be made with fire-resistant material, especially around the stove jack.
Check that your stove jack is surrounded by fire-resistant strips or metal rings where it touches the pipe. You may also need to lay fireproof mats below your stove. 
Access to the campsite, duration of travels, and campsite conditions may affect your considerations too. 
Do your research carefully and buy what fits your needs! Sometimes the smallest change in feature can determine how smoothly your camping trip goes.