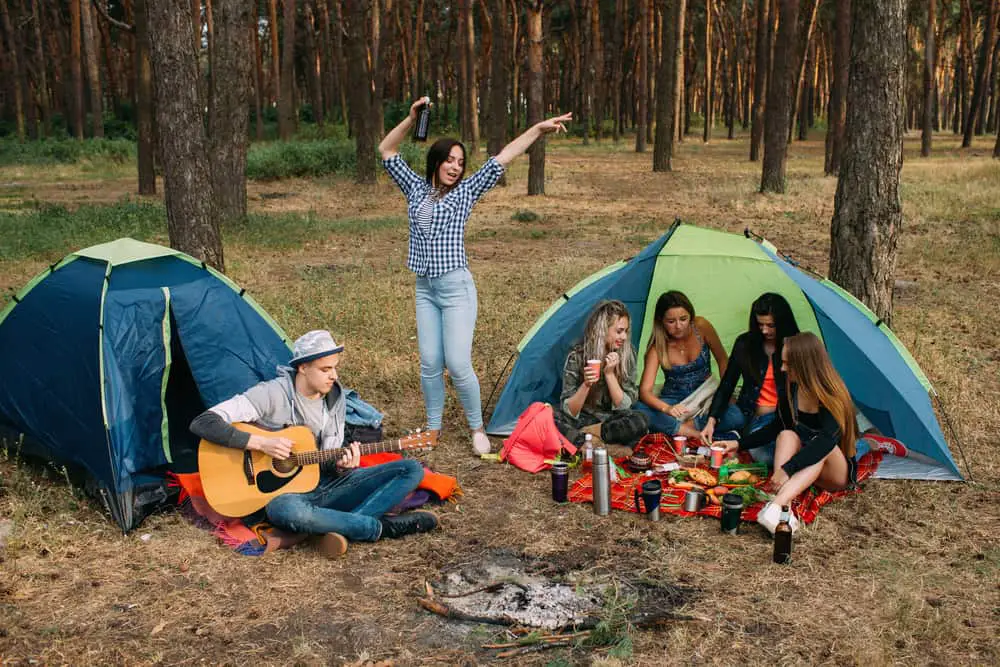 Why Camping Is Fun: 15 Amazing Reasons To Love It
Camping may have been a basic survival necessity as far back as 40,000 BC, but today?
Most children have probably dreamed of camping at some point in their lives – of campfires, stomping around, building tents and going on wild adventures.
In fact, camping is a tradition in so many homes! If you're wondering why camping is fun, it's time to try.
Camping is fun because it's an experience. Not only do you engage with nature and wildlife, you're also leaving behind the stress and hustle of city life.
As you set up tents, get the campfire roaring, and learn about the world around you, you're making memories that will last a lifetime.
Of course, you can bring along entertainment as well. Drawing from our fondest camping experiences, we've put together some tips on how to make camping even more fun. 
First, let's take a look at why you should go camping!
Reasons Why Camping Is Fun
Apart from the countless activities to do while camping, the act itself opens up a world of opportunities and new experiences.
In no particular order, here are some reasons why camping is fun.
You can pretend you're in Survivor
One of the coolest things about camping is learning skills you otherwise wouldn't. Outdoor survival takes practice after all!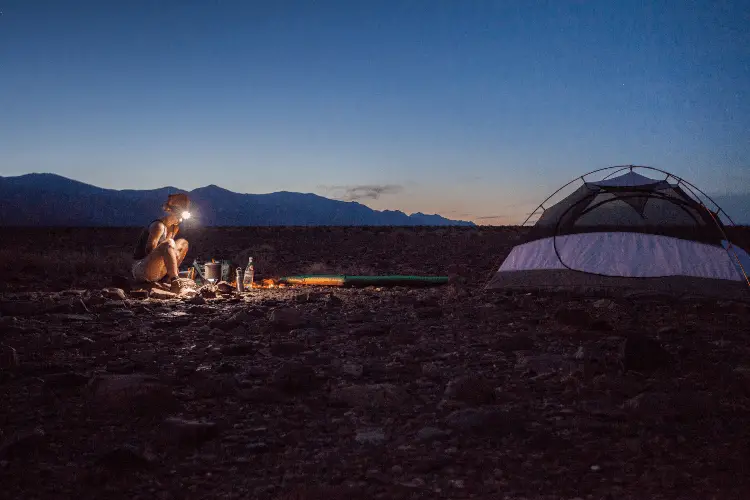 If you've ever been inspired by an episode of Survivor, camping is your chance to learn how to pitch tents, build campfires, cook outdoors, and many other skills.
You never know when these will come in handy.
Setting up your campsite 
Okay, this reason is kind of an extension of the reason above, but it stands that setting up your campsite can be extremely fun.
Whether you put up a tent or decide to sleep in an RV, it's up to you to make it cozy. Have fun hunting down rocks and sticks for your campfire, then stage a space for you to sit back and relax.
You can even customize your site with inflatable pools, outdoor movie screens and hammocks.
Campfires, marshmallows, and scary stories
Campfires are a must!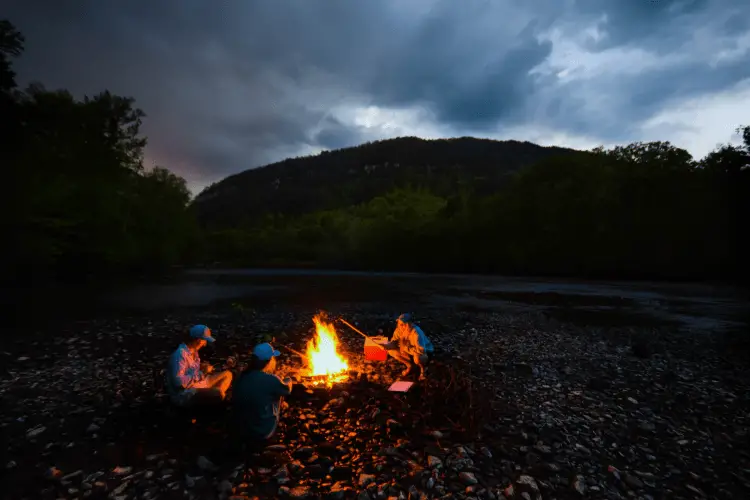 Camping is fun because there's no one to stop you from staying up at night – settled in around a campfire to toast marshmallows. Don't forget to lean into the ambiance and tell your scariest stories!
The crackling flames can also set a romantic mood. Just make sure to bring along hot chocolate and blankets to cuddle in.
Cook over a campfire
Cooking over a campfire is an experience you don't want to miss!
Indulge in guilty pleasures like mac n' cheese, honey-glazed sausages, potato bakes, s'mores, chocolate desserts and other campfire foods.
Playing games outdoors           
Take your play outdoors when you go camping. If you've chosen your campgrounds wisely, you might have an entire field to yourself for an impromptu game of soccer or capture the flag.
Parked near a beach?
Bring a volleyball with you, or splash around in the waves. Instead of fixing your eyes on computer screens, killing virtual enemies, you can bring back childhood games like sack races, Frisbee throws and more.
Unlimited Access To Hikes
For me, hiking and camping go hand-in-hand.
Being able to discover picturesque trails, spot animals and work out are just a few perks to hiking.
It's also great for your mental health, as studies have shown that walks in nature decreases anxiety and depression.
It's infinitely more fun than working out in a gym, for sure. Whether you're hiking solo or as a group, through the woods or along the coast, the change in environment is a huge mood booster.
Potentially meet new friends
Are you a solo camper?
Camping on your own doesn't mean having to be alone. You'll likely meet fellow campers on hiking trails or at popular campsites.
Camping is a great way of expanding your friend circle since you're meeting people with similar interests. Toast your newfound friendships with some s'mores!
Learn useful new things
There's plenty to discover about the world, so why not outside of the classroom?
Most campsites and hiking trails come with informational signs, sometimes even visitor centers.
You can pick up on the area's history, local wildlife, as well as interesting myths and legends.
I've learnt plenty about the terrain and wildlife that inhabit it by talking to park rangers and other managers.
Leave the city behind
What makes camping so fun is being able to leave behind our lives for a day. Our daily lives come with a host of distractions – our phones, our jobs, constant socializing and other obligations.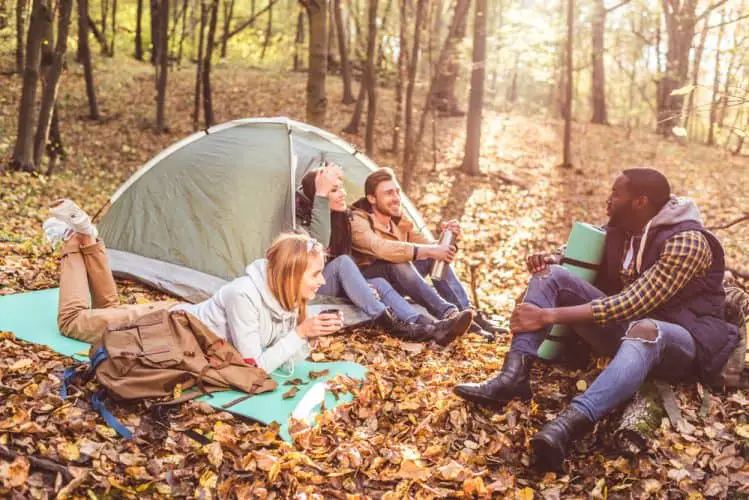 Stress naturally builds up, but we don't always find good ways to release it.
Camping takes us through motions far removed from what we usually do, refreshing our energy reserves and reminding us that there's more to life than just the grind.
Bask in nature
Part of going offline and saying goodbye to digital distractions is embracing nature instead. Camping brings you to the heart of nature, be in lush greenery, the hush of waves at night, or stunning skies full of stars.
Starry, starry night no longer remains song lyrics, but becomes your reality. Some of my best camping memories include lying under the stars. If you can, bring a telescope with you!
Let yourself sink into nature.
Get closer to wild life
Another reason why camping is fun is spotting wildlife.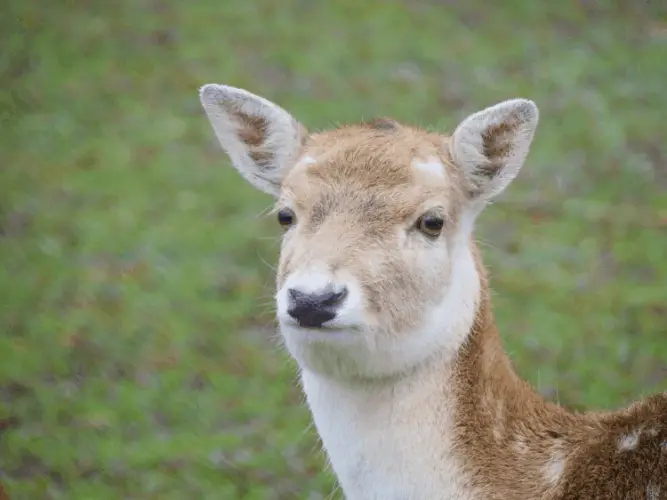 Forget going to zoos. Imagine seeing birds burst out from treetops, monkeys clambering up mountains and other unexpected encounters.
Throw out the schedule
One of my favorite things about camping is that I'm free to do whatever I like whenever I want. Camping doesn't require a strict itinerary or schedule.
The freedom and relaxation that comes with being in nature is meant to be enjoyed leisurely. Once you've carved out a weekend in your busy schedules, the trip itself is on your call.
You can wake up anytime, do whatever you want, eat when you're hungry and sleep when you're tired.
Bond with your pets
Unfortunately, most of us can't bring our pets to work, or even out to a café. Camping is the perfect opportunity to spend quality time with your pets (like letting them sneak into your bed).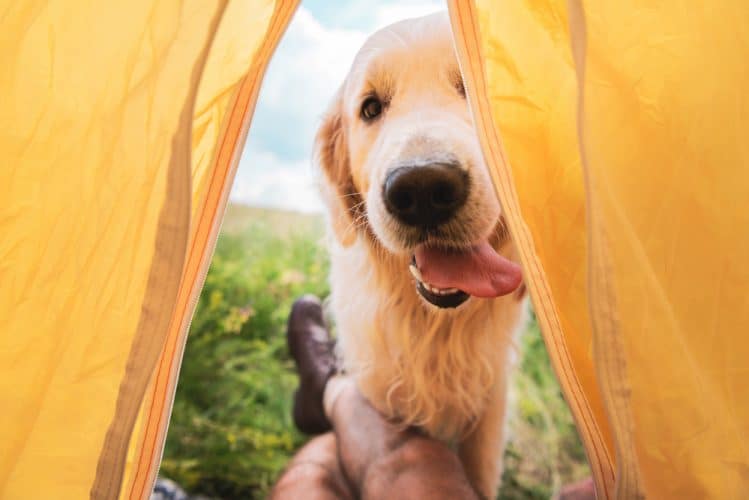 Dogs in particular will have a blast.
They love sniffing at plants, meeting other animals and exploring new places. Set up camp near a grassy knoll or open lands, and you'll have plenty of space to run around.
Getting to know your companions better
Camping doesn't have to be the height of romance – it could also be a chance for you to bond with friends and family members. Away from the distractions of everyday life, you can properly engage in conversation.
This means breaking down barriers and letting loose! Blast music and dance in your tent.
Stay up late around the campfire exchanging stories. Bring up topics you never had the time to discuss, or simply bask in the quiet together.
Making forever memories
At the heart of it, camping is about experiencing the world in new ways.
Whatever you end up doing, whether it is hiking up a peak, chasing rare wildlife, making flower crowns or meditating under waterfalls, you'll be walking away with good memories under your belt.
If you're camping with friends and loved ones, your memories will be ever the more precious.
You might even come away with funny incidents to share!
How to Make Camping More Fun
To make camping even more fun, consider playing games or checking things off your bucket list! Choose your campsite with activities in mind. For example:
Camping on the beach – you can enjoy watersports, beach volleyball, explore tidepools and other beach-centered activities.
Camping in your backyard – go on a mini adventure even if it's not in the woods! Great for families on a random weekday.
Camping at the end of hiking trails – roleplay like you're actually an adventurer. Forage for "treasures" and try using old-timey navigational tools to explore the area.
Camping Games that Make Camping Fun
There are plenty of card games and board games you can bring with you while camping.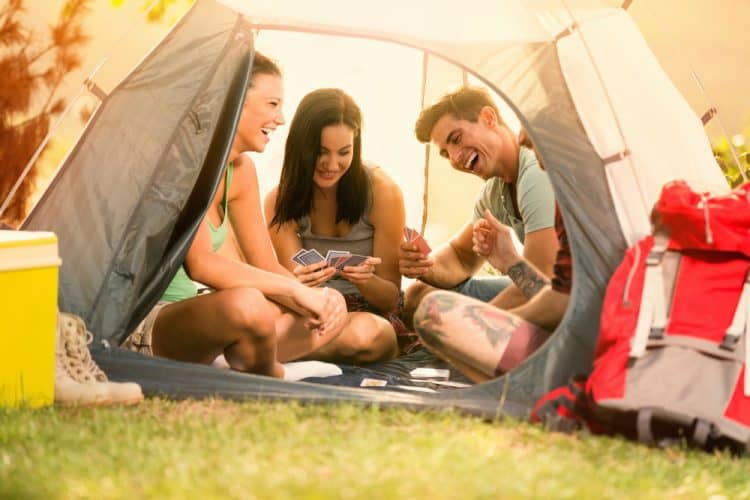 A little sprinkle of creativity also goes a long way – use what's around you to create fun games!
Capture the Flag – A favorite for bigger groups; split into two teams with designated areas. Each team squirrels a flag away; your goal is to steal the other team's flag while defending your own.
Treasure Hunt – Make a list of things you can find in nature and compete to bring the complete collection back first! If you're entertaining kids, you can even hide "treasures" around the area and mark them on a map for the kids to hunt down.
Playing Cards – Cards are a no-brainer; there are so many games you can play with a single deck! Whether you're playing poker, go fish, rummy or other stack games, consider spicing it up with a glow-in-the-dark deck.
Flashlight Tag – It's hide-and-seek, but you tag each other with flashlights. Just be careful that there are no dangerous corners or unstable terrain around you.
Charades – An easy game of mimic to play before the campfire, charades simply requires paper, pens, and your best acting.
Chubby Bunny – Speaking of campfires, Chubby Bunny is a classic camping game. Stuff as many marshmallows as you can into your mouth and try to say "Chubby Bunny". Keep going until your mouth is too full, or when you're too busy laughing them out.
Sleeping Bag Race – Instead of sacks, use your sleeping bags. Shuffle into your sleeping bag and get ready to hop your way to the finish line.
Exquisite Corpse – Why not work on a campfire story together? Everyone takes turns to write a portion of a story, folds it down so that only the last sentence can be read; passes it along until everyone gets their turn. Do a dramatic at the end for a baffling story.
Obstacle Courses – This is another favorite for kids. Use whatever is on hand to design an obstacle course! First one to clear the lot gets to toast their s'mores first.
Morse Code Messages – Send someone off to the closest tree line with a flashlight and have them flash a message in Morse code. Whoever deciphers it first gets a little prize. It's a fun way to learn new skills.
General To-Do List to Keep Camping Fun
There's only one reason camping won't be fun barring unexpected, bad weather; if you go under-prepared. Make sure to:
Have the appropriate weather gear.
Bring or forage enough wood to make your campfires last.
Stock up on mosquito and insect repellents.
Bring the right supplies to start your campfire; fire starter kits are great for beginners.
Comfortable beddings and blankets are a must! Stay warm, stay cozy.
Bring enough snacks to tide you over, especially for a night under the stars.
Conclusion
Some people say camping isn't for them, that there are too many bugs and that they don't like dirt.
But you don't want to miss out on experiences of a lifetime – there are so many reasons why camping is fun!
For once, you can forget the troubles that plague you in the city. Leave behind your phones, computers, and digital distractions to soothe your eyes with nature instead.
From adrenaline-pumping hikes, panoramic landscapes and the starry skies you can't see in the city; camping reminds you to enjoy life.
If wildlife and outdoor learning don't entertain you, bring games along! Fun is only limited to your imagination; the variety of terrains mean you can choose your adventure.
You can even bring indoor entertainment into the outdoors; simply pack an inflatable movie screen, bean bag chairs, and instant popcorn.
Our only advice is: prepare well. Bring your sunscreens, insect repellents, fire starters and weather appropriate gear. If you're comfortable, the rest will fall into place.
Founder of this website, Asen is a passionate hiker and writer who is also a gear nerd. He's been featured on many established hiking websites where he gives hiking advice & tips. When he is not trekking with his family or friends, he is writing articles and product reviews. Asen spends most of his time in Bulgaria but he constantly travels the world in seek of more unforgettable experiences. Read more about Asen here.