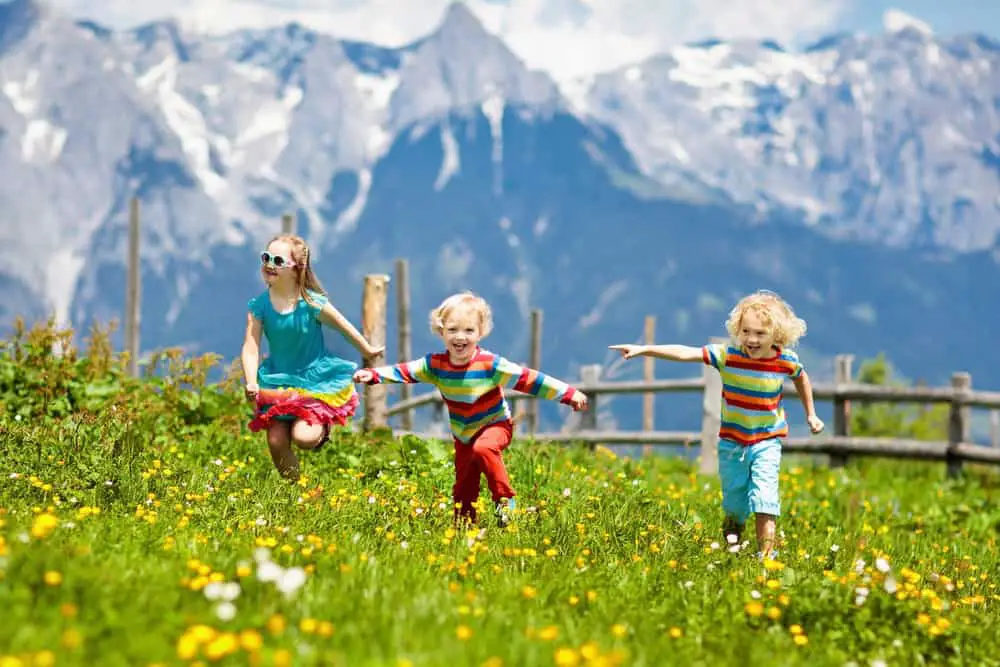 15 Astonishing Hiking Trails For Kids Of All Ages [2021]
Whether your family regularly seeks adventure or you simply want to experience as much as possible whilst on holiday, hiking is a universal thumbs-up activity. Don't worry about having to leave the kids at home either – there are plenty of interesting and age-appropriate hiking trails for kids. 
Some may ask: why hike with kids at all? Hiking is highly beneficial for kids for several reasons, not in the least because exercise is crucial to healthy development.
Constant digital distractions and co-curricular activities mean that kids barely have the time to process and rest, leading to burnout and lack of focus. Engaging with nature allows them to interact with a less-stimulating yet no less fun environment.
Not only can they build up physical strength and mental fortitude - they also learn more about the world and the importance of preserving it. 
Things to Consider When Hiking With Children
When choosing trails to challenge with kids, there are certain criteria to keep in mind.
What family-friendly facilities do they provide?
How long is the hike?
What kind of terrain should you look out for? 
What points of interest will you come across that would appeal to your kids?
Make sure to factor in your child's fitness levels as well as their existing interest in outdoor fun. Athletic kids will thrive on more challenging hikes.
They may demand more diverse terrain such as rocky uphill scrambles to stay engaged. Younger and less active kids fare better on treks with little elevation, while families pushing prams have to stick with flat paths. It's all a matter of finding the right fit for you.
Best Kid-friendly Hiking Trails Around The World
Keep your hiking journal up to date with these stunning hikes around​ the globe.
#1 Bluff Point Hike​
Connecticut's Bluff Point State Park sprawls in acres of barely touched land to offer an unfiltered nature-scape all year round.
No admission fee is required to enjoy its diverse terrain, which includes beach access and forest fare. Families with strollers or younger kids can take the looping main trail which blazes along the coastline in a dirt trail.
It offers views of the Long Island Sound as well as a lighthouse, featuring a tree line to shade you during extreme months.
The lack of elevation along this trail makes it easy for kids to keep pace. There are more challenging trails that branch out for exploration too. Toilets and benches are available for clean-up and rest.
#2 Cheesequake State Park
Take the Green Loop around Cheesequake State Park to discover the best of this 1200-acre estate. Facilities have long been polished up in the decades between 1940 to present day, the center trail boasting a nature center with fascinating wildlife displays.
Families will have a blast at its camping sites and lake. You can make the most of summer with fishing and boating activities.
Older kids may challenge the steeper but shorter Yellow Trail, which is especially beautiful in the fall. With vibrant foliage underfoot and leaves to crunch your way through, this park is best explored at the turn of the cooler seasons.
#3 Caw Caw Interpretive Center
Why limit hiking to warm months only when cooler weather bring about magical sights you'd never expect to see? Just make sure to have a proper rucksack and the right gear checklist.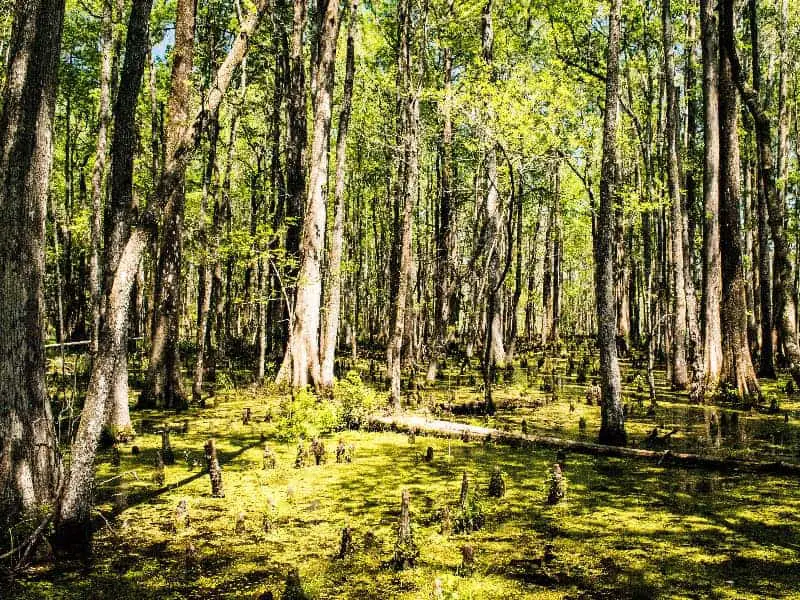 Delve into the thick forest of Caw Caw for the musty scent of cypress trees and orchestra of bird calls. The boardwalk winds through the black trunks to reach the heart of its watering grounds – a glimmering rainbow swamp.
This unique phenomenon only occurs in February when decomposing trees release oil in dense water and sunlight fractures on the surface, so plan your visit carefully!
Alternatively, your family can skirt the hardwood forest in a 5.8-kilometer hike through tidal marshes. For more fun activities, drop by in the fall for a fairy house building event.
#4 Carl G. Washburne State Park
Adventure is guaranteed with a name like Hobbit Trail – perfect for our littlest friends. This family-friendly hike rounds at either 1.5 kilometers or 7 depending on your starting point.
Those with low stamina can pull up to its roadside entrance and cut through a tree tunnel section leading straight to the beach. The entry point can be hard to spot, so keep your eyes out for other cars.
There will be a small sign indicating the trailhead. For the full experience, park at Heceta Head Lighthouse and pay tribute to the 1894 construct. This elevated hike will be a nice challenge for the kids.
Whichever route you take, the views open up to a golden-grain beach for picnics and a sandcastle building. There are plenty of algae-covered rocks for the kids to play pretend, as if this secluded cove is a world of its own.
#5 Wild Gorge Loop
The lush blend of springy moss and rocky gorges that characterize the Czech Republic's tamed valleys is an undeniable lure for hikers of all ages.
You can expect gradual lifts and declines with short bursts of steep climbs that are manageable with parental help. While the Pravcicka Brana to the Wild Gorge Loop challenges with its length and a climb up to the former (Europe's largest sandstone bridge), the rest is a gentle walk with interesting sights.
Kids are fueled by the sandstone cliffs along the trails, eager to clamber high. Trailing through the deep gorge and forest, the hike is sheltered enough to keep things cool.
The highlight comes near the end, where small boats are waiting to take you through the waterway between towering edifices.
#6 Adolf Munkel Trail
Open skies and ridged mountains make Adolf Munkel Trail one of the prettiest Italian hikes in the Dolomites. A base walk that edges along Odle-Geisler massif, the trail takes you over soft plains while hard rock rises on one side to make you feel so, so small.
Aside from a short uphill section at the beginning, the terrain is mostly flat and suitable for kids from 4 years old and up.
The longest route of the loop takes around 3 hours to complete, but pencil in more time for scenic rest stops. You can take a break at the Geisler Alm mountain hut, which offers both a restaurant and playground area for children.
#7 Catbells Hike
Lake, forest and rock summit come together in this sleepy town in the Lake District of England. Embark on your Catbells hike via a short ferry ride to Hawes End where the trail begins.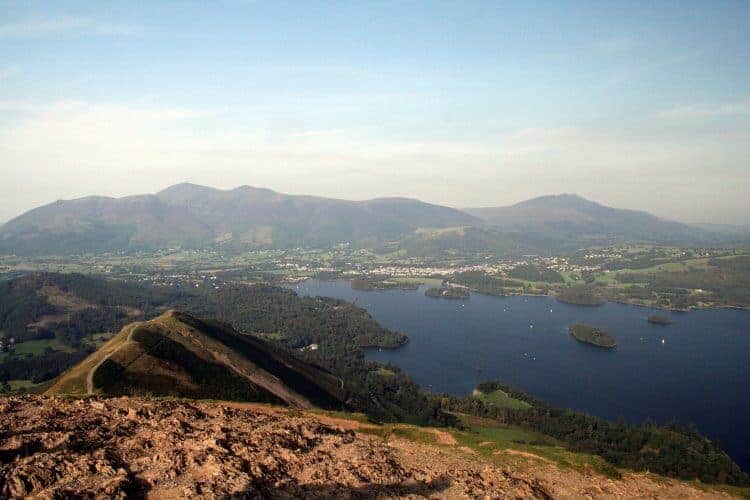 You'll have to leave the glittering lake behind for a while, but the early forest trek is wide and filled with insect sounds. The rocky trail heralds a much harder climb as it quickly turns steep, bringing you stunning panoramic views halfway up.
Here, you can take a breather as the path flattens out. Your kids can run freely on the plateau. The most challenging but fun part is the almost vertical rock climb that most kids opt for as they can scramble up like rock climbing champions.
#8 Imbros Gorge
Few places are as exotic as Greece, so definitely plan for this hike. Adults often challenge the 18-kilometer long Samaria Gorge, but for the kids, Imbros Gorge is the right fit.
Descend into the depths of the valley at just over 600 meters to find your footing over rocks and sand. You might want to keep a grip on the younger kids at the rockier parts, but generally the young ones love kicking over the stones.
There are plenty of rocky outcrops and bouldering walls that narrow to less than 2 meters wide, keeping the worst of the sun away. Free water points will keep you hydrated and rested up too! It's an easy trail with unusual sights.
#9 Bachledka Treetop Walk
You can now traipse over treetops thanks to Slovakia's elevated walkway, zig-zagging atop thick firs and dense canopies.
The clean-cut and man-made boardwalk makes it accessible for kids of all ages, with just enough thrill points to keep them entertained. Brave ones can chance a daring gap (which is actually safe) or conquer a 32-meter tower that is secured with a net.
Summer months come with even more charms, such as a 67-meter long slide that will have you whoosh through the forest. To guarantee an educational and interesting walk, point out the various wildlife and plants that you see and make a game out of it!
#10 Tongariro Alpine Crossing
You'll definitely clear your mind with this challenging hike, leaving behind everything but breathtaking volcanic landscape, moon-shaped craters and colored lakes.
Mangatepoppo Valley is the starting point of this one-direction trek, leading you through the South Crater to the highest crossing point at 1886 meters. With Tongariro National Park at your feet, descend to the aquamarine reaches of Emerald Lakes and Blue Lake.
The ever-changing scenery will press the kids onto uncovering more stunning sights as you slope down the northern end. Unless you're carrying your toddler for most part, this hike is recommended for older kids with some hiking experience.
#11 Khao Yai National Park
Explore Thailand's oldest national park via self-guided or tour guide led hikes – it is a glorious amalgamation of jungle, campsites, waterfalls, and everything nature.
You can pick from any of its five self-guided treks to best suit your family. Just make sure to wear boots to avoid leeches! The Kong Kaew Waterfall Nature Trail is by far the easiest, a short 1.2-kilometer hike that even your youngest can do.
You can crocodile spot on the hike between Haew Suwat and Pa Kluai Mai. Birdwatchers and wildlife spotters may appreciate the more challenging walk to Nong Phak Chi observation tower instead.
Another short 2.7-kilometer trail leads to Sai Sorn Reservoir, while the last trail is the longest at 5 kilometers, linking the Nong Phak Chi observation tower with the visitor center.
#12 Children's Adventure Trail
The Swiss Alps is a frequent name on bucket lists, but you don't have to commandeer it to enjoy its spectacular scenery.
Perched mountainside is the village of Mürren – unfortunately car-free but in direct eye-line of the famous ridges, it's a family-friendly alternative. Hop on the Allmendhubel Funicular train to kick-off the Children's Adventure Trail, an easy trek that loops through the sloping valley with fantastic views.
What makes it so special, however, are the kid-focused attractions, which include a playground, a wooden obstacle course, and a zipline-style swing.
These little monkeys will be screaming their joy as they crawl and climb to their heart's content, hunting down the lookouts, seesaws and balancing beams strewn along the trail. Panorama Restaurant Allmendhubel is a great pre-hike meal choice, too.
#13 El Chalten
Often recognized as the birth of travel narrative, Patagonia is a trove of natural delights for every explorer. The cozy town of El Chalten is no different.
Cradled by the Fitz Roy massif and the Vueltas River which spans Los Glaciares National Park, this hiker's paradise features walks of all lengths and difficulty. Families with younger children can start with the Mirador Los Condores and work their way up to Laguna Torre.
Laguna Capri is a moderate 12-kilometer walk that bypasses the hillside in a blend of steep and gradual inclines to reach stunning Laguna Capri. After trekking dense forestry and open plains, your kids will love splashing about in crystalline lake water.
#14 Little Adam's Peak
With low-hanging clouds and the thrum of wildlife, Sri Lanka's Ella region hums with energy. A white Buddha guards the entrance to the lush trail of Little Adam's Peak.
Local tea pickers emerge from the path with warm welcomes. Learn about Sri Lanka's humble living as your family winds through the green tea plantations before taking the stairs to the peak.
The hike itself isn't very long, marking it suitable for all ages. Panoramic views of the mountain ranges aside, you will also find adventurous and tween-appropriate activities such as zip-lining. If you want to extend the hike, carry through to the unique Nine Arches Bridge.
#15 Tomaree Head Summit Walk
Plenty of idyllic views await at Tomaree National Park but first, you have to conquer the steep slopes along Tomaree Head Summit Walk.
If your kid is the type to bounce around for hours without tiring, this trail is perfect for him/her. The sloping dirt path circles its way to the top with occasional steps, hemmed by leafy trees to keep you under shade.
While the trek up is relatively monotonous, you'll emerge to the expansive Port Stephens coastline. Snap shots of Yacaaba Head, Broughton Islands, Box Beaches, and more at the summit – the gorgeous views and fresh air is well worth the burn of your leg muscles.
Conclusion
The key to a great hike with kids is finding a trail that:
Trails with natural break spots such as lakes or woodland playgrounds help to preserve energy (for adults and children), while streams, narrow paths, rock climbs, and changing terrain will keep the children from being bored.
The 15 kid-friendly hiking trails above are solid examples of what to look for. Challenging at points and engaging with plenty of scenery or kid-themed activities, they will have your kid skipping ahead in excitement.
Be sure to share your favorite hikes for kids and any stories that come with!
Featured photo credit: Photo by Ian D. Keating on Foter.com / CC BY
---
Do you have a kid-friendly trail on mind? Share it in the comments below!