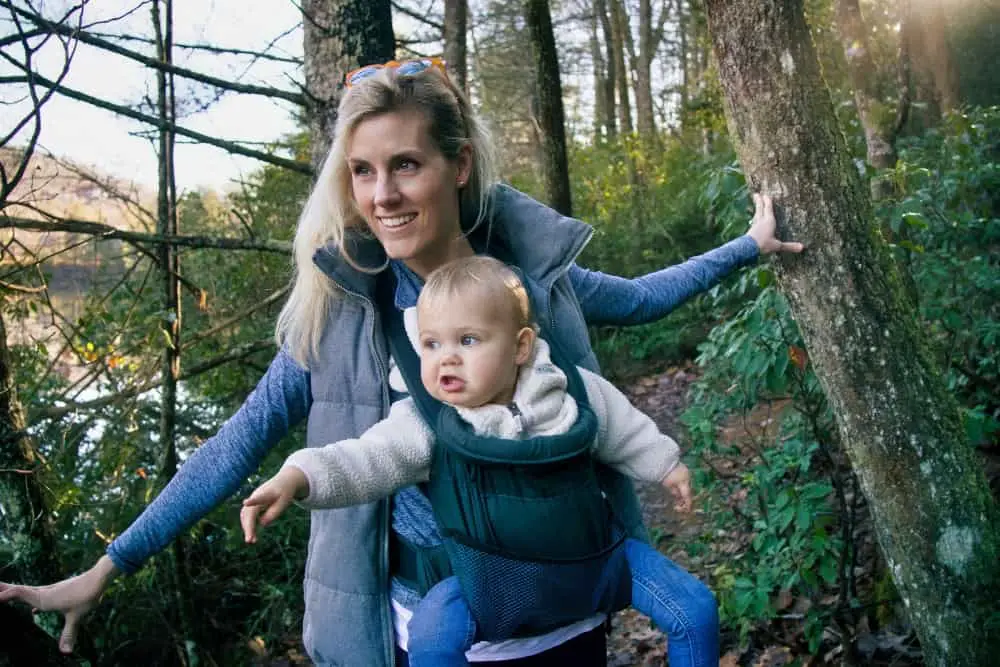 An Interview With The Creator Of "Co Carrier": Outdoorsy Moms And Dads, Rejoice!
Are you a hiking mom or a hiking dad?
Then just like me, at this point you're probably wondering what's more difficult – to climb Everest or to put a fussy baby to sleep.
I don't know about you, but I immediately raise a hand for "putting a fussy baby to sleep".
Speaking with a lot of my friends however, who now share the love for the great outdoors with their babies and infants, it turns out there is something at least as equally difficult.
And that is finding a (really) comfortable ergonomic baby carrier for outdoorsy folks like you and me.
One that is not too bulky, and at the same time is well padded.
One that's easy to use (and doesn't require a Harvard degree)
One that's light, compact, and packable.
One that's breathable and adjustable.
One that's designed for both sexes (we dads deserve that too, you know)
One that doesn't cause damage to your body (parenthood already does enough of that, thanks).
Recently we started a new section on our website, where we spread the word about interesting new inventions in our industry and introduce to our audience smart young people who greatly care about making the world a better place.
In a recent article, we reviewed the innovative Isara The One.
Today, I'd like you to meet such a woman. Her name is Kathryn Farrell. She's a keen hiker living in Atlanta. And a mom of two kids.
Kathryn is also an entrepreneur. She's the founder of Co Family – a young company that is in the process of collecting capital for the manufacturing of the innovative Co Carrier.
The Co Carrier is a simplistic, yet super functional ergonomic child carrier, designed for moms and dads.
It caught our attention on the crowdfunding platform Kickstarter thanks to its smart minimalistic design and insanely useful features.
Because it's spine-friendly and endorsed by physical therapists, the Co Carrier would make a fantastic trail-friendly gear for every outdoorsy parent who needs a comfortable way to carry his (or her) baby when hiking.
While I'm eagerly waiting to receive my sample for a review (expect that in a month or so), I decided to interview Kathryn.
She will shed more light on the Co Carrier, its features and what makes it different from other ergonomic child carriers on the market.
Without a further ado, here's the interview.
Q: Please introduce yourself and tell us a bit what you do for a living?
My name is Kathryn, and I am an anesthetist at a local hospital. I have been doing this for 10 years, but none have been so hard as last year.
I was in the front of the frontline when the pandemic rolled through, which was tough. But without that stress, I never would have had the need for so much help which led to developing the Co Carrier!
Q: What does motherhood mean to you?
Motherhood has meant a lot of things to me. I've always been very independent and, honestly quite selfish.
Becoming a mother has taught me to be more patient, forgiving, and flexible than I ever thought I could be. So, not only am I proud of how wonderful I think my kids are turning out, but I have a whole new level of confidence and appreciation for myself as a person and a mother as well.
Q: Could you please tell us how did you come up with the idea of creating the Co Carrier and what is your "why"?
"Last year, I was working full time as an anesthetist when I was thrown right into life on the frontline of the pandemic. My days were scary and exhausting, and I came home to an energetic toddler and a baby who would cry every time I put her down. "
Only I could hold her, and she wanted to be held every waking moment. But, I still had other things to do!
I still had to take care of her older brother, and pull at least a little weight around the house since my husband works full time as well.
I tried other baby carriers to free my hands up, but they weren't all that helpful. They were either complex to set up, uncomfortable to wear, or just plain hot!
So I ended up doing almost everything with one hand while I held my baby on the other hip. Extremely dissatisfied with that as a solution, I started working on what I would want in a carrier.
It has been nearly a year of prototyping, testing, and re-designing, and the Co Carrier is now everything I wanted and more. 
My "baby" is now a toddler, so she doesn't need the carrier nearly as much. But I know there are other parents out there in my situation, who are struggling to keep up with life because they are limited by the need to hold their baby at all hours.
I want this product to enable exhausted parents to rediscover some semblance of freedom by having their hands free again. Then they can accomplish the things they need to do and enjoy the things they want to do!
Q: How Co Carrier differs from other ergonomic child carriers? Could you describe its best features that will ease the life of a mom or dad?
"One of the big things that the Co Carrier offers is multiple positions, with minimal setup. Changing between positions is quick and easy, so you are much more likely to actually do it! "
Any position, if kept too long, leads to muscle fatigue and eventual imbalances and pain. Being able to quickly switch hips, or change positions altogether, reduces the likelihood of muscle and joint pain from overuse of one set of muscles.
It also sits higher on your body and has a more supportive strap configuration than lots of the popular carriers out there. This is better for the wearer's upper and lower spine.
There are some other ergonomic carriers out there, but most of them involve a complex setup, and are quite bulky. The Co Carrier offers all positions with a fraction of the size. The thin cotton canvas body piece makes it comfortable for any weather, for both the baby and the wearer. 
Q: What makes Co Carrier great for outdoorsy people who like to hike and backpack? Our readers are such folks, and I'm sure they would love to learn more.
I feel qualified to say this, because I am "such folks" as well!
"Since having the Co, I have abandoned all other carriers for hiking. Hiking carriers always caused me tremendous back pain and were a heck of a lot to tote when the littles wanted to get out."
I love how small the Co is. It folds up easily, and it is light enough to fit into a day pack. The huge pocket on the front means I can store a few snacks and toys for the kids, too.
It also rolls into a belt around your waist when not in use, which is great for adventures with toddlers who are big fans of the "up down, up down" method of hiking.
It doesn't have any hard parts that can rub you the wrong way, just soft cotton canvas. And, because it sits higher on your torso, it reduces the frequency of your baby's dangling legs hitting your upper thighs as you traverse uneven terrain.
We are just starting our product line, but the ultimate goal for this carrier is to offer more body piece options, so you can have moisture wicking for summer adventures, and flannel-lined weatherproof options for chillier, wetter days.
The goal is to have a full line of body pieces that you can customize to whatever your preferred outdoor activity involves!
Q:What was the biggest struggle you had to deal with during the entire process of creating the Co Carrier?
"The most difficult thing I encountered was certainly finding time. Working full time and taking care of two small kids doesn't leave me with a lot of free time or energy to spare, and product development requires a lot of both. "
I mostly completed tasks during naptime or after the kids went to bed. It's especially hard because, as a parent, I feel guilty leaving the kids to go to work.
They're still too young to understand and just want me around all the time. But I know that what I'm doing is important, both to help other parents and for personal fulfillment.
When I feel accomplished, I am a better parent and a better example to them. It's one thing to say "follow your dreams and work hard!".
It is quite another to actually do it yourself and let your children see how much you can achieve when you pursue your passion with passion.
Q: Being a parent myself, I know from experience that most child carriers often become uncomfortable after prolonged use. Sometimes even injuries may happen. Will the Co Carrier solve that problem? How?
Of course!
Staying in any position too long causes muscle fatigue. Fatigued muscles become injured muscles, and can cause other issues as the rest of your muscles tighten to compensate.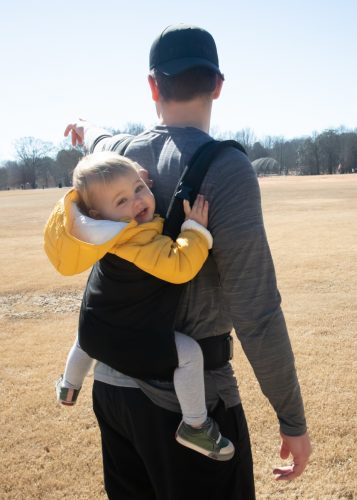 The Co Carrier allows you to quickly change positions. So, you are more likely to actually do it, which keeps your entire body more balanced. The supportive crossing of the straps also helps to distribute the weight of your baby more evenly along your spine, instead of concentrating the burden on your lower back. 
Not only does this reduce lumbar pain, but prevents shoulder fatigue from straps that are spread too wide on your torso.
Q: Can you please share some insider tips on how to use the carrier for maximum comfort both for us parents and for our babies?
Of course! The Co Carrier is extremely comfortable for parents and babies, but you have to know how to use it first.
It is very simple, but it's important to get the hang of any new carrier before you try it with your baby. When you first open it up, test it with a stuffed animal or a pillow.
The first time you use it, try it at home, not when you're out and about. This way, you can get comfortable with it and get used to the simple setup.
"Another great tip is to test it out sitting down, which helps your entire body to relax and ease into baby wearing. I would also encourage you to make sure you don't over-tighten any of the straps. Pull the webbing tight until it feels secure, but not tight. Always make sure your baby has room to breathe and move a little, and that their limbs are free of pressure. "
Q: Does the Co Carrier come in different sizes?
Yes. The way the Co Carrier maintains a snug fit for baby's size 7-35 lbs without an infant insert is by offering interchangeable body pieces.
The Size 1 fits new babies, from 7 to around 12 lbs. The Size 2 body piece fits babies from 12 to 35 lbs. Of course, the weights are a guideline and it's important to always measure the sizing against your own baby as he or she grows.
Q: What is the minimum and the maximum weight limit that the carrier supports? What about the min and max child age?
The carrier is safety tested from 7 to 35 lbs. This should fit your baby from fairly soon after birth well into toddlerhood. As long as your child is within the weight limit and they enjoy being carried, go for it!
Q: Is the carrier packable?
Yes, the slim profile allows the carrier to be rolled up into a very compact size.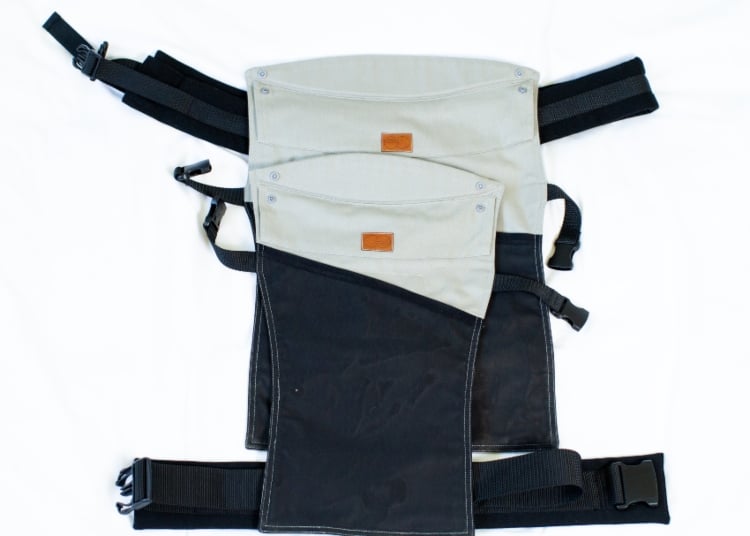 It fits easily in a large pocket or small bag and adds very little weight to your haul!
Q: When will the first batch be ready and when do you plan to start selling the Co Carrier?
We are currently producing the first batch for our early Kickstarter backers. The rest of the backers can expect shipment in July, and we plan on opening an online store soon after that.
This all depends on production and shipping times of course. If you'd like updates, you can sign up for emails on our website at cofamily.co and we will keep you in the loop!
Q: From where our readers can order?
Currently, the Co Carrier is only available through Kickstarter at this link. The campaign runs through June 3. After that, we will be setting up a limited online shop at cofamily.co.
Q: What will be the price of the carrier?
A full set retails for $165. There is a discount on Kickstarter, so you can snag a full set (straps, Size 1 and Size 2 body piece) for only $140!
Q: Do you plan on shipping worldwide?
We would love to ship worldwide, but we are limited by safety testing requirements. The Co Carrier is currently safe to sell in US and Canada.
We plan on pursuing safety testing in more countries as we grow and hope to be available everywhere soon!
Q: Will you provide a warranty?
The Co Carrier comes with a limited one-year warranty. If your carrier arrives with defects of manufacturing, we will work with you to repair or replace your carrier free of charge.
Q: Thank you for your great answers. Lastly, please tell us what is your favorite hiking spot? Could be everywhere.
While I do enjoy some of our hikes in Atlanta, my absolute favorite hiking spot is Royal Arch in Boulder, Colorado.
I lived in Denver for a while, and still have many friends there. This hike will always hold a special place in my heart, and I try to do it every time I go out there to visit.
It's hard enough to feel challenged, but still doable for those of us who now live at sea level. As a side note, this is where I learned that backpack hiking carriers bring their own risks when my friend and I accidentally walked into a low branch with her toddler on her back. The incident left no lasting physical wounds, but it did cause some serious mom guilt!
- End Of Interview-
What's Next?
Sounds interesting and like something you'd like to be a part of? Do you want to take part in making this promising new project a reality and receive great awards for that? You can even get the Co Carrier at a discounted price!
Then you can help Kathryn accomplish her project by backing it up on Kickstarter. You can do so by clicking that button below. It's an affiliate link, so I may receive a small incentive if you decide to back the project up.
Take Part In Making The Co Carrier Available For Everyone Now!
Back up Kathryn's project on Kickstarter and receive amazing awards including the Co Carrier at a ridiculous price! 
Expect my hands-on review of the Co Carrier soon. And the first ever public appearance of my baby daughter!
Thanks for reading and see you around!
Founder of this website, Asen is a passionate hiker and writer who is also a gear nerd. He's been featured on many established hiking websites where he gives hiking advice & tips. When he is not trekking with his family or friends, he is writing articles and product reviews. Asen spends most of his time in Bulgaria but he constantly travels the world in seek of more unforgettable experiences. Read more about Asen here.