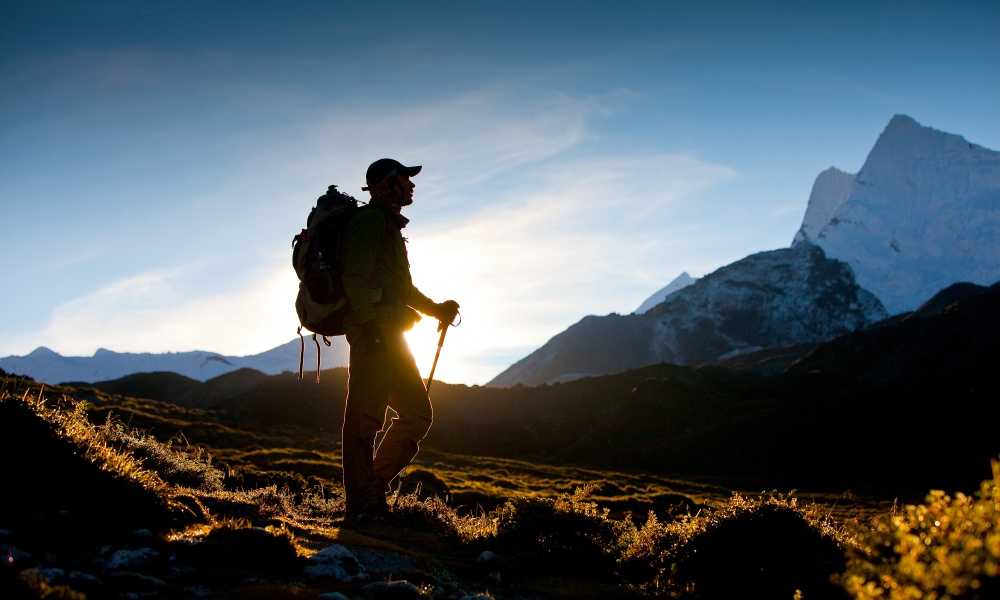 Best Lightweight Hiking Backpacks Of 2021
When you're planning a day-hike adventure, the thing that you want most of all is a good bag that will hold everything you might need for the whole day. But how can you choose which daypack is right for you?

The simple fact is that many lightweight daypacks may seem very similar, but they each have their own unique characteristics that make a difference in the long run. When you pay attention to these differences, you'll be able to choose the right one for your hike.
Let's take a closer look at five of the best lightweight hiking backpack choices so that you can start planning your next hike!
This article contains affiliate links. As an Amazon Associate I earn from qualifying purchases. That means if you click on a link and make a purchase I'll earn a small commission. This is at no extra cost for you. If that's the case, thanks a million!
Best Lightweight Hiking Backpack Reviews
IMAGE
PRODUCT
DETAILS

Our Top Pick

NEEKFOX 35L Backpack

Lightweight
Durable fabric
Compact

View On Amazon →
ZOMAKE 20L Daypack

Ultralight
Compact size
Water resistant

View On Amazon →
Sumtree 35L Daypack

Inexpensive
Durable
Comfortable

View On Amazon →
Camel 40L Lightweight Hiking Backpack

Well-known name brand
Durable construction
Designed with safety and convenience in mind

View On Amazon →
Hisea Lightweight Hiking Backpack

Super durable
Unique color
Multiple sizes available

View On Amazon →
1. NEEKFOX 35L Backpack
This lightweight 35L backpack is an excellent choice for hikers, travelers, and those in need of a good daypack for any of their upcoming adventures.
Review
NEEKFOX has made this bag very useful for both hiking and traveling, and it is especially helpful if you want to hike while you are traveling. The backpack can be folded up to fit into a very small pouch, and this pouch can tuck into any luggage while you are on the road. When you need your day pack, simply unfold it, and you'll be ready to go!

When folded, the bag is around 8 x 10 x 2 inches, and when unfolded, it is 20 x 12 x 8 inches. This means that it decreases in size dramatically when you fold it up and put it in the carrying pouch. As such, it is easy to bring anywhere you go.

One big benefit of this bag is that it is outfitted with many pockets and compartments. There is a big compartment, two zip pockets, two mesh side pockets, many inside pockets, and a laptop slip space. Pockets are useful when you are going on day-long hikes because you can keep everything super organized; no more digging to the bottom of your bag!

The shoulder straps on this bag are comfortable because they are well-padded, and that makes carrying this bag all day long very easy. Additionally, it can hold up to 44 pounds of weight in its 35L space.
2. ZOMAKE 20L Daypack
The ZOMAKE daypack comes in at 20L and is a good choice for anyone who takes frequent day trips because of its rugged durability.
Review
The first thing that you might notice about this bag is that it has very durable stitching and sturdy construction. Even after taking this bag out on many day-long hiking adventures, you'll find that it doesn't show any major signs of wear and tear. For that reason, you can expect to use this bag for a long time.

Another bonus of this bag is that it is equipped with very easy-to-adjust straps. Simply sliding the straps will help you find a very comfortable fit, and the sternum strap is also adjustable, so there is no reason to be uncomfortable while carrying this bag.

Finally, this bag is on the smaller end when it comes to daypacks and that can be a great thing for those who want to keep things as compact and light as possible. At 20L, this bag has just enough room for a day trip.
3. Sumtree 35L Daypack
Sumtree's 35L Daypack is a large bag that can fit more than just the essentials, making it a good, flexible option for those who like to go on both day hikes and some short, overnight adventures.
Review
The most noticeable thing about this particular daypack is that every compartment is sub-organized into many different compartments. This means that you can easily find and designate a spot for everything. When your bag is that organized, it will be very easy to pack every single time that you want to head out on a hike.

Since you will be carrying a good number of items on your back, it's important that the bag can be worn very comfortably. Fortunately, this bag has comfortable shoulder straps, so even if you hike for a few hours, you won't feel any tension building in your shoulders.

Finally, the weight distribution on this bag is really good because of the compartments. You can easily put things in the bag in a way that it will sit nicely on your back without causing any unnecessary sway, and that will be very beneficial when you are climbing steep mountains.
4. Camel 40L Lightweight Hiking Backpack
Camel is one of the most well-known hiking supply companies, and this backpack is an excellent choice for those who want to rely on the brand's quality.
Review
This pack is one of the more advanced models made by Camel. It includes a hole for a water container to be placed inside with the drinking tube coming out of the backpack. This is super convenient for those who prefer to use a water bladder instead of bringing bottles, and you'll be able to drink without stopping.

As this backpack is only waterproof and not water resistant, it is nice that it comes with a rain cover that you can throw over the bag if the weather turns sour. With this rain cover, you'll be able to prevent water from soaking into the fabric and onto your belongings. Most daypacks do not come with their own rain cover, so this is a nice bonus.

Additionally, the shoulder straps are well situated and easy to adjust for a very comfortable fit. Hence, you will be able to make sure that it sits securely on your back in no time. In cases of emergency, this bag is equipped with a whistle that is located on the chest strap.
5. Hisea Lightweight Hiking Backpack
This bag has a unique color that will appeal to hikers, fashion lovers, and everyone in between. If you want a bag that looks good and works, this is the right choice for you.
Review
The best thing about this bag is its durability. While there are a lot of durable bags on the market, this one really has been built to stand up to a beating. Even if you toss it around or accidentally drop it, you won't see any visible damages to the bag itself.

One fun feature of this bag is that it has an audio port for your headphone cable. You can keep your phone or music device inside of the bag, and your headphone wire will come through the hole. This makes it very safe to listen to your music while hiking without having to hold onto the device playing it.

This bag is also available in two different sizes that are both appropriate for daypack-type usage. The 25L size is good for those who like to carry their full supplies while the 15L is better for more casual hikers or those who prefer a minimalist approach when they head out on the trail.

Finally, this bag has a nice-looking design. The structure of it is great, and the color blends in with the surroundings interestingly and appealingly.

With this bag, you'll be able to use it not only as a hiking bag but also as a fashion piece if you want to. This design makes it great for crossover travel use!
FINAL VERDICT
Among the best lightweight hiking backpack options of 2019, the number one bag that has the best features for your next day hike is the NEEKFOX 35L Backpack. This affordable bag is durable, and it offers a tremendous fold-up feature that works most effectively in this design.

If you want something that is a bit bigger, the Camel 40L Backpack is a great choice from a reliable brand. While it isn't foldable, it can hold a lot of items inside because of its big design, while still very comfortable to wear and hike with.

Nonetheless, no matter which bag you choose, you'll be satisfied with any of the five options!