18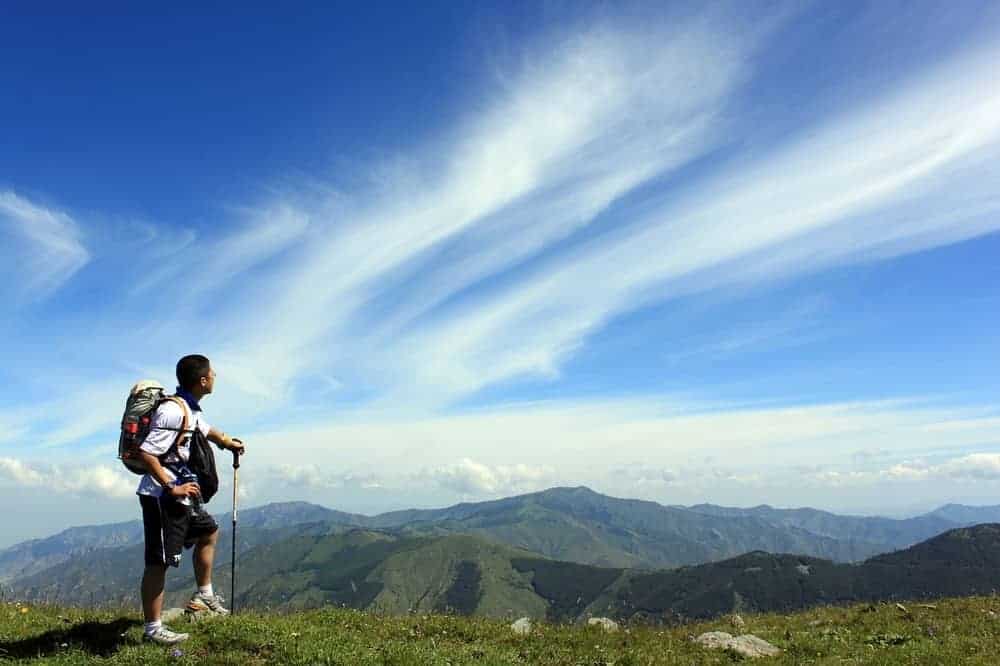 External vs Internal Frame Backpack: Let The Battle Begin
Do you want to be a hellraiser?
Then you should go on a hike with a group of highly experienced backpackers and ask them to express their opinion on the topic 'external vs. internal frame backpack'.
You will most probably trigger a passionate discussion that can last for hours. The debates would burn more calories than the hiking trip itself.
Even though the external frame backpacks are nowadays considered as old-school by most manufacturers and outdoor enthusiasts, those type of packs are far from being dead. If you look around, it would be difficult to see many of them on the trail.
However, there are people who still praise packs with an external frame and believe that in certain circumstances they are more appropriate than those with an internal frame.
That is why this subject is a 'hiking hot potato'. It still splits the community, regardless of the fact that seemingly the whole world uses backpacks with an internal frame.
Heck, as of this writing, there is even a crowdfunding campaign for sliding backpacks that will float on your back.
Which one is better – the pack with an external or internal frame? What exactly does that mean in the first place?
When and where to use them and what are the most common pros and cons of both?
What are the most famous brands that produce such backpacks and is it worth it to invest in an old-fashioned external-framed backpack?
In this article, I will try to answer those popular questions. So follow me and let's begin.
External Frame Backpacks
Surprisingly or not, there are many people, especially from the young generation who haven't even heard of external-framed backpacks. If you are one of them, don't worry. Just continue reading.
What Is A Pack With An External Frame?
The definition is as straightforward as it sounds. It's easy to distinguish a backpack with an external frame because of its rigid structure.
The aluminum frame is outside of the pack and it puts it away of your back. It's like coming from another age.
That's why it looks strange and unusual to those who are used to wearing only internal frame backpacks. Even if you have never had an external frame pack, chances are your parents once did.
Such kinds of packs have the usual straps and belts allowing you to stabilize the bag for more comfort and security.
At the beginning, the frame was not even metal – it was wooden. The first packs with an aluminum frame appeared in the middle of 20th century. These bags were used primarily for military and mountaineering purposes.
Recently there are rucksacks with reinforced plastic external frames that are lighter and even more flexible.
Pros
Let's examine the most common advantages of using a backpack with an external frame:
Cons
Sure enough, external-framed backpacks have their disadvantages. Let's see them:
When To Use An External Frame Backpack?
Many people prefer using backpacks with an external frame during summer trips because of the better ventilation system.
Also, it's important where and how you hike. It's best to be with such a pack on easy, flat terrains that are not technical.
That's because an external frame rucksack is difficult to manoeuvre with and it is not as flexible as an internal frame pack.
Suitable terrains would be long, open trails free of obstructions such as dense vegetation. An external frame backpack would allow you to bring your bulky gear on such trails. You want to go on a trekking in Sahara desert? Your good old external frame pack would be an excellent choice.
Popular Brands
Arguably, the most recognized manufacturers of external frame packs are the ubiquitous Kelty. Some of their famous models include Yukon, Trekker, and the 90L Tioga.
Other popular brands and models are Alps Mountaineering Red Sock, Alps OutdoorZ Commander, Alps Zion Mountaineering Pack, and Slumberjack Rail Hauler 2.0. These are also the packs with the highest customer ratings.
Here are some high-quality packs with an external frame.
Internal Frame Backpacks
Now it's time to take a look at the industry standard. Let's start with something simple but important.
What Is A Pack With An Internal Frame?
It's highly unlikely that you don't have such a backpack. Today, everybody does, even the dogs.
The entrepreneur Greg Lowe first created the internal frame rucksack in 1967. Later he founded the companies Lowe Alpine and Lowepro that were successful in producing outdoor equipment.
Unlike the external frame rucksacks, here the frame is hidden inside of the bag and it's surrounded by fabric section. Even internal, the frame can still be aluminum. It also can be titanium or plastic.
Pros
Without further ado, let's check out why internal frame backpacks are so popular:
Cons
Make no mistake that internal frame packs have their disadvantages too. Don't believe me? Just keep on reading.
When To Use An Internal Frame Backpack?
Because of their versatility and flexibility, backpacks with an internal frame can be your companion on long, technical terrains. That includes rocky tight trails, steep hills, and rough mountain peaks.
When the back fits close to your body, you can easily make upper-body movements. That's why internal frame packs are excellent for mountaineering and even skiing.
Popular Brands
Here's a nifty table I prepared especially for you that showcases some leading companies producing highly performing internal frame backpacks. I also put their bestselling models.
| | |
| --- | --- |
| | |
| | |
| | Futura Pro 38 SL; Futura Vario 50+10 |
| |    Scout 3400; Mountain Adventurer |
| | |
Final Verdict
As we are approaching the end of this trail, one questions remains. Which is better – external or internal frame backpacks?
Here's what – it's all about personal preference. The most important thing is to feel comfortable with your pack and to be able to put all the needed gear in it. Don't forget to take into consideration the terrain and the weather conditions as well.
My opinion is that it's not unusual that external frame packs are a vanishing breed.  
It's a normal evolution. Today, you can do anything with an internal frame backpack. New, enhanced models appear more often than ever that can satisfy even the most pretentious desires.
With that being said, external frame packs certainly have their advantages that still make them the preferred weapon of choice of many hooked backpackers.
Now stop reading and leave a comment below. What is your experience with backpacks and which type do you prefer?
Founder of this website, Asen is a passionate hiker and writer who is also a gear nerd. He's been featured on many established hiking websites where he gives hiking advice & tips. When he is not trekking with his family or friends, he is writing articles and product reviews. Asen spends most of his time in Bulgaria but he constantly travels the world in seek of more unforgettable experiences. Read more about Asen here.