16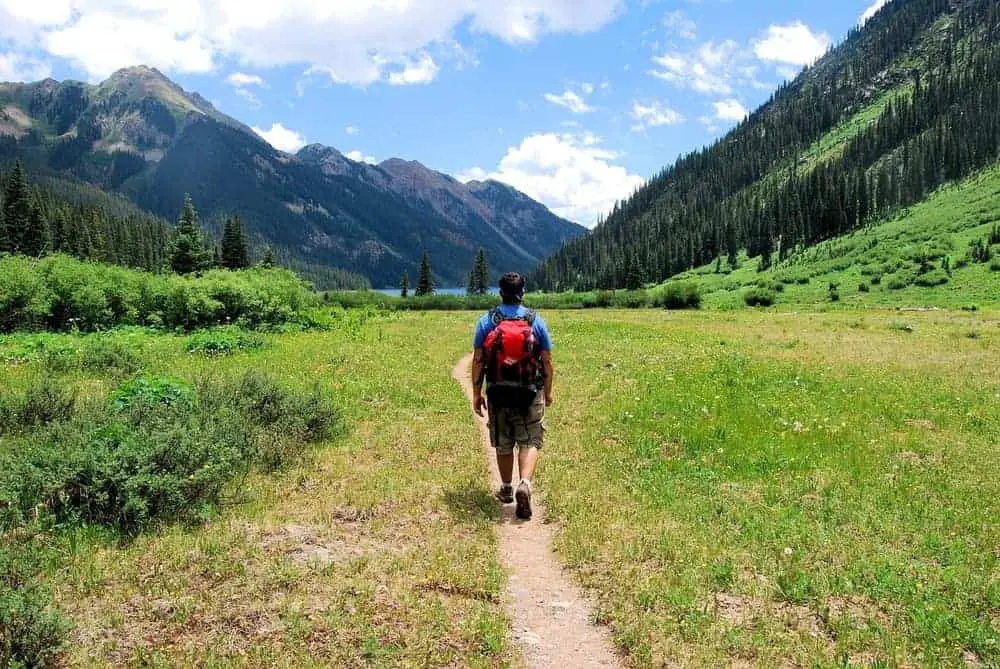 Kelty Coyote 80 Internal Frame Backpack Review: A Top Performer
Kelty Coyote 80L Internal Frame: QUICK OVERVIEW
Review of: Kelty Coyote 80L Backpack
I have to admit I am more than excited to present this Kelty Coyote 80 internal frame backpack review. That's not only because I have a first-hand experience with it but also because Kelty is one of my favorite outdoor gear brands. With a history of over 65 years, this is one of America's most recognized companies when it comes to hiking equipment.
Having a capacity of 80 liters, Kelty Coyote is designed for heavy hauling backpacking. The presence of plenty of functionalities and rigid structure makes it most suitable for long hiking trips (7-10 days). What really amazes me about this pack is that it is relatively light for its size. It can carry up to 60 lbs of load.
Also, the Coyote hides some really cool benefits that makes it extremely sturdy, comfortable, and versatile. The question is - is this the backpack that you need? The answer lies in the details. And with this pack there are many of them. So follow me and let's take a deeper look. I hope that in the end you will know if this is the right choice for you or not.
This article contains affiliate links. As an Amazon Associate I earn from qualifying purchases. That means if you click on a link and make a purchase I'll earn a small commission. This is at no extra cost for you. If that's the case, thanks a million!
Kelty Coyote 80 Internal Frame Backpack Review
What first struck me about the Coyote 80 is probably the less important feature – the color. I admit I like the blend of green and blue. Even though I consider myself as a practical person and the color is the last thing I look when shopping outdoor gear, I was pleased by the stylishness of this backpack. It definitely looked sexy.
Who Is This Backpack For?
Keep in mind that the internal frame Kelty Coyote is big. It also offers plenty of opportunities for strategic packing – pockets, straps, and compartments. It won't be far from truth to say it has all the bells and whistles you might need to participate in a survival reality show.
My point is that the backpack is most suitable for those who need to invest in a large and solid, yet highly adjustable and comfortable enough rucksack that will hold everything needed for a long journey.
I have a friend who used the pack on an 8-day trekking trip in the Italian Alps.
It's important to know that when fully loaded the backpack may become heavy so you don't want to use it for a light backpacking weekend in the local forest. When it's not filled enough, it's simply not comfortable because it doesn't fit well to the body. The Kelty Coyote is created to endure harsh adventures and to carry a lot of stuff. It's the best companion for those headed to long destinations who need to have enough food and gear.
What's Included?
Kelty Coyote 80 contains none additional bonuses in the shipment package. I mention that because some backpacks come with a rain fly or a tarp. Don't worry though. Continue reading and you will see why this is not relevant at all, given the features of the pack in question.
Features Overview
Overall, the features of Coyote 80 reflect its purpose – to be a robust and reliable backpack. The seemingly bigger technical specifications don't have to surprise you. They allow perfect internal organization, steady fit, and impressive easiness of use. But don't take my word for it. Let's explore the backpack more in depth.
Size

Let's involve the numbers. When you load the pack, it will be 34" x 17" x 14"/ 86 x 43 x 36 cm.  As you can see, it is slightly bigger than a standard backpack but this is what you have to aim for when looking to carry heavy loads for extended overnight trips.
I already mentioned it but the Coyote 80 has a volume of 80 liters or 4900 cubic inches. Perfect for those who hate the impossible task of finding more space in smaller and stuffed packs
Weight & Materials

While many will consider the backpack heavy, it is in fact surprisingly light for its size. When the pack is not loaded, the Kelty Coyote 80 is 5 lbs or 2.4 kg. I have to tell you this is quite good considering the sturdiness and the overall dimensions.
Now let me explain about the materials. I don't know about you but often I get lost in nomenclatures and technical terms that describe a backpack.
That's why I will do my best to describe briefly the components that the Coyote 80 is made of in Layman's language.
The fabric used is polyester with the metric 420D. The polyester is a largely used material for the fabrication of many items mainly because of its high resistance and ability to dry fast.
The often-unintelligible term 420D is simply a measurement of strength also called denier (D or DEN).
Without entering into more confusing details, let's just mention that the higher the denier, the stronger is the material. In our case, 420D is typical for tough hiking backpacks, which is good enough.
The reinforcement fabric is Poly 75x150D Tasser Coal. Kelty are known for using only high-quality reinforcement materials that guarantee long usage and remarkable endurance.
Another solid material used for Kelty Coyote 80 is the HDPE also known as high-density polyethylene.
In simple words, it is an extremely strong thermoplastic polymer that is difficult to wear off. The aluminum frame sheet contains this fabric as well as the reinforced waist belt. 
I have to tell you when I owned this pack I was treating it rough by putting it on every surface imaginable.
I admit I was even throwing it occasionally. Except for a few light scratches the backpack was intact.
Comfort And Ease of Use
Now, you can imagine that when you are going for a multi-day hike, one of the first things you need to pay closer attention to is how comfortable your backpack is. Also, it's important how well it fits to your body.
Walking extensively on difficult terrains with an unstable pack is horrible. I know it. Most probably, you know it too.
It doesn't only slow you down but it can hurt your back. Moreover, accessing your gear quickly and easily at any time could save you tons of time and effort.
Let's see what features Kelty Coyote 80 offers in terms of comfort and usability:
Compartments & Storage
Kelty Coyte 80 is a multi-pocket pack that has plenty of room and storage space. As you can imagine, it's easy to hold pretty much everything.
The better part is that you can access your gear effortlessly. Here I rush to mention some truly outstanding features so I will cut to the chase:
How to Use This Backpack
If you ask me, those types of backpacks must have a usage manual. Making a proper use of the pack and adjusting it wisely to achieve maximum comfort could be a challenge, especially for beginners.
The most important part here is to customize the Kelty Coyote 80 in a way that fits your body while thinking how to distribute the load evenly. You can do this since the rucksack has impeccable internal organization. Don't forget it's a big sack and it will feel most comfortable when it's filled. Make sure to use the PerfectFit Suspension system as it allows the pack to hug our body.
Use all the belts and straps to stabilize it but avoid over-tightening them. Even though it might feel good at the beginning, it becomes painful for the shoulders and hips after a while.
Alternatives
In case you don't need such a big backpack but rather prefer a smaller one that sill has all the comfy features, check out Teton Sports Scout 3400. It's a 55 L pack that goes with an integrated rain cover and sleeping bag compartment. The price is lower too.
If you need more of a standard-sized pack for lighter hiking adventures, make sure to check my Sumtree 35L Daypack Review. It's perfectly priced but it's small compared to the Coyote.
Another great choice and similar to the Kelty Coyote 80 is the Mardingtop 65L Tactical Backpack. It comes with a lower price and it's still a sturdy multi-day hiking pack. It's not as big as the Coyote 80 though and doesn't have all its features.
FAQ
What is the torso length size supported by the backpack?
Does the Kelty Coyote 80 comes with a rain fly?
What is the volume of water bladder that can be stored?

What is the maximum waist size the pack supports?

Final Verdict
That was a long review. I tried to be as thorough as possible so thank you for reading. To wrap it all up, I have to say that Kelty Coyote 80L is a great investment. It's excellent for long backpacking trips thanks to the presence of many pockets, compartments, and its sturdiness.
What makes this rucksack stand out is the PerfectFit adjustment system, the integrated daypack, and the multiple access points. If you are searching for a big, yet comfortable and highly customizable backpack that is reasonably priced, you can't go wrong with it. The customer reviews confirm it.
Kelty Coyote 80 will be your most reliable companion outdoors. Go and check it out.
Founder of this website, Asen is a passionate hiker and writer who is also a gear nerd. He's been featured on many established hiking websites where he gives hiking advice & tips. When he is not trekking with his family or friends, he is writing articles and product reviews. Asen spends most of his time in Bulgaria but he constantly travels the world in seek of more unforgettable experiences. Read more about Asen here.