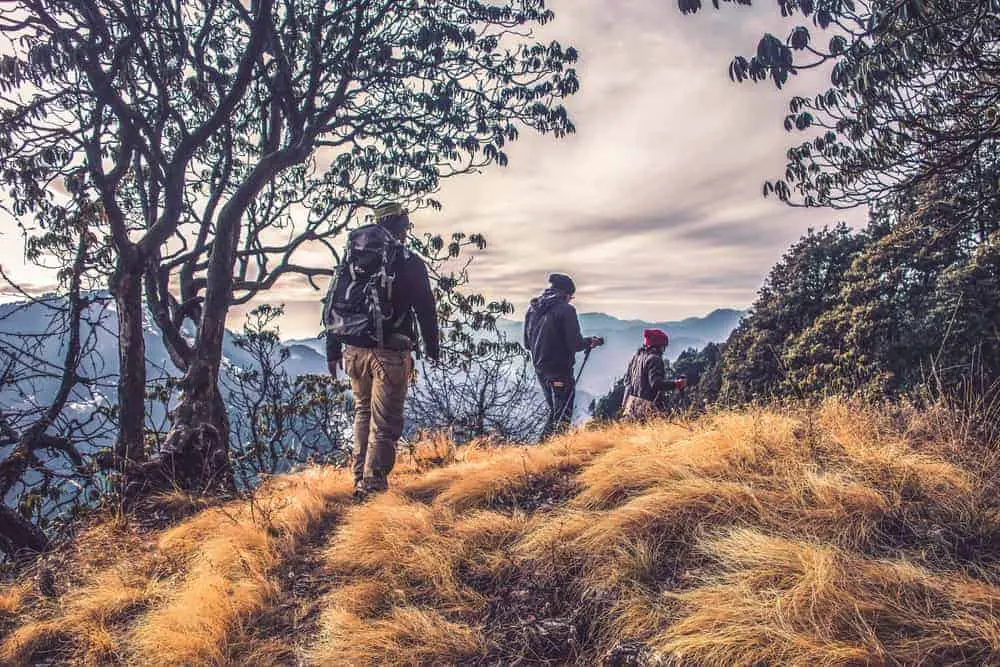 Unbiased Kelty Eagle 7850 Backpack Review [March 2021]
Kelty Eagle 128 L Backpack: QUICK OVERVIEW
Review of: Kelty Tactical Eagle 7850

Wait a minute…a behemoth?!
That's right, you read it correctly. Probably you're thinking it's a bizarre choice of words. I get it. But in the rest of this Kelty Eagle 7850 backpack review I am going to prove to you that this pack is a monster.
With a staggering volume of 7850 cubic inches or 128 liters, the Eagle is a tactical pack. It's best suited for prolonged trips into the wilderness. By long, I mean at least a week. Often, it is used by military men on a mission who need to carry really heavy stuff such as warfare gear apart from all the usual camping necessities. Hunters love it too.
The rucksack has tons of space, which is perfectly organized into plenty of pockets and compartments, some of them detachable. For starters, you have room for your clothes, food, rifle, tent, sleeping bag, and foldable mat. There's also an integrated rain cover and a freaking radio satellite sleeve and the option to attach a battery holder.
You can take pretty much everything with this big buddy on you back and you will still feel comfortable.
Read on. I promise, you'll be impressed and you'll know whether this behemoth is right for you.
This article contains affiliate links. As an Amazon Associate I earn from qualifying purchases. That means if you click on a link and make a purchase I'll earn a small commission. This is at no extra cost for you. If that's the case, thanks a million!
Kelty Eagle 7850 Backpack Review
No matter if you have ever used a Kelty product before, you've probably heard that name. With a history of more than 65 years, the brand has an impeccable reputation for creating innovative, sturdy, and well-thought-out backpacks.
Not without its cons, Kelty Eagle 7850 is such a rucksack.
Who Is This Backpack For?
I have some important things to say here, friends.
The Eagle is a physically demanding pack. That means you need to have a shaped body to be able to carry it when fully loaded. It's ideally suited for people 5 feet tall (180 cm) and over. What's more, you better be at least 140 – 150 lbs (60-70 kg), otherwise you may find it extremely difficult to bear the load on your shoulders. Especially on long expeditions and that's where you'd want to bring this pack.
The big Eagle is for big people, able to carry big loads. Don't worry, I'll mention the details in a minute.
Earlier, I described the rucksack as a military product. Don't let the adjective 'tactical' create limitations in your mind, though. Civilian people also make a very good use of this backpack. This behemoth is perfect for:
Now let's see what else we got. Continue reading.
Features Overview
Boy, I'll have some writing to do because the monstrous Kelty Eagle has a plethora of characteristics I can't miss describing. So bear with me and let's get ourselves rolling, shall we?
Size
I mentioned several times that the Eagle is huge. Now, I have the numbers to prove it.
The dimensions of the pack are 44" x 29" x 17.5". In centimeters, this equals to the dazzling 112 x 74 x 44. Once again, the volume is 7850 cubic inches or 128.7 liters.
Now, there's an option to shrink the pack a bit by removing the side pockets. I'll talk about that later. The new size in that case would be 103 liters or 6285 cubic inches.
As you can see, the size is meant to serve the purpose of the backpack – to carry many essentials for a long adventure.
Now wait to learn about the weight.
Weight And Fabrics

Kelty Eagle weights 11 lb or 5kg. Many consider this too much even for the size of the pack. I have to agree. However, keep in mind it would be a mission impossible to find a lighter pack at this size and at this price.
When you use the smallest version of the backpack (detaching everything you can) the weight will be 9 lb or 4 kg.
Given the impressive size of the Kelty Eagle, it's not a surprise that this pack can carry up to 85 – 90 lbs of load.
Regarding the materials, you can bet that Kelty used the sturdiest fabrics available to make the behemoth bulletproof. The body of the backpack is made of 500D Kodra Nylon. Kodra is an advanced material, which is ultra-resilient to abrasion.
The bottom of the Eagle is reinforced and here the denier is higher – 1000D Kodra nylon. That makes the pack tear-resistant, which is something important when you are adventuring in tough conditions.
To continue further, I'll mention that the Kelty Eagle has an HPDE frame sheet that adds even more solidity and resistance to the whole structure of the backpack. In brief, you don't have to worry about its durability. If you take a proper care for the pack, it will serve you well for many years and it won't wear out.
Now we approach the exciting part.
Comfort And Ease Of Use

At first glance, a huge and seemingly clumsy pack as the Eagle looks uncomfortable. Don't judge a book by its cover, though. Kelty Eagle is surprisingly versatile, adjustable, and easy to carry and organize. Let's look at some of the features that prove it.
Attached Rain Cover
When heavy rains starts to pour you can rely on the integrated rain fly to keep your belongings intact from the water. It always sucks when you don't have a way to protect your gear in such circumstances.
What I like is that the rain fly is in the same color as the backpack. It is stowed in the bottom pocket.
Top Lid Transforms Into A Daypack
Imagine you need to take a short walk for several hours outside camp and you need to take some items with you – a water bottle, a jacket, and a camera. It would be ridiculous to use the gigantic behemoth for that. Well, luckily the top lid is convertible.
You can easily detach it from the backpack and it will serve as a daypack or a sling pack. It's roomy enough.
Well-thought-out Suspension System For Perfect Load Distribution And Comfort
If I had to give credit to Kelty for one thing that would be their suspension system. When you have a significant amount of load to carry for a long time, the last thing you want is to feel uncomfortable.
Thanks to the easily customizable suspension system of the Kelty Eagle, you can adjust the pack so that it fits close to your back and shoulders. Take a look at some of my favorite features and the benefits they offer:
Hydration Compatibility
Another cool feature, everyone!
I am not a huge fan of hydration packs. However, I must admit that when you walk for days on technical terrains where it is difficult to manoeuver, every movement like the one you make to access your water bottles disturbs your balance and increases your fatigue. Check out the video below.
That's why it's better to be able to drink water with zero effort.
Kelty Eagle 7850 seamlessly integrates with hydration bladders. The backpack has two reservoir sleeves and two hydration ports.
Detachable Structure
Often you don't need to bring too many essentials on your trip, one reason or another. For instance, sometimes I don't take any utensils or my camping stove. In a similar case, you'd want to downsize the Kelty Eagle.
That's possible thanks to the removable side pockets and top lid.
Getting rid of them will decrease the weight and the size of the pack. You can also use the side compression straps to tighten up the pack even more. This will also make it more flexible and easy to maneuver with when you hike in the woods for example, where the terrain is bushy.
Now let's move on to the storage capacity of the Kelty Eagle.
Compartments And Storage Organization
Being a MOLLE pack, The Eagle 7850 is rich in pockets. In fact, its capacity is so big that you can dismantle your car and stow it inside. Okay, the last one was a metaphor but I hope you got the idea. I like the fact that Kelty Eagle gives you the freedom to pack items you normally couldn't take with a normal rucksack.
You can bring some heavy-duty gear as well. Let's evaluate the internal and internal organization of the behemoth.
Two Access Points
The Eagle is a top-loading backpack. There's also front access to the main compartment so you don't have to fight your way from the top to the bottom items.
Spindrift Collars
This is a handy feature of the large-sized backpacks. It's a cover that protects the main access of the rucksack. It has a drawstring you can pull to fasten the main compartment and then 'close it' with the top lid.
Internal Divider With A Mesh
The divider in the main compartment is zippered which is perfect if you prefer to stow items separately. Sometimes you want to put your parka aside from other dirty clothes, for instance.
The good part is you can unzip the divider and then you got one huge main storage space for stuffing large items.
Sleeping Bag Compartment
Stuffing your sleeping bag is easy with the Eagle pack. The compartment is with a zippered divider. You can stuff a surprisingly bulky bag there or a military sleep system. Consult the FAQ section for more info.
Multiple Pockets
Kelty cleverly designed all the pockets of the Eagle so you could use and access them with no effort. When packed strategically, they can take a tremendous amount of stuff. Here they are:
Now let's examine the external storage capacity of Kelty Eagle 7850.
I have to tell you that the behemoth has a lot of lashing capabilities for an internal frame backpack. You have the possibility to attach gear externally, which often turns out to be very useful if you have long sharp objects or some voluminous ones.
Let's understand how to take the most out of the backpack.
How To Use This Backpack?
The good news is the Kelty Eagle 128 L comes with a user manual. It's very helpful so make sure to consult it in order to learn how to adjust the pack properly. You'll see how to use some if its important features too.
I'd like to give you some advice as well.
As mentioned earlier, if you stuff the Eagle and fill every space imaginable, it can carry up to 90 lbs of load.
Pro Tip: Don't go over 65-70 lbs.
That's the optimum load that the suspension system can handle.
Moreover, you will feel most comfortable with that amount of gear. For civilian use, you rarely need to cross that limitation. You just don't have to stuff every pocket and compartment. Often you will even wonder what else to take to fill the whole capacity.
Another important aspect I'd like to touch upon is the presence of haul loops on the back panel.  Keep in mind their purpose is to carry light gear such as ropes, harnesses, etc. Avoid attaching heavy objects because they might not endure the weight.
Plus, you don't want to have something heavy pulling you backwards, thus destroying your balance.
Like I said, refer to the manual and you will be good to go.
Alternatives
Of course, the Eagle 7850 is not your only choice.
If you are a fan of Kelty, you will probably be interested in checking out Kelty Redcloud 110 L. It has more or less the same features as the Eagle. A slight difference is the durability of the fabrics. Redcloud uses 420D polyester compared to the 1000D Kodra Nylon for the Eagle. The weight of the Redcloud is 5.5 lb and the size is 35" x 19" x 16".
If you can't handle or you simply don't' need such big volume or weight, consider the smaller tactical solution courtesy of Kelty – Falcon 4000. It has a capacity of 65.5 L. Sure enough, the size and the weight are smaller – 81" x 38" x 31" and it weighs 3.1 kg or 6lb.
You can downsize the Falcon by removing the top lid and using the low-profile hood. In that case, the volume becomes 59.3 L.
Another good alternative is Kelty Coyote 80 L. It has the famously comfortable PerfectFIT™ suspension system, integrated daypack, and it is hydration compatible. It doesn't include a rain cover, though. Its size is 34" x 17" x 14"/ 86 x 43 x 36 cm and the weight is 5 lbs or 2.4 kg. The price is lower too.
Again, if you don't want to excess the 65 L, consider reading my review of Gregory Stout 65. Here the key characteristics are the TrailFlex suspension system, the adjustability, and the affordable price. If you want to have the numbers for comparison, the Stout weighs just 3.8 lbs or 1.7 kg. The size is 32" x 13" x 11" or 81 x 33 x 28 cm.
FAQ

Can I bring this pack on a plane?
What is the torso fit range?

Is this behemoth waterproof?

What's the size of the sleeping bag compartment?
Do I really need a pack of this volume?
Is it easy to walk extensively with such a big pack on my back?
Final Verdict
Kelty Eagle 7850 offers great value for the price. In fact, as of this writing, Amazon offers the pack with a 66$ discount, which I find tempting.
The size and the volume of the backpack justify its purpose – to carry heavy loads comfortably on every terrain imaginable, for long periods. I have nothing to say in terms of durability and space – it scores 10 out of 10.
Some of its downsides are the tight bottom straps and the unstable side pouch, which in my opinion should have been better 'glued' to the body of the pack.
I also like the fact that the size and the weight of the rucksack can be reduced by detaching the top lid and the side pouches.
If you are looking for a sturdy solution that can hold comfortably a big amount of gear, Kelty Eagle is the the right choice for you.
Thank you for reading and should you have any comments or questions, shoot them in the comments below!
Founder of this website, Asen is a passionate hiker and writer who is also a gear nerd. He's been featured on many established websites where he gives hiking advice & tips. When he is not trekking with his family or friends, he is writing articles and product reviews. Asen spends most of his time in Bulgaria but he constantly travels the world in seek of more unforgettable experiences. Read more about Asen here.