12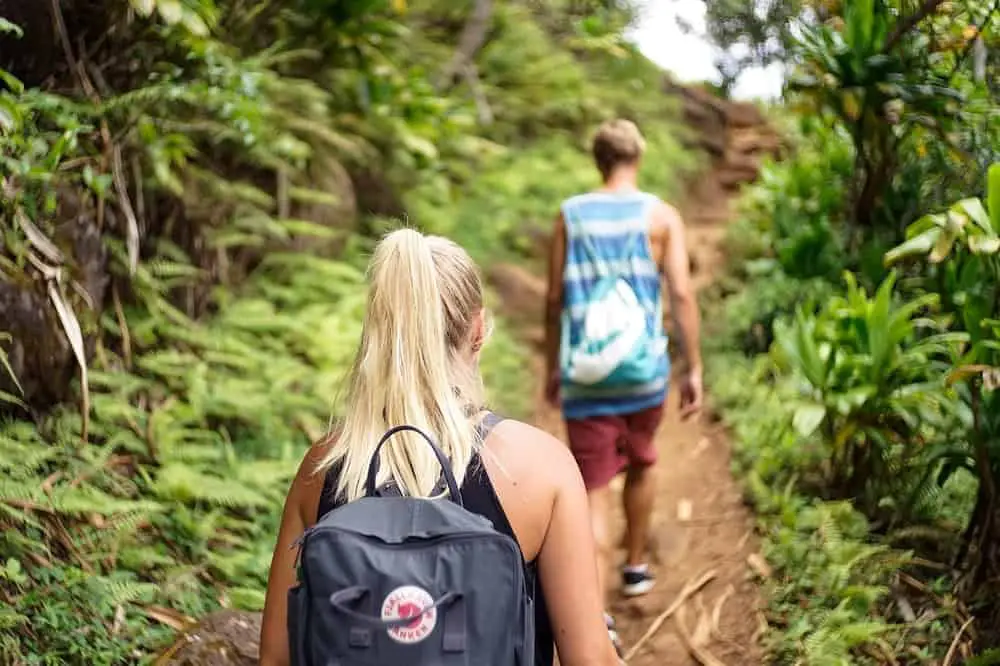 7 Best Hiking Backpack Brands of 2021
What's the one thing you can't go on a hiking trip without? It's not your smartphone or selfie stick. No, it's not your husband or wife. It's not your dog either. That's right – it's a good, comfortable backpack able to carry your gear, food, and clothes.
In this article, we will pay special attention to some of the best hiking backpack brands. These companies not only have long proven record of successfully satisfying their customer's needs but they will continue to dominate the outdoor market this year too.
In particular, the big names in the list are known to manufacture well-known models of hiking packs with exquisite quality.
Despite their corporate differences, the brands described below have several things in common:
So if you are looking to invest in a backpack that will best serve your needs in terms of price, features, and durability, make sure to include these brands in your research.
Let's waste no more time. Here they are.
Gregory Mountain Products
Official website: gregorypacks.com
Founded in 1977 by the enthusiast Wayne Gregory, the company quickly established itself as a pioneer in its niche. Some of the innovations made by the bran are the different waist belt sizes, the variety of frames, and the well-fitted suspension systems. A revolutionary feature that made the company stand out is the center-locking bar tack that provided remarkable strength and stability.
Since then Gregory was sold and bought several times but the core value of the company remain intact – to produce innovative products that last. Several years ago, Samsonite acquired Gregory for $85 million.
During the years, the company have won many awards for its outstanding product achievements including 'Gear Of The Year' in 2012 sponsored by National Geographic Magazine. In 2014, the annual revenue of Gregory Packs was close to $40 million.
Today, Gregory has offices in more than 45 countries all over the world. The stunning headquarters of the company are in Salt Lake City, Utah, in the heart of the Wasatch Mountains.
3 Popular Pack Models
Gregory are known for frequently updating their existing product line and creating ergonomic, durable backpacks. Here are some of their popular models of hiking packs.
Gregory Stout
A men's model, the Stout has the super-comfortable TrailFlex suspension system that allows you to effortlessly customize the fit of the pack so that it 'hugs' the body.
The model comes in different volume sizes, the biggest one being 75 L.
Gregory Baltoro
This model has the new Response A3 suspension technology. It allows the shoulder harnesses and the hipbelts to follow your body shape because of their ability to rotate separately, thus following your body's movements.
Baltoro also has different sizes the biggest one of which being 95 L.
Gregory Amber
This is a model specifically designed for women. It reflects the features of the Stout. What makes the Amber stand out is the sleek, eye-catching design that comes in chili pepper red.
The volume is 34, 44 or 60 L.
Kelty
Official website: kelty.com
Do you remember the classic TV show from the 70's called 'The Land Of The Lost'? Well, Kelty provided all the gear.
Another market leader, Kelty started its existence in 1952 thanks to Dick Kelty. The man was the first ever to design and produce external frame backpacks destined specifically for civilian use. Up to then, such packs were mainly used for military purposes.
A true pioneer, Dick Kelty invented the pack with an aluminum frame. In fact, Kelty is among the few remaining companies that still manufacture backpacks with an external frame. Don't shrug, these packs have their advantages.
Today the headquarters of the company are based in Boulder, Colorado, and the enterprise has more than 100 employees.
Let's briefly check out some of their best models.
3 Popular Pack Models
What makes Kelty stand out is the comfortable suspension system and the solid materials used for the production of their packs.
Kelty Coyote
Equipped with the ultra-modern PerfectFIT™ suspension system, this is one of the sturdiest models suitable for multi-day hiking adventures. The volume size is 65 L and 80 L.
There's a women's model which has a capacity of 70 L and 60 L.
Kelty Redwing
This is Kelty's bestselling backpack and the one with the highest rating. The latest model from 2016 is also packed with the highly adjustable suspension system that allows you to customize the fit of the pack while you walk.
The Redwing is a durable, yet lightweight pack, full of plenty of comfortable features such as hydration sleeve and ventilating back panel. The volume is 44 L, 50 L, and the women's model is 40 L.
Kelty Redcloud
With a capacity of 90 L and 110 L for the men's model, this is the pack for you if you are going on an expedition into the wilderness. The Redcloud is easy to pack and organize and provides surprising comfort and stability thanks to the suspension system and the rigid aluminum stays connected to the hipbelt.
The women's model is also impressive in size – 80 L and the junior's model is 65 L.
Osprey
Official website: osprey.com
The Osprey logo reflects the freedom and majesty of the large fish-eating bird it represents. The designer Mike Pfotenhauer founded the company in 1974 in Santa Cruz, California. Following his huge passion, he is still behind the wheel today as a leading designer and CEO.
Osprey has been a respectful manufacturer with a solid reputation for over 40 years. They have a versatile product line and you are most likely to find a pack for every occasion – cycling, mountaineering, backpacking, travelling, skiing, and more.
3 Popular Pack Models
Osprey have an impressive collection of highly customizable and innovative backpacks appropriate for hiking and backpacking.
What I like about Osprey except the superb quality of their hiking rucksacks is that often, they have giveaways. For instance, as of this writing they give free reservoirs if you purchase some of their packs.
Also, they have a very useful app called PackSizer™ 2.0. Supported on both IOS and Android, the app allows you to use your phone's camera to match your torso length to a backpack from their range that best fits you.
Osprey Atmos AG
It's not a surprise that this is a bestselling model that received plenty of excellent reviews. What you'll love about this trail buddy is that it has the groundbreaking AG - AntiGravity™ back system.
Thanks to the unparalleled breathability of the materials, you can carry as much load as the pack allows and you will feel ventilated and lightweight. The model has a volume of 65 L and 50 L.
Osprey Aether AG
This pack is a star. I mention it because it was on the cover of Time Magazine. No kidding. The 60 L model has the famous anti-gravity system and an IsoForm™ hipbelt, with a custom-adjustable fit.
There's also a rain cover included.
Osprey Sirrus
This model has a capacity of 50 L and comes in three sizes. It incorporates everything you'd want for a comfortable load carry. It has the AG technology as well as fully customizable AirSpeed™ back panel that keeps you ventilated no matter the load quantity and the weather temperatures.
In addition, it's hydration-ready.
Teton Sports
Official website: tetonsports.com
Enough with the old companies. Let's take a look at a much younger entity. Founded in 2005 in Salt Lake City, Utah, Teton Sports specializes in producing affordable and durable outdoor gear.
Despite their relatively short existence, Teton are known for the impeccable reputation they earned through the years. That's due to the exceptional quality of their customer service and the auspicious guarantee they give for their products.
3 Popular Pack Models
As mentioned earlier, Teton builds trust and gains fans by designing cheap, yet hard-wearing products. Their backpack product line may not be as large as those of the other brands but the ratio quality: price is remarkable.
Another thing to mention is that while being trail-friendly the packs courtesy of Teton Sports aren't rich in fancy features. They rely on simplicity, comfort, and good prices.
Scout 3400
For a pack under $60, ​this 55 L model is an excellent solution for those on a budget. The pack is easy to organize and has an integrated rain fly and sleeping bag storage space.
It also supports up to 3 L hydration bladders.
Mountain Adventurer 4000
For its 66 L, this is a surprisingly lightweight backpack best suitable for mountaineering, camping, and backpacking. It includes a tarp poncho, and it is made of extremely rugged materials.
It's easy to adjust thanks to the customizable shoulder straps, waist belt, and hip belt.
Explorer 4000
Another bestseller of the brand, this model is great for multi-day hiking trips or mountain climbing. It has a capacity of 65 L and when you fully load the pack, it will feel comfortable thanks to the padded lumber support and the rigid aluminum stays.
You can also customize the fit of the shoulder, hip, and torso straps.
Deuter
Official website: deuter.com
Being around for more than a century, Deuter solidified themselves as arguably the most prolific and trustworthy outdoor gear manufacturer.
The company was founded in 1898 in the picturesque city of Augsburg, Germany. It all started when the creator Hans Deuter supplied the Royal Mail with bags and rucksacks for their day-to-day activities.
​The headquarters of the company are based in Gersthofen, Germany
Soon the company started to produce backpacks and tents for the military. Since then and up to the 1970's, Deuter has geared up all major German expeditions.
A major competitive advantage that Deuter has is their constant aspiration toward innovation. For that, they collaborate with many famous athletes who help them test and develop new products. In 2005, their Attack bike model won the Eurobike Gold Award for innovation.
3 Popular Pack Models
During the years, Deuter created some truly outstanding backpack features. I'll just mention the Shield system that has a back protector as well as the El-Fit series, specifically designed for tall people. Almost all the packs have an Aircontact system that guarantees perfect cooling.
Aircontact
​This popular model gained huge fan base because if its great comfort. That's mostly due to the air contact technology that allows perfect ventilation via hollow chamber foam on the back panel.
The Vari Flex system of the pack provides extra stability – the mobile hip fins follow every hip movement, thus assuring fantastic state of physical ease. You can have the pack with a capacity of up to 70+15 L.
Futura
Ergonomic, energy-efficient, and sturdy, this model is most suitable for mountaineering and long trekking trips. You can smoothly customize the fit thanks to the Vari-Slide system. The pack has adjustable Active-Fit shoulder straps that allow you to achieve excellent load distribution.
For your convenience, there's also a hydration compartment and a rain cover included, among all other things. The trekking model has a volume of 50+10 L.
Trail
The trail series present a lightweight design that's ideal for technical hiking trips and urban outings that don't require carrying heavy loads. There's a SL women's fit, Air Contact system with a pump effect, and Active Comfort Fit technology.
The external organization is also good and you have the possibility to attach hiking poles, for example. The full-contact back panel design assures brilliant fatigue resistance by keeping the load close to the body. The pack has a volume of 34 L.
The North Face
Official website: thenorthface.com
Arguably the most popular name in the list, North Face is a synonym for long-lasting outdoor gear. Chances are that you have at least one of their warm jackets. Sure enough, their legendary product line doesn't stop there.
Doug Tompkins and his then-wife established The North Face in San Francisco in 1968. The name refers to the coldest, most dangerous and unwelcoming side of a mountain.
Initially, the company was creating outdoor gear to support the most challenging adventures such as mountain climbs and high alpine backpacking.
Since then their product line immensely expanded, and the brand became legendary for its quality, durability, and outstanding design. The rest is a history.
Now The North Face is a subsidiary of VF Corporation with headquarters in Alameda, California.
3 Popular Pack Models
Let's begin with:

Terra
This is their finest backpack model in the line of the hiking equipment. There are different sizes but probably the most popular one is the 65 L.
With a well-thought-out OPTIFIT suspension system and anatomical design of the harnesses, straps, and belts, this is a sturdy and reliable backpack. It will comfortably hold your load no matter if you are travelling, camping or trekking.
Banchee
With its sleek, lightweight profile and excellent packing organization, this backpack will be your best friend if you are going on a trekking, hiking or even climbing.
The capacity of 35 L is very easy to organize while the dynamic aluminum frame and OPTIFIT suspension provide extra mobility and easiness of use.
Alpine
Tested by athletes in Antarctica's wilderness, this 50 L model got what it takes to carry your gear all the way to the end of your destination.
Some of its greatest features are the FuseForm™ system that reduces fatigue via even load distribution and the top lid that doubles as a rope-carry system. This pack is part of the celebrated Summit Series™, designed mainly for high alpine adventures. Make no mistake this pack can endure a lot!
High Sierra
Official website: highsierra.com
Another respected outdoor brand, High Sierra was founded in 1978 in USA. The name refers to the beautiful mountain range in California. Known for their distinguished quality, High Sierra offers a large assortment of backpacks.
They have laptop bags, messenger bags, wheeled bags, adventure packs, etc. In 2013, the biggest luggage company Samsonite purchased High Sierra for $110 million. Now let's dive into three of their best hiking backpacks.
3 Popular Pack Models
You won't find a huge choice when it comes to outdoor packs if you decide to shop from High Sierra. However, you will be amazed with how practical, comfortable, and price-worthy their backpacks are.
Titan
Part of the prominent TECH 2 series the 65 L top loading model is great for hiking. It doesn't have plenty of attractive features and trimmers but it will surely do its job – to serve you well when you most need it.
The pack comes with comfortable ERGO-FIT shoulder strap harness and foam padded AIRFLOW back panel for ultimate cooling. It also has a hydration sleeve, an integrated rain fly, and easy to use internal organization with a good amount of compartments and pockets.
Appalachian
With its capacity of 75 L, this is a sturdy and well-fitted pack with plenty of positive reviews. It is very appropriate for long-lasting expeditions and trekking.
What stands out is the rigid aluminum profile, the large-sized zippered pockets on both sides, and the AIRFLOW channels on the back panel. This beauty also has a sleeping bag compartment and a rain cover, among other things.
Summit 40 W
This one's specifically designed for adventurous ladies. The Summit has a female specific fit that allows comfortable wearing during prolonged trekking.
It has a single aluminum frame bar that provides stability and an adjustable waist belt with breathable mesh padding for maximum comfort. The sleeping bag compartment is front-load and there's a divider.
You also have adjustable compression straps on both sides and the bottom to secure gear such as trekking poles or sleep mat. The capacity is 40 L and the weight is 4.5 lbs.
Conclusion
You may ask – which brand is the best one? I must disappoint you.
There is no straightforward answer to this question.
All companies in this list has gained flawless reputation during their long years of existence. And impeccable customer satisfaction rate too.
Their pack models are widespread all over the world. It's almost impossible not to see a hiking backpack model belonging to any of the aforementioned brands when you go out in the mountains. That's why you can't go wrong if you get a pack from either of these manufacturers. Just d​efine your criteria, read reviews, and make the leap.
Sidenote: If you need a pack for extreme adventures, then it might be worth checking out some of the best waterproof backpacks for hiking!

---
Now it's your turn! Leave a comment below and tell me what your favorite hiking backpack brand is?