5 Best Hiking Backpacks Of 2021 (Affordable And Reliable)
When you love to hike or become inspired with the desire to learn more about hiking, one of the most important things that you should do is figure out what type of backpack you will need for your adventures.
Some people mistakenly believe that one hiking backpack is just as good as another, but that is simply not the case.

With so many different options to sort through, how can you determine what is the best hiking backpack for your next adventure? Do you just pick one at random or is there a good way to choose?

Our expert team gathered up intel about the top five hiking backpacks of 2020 as well as some more information about how to choose your backpack.
To help you further, I'll include here links to more specific guides and reviews on our website related to hiking packs. Be sure to check them out:
Let's jump right in!


Transparency Is Important For Us
This article contains affiliate links. As an Amazon Associate, this website earns from qualifying purchases. That means if you click on a link and make a purchase we'll earn a small commission. This is at no extra cost for you and it helps us maintain this website. If that's the case, thank you! For more information, visit our disclosure page.
Our Top Recommendation
To narrow down your choice, we carefully selected one backpack that stands out from the rest. That's #5 on our list - MountainTop 40 L.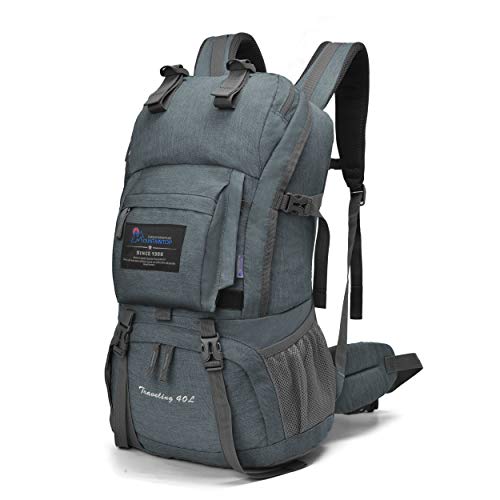 MountainTop 40 L Hiking Backpack
Premium AirStripes back System for maximum ventilation and comfrot.
Pocket-rich for organizing gear strategically for any occasion.
Quick-access rain cover included in a dedicated pocket.
Lightweight and rugged.
Last update on 2023-06-08 / Affiliate links / Images from Amazon Product Advertising API
It's not surprising that this high performing pack has thousands of 5-star reviews. It could easily be your go-to choice for 1-3-day hikes.
Be sure to check it out because the quality: price ratio is mind-blowing. 
Best Hiking Backpack Reviews: Quick Overview
This lightweight backpack from Venture Pal is intended for small loads and day hikes. It's perfect for beginners and experts alike.
Product Highlights
This is a foldable and rollable bag that is great for traveling in addition to hiking trips. Since it can be rolled up and stored in a small bag, it can tuck into any suitcase inside of its carrying pouch.

This bag is made of a durable and tear-resistant material, which is double-layered at the bottom of the bag to prevent tears in this vulnerable area, and you'll be able to feel the extra enforcement in that region.
The bag is very light, weighing in at less than a pound, and it has a 35L capacity. While this bag does include many front and side pockets, you can still fit a fairly large amount of stuff inside the main compartment for your next day hike.
What's to like about the Venture Pal 35L Hiking Backpack
One of the best things about this bag is the compromise that it draws between lightweight and sturdiness. While there is no frame or any similar parts, it still holds its shape well and can be expected to stand up to the rugged wear and tear of many hiking trips.

Another bonus of this bag is its actual profile. Since it is so slim and sits close to your body, you won't feel like you are going to lose your center of balance while hiking with it. This slim design also looks great.
What's not to like about the Venture Pal 35L Hiking Backpack
One of the biggest issues with this particular bag is that the inside waterproof lining has been known to begin pulling away from the bag itself after a few uses. It's likely that this problem is exacerbated by heat. Thankfully, the bag has a lifetime warranty, so the company will happily replace your bag if you have an issue with this.

Another problem with this bag is the way that the weight is distributed. Since there is no way to separate items in the biggest compartment, the weight tends to sink to the bottom of the bag and sit there, which can cause back pain while hiking.
This super lightweight bag from Outlander is another great option for those who want an easy-to-pack hiking backpack that really works.
Product Highlights
This 35 L daypack is a solid choice when it comes to the market of foldable and packable hiking bags. There is an interior zipper pocket inside of this bag, and when you roll it up and tuck it inside, it becomes the pouch which allows you to carry it around.

The zippers on the whole bag are two-way abrasion resistant SBS zippers which are some of the best that you can find in this price range. These zippers are relatively rugged and durable, so even with a lot of use, you won't easily ruin them.

This ultra-light bag has many interior compartments which can be helpful for efficient and logical packing. While you don't need pockets, having well-placed compartments does ensure that your bag will be well balanced with equally distributed weight.
What's to like about the Outlander Ultra Lightweight Hiking Backpack
Despite the small size that this bag seems to have, it can hold a lot more inside than it seems, and that is because of how the compartments are organized. Thus, even though it's made to be a daypack, many have found success with this bag as an overnight hiking bag.

Another wonderful thing to notice about this bag is the shoulder straps. In addition to being well padded and comfortable to wear, they are simple to adjust. To find your perfect fit, it takes nothing more than a few moments of adjustment.
What's not to like about the Outlander Ultra Lightweight Hiking Backpack
One problem with this hiking backpack that is common for packable bags is that it has no back padding. While this won't be an issue on one- or two-day hikes, this could become uncomfortable if you are hiking very frequently or for a longer period.
This hiking backpack is another foldable option, but it differs in that it provides a lot more carrying space when needed.
Product Highlights
While this interesting hiking backpack from G4Free still folds up into a small pouch like the others on today's list, it also has more expandable space that can be used. This 40L bag has a super-high-volume capacity because of the top drawstring section which can be used to fit in many extra items.

This lightweight bag is made of high-quality nylon. The fabric is both water and tear resistant, which means that you're getting the joy of a lightweight bag with the durability of something that is heavier.

All-in-all, this bag has the following organizational compartments: main compartment, two top pouches, padded shoulder straps, chest clip, front spandex pouch, and two mesh water bottle holders. This gives you many carrying options and versatility.
What's to like about the G4Free 40L Travel Backpack
The best thing about this bag is the amount of flexible space that it provides. While some might be looking for a hiking backpack that has a frame, this one is, thankfully, frameless. Since there is no frame, you can stuff a bit more into the bag, even pushing it over the 40L capacity at times.

Another great thing about this bag is the fact that it can be folded up. While this isn't a feature that is unique to this bag, it's not common that you will find bags that are this large that can still be stored in a small space. If you live in a small home or are traveling, this is ideal.
What's not to like about the G4Free 40L Travel Backpack
The main issue with this bag is that while you can fill it up with a lot of equipment and even fit all the items that you would need for a multi-day trip, carrying it under this load would not be very comfortable due to the shoulder straps and weight distribution issues that would be sure to arise.
This super-large hiking backpack is a sturdy, well-made choice that can work for multi-day hiking and traveling around the world.
Product Highlights
While this bag does not have a frame, it does have a reinforced carrying compartment that makes it very sturdy. This quality construction ensures that the weight is properly distributed around your body. Good weight distribution will make it easier to carry the bag for more extended periods of time.

Another highlight of this bag is that it includes many pockets, a handle on top for carrying, and even a rain cover. All these bonus additions ensure that you will have a great experience while using this bag.
What's to like about the OutdoorMaster 45 L Hiking Backpack
The best thing about this bag is how comfortable it is to carry. In addition to having padded shoulder straps that are very easy to wear, it also has chest and hip straps that help to balance the weight on your body so that it is more comfortable.

Another bonus is that this bag is very durable. Even after weeks or years of use, it will stay strong.
What's not to like about the OutdoorMaster 45 L Hiking Backpack
While the material is meant to be breathable, it doesn't let enough air in and can even cause chaffing when used in bad weather conditions. Take care to avoid this problem and protect your skin from harm.
This hiking backpack from Mountaintop is the real deal, and you can hike for hours or days with it without causing any undue stress on your body.
Product Highlights
This well-situated bag has a 40L capacity and is outfitted with a large number of both internal and external compartments that can be used to organize your belongings with ease. Once situated, this bag will be well-balanced because of the pocket distribution tactics.

The bag also has six adjustable straps. These straps and the accompanying D-rings that are located on the S-shaped shoulder straps are ideal for tying up your sleeping bag, hammock, and other items that otherwise might be hard to attach to your pack.
What's to like about the Mountaintop 40 Liter Hiking Backpack
The most notable thing about this bag form Mountaintop is the incredibly efficient and streamlined design. This design makes it super easy to get things while moving and pack quickly. No matter what your hiking experience level is, this can be very helpful.

Another bonus of this bag is that it is a great bag for long distances. Even after using it for many hours, it doesn't cause unnecessary fatigue.
What's not to like about the Mountaintop 40 Liter Hiking Backpack
This backpack is a bit water resistant, but it is not really waterproof, so you will want to be careful about this. Still, there is an included rain cover that you can use to keep more water out in rainy conditions.
BUYER'S GUIDE
Now that you've looked at some good hiking backpacks, it's time to look at the features that you should pay attention to when deciding which bag is the right one for you.
Hiking Backpack Types
The first thing to remember is that there are a few different types of hiking backpacks that you will commonly want to use on the trails:
Day Packs: These relatively lightweight bags that are usually meant for day trips or simple overnight trips. Usually has a capacity ranging from 15L to 35L.
Internal Frame Packs: Internal frame packs are a step up in durability from day packs, and they have a hidden frame inside of them that keeps the backpack very sturdy when carrying a lot of heavy goods, making them great for multi-day trips.
External Frame Packs: These are the most durable of all backpack types. They are great for long-term hiking or multi-week trips as they have the highest amount of support for both your belongings and your body.
While frame packs are a great choice for long-distance or long-period hiking, most people will be looking to invest in daypacks instead.
For that reason, the top five backpacks among all hiking backpacks are all daypacks, though a few of them can be used for multi-day trips as well.
Getting the Right Fit
One of the most important things to pay attention to is whether or not a bag that you're interested in has the right tools to fit you or your body properly. Ideally, your hiking backpack will offer all of the following:
Adjustable shoulder straps
Adjustable back pad
Adjustable check strap
Adjustable hip strap
With these four things, you can customize the fit of your backpack and make sure that you are having the weight rest near your core rather than directly on your shoulders. This type of adjustment can make hiking easier and more enjoyable.
Capacity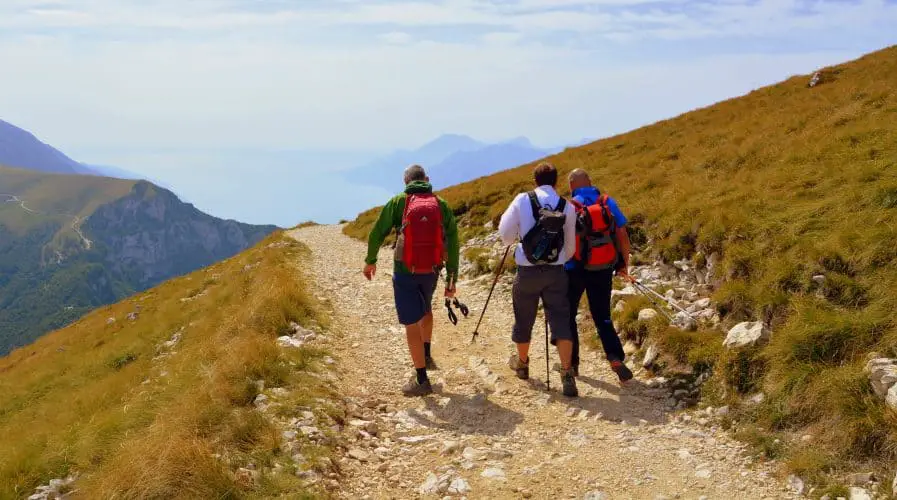 Another thing that you will want to pay attention to is the capacity of the bag. The capacity or volume of a bag is typically expressed as a number (i.e., 40L, 25 L), so this is what you should look for when you are comparing the size of bags.

Remember though that there is no standard for measuring the capacity of hiking bags, so different manufacturers may have different ways of reporting what can fit into their bags.

Generally speaking, you need between a 10L and 25L bag for day hikes, between 20L and 40L for overnight trips, and between 30L and 50L for a multi-day trip. With daypacks in these sizes, you'll be able to carry everything that you need for the trip.
Purpose
When you're choosing a bag, another essential thing to consider is what you will be using the bag for. Will you be traveling with the bag? Make sure to choose one that is properly sized to fit on an airplane or maybe one that can roll up when not in use.

Do you plan to do some rock climbing? Choose a bag that prioritizes weight distribution so that you will not risk losing your balance while moving around rocky areas with your bag.

No matter what your goal is when it comes to using your hiking backpack, keeping this purpose in mind while you shop will help you to ensure that you find a bag with all the features that can and will help you succeed in your mission!
Cost
No matter what anyone says, the cost is going to be a factor in your decision. It's okay to set a budget on bags before you even look at them.
In fact, it is recommended that you decide how much you are willing to spend on a hiking backpack before you start shopping.

Eliminate the bags that are outside of your price point. While it would be nice to splurge, there will always be time to upgrade!
Weight
Make sure that you choose a hiking backpack that isn't too heavy on its own. If you have a bag that weights five or more pounds with nothing in it, you are eliminating valuable carry weight that could otherwise hold more important supplies.

Make sure that the bag that you choose to use is reasonably lightweight to prevent this problem.
Hiking Backpacks F.A.Q.
How to pack a hiking backpack?
Packing a hiking backpack can be difficult, but it is important to remember that you simply need to become familiar with what you need to pack and then practice packing!
How to clean a hiking backpack?
Once you've taken your hiking backpack out on the trail a few times, it might start to get a little dirty. While the look of it might be a bit rustic at first, you will eventually want to wash your bag to ensure it lasts a long time.

If your backpack is machine washable, simply follow the instructions from the manufacturer and toss it in the washer. If you can't find them, we recommend using a warm setting along with a gentle detergent.

If you can't put your backpack in the laundry directly because it is too big, or it has protective coatings, use a bucket of warm water to wash it.
Add a little bit of mild detergent, and then use a soft sponge to clean up the bag. Let it air dry, and it'll be good as new!
For more information, refer to our detailed guide on how to properly clean your hiking pack.
How to choose a hiking backpack?
Choosing a hiking backpack can be quite tricky. As mentioned above, it's vital that you consider all the following factors when making your choice:
Capacity
Fit
Type
Purpose
Cost
Weight
For more details about why each of these categories matters and how to properly consider it, please return to the "Buyer's Guide" section above for a full explanation.
Also, make sure to check our detailed hiking pack buying guide. 
How to adjust a hiking backpack?
Since fit is so important to be comfortable during a hike, it is important that you learn how to fit your hiking backpack properly.
There are usually adjustable straps on multiple parts of the bag, and moving these around will help you find the right fit.

Here is how to fix your fit:
What size hiking backpack do I need?
The size of the backpack that you choose should be directly proportional to your height, strength, weight, and capacity needs.
While you might want a huge 70+L bag, if you have a small stature, you may need to go with something that isn't so tall.
Generally speaking, a backpack that has the right height for your sternum and can be tightened appropriately to sit snugly on your hips and chest is a perfect choice.
FINAL VERDICT
When it comes to choosing the best hiking backpack, there are a lot of different features that you need to consider and prioritize to ensure that you have the best experience possible.
That being said, many hikers will find that the Venture Pal 35L Hiking Backpack is one of the best options around for its lightweight, durable, and easy-to-use design. This daypack is really meant for day hikes, and it succeeds at that purpose almost flawlessly.
For those who want the option to easily extend to overnight or multi-day trips, the Mountaintop 40 Liter Hiking Backpack is likely to be the best choice. The smart, efficient design of this bag and the extreme compartmental organization make it a fantastic choice.
The key when choosing a hiking backpack is to pick one and get hiking! In time, you can make changes to your bag weight and type to fit your needs, but you'll never know what you like and don't like if you don't give it a try on the trails!
Founder of this website, Asen is a passionate hiker and writer who is also a gear nerd. He's been featured on many established hiking websites where he gives hiking advice & tips. When he is not trekking with his family or friends, he is writing articles and product reviews. Asen spends most of his time in Bulgaria but he constantly travels the world in seek of more unforgettable experiences. Read more about Asen here.