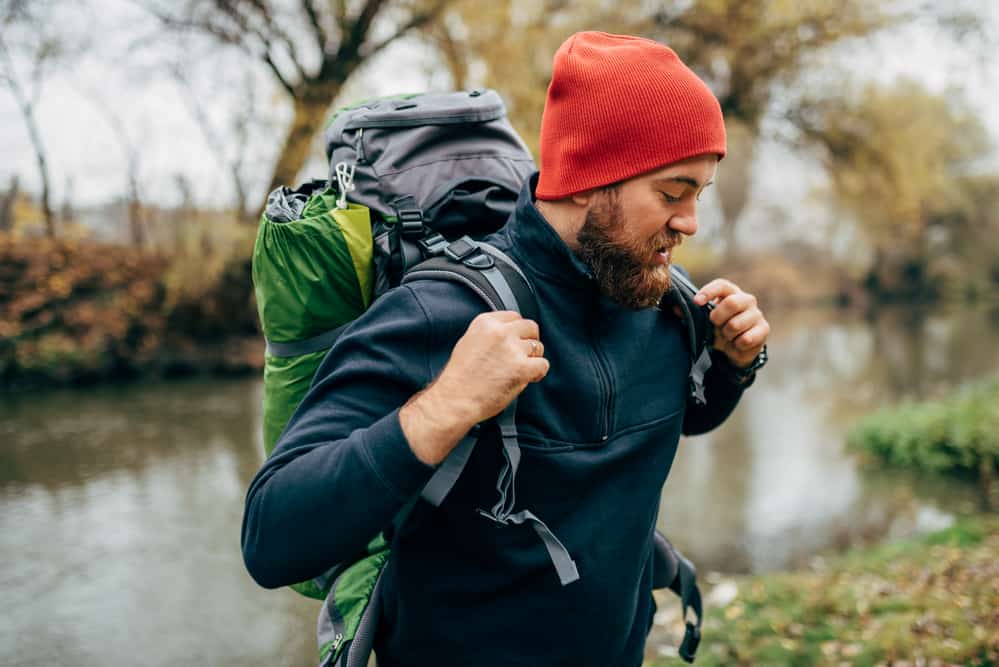 Gregory Stout 65 Backpack Review – Is It Really Worth It?
Gregory Stout 65 L: Quick Overview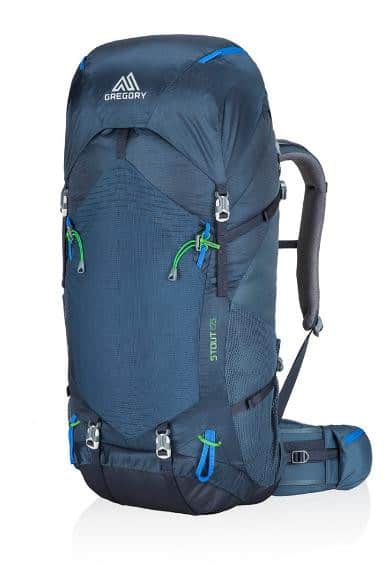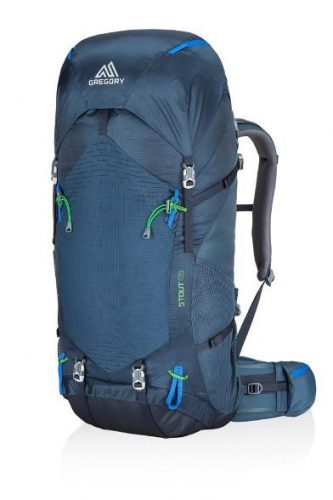 Product Name: Gregory Stout 65 L
Product Description: With an improved ventilation, spectacular TrailFlex suspension system, and bombproof design combining multiple trail-friendly features, The Stout is undoubtedly one of Gregory's finest hiking backpacks.
Brand: Gregory
Currency: USD
Availability: InStock
Fellow backpackers, pay close attention because this Gregory Stout 65 backpack review is exclusively for you. No matter whether you are an entry-level backpacker or an experienced trail guru, you will love the sleek design and the multi-functionality of one of Gregory's best hiking packs.

Gregory are known for frequently updating their products and that's why I like them so much. This 2017 model comes with enough storage space and multiple trail-friendly features. That will allow you to bring stuff not only for weekend trips but also for multi-day lightweight backpacking.

With a volume of 65 liters, this internal frame backpack can carry up to 50 lbs or 23 kg. The steel frame material makes its structure rigid but the pack is lightweight – only 3.8 lbs or 1.42 kg. The Stout 65 comes with plenty of options for customization.
I can't wait to mention the TrailFlex suspension system, the solar panel attachment points, and the rain cover. And that's just for starters.

The pack is easy to set up, easy to use, and impressively comfortable and durable. Follow me in the sentences below and let's dive into the details. That's how we will see if this hiking monster is for you or not. As usual, I will try to be as thorough as possible.
Gregory Stout 65 Backpack Review
As compared to the previous model, the latest one from 2017 is slightly different. For instance, the hydration sleeve, which transformed into a daypack, has disappeared. On a positive note, the pack is lighter and more adjustable. Now it has a fantastic controllable harness and a sleeping bag compartment.
Who Is This Pack For?
First, I have to touch upon the fact that this is a men's model. Ladies, the one designed for you is the Gregory Amber and it comes in various volumes.
Second, the Stout 65 is for those who are headed to a lightweight multi-day backpacking trip. The backpack is also ideal for camping and high alpine mountaineering.
You might see advertisements that state the pack is good for day hikes as well but I don't agree with that. You'd want something smaller if you were to go only for the day. A better suggestion would be the Sumtree 35L daypack.
Additional Bonuses
Smile, because the backpack comes with a rain cover. It's neatly stowed in a front zipped pocket. You can quickly pull it out and protect your pack if a bad weather comes along.
The good thing is that the pocket is multifunctional. That means you can use it to store something else in it if you decide not to bring the rain fly. I really find that practical and it brings even more value to the Gregory Stout 65 L rucksack.
Overview of Features
Here, I will describe the product specifications because it's always important to know what exactly are you dealing with.
For instance, knowing the dimensions and the weight of a hiking backpack will allow you to judge whether it's appropriate to bring it with you on a train or on a plane. I always inform myself well on that topic because in that way I can plan how, when, and where to use my backpack.
Size
If you ask me, Gregory Stout 65 has the perfect dimensions for a 3-8 day hike. It is 32" x 13" x 11" or 81 x 33 x 28 cm. Of course, these numbers matter when the backpack is fully loaded.
Here's a pro tip – even though as per manufacturer's advertisement the pack can carry 50 lbs of load, I recommend that you go a bit lighter.
That's because of the lightweight nature of the materials. Although the framing is solid, you risk feeling uncomfortable if you stuff the pack excessively. This may result in more pressure points or abrasion.
Weight And Materials
Given its robustness, I consider Gregory Stout 65 relatively lightweight. When the bag's unloaded it's 3.8 lbs or 1.7 kg. It would be nearly impossible to find a lighter backpack with such dimensions and at this price. To repeat myself, the capacity of the pack is 65 L or 3966 cubic inches.
Regarding the materials used, Gregory relies on a high-density polyester. The body of the pack is made of 200D x 900D dobby polyester and it also includes 210D ripstop polyester. This is pretty strong given the fact that manufacturers use this material to produce stunt kites.
The base of the Stout backpack contains 630D reinforced ballistic polyester. In simple words, this is an extremely durable fabric, which is abrasion-resistant.
To achieve maximum comfort, the material used for the harness and hipbelt is Cross Linked Polyethylene (CLPE) foam.
That makes these parts of the backpack soft enough so you can carry it for a long time without experiencing no physical discomfort.
To expand even more, I'd mention that the chasis support is also strong enough. It has a spring steel wishbone frame that provides astonishing stability to the pack while the evenly distributed load transfer minimizes energy expenditure.
As you can see Gregory used some really high-quality materials to make Stout 2017 remarkably durable and solid. That's how a backpack created for adventures should be.
Now, let's move to a very important section.
Comfort And Usability
Gregory are known to produce backpacks that has a well-fit and lightweight profile. At the same time, they care about the design. Stout 65 is not an exception.
I like the 2017 model because it's even more comfortable and well-thought-out. What do I mean by that? Let's see:
Compartments And Storage
Gregory Stout 65 is very well organized when it comes to pockets and internal and external storage. You'll have plenty of room to pack an additional pair of boots and a winter shovel, for example. And attach your sleeping system on the exterior of the backpack.
Every part of the pack has its purpose so that you can stow everything you might need into it.
How To Use This Backpack?
It's simple. Use it wisely and make the most out of it. Let me explain.
The first thing you need to do is to customize the fit of the Gregory Scout so that it follows the shape and length of your torso. Aim for perfect comfort and stability. You can easily do that thanks to the TrailFlex suspension system. Just pull the belts and straps until it's all tightened up and you are ready to go.
One advice from me would be to avoid putting water bottles inside the pack. Instead, use the dual side pockets. In that way you will have more space for other gear in the main internal compartment. Don't forget to use the padded waist belt as it will enhance stability.
Don't forget to distribute the load evenly. Before that, decide what you plan on bringing. If the Stout is not full enough, use the compression straps to avoid load shifting and to make the pack more compact. Attach long sharp objects externally for maximum comfort and use all the lash points to secure your gear.
Alternatives
Another great backpack in this price range is Kelty Coyote 80L. It's a sturdy, yet highly customizable pack that is surprisingly comfortable for its size. It doesn't come with a rain fly, though but its suspension system is top-notch.
If you want something smaller and cheaper then try Scout 3400 by Teton Sports. It is a 55 L backpack that's versatile enough and has a sleeping bag compartment and a rain cover.
You'd also want to check this list of the best cheap hiking backpacks or this list of hydration backpacks. 
Keep in mind that the Gregory Stout model comes in different volume sizes. So if you want pretty much the same features included in the model but with a different volume, then check out the other Stout packs. The Stout has also 30 L, 35 L, 45 L, 65L, and 75 L packs. Take your pick!
FAQ

Is this backpack carry on appropriate?
Is the rain cover included?
What is the weight of the raincover?
Is the 2017 model better than the old one?
Is the hydration bladder included?
Is the solar panel included?
How many external pockets are there?
How much weight can the backpack carry?
Does the pack come in different sizes?
Final Verdict
To wrap it all up, Gregory Stout 65 L is one of the best packs you can get under $200. Here's why:
Overall, the 2017 Stout 65 model won't disappoint you on the trail and chances are you're going to love it! Should you have any questions or comments, feel free to leave a comment below. Thank you for reading my review!
Founder of this website, Asen is a passionate hiker and writer who is also a gear nerd. He's been featured on many established hiking websites where he gives hiking advice & tips. When he is not trekking with his family or friends, he is writing articles and product reviews. Asen spends most of his time in Bulgaria but he constantly travels the world in seek of more unforgettable experiences. Read more about Asen here.