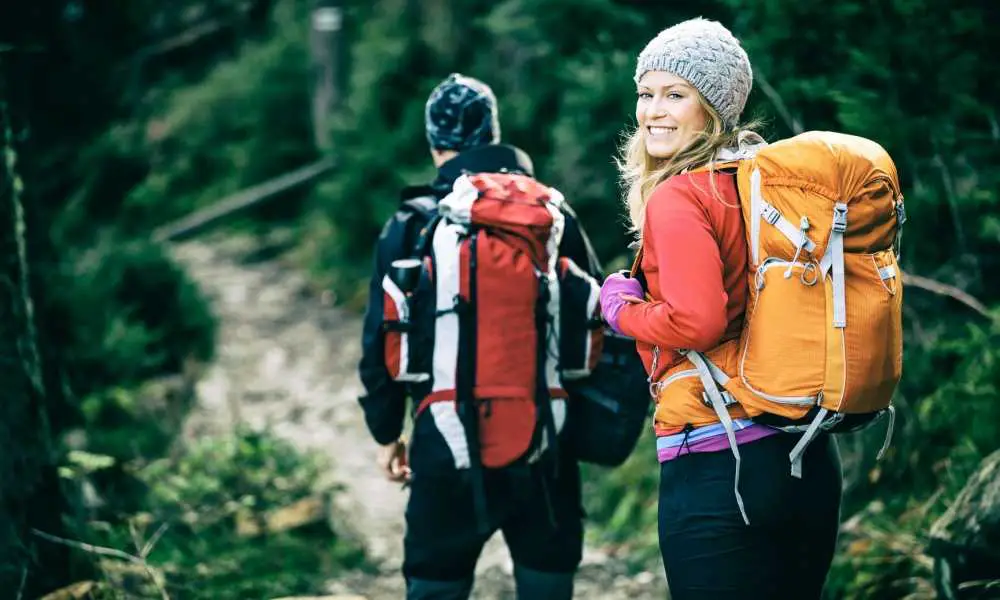 Sumtree 35L Daypack Review
Sumtree 35L Daypack: QUICK OVERVIEW
Review of: Sumtree 35L Daypack
Finding the perfect daypack for your next hiking trip can be difficult. Do you want something super tiny or do you want something that you can pack more into if you need to? Most hikers usually go with a daypack around 35L so that they can fit all the essentials and any extra things when they need to.

Even among 35L daypacks though, there are still many options. How do you know which bags among these options are the best ones? It can be hard to decide, so the best way to do so is to look at the specific features of a bag.

One such bag that is worth considering is the Sumtree 35L Daypack. Let's take a closer look!
This article contains affiliate links. As an Amazon Associate I earn from qualifying purchases. That means if you click on a link and make a purchase I'll earn a small commission. This is at no extra cost for you. If that's the case, thanks a million!
Sumtree 35L Daypack Review
This large daypack is a great option for hikers who like to have the ability to add more into their bags when they need to for travel, an overnight trip, or just a special day with a lot of extra things to carry.
Who Is This Product For?
This bag is perfect for those who often find themselves struggling to fit everything in a 20L daypack, which is the most common size. In colder weather or on longer day hikes, you may need more, so this 35L bag might be a perfect size for you.
Another group of people that will enjoy this bag are those who occasionally like to go on overnight hiking trips but don't need a lot of items. The 35L bag is definitely big enough to fit everything you need to get through a simple overnight trip (and then some!)
What's Included?
This bag set includes the bag and a small pouch where the folded bag can fit in and stored. When folded up inside of the pouch, this bag can easily be packed in your luggage, into another bag, or carried as is since the pouch has a carrying handle.
Overview of Features
This bag is made of a lightweight yet durable material that makes it great as a hiking daypack. While this material is not completely waterproof, it is water resistant, so it can survive some light rain while you're on the trail. The stitching throughout the bag is pretty nice, but you may find a few loose threads in some areas.
The shoulder straps on this bag are interesting. They are not overly padded so that the bag can be folded fully without hassles. The problem is that although they are comfortable enough, if you have a lot in the pack for many hours, you may find that it does bring some strain to your shoulders.
Nevertheless, this 35L bag is divided into many compartments. While the main compartment is the biggest, the bag does have a number of smaller compartments and pouches that make it easy to organize all your belongings for your adventure.
How to Use This Daypack?
Many people have trouble deciding between 20L and 35L hiking daypacks whenever they are purchasing a new bag. This is because most people worry about overpacking, and they often believe that the best way to avoid overpacking is to use a smaller bag. However, this is not true!
The best way to avoid overpacking a 35L bag just like the Sumtree is to make a list and stick to it. Only bring essentials, and hone what you pack each time so that you can eventually have fewer items, not more, that come along with you on the trip. So, to make the most of this daypack, think about what you need to pack in your bag and how you would place things into its compartments.
Alternatives
When it comes to choosing between a 20L and a 35L bag, the thing that you really need to consider is how that space is distributed throughout the bag. Many bag manufacturers include the volume even of the tiny exterior compartments in their sizing.
That said, if you figured out that you need or do want to go with a bag that is closer to 20L instead of 35L, the Hikpro 20L Lightweight Daypack is a great option. This bag is foldable, lightweight, and roomy inside! It's easy to use for hiking, shopping, or school.
If you believe that it might be time to upgrade out of daypacks and into regular hiking backpacks, you may want to go with the ONEPACK 50L Hiking Backpack. This large, durable bag is great for multi-day trips in the wilderness.
Conclusion
When you consider the Sumtree 35L Daypack, you'll find that it's a great daypack with a lot of room inside. It is a durable bag which can fit everything that you might need for a day hike and more. If you plan to start trying very simple overnight hikes, this bag might even be able to get through those.
This bag from Sumtree is excellent for day hikers and travelers alike!