7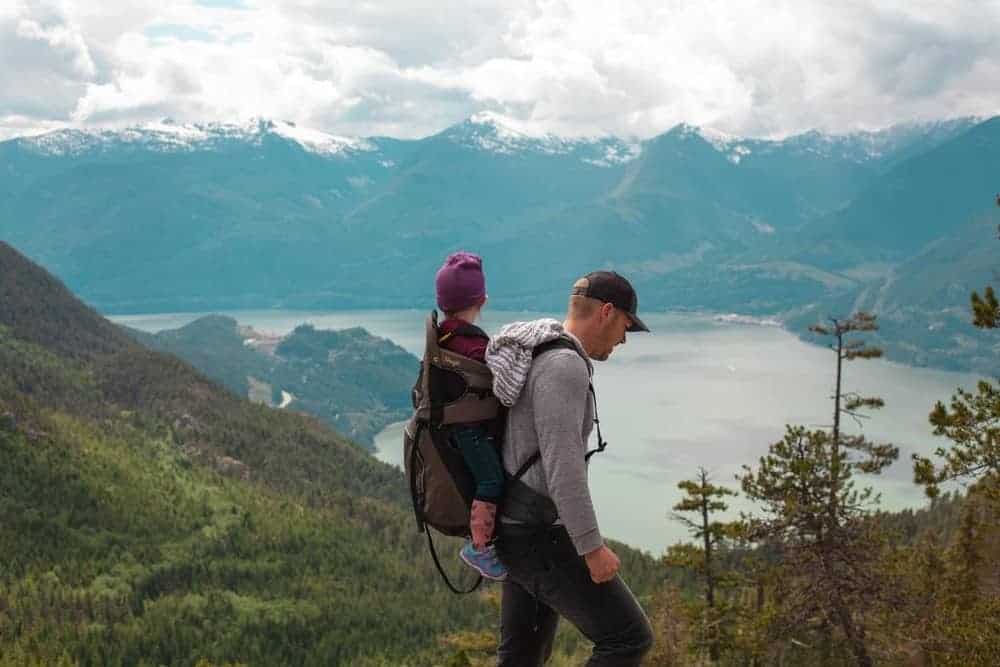 How To Hike With A Baby – A Simple Guide [2021]
Hiking is a favored pastime that allows you to embrace a special combination of exercise and nature. Since there are so many trails available, hiking is a great option for people of all skill levels looking for a way to get out of the house and enjoy some fresh air.
Though you can certainly go hike a ten mile trail with a near vertical elevation increase, a great part about hiking is how well it can accommodate families, which is what makes knowing how to hike with a baby so important.
Getting out in nature is a great way to bring your family closer and to help children explore the world around them. However, hiking with a baby presents all kinds of new complications that you need to consider.
Sure, you might only need water and a little sunscreen for your daily hike, but hiking with a baby brings about a whole new layer of things you have to do. After all, you need to ensure that your littlest pal has a great time out on the trails too.
Since babies are relatively known for having more needs than the average person, it is important to prepare for adventuring with your baby so you never have to worry and you can just focus on enjoying nature and your family.
Keeping Your Baby Happy and Healthy
Let's start with something very important.
Temperature Awareness
When you set out on a hike with your baby for the first time, in a perfect world, the temperature will be great – not too cold and not too warm.
No need for you to do anything. The sun will be smiling, but not burning, and your baby will stay at a perfect temperature the whole time.
Though those days are known to occur, generally you'll find yourself battling the elements. When you set out on an outdoor adventure with your baby, be sure to come prepared for both hot and cold weather so that your little one will be comfortable the entire time.
Dressing Up Your Baby
Making sure that your baby has the right clothes for a hike is a crucial part of keeping him (or her) happy and healthy.
This means making sure that on a hot day they have clothes that breathe easily and on a cold day they have a sufficient jacket.
As most parents know, the key to dressing a child for the day is always to use layers, and when you are at risk of battling the elements, this becomes even more important.
It is easier to take a jacket off of a hot baby than it is to warm up your little one when they don't have enough clothing.
Since the weather is known to change out in nature, it is important to make sure that your baby is covered.
For sunny days, it is also helpful to dress your baby in sun resistant clothing and top it all off with a hat for added protection from the elements.
Altitude Awareness
Altitude is a fairly complex topic of debate when it comes to hiking with babies. There are people who don't believe that children should be exposed to any kind of high altitude at all, but the reality behind it is just that it takes a little more time.
According to the authority website Babycenter.com, your baby needs to be over 3 months old to handle the same altitude as you. Of course, the little one should be clinically healthy.
Our advice – always consult your doctor!
Be aware that it is not at all recommended to bring your baby on high heights if he (she) hasn't yet reached this age milestone. His (her) lungs are not yet developed to deal with such conditions.
When you begin hiking with your baby, you will want to start on easier hikes with little elevation gain.
Over time, you can increase the elevation of the hikes to build your child's tolerance. No one wants to be stuck on top of a mountain with a baby that has altitude sickness, so be sure to pace out the hikes and help your baby get used to the mountains one hike at a time.
On a side note, you might want to learn how to improve your endurance in the mountains. Use these simple tips to increase your stamina. If you carry your baby with you, you'll definitely need that.
What Do Babies Need On A Hike?
In this section, I'll show you the most important stuff your baby needs when chilling out in nature.
Sun Protection
Since babies have delicate skin, it is important to make sure that their soft baby skin is protected from the violent rays of sunshine.
Babies are especially prone to sunburns simply because they have little exposure to it given their new status as residents of planet Earth.
When it comes to sun protection, the most important factor is sunblock.
Baby sunblock is almost always designed with a higher SPF because babies need more protection than the average sunbather.
When you go on a hike, make sure to completely cover your baby with a high SPF sunblock, preferably one made for babies to avoid skin irritation or unnecessary chemical exposure.
In addition, reapply every one to two hours over the course of the hike as well. To avoid missing any spots, we suggest putting sunblock everywhere on your baby before getting them dressed for the hike. 
Food And Water
When you set out on a hike with your baby, you want to make sure you are packed with the same essentials that you would bring anywhere else.
The last thing you want is to get out into the middle of nature and realize that you didn't pack any snacks for your fussy baby.
Small and individually packaged snacks can be helpful for making sure that your little one can stay energized on the go without any need for preparation.
If you are still breastfeeding or have bottles, it's beneficial to take a cooler with you to store these items so they are ready when your baby is.
Beyond food, the most important thing to have on a hike is water. Dehydration is a major concern for babies, so make sur you have water or electrolyte drinks to keep your little treasure hydrated.
Particularly in heat, babies run a serious risk of becoming dehydrated, which can be very dangerous for little ones, which makes keeping them hydrated a top priority.
Somewhere Comfortable To Sit
Though there are some brave souls who literally carry their babies in their arms for an entire hike, several companies identified a need for hiking-specific baby carriers pretty early on.
A good baby carrier can come in the form of an all-terrain stroller, a backpack style carrier, or a wrap.
Check out our honest Isara The One review and see why according to us, it's the most comfy child carrier you can get!
Since the backpack style of carrier requires babies to be old enough to sit up, a stroller might be your best bet for smaller children.
For slightly older babies, a well-designed carrier can give you the ability to carry your child with minimal back strain, and some even come with protective barriers to block the sun.
A wrap is a good option, but can lead to overheating between you and your baby depending on the weather.
Things To Look Out For
Having a baby, I bet you don't need to be reminded to always stay alarmed. Here how to prepare for some potential issues that may arise in the outdoors.
Signs of Heatstroke
When your baby is out in some seriously hot weather, you will always want to be aware of the possibility that she (he) might end up overheating. Since babies are tender and vulnerable, they can succumb to heatstroke very quickly.
Common signs of heatstroke include red skin that is very hot, a rapid pulse, dizziness, fussiness, restlessness, lethargy, and vomiting.
If you begin to notice one or any combination of these symptoms, it is highly advisable to take measures to cool your child down.
This can be best achieved by making sure that they are properly shaded, removing any additional clothing, and rubbing them with cool water as needed. If the symptoms are severe, take the baby to the hospital.
Signs of Dehydration
With exposure to heat the risk of dehydration goes up significantly, particularly if your baby is being exposed to sunlight.
In heat, the body naturally requires more water to stay hydrated, and while an adult might understand that, a baby might not.
Since dehydration can pose a very serious risk to your baby's health, it is important to know what to look for.
Common signs of dehydration include irritability or fussiness, extreme thirst, a sunken appearance to their eyes, crying without tears, a dry mouth or lips, and drowsiness.
If you suspect that your baby might be dehydrated, get them fluid as quickly as possible and take them to the hospital as needed.
Bug Bites, Rashes, and Injury
There are more things for a baby to be exposed to in nature than your he (she) might come across just playing at home.
Bugs, exposure to poisonous plants, and injury are a much greater risk in nature, particularly during seasons where the populations of bugs and flora might increase.
If you notice that your baby is fussing or scratching at a particular place on their body, you will want to check to see if they have a growing rash or have been bitten by anything.
When you take your baby hiking, it is important to always have a medical kit on hand to treat any bug bites, rashes, or scrapes that might occur when your baby is exploring.
Conclusion
Taking your baby out on an adventure is a great way to kick-start their love for nature. Furthermore, it can help to bring your family closer. Just like you, your baby will want to explore and look at all the beautiful things that nature has in store for them.
When you decide to go hiking with your baby, just make sure you put in a little extra effort and preparation.
We guarantee you will have a great experience.
---
Have you ever hiked with your baby? How was it? Let us know in the comments below!
Founder of this website, Asen is a passionate hiker and writer who is also a gear nerd. He's been featured on many established hiking websites where he gives hiking advice & tips. When he is not trekking with his family or friends, he is writing articles and product reviews. Asen spends most of his time in Bulgaria but he constantly travels the world in seek of more unforgettable experiences. Read more about Asen here.