23
Can You Hike With Contact Lenses? Read This First [2021]
Anyone who wears spectacles knows the way they slip and grease up during physical activity. Chances are you've gone hiking with glasses and are looking for alternatives – after all, you want to keep your hands free instead of adjusting the frames every other minute.
But can you hike with contact lenses?
The answer is a resounding "yes".
In this exhaustive article, we will cover everything you need to know before embarking on a hike wearing contacts.
If you want to learn the advantages of wearing contacts instead of glasses on a hike, as well as what exactly to do in order to hike comfortably and safely with contacts, then this guide is for you.
Let's dive right in.
Spectacles Versus Contacts
Spectacles are tried and true – there's no worry about hygiene. For those embarking on a gentle day hike, spectacles don't hinder you much more than regular walking does.
On tougher long-distance trails, however, problems crop up. Apart from the usual slip and chafe, they tend to fog up and in heavy rain you might as well not be able to wear them.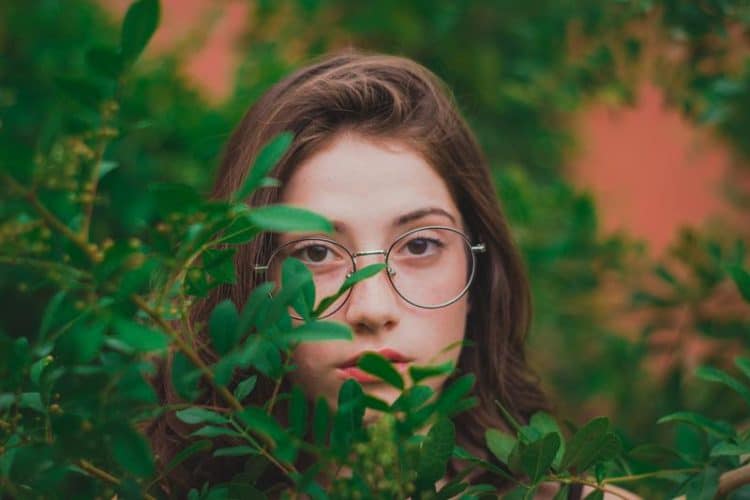 There's also the risk of breaking them and having to switch out for sunglasses with prescription when the sun is blinding.
Generally, spectacles just can't promise consistently good vision.
So what about hiking with contact lenses?
You benefit most in terms of comfort – there are no foggy frames slipping down your face, no need to hunt down clean clothes to wipe off grime, no need to shy away from the rain or buy goggles. Contacts also offer peripheral vision, meaning smaller chances of injury on perilous terrain. Breakage isn't a concern, and backup lenses are a lot easier to source than another pair of spectacles. In terms of clear vision and convenience, contacts are no doubt a better option for hikers.
Of course, contacts come with their own set of challenges - mainly, hygiene is difficult to guarantee.
You also want to consider the length of your hike and what this means in terms of:
But don't worry just yet – here's how to safely hike with contact lenses.
7 Tips On How to Hike With Contacts Safely
The key concern with wearing contacts while hiking is how to put them in and take them out safely. Grime and dirt streak our skin.
Who knows what our hands have come in contact with? You don't have regular access to water and soap, or unlimited supplies of lens solution. To ensure hygiene and eye health, here are some best practices to being sanitary.
#1 Filter Your Water
Water is scarce when you're out in the woods but try to pack an extra half liter or gather more from natural sources. In this article on the most popular hiking gadgets of 2021, we included a self-cleaning bottle that purifies water from any source.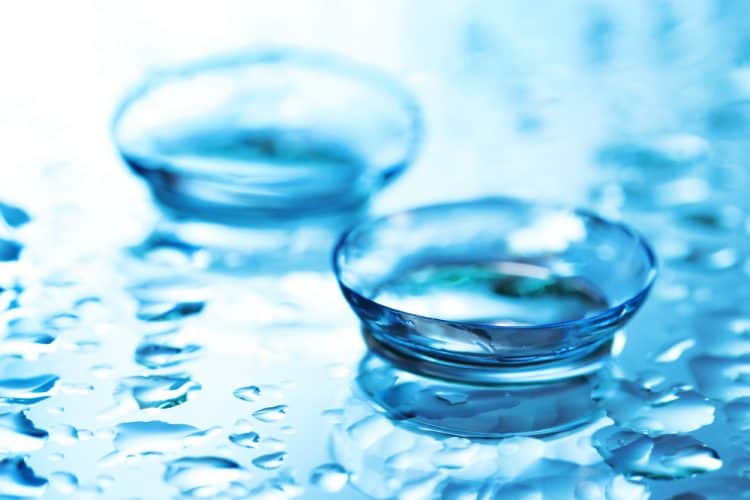 You want your hands to be as clean as they can get to prevent pinkeye, corneal ulcers and other infections. Filter your water before washing your hands – both morning and night.
If you don't have filters or bacteria-killing pills, add some salt to your water and boil it. The salt may sting your eyes, but it's better than using unclean water.
#2 Use Soap, Not Hand Sanitizer
Alcohol-based sanitizers kill bacteria, but not dirt. They burn your eyes too.
Stick with using the most neutral soap you can get. Hotel-sized soap bars are light and small, but if you think you'll struggle with the hand-to-container transfer, pack trial sized liquid soap instead.
#3 Practice Before You Go
Figure out what's the best way to wash your hands while juggling soap and water bottle in the comfort of your home!
If you bungle up during your outdoor jaunt, it's not pleasant. Use wet wipes to get rid of the bulk of the dirt first before rinsing, as you're limited in the amount of water you can find or bring.
Additionally, you may want to practice removing and inserting contacts without a mirror or in minimal lighting. The conditions are vastly different out there, so familiarize yourself with them! It'll save you time and hassle.
The video below can help.
#4 Spare A Clean Towel
Make sure to pack a dedicated "clean towel". Don't wipe off your hands on dirtied shirts or shorts.
It doesn't have to be big. Even a baby washcloth will do. Keep this separate from other items of clothing and clean with soap if possible.
#5 Always Use Fresh Solution To Clean Your Contacts
Both treated and untreated water won't disinfect them properly. Lens solution is a must if you're keeping them overnight and plan to spend the night outdoors.
There are multipurpose solutions, hydrogen peroxide solutions, and other that might do the job depending on many factors. Read more about cleaning your lens here.
#6 Pack Extra Lenses
Even those wearing overnight contacts should pack extras, just in case. Your contact lenses may drop out or irritants get into your eye.
Maybe that one contact just won't go in right. Since they're compact and lightweight, extras don't inconvenience at all.
#7 Pack Your Glasses
It might sound counterintuitive to pack your glasses if you're already wearing contacts, but you'll be glad to have them if your eyes get irritated at any point of the hike.
Let your eyes rest when you're in town or simply bring them as backup. Don't force yourself to keep using contact lenses if you feel any pain or discomfort, it'll just worsen the issues when you don't have ready access to help.
8 Important Items To Bring
Like every other tool, contact lenses require maintenance.
For both comfort and proper eye care reasons, you'll need to prep contact lens supplies. At the very least, you'll need the following items in your backpack:
Water filter

– to clean your hands off as much as possible.

Contact lens case

– to store your lenses safely when you sleep.

Lens solution/saline solution

– to properly disinfect your lenses and ensure they don't dry out overnight.

Extra sets of lenses

– backup is always necessary.

A small clean towel

– to make sure your hands are clean as possible.
For extra security and convenience, you want to think about packing:
Glasses

– to give your eyes a break. Every backup plan should have a backup.

Eye drops

– to keep your eyes moist and your contacts in. They also help flush out debris that cause irritation and discomfort.

Mirror

– to help those who can't remove or insert lenses smoothly. If you don't have compact mirror, just use your phone's camera in selfie mode as a makeshift.
8 Bonus Tips That Actually Help
Before your hike, study the terrain and weather conditions along your trail. Are there towns for you to rest up at in-between stretches of hike?
Do you have some kind of water access? Do temperatures go below zero? These are all conditions that may affect the way you store your lenses and solutions, and your general approach to wearing lenses too.
We've also included some general tips so you won't over-pack or under-prep.
Choose travel-sized bottle of contact lens solution – it's plenty enough. Still worried you'll run out? Fill your empty contact lens case for an extra day's worth. Your optometrist might have spare trial samples that are easy to store.
If you're embarking on a long hike with little access to water, go with daily disposable contacts to maximize hygiene. Since dailies come in boxes of ten to thirty pairs, you can bring the exact amount you'll need (with one or two spares). It'll also give you the option of bringing regular eye-drops versus bottled solution, as you won't have to soak the lenses overnight.
The higher the altitude, the colder the temperatures. To prevent your lens solution from freezing, tuck them into the inside pockets of your padded jacket or hiking tights throughout the day and sleeping bag at night. You can also insulate with towels or your clothing.
Your contact lenses might freeze in the solution too. Save them by warming up the case between your hands. Your lenses will uncurl. Wet them with eye drops to help them form the correct shape faster.
Give your eyes a break when you're in a town. Tired eyes dry out faster and easier, which requires more eye drops. Dry eyes also risk contacts falling out, so know your limits!
If you run out of contact lens solution, salt water act as an emergency substitute. Boil your salted water for 10 minutes and let it cool completely before using, as heat can damage the lenses. A certain type of virus that causes eye infection is commonly found in fresh water, so boiling is a must.
Wear sunglasses to protect your eyes. Your eyes are prone to drying and are more sensitive with contact lenses in. You also want to protect them against debris as much as possible.
Don't have space for lens solution? Pack disposable eye drops to use as a substitute.
Conclusion (Plus Useful Infographic)
Hiking with contact lenses is definitely doable as long as you observe hygiene practices carefully. As you're planning your hike, consult your optometrist on which contacts type fit your needs.
They may recommend daily disposables over sleep-in contacts if your eyes are relatively dry, or suggest overnight contacts for water-limited terrain. The optometrist may also provide you with appropriately sized lens solution.
Practice will also ease your concerns – make sure you can remove and insert contacts without a mirror to get one worry out of the way! Think ahead and you'll reap all the benefits of contacts with minimal hassle.
---
Do you have any tips that you can share with our readers? Please leave a comment below! 
Founder of this website, Asen is a passionate hiker and writer who is also a gear nerd. He's been featured on many established hiking websites where he gives hiking advice & tips. When he is not trekking with his family or friends, he is writing articles and product reviews. Asen spends most of his time in Bulgaria but he constantly travels the world in seek of more unforgettable experiences. Read more about Asen here.