10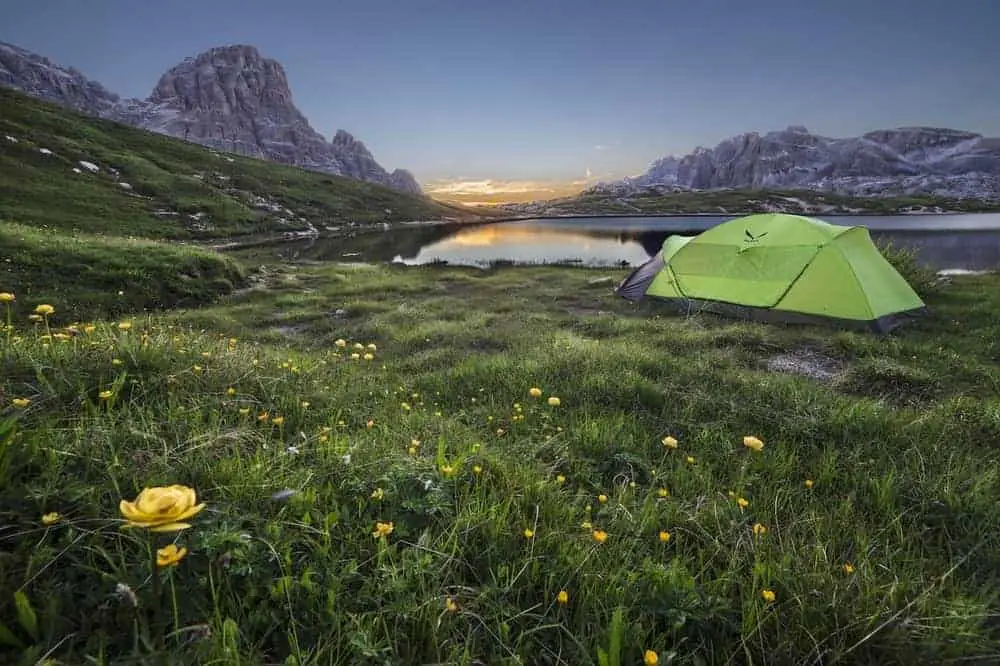 How To Hike Overnight – A Beginner's Guide For 2021
Almost all avid hikers hit a point where they want to expand upon their hiking experience.
Often that means learning how to hike overnight.
In many cases, this might mean trying more difficult trails that are likely to bring a challenge that surpasses what you might expect from your local routes.
As long as you are willing to travel, there is always going to be a trail that you can find that will be more difficult or have a more beautiful view from the summit.
However, some hiking trails simply cannot be done in a single day. If you are looking for a new challenge or you hope to expand upon your hiking knowledge and experience, it just might be time to look up some overnight hikes that you can add to your roster.
While backpacking is a popular way to pass time, it does require a certain level of commitment, including both financial and time, that can be difficult for some people to manage.
You may not have a week to get lost in the woods to try out that legendary backpacking route right now, but going for an overnight hike can give you the opportunity to embrace the backpacking experience on a smaller scale all within the confines of a single weekend.
This is one of the many reasons because of which overnight hikes are very popular among hiking enthusiasts and avid adventurers. 
What You Need To Know
Though staying in nature for a single night might not sound like a large commitment, the overnight factor does change the general hiking experience in several ways.
If you are a person who is experienced in backpacking or camping, some of these principles might not be new to you.
However, since it is only for a single night, this can allow for less preparation than your typical camping trip might require.
Research Your Itinerary
The first and most important part of planning your overnight trip is making sure that you know exactly where you are going so that you can arrive at your destination safely.
This means that you will need to take the time to research the trail, the area, and any accompanying rules that might be set in place.
In order to have a successful overnight trip, you will want to focus on being educated and aware of any factors that might come up.
This includes researching the weather, the local wildlife, and any hazards that the area might be known for.
It's always better to be safe rather than sorry. Any information that you gather here is what you will want to pass on to loved ones so that they can know where you are in the event that something goes wrong. This can help get you to safety faster if it is necessary.
Acquire Some Basic Backpacking Skills
Once you have determined where you are going and learned everything that you need to know about the area, you will need to take the time to focus on packing appropriately.
This means taking a lightweight backpacking pack so that you can carry any essential gear that you might require, as well as enough food and water to last the duration of your trip.
Ensuring that you have the right supplies for your trip will help you to have a smooth and enjoyable overnight hiking experience so that you can focus on the beauty of nature and the challenge of your hike.
It is also good to brush up on some of your basic skills including meal prep, safely lighting a fire, and knowing how to manage common outdoor concerns.
This includes treating poison ivy rashes or knowing what to do if you have a run-in with local wildlife.
Get In Shape
In addition to knowing the area and taking the right supplies, you will want to make sure that you are ready for the hike in terms of training and preparedness.
This means that you will want to take the time in advance to train your body enough to be able to comfortably carry out the hike.
If you are only used to doing hikes that are a few miles long and you find yourself sore the next day, going on a lengthy overnight hike that will require you to traverse more miles two days in a row might be a bit of a stretch for your skill level.
You can prepare by going on longer hikes two days in a row to make sure that you are ready for the duration of the overnight hike that you choose.
Having this all planned and practiced in advance will ensure that you are ready for whatever may come your way.
What To Bring On An Overnight Hike?
Packing the right things for your overnight hiking trip can mean the difference between a great experience and absolute misery.
You will need to make sure that you have all of the essentials to keep your body healthy and moving, to keep yourself comfortable and happy, and to keep yourself safe.
Though you won't want to pack too much, you will need to pack enough to make sure that you never have to worry about going without.
Food
This is probably a given, but you will want to make sure that you have enough food and snacks to keep yourself nourished while you are carrying out rigorous exercise.
This might mean packaged meals that just require water for preparation, granola, protein bars, or beef jerky.
There are plenty of options available, and it's always helpful to pack a little too much food just in case. Feel free to check our delicious nutrition hiking plan. In addition, see our list of keto meals and our cool recipes for vegetarian hikers.
Water
In order to stay healthy in nature, there is nothing more important than making sure you have enough water.
This might mean taking the amount of water that you need for the trip or using purification devices or tablets in the event there is water available along the trail.
Lightweight and Proper-Sized Backpack
Though you may not need a top of the line hiking backpack for an overnight trip, getting a lightweight equivalent will help you to manage carrying all of your essentials without straining your body.
This can be crucial when it comes to taking enough supplies and doing it comfortably so that you don't experience more wear and tear than your body needs. For an overnight trip, you need a pack that is at least 30 L.
For example, check out Teton Sports Scout 3400 or Gonex 35 L for reference. A great idea is to start with a pack on a budget too. 
Tent And Sleeping Bag
If you're planning to sleep outdoors, taking a tent is necessary because it will keep you safe from the elements.
Don't miss checking out our guide on the most recommended tents for warm weather.
 Also, you need to think whether a waterproof tent is a good option depending on the weather.
Unless you are going somewhere with severe weather, a lightweight tent should be all that you need. And if the weather allows it, you can watch the beautiful stars in your tent.
A sleeping bag is a must since it can play a significant role in keeping you warm during cold nights. Read our useful guide on securing your sleeping bag on the exterior of your pack.
As for some useful tent skills, a precious one is to keep insects out of the inside of your tent. You don't want to get eaten but mosquitoes and ants, right?
Appropriate Clothing And Shoes
Since the temperature can change significantly out in nature, particularly during nighttime, it is important to make sure that you can temperature regulate as needed.
The best approach is to take several layers of clothing so that you can add or remove them as needed. If it's winter, consider taking fleece-lined leggings.
It's a good idea to bring a warm weatherproof jacket. Avoid wearing jeans and use fabrics such as polyester or nylon. They keep the sweat away and dry fast.
As for the shoes, it's better that they would be sturdy, comfortable, and lightweight. I like wearing ergonomic and cushioned hiking boots. Avoid sneakers and open shoes. In some occasions, you might consider steel toed boots.
Emergency Equipment
When you go out in nature it is important to be prepared. This might mean packing fire starting supplies, flares, first aid supplies or items like bear spray. You will want to make sure that in the event something goes wrong, you are able to handle it until you can get back to safety.
Additional Essentials
As is the case with any hiking or camping trip, you will want to make sure that you are prepared to withstand time out in the elements.
This means packing sunscreen, bug spray, and toilet paper or wet wipes.
Refer to the ten essentials. This list is very useful. If you're hiking in avalanche country or in winter, don't forget your backpacking shovel. 
Make sure that you also take any necessary permits or required gear as dictated by the local officials.
Last but not least you can refer to our list of the best hiking flashlights this year. You didn't think you can go without one, on an overnight hike, did you?
Why You Should Try To Hike Overnight
When it comes down to it, the best reason to try an overnight hiking trip is for the excitement. Overnight hiking trips allow you to take your experience to the next level without the commitment of an extensive backpacking trip.
Some overnight hikes have remarkable destinations that can give you a once in a lifetime experience. A fresh example is the trip of our friend Nick to beautiful Tenerife. The process of hiking overnight even allows you to focus on the joy of being out in nature without stopping you from getting back for that Sunday night football game or TV show episode.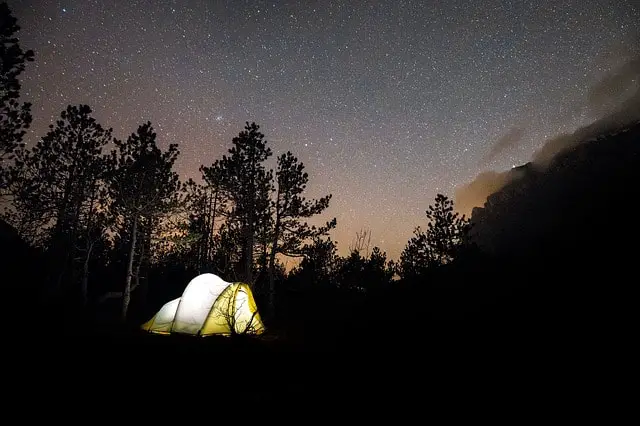 It gives you the experience of nature while still allowing you to stay within your limits as an individual. This process is an excellent next step for people who are currently enjoying day hikes but would like to experience a little more.
Beyond merely building upon your existing hiking experience, overnight hikes are a fun way to spend a couple of days off that will allow you to be closer with nature and get yourself out of the hustle and bustle of daily life.
Though an overnight trip might not sound like an extreme getaway, spending a couple of easy days out in nature could be therapeutic. Taking in the beauty around you might be just what you need to go back to work on Monday feeling happy, healthy, and refreshed.
Overnight hikes can also be beneficial when it comes to training for longer backpacking trips by allowing you to build up your endurance over time without necessarily jumping straight to one of the lengthier backpacking routes.
Either way, we can guarantee that you will love the ease and enjoyment of taking an overnight hike!
---
Do you remember your first overnight hike? How did you like it? Leave a comment below!

Founder of this website, Asen is a passionate hiker and writer who is also a gear nerd. He's been featured on many established hiking websites where he gives hiking advice & tips. When he is not trekking with his family or friends, he is writing articles and product reviews. Asen spends most of his time in Bulgaria but he constantly travels the world in seek of more unforgettable experiences. Read more about Asen here.