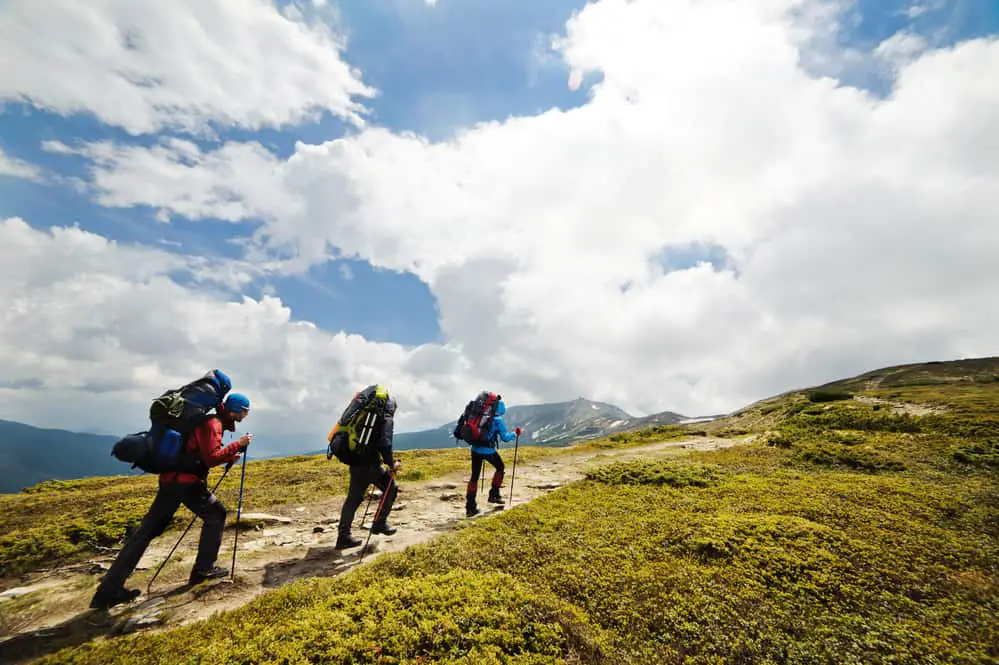 Long-Distance Hiking: A Beginner's Guide (Plus Trails And Tips)
As the Northern hemisphere says its final goodbye to winter, the hiking season slowly comes into full swing.
If hiking is already one of your favorite activities throughout spring, summer, and fall, you may want to kick it up a notch this year.
Moving into long-distance hiking can pose a bit of an adjustment compared to what you are used to. It will definitely be worth it, though.
You'll be able to get away and experience nature in a deeper way. These long-distance hiking guidelines are sure to erase any misgivings you may have.
There is no need to feel intimidated, but it is advisable to be thoughtful and cautious.
Let's dive right in.
Who Can Go On Long-Distance Hikes?
A long-distance hike is one that is spread out over a longer period of time. It can take up to a week, a month, or even longer.
For people who are just getting into long-distance hiking, this amount of time can seem quite imposing or even impossible.
While long-distance hikes will put your endurance to the test, both physical and mental, they do not really require you to be an Olympic-level athlete in order to take part.
Any healthy person of moderate fitness can complete a long-distance hike. And if you're a senior, and your body is aging gracefully, you might be interested in this list of trails.
You should definitely start slow and ease yourself into it. Also bear in mind that even the most experienced hikers get discouraged from time to time.
5 Popular Long-Distance Trails
Here's a short list of some of the most famous long-distance trails in America. Sure enough, there are hundreds of others and you can pick based on your own preference.
Located in the Appalachian Mountains this is a legendary trail that's 2189 miles long and spreads from Georgia to Maine.
2. The Pacific Crest Trail
Known as P.C.T., this challenging path is 2654 miles long and Reese Witherspoon walked on it in the movie "Wild" (2014). It's located in the West Coast and spreads from Mexico to Canada.
Another legendary path, carrying the name of the man known as "the Father of the National Parks", this scenic trail starts from Yosemite Valley and ends in the mountains of Whitney. This trail is 211 miles long.
If there's one state that's heaven for hikers and backpackers, that's Colorado. And there are plenty of gorgeous trails in Colorado. The CT is 483 miles long. It's in Central Colorado and it starts at the Waterton Canyon near Denver and continues to Durango.
5. The Continental Divide Trail
With its staggering 3100 miles, completing this trail is an outstanding feat and a real triumph. Located in the mighty Rocky Mountains, the path goes form Glacier National Park to Big Hatchet Mountains at the US-Mexico border.
A favorite long distance itinerary that I often take is in the Adirondacks. There are some really cool trails and demanding peaks to hike there.
Planning
Any substantial experience in nature requires at least a little bit of planning. You have surely done this with shorter hikes as well.
You want to know where you are going and be somewhat prepared for any challenges that may arise on your hike.
To start with, you could find a list of long-distance footpaths in your area and pick one that wouldn't take too long to hike. Here's a list of some beautiful trails in the USA.
You should then research the trail, plan your itinerary and see if you would need any permits. If it is your first time taking a long-distance hike, you will want to do some conditioning hikes beforehand to prepare yourself.
Invest time in improving your cardio-vascular health and leg endurance. One thing that may sound strange but it turns out to be quite important is to learn to short your meal rations.
You don't expect you'll be able to eat as much as you normally eat while in the civilization, right? You just can't bring so much food and overeat. That will definitely slow you down.
Instead, adapt your body to smaller, but regular intakes of quality food that includes protein and carbs. Avoid fats and fast food.
At this point, you should probably bear in mind that these long-distance hiking guidelines can only prepare you so much.
The most important part that will ensure that you are successful is coming into it with the right mindset.
It won't be a walk in the park, but that isn't what you want, anyway. Anything that can go wrong – from sunburns and blisters to feeling tired, alone and cold – is part of the experience. It will make reaching your end goal so much more enjoyable.
Long-term hikers say the first couple of weeks of a long-distance hike are usually the most challenging. Especially if you sleep under the starts in a waterproof tent.
At this point, your legs will still require adjusting and your backpack will be at its heaviest. However, it will be a small price to pay once you start finding those views you were aiming for or seeing the night sky in moments of respite.
Packing Considerations
A beginner's guide to the art of hiking requires knowing how and what to pack for your hike. In many ways, it will be similar to packing for a shorter trip, only with a little more thought put into it.
For your first long-distance hike, you may want to pick a trail that offers resupply locations. This means you won't have to carry a lot of food along with you.
This will make your backpack significantly lighter. The same goes for water. Many trails have plenty of fresh water sources where you can replenish your supply.
The only thing you want to pay attention to is to plan your itinerary in such a way that it will let you reach these spots in time.
When it comes to gear, put some thought into what you need and try to pack items that have multiple purposes. Such as a multi-tool, for example.
You do not need more than your smartphone camera for taking pictures. Furthermore, you can also make do with very few items of clothing. Don't forget a nice pair of winter hiking leggings if you plan to go in winter.
Avoid wearing jeans for hiking because they might be comfy when you're at home, but they are super uncomfortable when on the trail. The same goes for inappropriate shoes such as Converse, for instance.
You can manage with even just one extra change of clothes because you will be able to wash it in camp and then let it dry on your backpack while hiking.
You should also get lighter hiking shoes coupled with good hiking socks. Don't forget your rain gear, first aid kit, and all of your essential hiking backpack supplies.
Depending on the distance you plan to cover, it would be difficult to book your stay in huts. Often, such huts don't exist. That's why is mandatory that you take your tent and sleeping bag with you. Or at least a tarp if you don't need a sleeping bag.
A quick tent recommendation would be the PCT-approved Featherstone 2-person tent. It's lightweight and quite affordable. And it's on our list of the best stargazing tents this summer.
Don't rely on the expectation that you will find somewhere to sleep along the road. Plus, you never know for sure whether you'll arrive at the hut at a time. It's possible that you end up being far away and out in the wilderness.
You should also have a map with you and a reliable hiking app to track your itinerary, navigate your way, and know how you're doing with the time.
Another important long-distance hiking tip is not to skimp on food. You need to bring enough calories for your hike as well as a couple of treats for yourself when you need them most.
Last but not least, be prepared for snow if you are hiking high in the mountains. Besides, proper winter clothing, don't forget to take a snow shovel. We have a nice list of the best ones here.
What'd be useful is to learn more about how to hike ultralight. This will have a massive impact on your gear weight which will result in you being able to walk longer distances each day. In addition, you might want to take a look at the best lightweight hiking gear of 2021.
It's true that the ultralight gear is more expensive than the regular one, but especially on longer trips, stripped weight makes a huge difference.
What To Do With Your Equipment In The Off-Season?
Getting into long-distance hiking may also get you interested in more hobbies like camping and mountaineering.
All of these hobbies require a lot of equipment. While you will surely use it a great deal when the weather is nice, it will only take up space in your home during other parts of the year.
Instead of tripping over your equipment when you are not using it, consider enlisting the help of storage services.
They transport a storage unit to your address and let you pack whatever you need to be stored, after which it is taken to their storage locations.
When the hiking season arrives again, you can simply pick up your things from your storage unit.
The other option is to dedicate a separate space for your gear in your basement or in any suitable room if your house allows it.
March To Your Own Beat
A lot of planning and preparation is long-distance hiking 101. However, when taking on a formidable challenge like this, many people will forget to find moments and opportunities to enjoy themselves.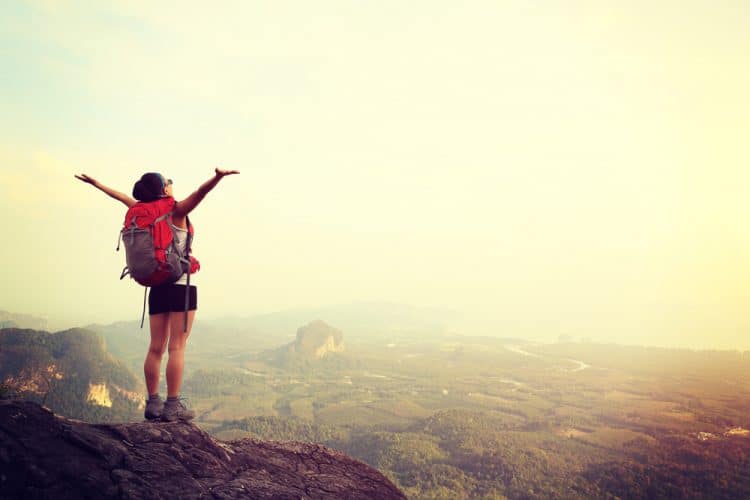 When coming up with your itinerary, make sure you leave enough time and space for the things that will make the hike enjoyable for you.
For some people, that will mean bird watching or collecting wildflowers, for others – pulling out their metal detector. A long-distance hike is not a race and it is important to let yourself do it at your own pace.
It's similar to life. It's not about the end destination but about the journey.
Conclusion
These short long-distance guidelines will give you an adequate start of planning and organizing your trip. It will be exciting for sure. It's up to you to make it safe and enjoyable. And that happens with the right planning and equipment.
---
Have you ever completed any long-distance trail? Leave a comment below!
Founder of this website, Asen is a passionate hiker and writer who is also a gear nerd. He's been featured on many established hiking websites where he gives hiking advice & tips. When he is not trekking with his family or friends, he is writing articles and product reviews. Asen spends most of his time in Bulgaria but he constantly travels the world in seek of more unforgettable experiences. Read more about Asen here.