14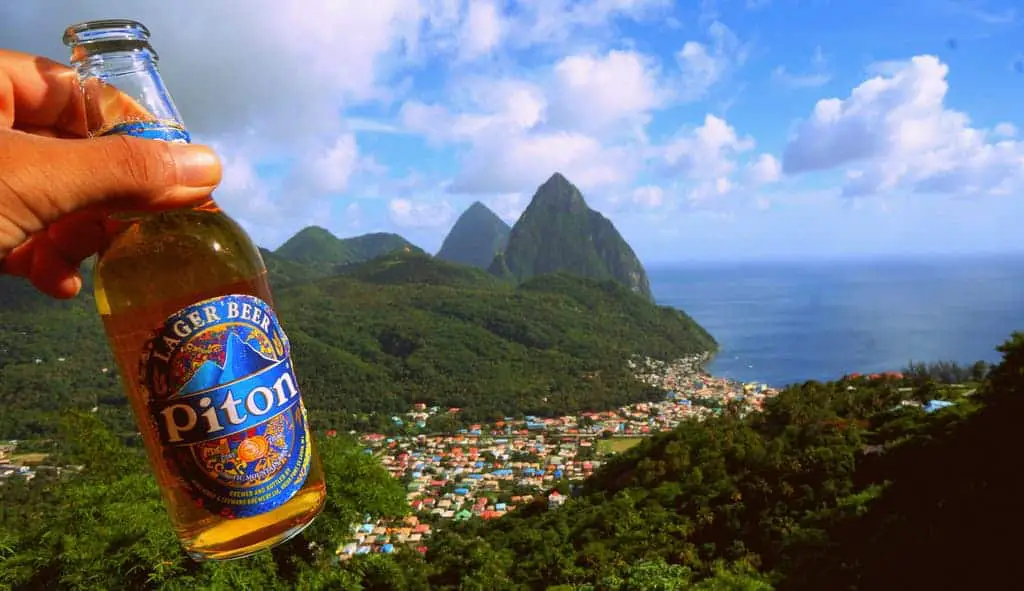 How To Hike With Beer Like A Pro
If you are like me, then you love both beer and hiking. It's a perfect combination, I know. But do you know how to hike with beer and do it flawlessly?
This, my friend is one of the most valuable skills every passionate mountaineer should master. And it requires some knowledge.
I admit I didn't pay much attention to that in the past and this resulted in many liters of wasted ale.
Not to mention I often infuriated my thirsty friends with my inability to properly take care of the precious beverage.
How did that change, you might ask? It's simple. I decided to keep some basic, yet practical rules that allowed me to sophisticate my attitude towards carrying beer in the mountains.
In this article, I will share those rules with you. In that way you will know what to do and what not to do when deciding to bring some tasty beer on your next nature trip. Let's begin with something very important.
This article contains affiliate links. That means if you click on a link and make a purchase we'll earn a small commission. This is at no extra cost for you and it helps us maintain this website. If that's the case, thank you! For more information, visit our disclosure page.
Don't Use Glass Bottles
Glass is great, but it has one major disadvantage – it is easily breakable. Besides, it is heavy.
Imagine what a disappointment would be to break your containers while walking on a steep mountain trail.
Moreover, it would be a mess with all those glass pieces and beer spilled all around you.
Now imagine how difficult walking would be, especially uphill with a backpack, heavier because of those glass bottles of beer that you brought with you.
A major rule that every experienced backpacker knows is that it's best to put only the most important stuff in your rucksack. Everything else will slow you down and cause early fatigue.
That's why it's best to avoid putting the beer in glass containers of any kind. That brings us to the next point.
Have The Right Gear
A good rule of thumb is to invest some money in appropriate beer containers that both keep the beer in good condition and are easy to transport.
For instance, buy a well-insulated beer growler, made of stainless steel. Those are practically unbreakable and very durable. On top of that, they keep the beer cold. I like them mainly because they are lighter than glass bottles.
If you want to go on a next level, you can purchase a brushed stainless steel beer insulator.
A friend of mine uses one of these and the feedback is highly positive. It has a spill-proof cap and an interior neoprene sleeve that cools the beverage. Cool, huh? You can find such on Amazon.
In case you need to bring cans, which is something I personally don't recommend, then you can consider buying a beer can belt holder.
They don't preserve the ale much but I have to admit they are comfortable to wear. They have adjustable belt straps and allow you to drink on the go. I am against that as well but more on that later.
For extra safety, you can put the bottle in an insulated cooler leak-proof backpack. They are very comfortable and easy to wear.
Sure enough, you need a reliable backpack to carry this stuff. Have a look at the best hiking backpacks of 2021.
Also, check out some of the coolest lightweight backpacks that can make your life easier in the mountains.
Keep The Beer Cold
Nobody likes warm beer. Period.
A good beer is a cold beer and everyone who knows a thing or two about beers is aware of that. Also, he will kill you if you serve him warm ale.
Keeping the beer cold during hiking should be your number two priority with number one being delivering the beer to the final destination without spilling it.
Besides using insulated beer growlers or Thermo bags, here's a pro tip for cooling the beer if it gets warm.
Find a mountain stream and put the bottles in it for half an hour. If you hike during winter, then don't be afraid to stick the bottles in the snow.
This will certainly chill your drink. Keep in mind though that change in temperature is not good for the beer so it's always better to pack it well than searching for ways to cool it.
Avoid Holding The Beer While Hiking
The point of this is to make sure your hands are 'free' when walking. It is very important to have your balance and at the same time to be able to help yourself in case of an accidental fall.
Plus, you might be busy holding walking poles.  
Furthermore, when you carry nothing in your hands, walking is easier and faster. In that way, the beer is safer too.
Don't Drink On The Go
Another good rule of thumb is to stay hydrated as much as possible on a warm weather hike.
It is one of the things that increases endurance. It's a common myth that drinking beer hydrates the human organism. In fact, it's the opposite.
Alcohol prevents the body from producing anti-diuretic hormone, which is responsible for water reabsorption.
In addition, beer bloats your stomach, and that makes you feel even more tired and clumsy. That's why it's best to resist the temptation and save the beer for later after you finished walking. It's a reward worth waiting for.
Try Beer Hiking Trails
This is something which is definitely on my "to do" list this year. For some, it may come as a surprise but beer hiking is not a term found in the urban dictionary.
It's a legitimate activity that combines trekking and drinking ale while enjoying mesmerizing landscapes in US and beyond.
Imagine walking on a picturesque mountain trail with the birds singing and the greenery smelling so fresh.
Only a mile or two away there is a cozy brewery in the woods between two big pines with splendid ice-cold ale. And it waits for you. Does it sound alluring? Would you stop for a relaxing drink?
This is not a fairy tale, but a dream come true in places such as Five-Seidla trail in Germany, for example.
There, you can even get a stamp card and validate it in each brewery. Another similar heavenly place is the Appalachian Trail Pub Crawl in Eastern USA. It has 12 stops, and it spans across 2200 miles of gorgeous mountains.
Conclusion
Trekking with beer is unarguably a fun experience.
Nature loves ale and ale loves nature. Do yourself a favor and become a pro by keeping the above-mentioned rules.
In that way you will enjoy the whole experience even more. Stay hydrated, use the right gear, and always keep the beer cool. Have an enjoyable hiking!
---
Have you ever done beer hiking? If not, would you do it? Leave a comment below.
Founder of this website, Asen is a passionate hiker and writer who is also a gear nerd. He's been featured on many established hiking websites where he gives hiking advice & tips. When he is not trekking with his family or friends, he is writing articles and product reviews. Asen spends most of his time in Bulgaria but he constantly travels the world in seek of more unforgettable experiences. Read more about Asen here.