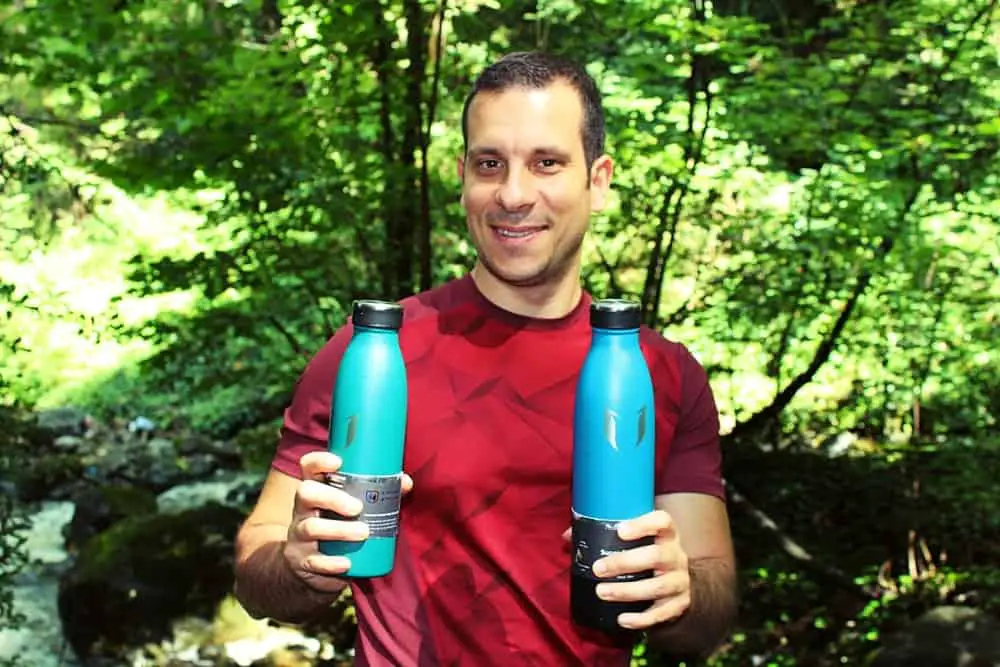 The Super Sparrow Water Bottles Tested And Reviewed [2021]
Super Sparrow Insulated Flasks: Quick Overview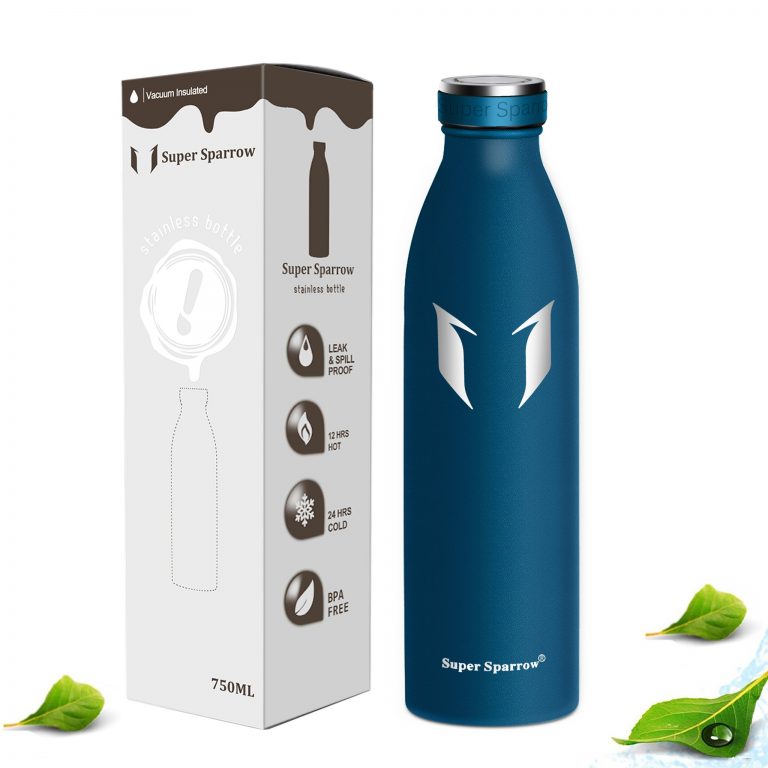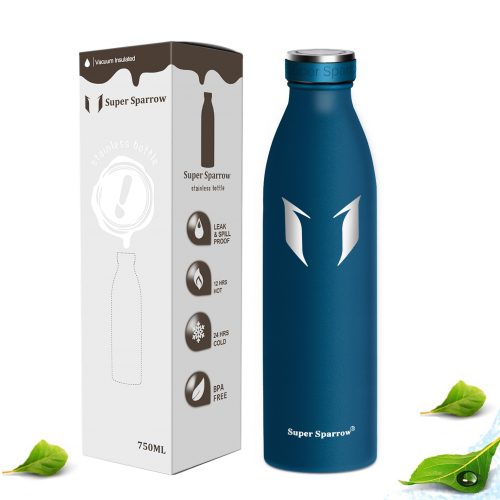 Product Name: Super Sparrow Insulated Water Bottles
Product Description: Made of premium grade insulated, BPA-free stainless steel, these bottles wowed us with ease of use, functionality, and durability. They are easy to drink from, with a comfy anti-slip grip and most importantly, keep your liquids cold for 24h and your hot liquids hot for up to 12 hours. No bad smell or taste and a wonderful customer service from the manufacturer.
Brand: Super Sparrow
Currency: USD
Availability: InStock
In this article, you'll learn valuable first-hand information about the Super Sparrow water bottles.
Because, honestly, the best way to see if a product works as advertised is to see it in action. And this is exactly what I will show you.
You'll get to know everything that really matters and that will help you decide if these bottles are worth the buy or not.
We will take a closer look at the materials, the features, and their overall performance. I've been using two of the brand's bottles for almost three months, mainly for hiking and camping. Occasionally, I also take one of them when going to the gym or when biking.
Without wasting your precious time, I'll hurry to share with you some of my personal impressions. Besides being super stylish, these flasks are:
Last but not least, the price is more than attractive. In the following sentences, I will describe my experience with the Super Sparrow sports bottles in more detail. I will also mention some quibbles I think you might find interesting to note.
Let's jump right in.
Super Sparrow Water Bottles Review
Founded in 2015, "Super Sparrow" is a young company that also produces for the giant Hydro Flask. Their factory is in China, but for the main body of the bottles, they use US-imported BPA-free Tritan Copolyester.
I like that because in the recent years I decided to pay more attention to my health. In particular, I stopped using nylon plastic bottles that contain plasticizers that turned out to be cancerogenic and dangerous to us, humans.
But more on the materials later. Now let me show you what's included in the package.
What's Included In The Package
As mentioned above, I got two of the thermoses – one that's 500 ml / 17 oz and another one that's 750 ml / 25 oz. I was surprised to see that besides the bottles there were some bonuses in the boxes. I speak about that in the video below where I demonstrate how the shipping package looks like.
What's cool is that the smaller flask comes in a stretchable sleeve that has a loop on the top that allows you to carry the bottle more easily. When that's needed, you can attach it on the exterior of your backpack, for example by using a carabiner.
That small pouch is super convenient because it also protects the bottle and provides an even better grip. That's useful when your hands are sweaty. It fits perfectly to the body of the flask.
The 750 ml bottle comes with a soft silicone boot that covers the bottom. Its purpose is to provide anti-bump protection against accidental slips. Moreover, and for maximum protection, the bottle is in an eco-friendly branded bag that's recyclable.
In each box, there are also additional gaskets for the lids. That's very handy because you can easily replace the faulty ones in case they break. Probably here's the time to mention that Super Sparrow offers a lifetime warranty. That's another reason I like the brand. They stay behind their products similar to the most reputable brands on the market.
My advice is – if you have to choose, always buy products with a lifetime warranty. For example, my Osprey Stratos 50 L backpack has such a warranty and I use it with peace of mind, knowing that whatever happens I'll receive a replacement no matter what.
Now, let's move on to an interesting part.
Who Are These Bottles For?
Being super practical, the sports water bottles are suitable for pretty much every purpose. I think they are best used in any outdoor activity that requires proper hydration on the go.
I use them for hiking, biking, and camping because of their outdoor-friendly features and durability.  With that being said, they also fit well in my car cup holders.
In short, their versatile usage allows you to bring them for any sort of activity, be it exploring the great outdoors or hitting the gym.
Features Overview And Performance
Here, I'll describe the most important specifics of the bottles that make them so special and popular. I will also mention how I tested the bottles, and more precisely, how the insulation performs.
Let's start with the most important part.
Materials And Insulation
As outlined in the beginning, Super Sparrow uses BPA-free Tritan Co-polyester that's also free of any other toxic substances such as BPS (Bisphenol S), which is quite a dangerous compound. And that not only to our health, but to the environment as well.
Because of the high-quality pro-grade stainless steel (18/8 cutlery grade), the bottles are advertised as odor and taste-free. And I can confirm they really are.
Normally, I fill my bottles with isotonic drinks or tea, but for test purposes, I used water (for the purposes of this test) because it's easier to notice if there's any unusual plastic taste or smell of the liquid.
I was glad to notice there wasn't any. And there isn't to this day after multiple use, and of course, regular and proper cleaning. This is a huge relief from those nasty plastic water bottles and other cheap flasks that add chemical smell and taste to the liquids.
As for the insulation, the bottles are manufactured with a LockTemp™ technology. Without entering into boring scientific stuff, this is a double wall technology that promises to keep your liquids cold for 24 hours and hot for 12 hours.
Sure enough, I tested that too.
I planned a weekend hike and the day prior to departure I loaded both my thermoses with my favorite liquids. In one of the bottles I poured hot black tea. The other, I filled with cold isotonic drink straight out of the fridge, noticing the time.
The results?
After 12 hours, the tea was almost as hot as when I poured it in my big bottle. I was happy because it was a chilly day and I even hiked in the rain.
I continued to hike and shortly before setting up camp I checked how's the situation with my cold drink because 24 hours have almost elapsed. Well, my isotonic drink was still cold as it was in the fridge.
So, I'm happy to report that the insulation is top-notch and definitely works as advertised.
What I also like a lot is how comfortable the bottles are to hold. They are specifically designed with an anti-slip powder coating on the surface, which provides firm grip.
On hot hikes or when I bike extensively, my hands get really sweaty. Often other bottles, especially if they're plastic, are very easy to slip, but with Super Sparrow this is not the case. And that's something I appreciate a lot. Plus, the powder coating on the exterior of the flasks combined with the double wall insulation prevents condensation.
I don't know about you, but I hate to feel those annoying drops on my bottles. It makes them moist and slippery. I like to see condensation only when I hike with beer.
What else do we have? Let's see.
Durability
Even though I'm careful, from time to time it happens that I drop the bottles. A few times that happened on rocky terrain and my first thought was like "Hell, I broke my new bottle". However, I was surprised to see that there wasn't any scratch on the flask.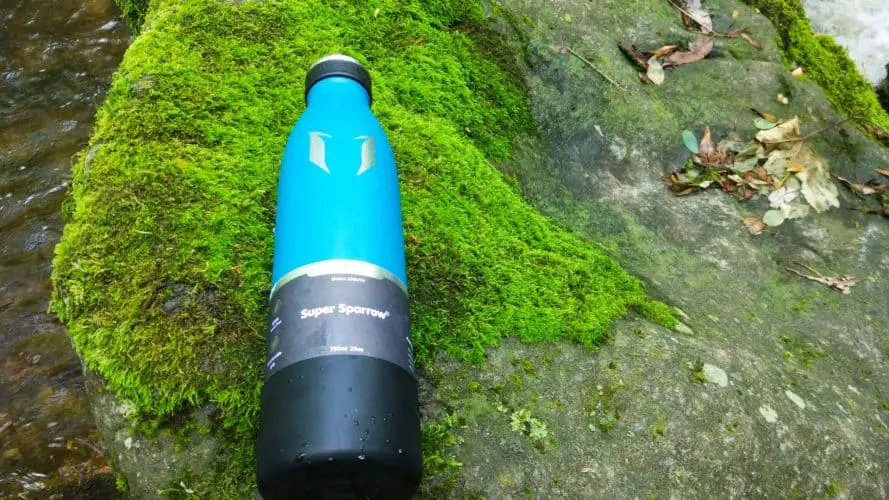 The material is quite robust and also dust-proof. To preserve the life of your flasks, my advice would be to always use the protective sleeve and the silicon boot that protects the bottom.
Another important thing is that after multiple turns and twists of the lid, it still works like it did on day one.
As mentioned, Super Sparrow included spare parts for the lid in the shipping package, which is awesome. Plus, having a lifetime warranty speaks a lot about the quality.
Leak Tests And Drink Performance
The lid is spill-proof and closes tightly, securing the liquid. I made some tests, turning and twisting the bottle when overfilled and there was no leakage. The opening is large enough (45-55 mm) to allow high water flow for easy drinking. As expected, the refill is quick and effortless.
That's something you need when you are thirsty and you need to hydrate yourself quickly on the go. Due to the ergonomic shape of the bottles, one-handed usage is quite easy.
A small quibble I have is that it's advertised that the thermoses have a one-click opening system, which, sadly is not the case with my flasks.
I spoke with the manufacturer and they explained that it's because of the model and they currently have a very limited supply of bottles with one-click openers.
So be prepared to receive your flask with a regular lid.
Weight And Colors
You have plenty of options when it comes to coloration – 30 to be exact. As for the weight, the bottles are very light. The 750 ml flask that I have is 359 grams and the 500 ml one is only 305 grams.
That makes them an appropriate addition to your ultralight hiking gear. As you can see, the bottles are lightweight and easy to carry no matter the activity.
Cleaning And Maintenance
In order to maintain your bottles in good shape and extend their life, it's vital that you clean them not only properly, but regularly.
For me, cleaning is annoying, but I do it because I really like my flasks. So how do you make sure what's the right method for cleaning the Super Sparrow water bottles?
Actually, it's simple.
Here's some practical advice that works for me and that's also recommended by the manufacturer:
Always rinse the bottle with cool water before use
After each use, rinse with hot water
Don't apply heavy cleaning chemicals, use dish soap only
Always air dry the bottles before putting the lid, otherwise you risk having mold
Never scrub with abrasive fabrics that could hurt the material
Avoid freezing the bottles and never put them in a micro oven
Use drinkable liquids only
Now let's answer some popular questions.
FAQ
Can I use liquids other than water?
Do the bottles fit in a car cup holder?
Do the bottles fit in a bicycle water bottle cage?
Can I clean the flasks in a dishwasher?
Final Verdict
After extensive usage and testing, I'm happy to report that the Super Sparrow thermoses work as advertised, and then some.
Now, they've become my go to choice when it comes to hydration on the trail. What I love most about them is the fact that they're toxin-free, super comfortable to use, and the insulation maintains the temperature of my liquids for a long time.
Drinking and refilling them is easy too, especially when I need to do it fast and continue hiking. Plus, they never leak and are lightweight which is quite important for me.
The only quibble I have is that the bottles are not dishwasher safe. It would be easier to just put them in the machine and forget it.
Given their affordable price and overall performance, I highly recommend these flasks from Super Sparrow. Check them out for yourself!
Founder of this website, Asen is a passionate hiker and writer who is also a gear nerd. He's been featured on many established hiking websites where he gives hiking advice & tips. When he is not trekking with his family or friends, he is writing articles and product reviews. Asen spends most of his time in Bulgaria but he constantly travels the world in seek of more unforgettable experiences. Read more about Asen here.