9 Outstanding Hiking Backpacks With Water Bladder [2021]
Do you know what is the one thing that's more important than staying hydrated while hiking?
It's being able to hydrate yourself effortlessly – quickly and easily on the go.
AT A GLANCE: OUR TOP 5 PICKS FOR Outstanding Hiking Backpacks
A hydration pack allows you to do just that. No need to lose time and spend precious energy on slowing down your pace and accessing your bottles that are often difficult to reach.
You just bite the mouthpiece that hangs over your shoulder and that's it. You already drink water before you know it.
In this article, I can't wait to show you some of the best hiking backpacks with water bladder that you can own this year. We thoroughly researched, tested, and selected only the top-rated models with proven quality and outstanding user feedback.
You'll have the chance to choose among exquisite brands with impeccable reputation. Sure enough, these packs all have their pros and cons and rest assured – I won't spare you any.
Now the big question – is the price a factor for quality? In most of the cases – yes, while in some occasions it is certainly not. It's rare but not impossible to find a high-class backpack at a low price. Especially for those on a budget, I included such rucksacks on this list after a careful consideration.
You will also find a useful buying guide with some important things to consider when shopping for a hydration backpack. Make sure to consult it in order to make the right choice for your needs.
The Editor's Choice is our top pick. It is here to point you in the right direction. It's always better to read an expert opinion about which backpack is the best and our reasons why. Of course, the final decision is entirely yours.
Let's get ourselves rolling and find you a hydration pack, shall we?
Our Top Recommendation
After meticulously comparing, testing, and researching the features and prices of all above-mentioned backpacks, it's a pleasure to announce our Editor's Choice this time - #6 Osprey Manta 24 L.
Osprey Manta 24 L
Dedicated hydration compartment with included BPA-free Hydraulics LT 2.5 Reservoir and magnetic sternum strap bite valve
Adjustable harness enables a perfect fit and tensioned backpanel keeps provides ventilation while keeping the weight in the pack off of your back
Dual-zippered hip belt pockets and front panel pockt
Adjustable sternum strap with magnetic closure and bite valve attachment
Low profile side zip front pocket with inner pocket and key clip
Last update on 2021-02-26 / Affiliate links / Images from Amazon Product Advertising API
This top-notch Osprey model fits all the criteria and works fantastic both as a hydration system and as a backpack.
It also has the best price – performance ratio. As of this writing, the best price is at Amazon.
The Manta model ticks all the boxes when it comes to comfort, durability, and storage capacity. What makes strong impression is the mind-blowing AirSpeed™ suspension system as well as the unparalleled quality of the integrated hydration components including the 2.5 L Hydraulics™ LT water reservoir.
Last but not least, this is a bestseller with hundreds of five-star reviews.
Make sure to check it out.
Hiking Backpacks With Water Bladder: Quick Overview
#1 Teton Sports Oasis 1200

With a volume of 20 L the Oasis is a total hit and a long time bestseller. That's not a surprise because the quality completely outweighs the price. The pack comes with a BPA-free water bladder with a capacity of 3 L and large enough 6-inch opening for easy cleaning. The super comfortable and adjustable fit is convenient for both men and women. Thanks to the excellent storage capacity organized with plenty of external and internal pockets, you'll have the freedom to take tons of gear on your hike.
Weighting only 2.45 lbs. (1.1 kg) when unfilled, this daypack is compact and lightweight enough for you to wear it comfortably for a long time. Let's look at some important pros and cons so you have a better idea how the Oasis 1200 performs.
#2 Mubasel Gear Insulated

Another high-rated bestseller, Mubasel is a hidden gem! What makes this backpack great is the presence of many super useful features and the mind-blowing price. With Mubasel, you'll be able to enjoy drinking cold water for longer because the 2 L bladder is insulated. It keeps your liquid cool for up to 5 hours in the heat. For your convenience, the pack comes with a brush cleaner for the water tube. The breathable mesh padding on the back panel, shoulder, and chest straps makes walking on long distances an enjoyable rather than difficult experience.
What we found strange is that the volume of the backpack is officially unknown. It's mentioned nowhere. Based on our observation and comparison with other packs, it should be approximately 15 L. Other than that, the weight of the pack is excellent for its size – 1.5 lbs (0.69 kg), thus allowing a comfortable day hike.
#3 High Sierra HydraHike 16 L

Being one of the world-renowned hiking backpack brands, High Sierra has a lot to offer with this striking hydro model. The HydraHike is perfect as a backpack and as a hydration system. It comes with a 2L bladder and a lightweight sip hose with cover-protected mouthpiece. You'll love its storage capacity. The pack allows you to neatly store your items thanks to the weatherproof organizer compartment that has smaller divider pockets inside. With its versatility, awesome fit, and amazing comfort, HydraHike is excellent for day hikes and cycling.
What we love about this pack is that it feels like a feather. It's only 1.72 lbs (0.78 kg). Sure enough, it's not just the weight but the fit that matters. With the adjustability and the quality of the HydraHike you'll be able to tighten up the rucksack so it fits closely to your torso, thus preventing load shift.
#4 Camelbak Cloud Walker 18 L

It's not a secret that Camelbak is the Mercedes Benz of the hydration backpacks. The company constantly manages to corner the market by staying ahead of the pack. Their updated Cloud Walker model is a synonym for quality. Here the main star is the bladder. It's ergonomic, easily refillable, and brings 20% more water flow per sip. Unlike many other packs, the Cloud Walker has an on/off lever so you can seamlessly allow water flow only when you need it. So forget about leaking and feel hydrated and comfortable with this bestselling Camelbak model.
For a backpack with a volume of 18 L, the Cloud Walker is only 1 lbs (600 gr). I found that amazing. It's perfect for an ultralight day hike or a backpacking trip.
#5 Camelbak Fourteener™ 24 L

Meet the groundbreaking model, a trademark of Camelbak. Fourteener™ 24 is a premium hydration pack with tons of options for comfort, versatility, and storage capacity. It has a sophisticated 3 L water reservoir and a lightweight sip hose that enables fast water flow for intense hikes. You'll fall in love with the innovative Air Support™ ventilation and suspension system that will allow you to enjoy perfect load balancing and out of this world back cooling even in the most outrageous heat. But wait. There's a lot more.
The popular Fourteener™ 24 hydro pack has a weight of only 1.2 lbs or 0.52 kg. Its compact dimensions make it perfect for carry-on luggage.
Everyone's heard of Osprey and their outstanding reputation for designing insanely comfortable hiking backpacks. Perfect for 1-2-day outdoor adventure, Manta is unbelievably well-though out. It has a first-rate 2.5 L water bladder that will allow you to seamlessly hydrate on the go. Undoubtedly, the most amazing aspect of this model is Osprey's AirSpeed™ suspension system that provides unrivaled ventilation, soft touch, and even load distribution between the shoulders, chest, and hips. On top of that, the pack features an integrated rain cover and multiple external and internal storage spaces. You'll be crazy not to check it out.
When it comes to coloration, you have a choice. You can choose between black and green shade. Of course, the water reservoir capacity and the price stay intact. The weight of the pack is not bad at all – 2 lbs. 14.3 oz or 1.31 kg.
#7 Gelindo 18 L Insulated

If you are looking for a multi-storage hydration pack at a reasonable price, then you'll find Gelindo very interesting. This buddy has a 2.5 L water reservoir stowed in an insulated sleeve. The result is a cooler liquid that stays like that for up to 4 hours, thus making your hike easier and even more enjoyable. The capacity of 18 L is cleverly organized with plenty of pockets and compartments on the right place that will ease your packing and allow you to take various gear, clothes, food, medical kit, and a 13" laptop. Seriously, give it a look.
A nice benefit of the Gelindo is that it's not heavy. The rucksack weights 0.9 kg or 1.9 lbs when not filled which is OK. To be honest, that doesn't come as a surprise given the thin fabrics. Here's the rest of our verdict.
Another big player in the outdoors industry, Gregory is a name that every hiker knows. Their bestselling Citro model comes with a world-class 3L hydration bladder and stylish design. Combining 7 external pockets, ultra-efficient VaporSpan ventilated suspension, and multiple premium features, Gregory Citro is definitely a pack to consider. You'll like the sturdy, yet lightweight, cushioned profile that makes wearing heavy loads effortless. Check it out for full features overview!
With a reinforced bottom made out of 420D polyester, the Citro weighs 2.3 lbs or 1.05 kg. Being a daypack, the size fits perfectly as a carry-on as well. But let's see the pros and cons.
#9 Cat Caterpillar Performance 30 L

With enough volume to serve an overnight hiking trip, the sturdy Cat Caterpillar is more than a daypack. Except that it is water resistant and has multiple compartments and lashing points, there's also a 2L water bladder that will keep you hydrated throughout your adventure. You'll be able to easily adjust the pack so it fuses your body thanks to the well-cushioned straps for your shoulders, chest, and waist. Besides, the design is superb and it has reflective colors as well as a safety whistle. Check it out!
Two things immediately make an impression when you hold the Caterpillar. First, it is really eye-catching, and second, it is surprisingly lightweight for its volume and rigid structure. The pack weighs a little less than 2 lbs or 0.90 kg.
Buying Guide & Advice (Including Valuable Tips)
So far so good, but how you decide which hydration pack would serve you best?
It's true that there are plenty of options on the market and it's easy to get confused.
In this section, I'll help you better understand how to make the right choice for you and pick a pack that will be comfortable, reliable, and priceworthy.
First things first.
Understanding Hiking Backpacks With Water Reservoir
If you have never used a hydro backpack before, it's necessary to grasp the conception of how do hydration backpacks work as well as their pros and cons. It will give you a firm understanding of what to expect when owning a pack with a water bladder.
In brief, a hydro pack allows you to drink water on the go thanks to a sip hose that is connected to a reservoir which is stored in a dedicated sleeve.
The drinking tube hangs over one of your shoulders and passes through a tiny hole in the backpack. On its end, there's a bite valve or the so-called mouthpiece that you bite to allow water flow.
Here's a nice illustration for a better understanding.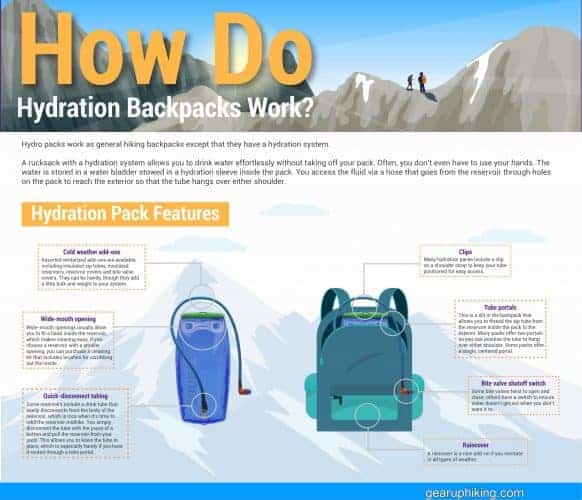 You refill the bladder with liquid by disconnecting the tube (if the specific model has this option), pulling it out of the sleeve, and filling it with water. Usually the opening of the bladder is large enough so that you can clean it easily and even put ice cubes into it. After that, you carefully stow the reservoir back in the pocket, reconnect the hose and you are ready to go.
In terms of volume, it's good to know that most of the hiking rucksacks with water reservoir are daypacks. That means their storage capacity is roughly in the range of 6 – 30 L. Keep that in mind.
Don't prepare for thru-hiking or long backpacking trips with your hydration pack on your mind. It's designed to accommodate a 1-2 day adventure or a short overnight hike.
Regarding the capacity of the water bladder, the most common volume is between 1L – 3L.
Why It's Beneficial To Use A Hydration Backpack
The main benefit of hydro packs comes from the unmatched, seamless hydration they provide.
You don't need to stop or slow down your pace and fight your access to the water bottle that is often difficult to reach, stored in a side pocket.
You just bite the valve while walking and you drink water a second after you thought about it.
Using a pack with water bladder is also incredibly handy when you walk on technical terrains during hot summer days. Often in such cases, you need to drink small sips of water every 10 minutes without wasting time and energy to stop and pull out the bottle from a pocket.
Furthermore, having a hydration pack allows you to carry bigger amounts of water (up to 3L) more comfortably. Often, putting one or two water bottles in either side pouch disturbs the overall balance of the load, making your backpack swing side to side.
Having a water bladder is much more convenient because of its ergonomic shape. It easily allows the reservoir to fit closely to your back. In that way, the load is distributed more evenly which is crucial to your stamina, back health, and comfort.
What To Look For When Buying A Pack With Water Bladder
Let's begin by something that you don't want to overlook.
Health Considerations
Probably the most important thing you have to pay attention to when purchasing a hydro pack is whether the reservoir is BPA-free.
The abbreviation stands for the industrial chemical bisphenol A. It is found in plastics and without entering into details, do know that it's dangerous to health. That's why always look for bladders that are marked BPA-free and FDA (food and drug administration) approved.
Usually some manufacturers even give certificates stating their reservoirs are harmless and free of this chemical compound. Be careful when choosing a pack from low-budgeted, shoddy brands. All of the respectful names in the industry produce bladders that are BPA-free and FDA-approved.
You will find that all backpacks in our list obey to this health standard too.
Hydration System Considerations
You are purchasing a hydro pack so undoubtedly you want to be able to drink water effortlessly with it.
First off, it's best to decide on the volume capacity of the bladder. To ease the decision, you need to compare it to the overall volume of the backpack.
Will you have enough space left for your gear once the reservoir is full? Are you going to use the pack for longer hikes or short day adventures?
Know that often, it's possible to change the bladder. That means you can put a smaller or a bigger water reservoir in the sleeve. Make sure to verify if that's doable, though.
You can to that by reading all the information and customer reviews about the pack. Don't hesitate to ask relevant questions the seller or contact directly the manufacturer.
Second off, inform yourself how easy the water flow passes through the sip hose and reaches the bite valve. Many cheap brands fail on that and this is something that could be pretty annoying on the trail.
Another important criterion is whether the water bladder is leak-proof and puncture resistant. Again, be careful with the cheaper brands. Read as many customer testimonials as possible.
Yes, you can always change the bladder if something happens, but it's best to spare yourself the time and money.
Watch the video below which gives some useful insights on the topic.

Depending on your budget and preference, it's not a bad idea to invest more money on some cool extras that will contribute to your comfort and better hydration. For example, you can choose an insulated bladder that keeps your liquid cold for hours.
Furthermore, you may have a pack whose bladder have the option to dry fast thanks to its design and ergonomic shape. That helps eliminate bacteria. Some of the bladders even have dry hangers, which often comes in handy too.
Last but not least, you might want to consider a hydration pack that has an anti-dirt cover on the mouthpiece. This is great because it protects the bite-valve when you put your pack on the ground. Something that's especially useful is having a magnetic clip on the chest strap or on the shoulder strap where you can position your sip hose for easier access.
So consider every option and decide whether or not you need those additional features. Always think long term.
General Backpack Considerations
Comfort.
That's the most important thing about a hiking backpack. You can a have great capacity, excellent fabrics, lifetime warranty, and many other perks such as an integrated rain cover, for instance. But all that doesn't matter if the pack feels uncomfortable on your back. If that's the case, it's unwearable.
Here's what to look for if you want to make sure you're choosing a good backpack:
That's it.
These are the basics. If you have that, you will feel good while wearing your backpack. You can make compromises with every other feature to achieve a good price. However, we highly recommend you go for a pack that have the basics. It's important.
The good news?
Most of the packs these days have those options. And all the packs described in our list above have them too. Sure enough, some backpacks are better than others in some aspects.
Therefore, based on your needs and preference, you have to decide what's most important to you – to have better padding or better ventilation, for instance. Of course, you can have both but in that case, it's highly likely that the price will be bigger. By the way, if the price is a serious factor for you, check out the best cheap hiking backpacks of 2019.
Here's our advice on what else to look for when it comes to other additional backpack features:
Honestly, you'll be good if you pack doesn't have other features. Everything additional comes as a bonus. An integrated rain cover? Yes, it's pretty handy but not essential. A safety whistle or a small pocket for your shades on the shoulder strap? It's awesome but again, not absolutely necessary.
I hope you get the idea.
Price Considerations
Depending on your budget, you will face different dilemmas.
If you're looking to buy a cheaper hydration pack and that's roughly below $60, then inevitably you will have to choose between quality and price.
In most of the cases, there's an unavoidable trade-off between price and quality and this is something you should keep in mind. Of course, there are many exceptions.
It's true that there are some hidden gems. In fact, in our list you'll find packs below $40 that perform surprisingly well. Still, there's some sort of a trade-off involved.
Either the hydration system doesn't work so well, either there's no good ventilation on the back panel. That's why we included a Pros and Cons section in our reviews.
When you're looking for a hiking pack with a water bladder, you're not only purchasing a backpack or a hydration system. You're purchasing a hydration backpack with a hydration system, as a whole.
It's important that your desired pack performs equally well both as a backpack and as a hydration system.
If you want to achieve that, then most probably you'll have to sneeze more than $70. Typically, it would be something in the range of $80 - $130.
Our advice is to be ready to invest more money on your next hydration backpack while at the same time keeping an eye on the cheaper packs.
As mentioned above, there are some hidden gems among them that definitely deserve your attention.
Think of the process as a long-term investment that will enhance your life. It's true.
Tips For Maintaining Your Hydro Pack
If a standard backpack needs a good care, a hiking pack with water bladder requires a little more effort to stay in a good shape for longer.
Don't be scared, though, it's nothing complicated.
Always clean the reservoir after each use and let it air dry completely before using it again. Rinse it with hot water. You can use baking soda or dish soap for maximum effect. It's easier if you scrub it with a brush too.
If you use it for the first time, it's possible that you sense a plastic or rubbery smell. To eliminate the odor, wash the bladder with a bleach or with a lemon juice. It helps a lot.
Don't use any other liquids but water in the bladder, especially alcohol or milk.
Enough with the dos. Let's talk about the donts.
Don't use any other liquids but water in the bladder, especially alcohol or milk. That will help prevent bacteria growth. Also, it's important not to expose the reservoir to UV lights for long periods and to extreme temperatures.
Avoid using it extensively when the temperature is below - 20° or above 40°.
Keep those elementary rules and your backpack will serve you well for many years.
Conclusion
I truly hope that this list will serve you well on your way of choosing the best possible hydration backpack. We made sure to cover high-quality packs with included water bladder and with various prices that have everything you need to spend some great time outdoors.
Let this diversity not confuse you but help you see the bigger picture and make the best choice. Don't forget to consult the buying guide. I dare to say it's very useful.
Should you have any questions, comments, or remarks, leave them in the comments below.
Have fun and happy hiking!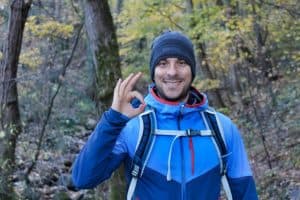 Founder of this website, Asen is a passionate hiker and writer who is also a gear nerd. He's been featured on many established hiking websites where he gives hiking advice & tips. When he is not trekking with his family or friends, he is writing articles and product reviews. Asen spends most of his time in Bulgaria but he constantly travels the world in seek of more unforgettable experiences. Read more about Asen here.