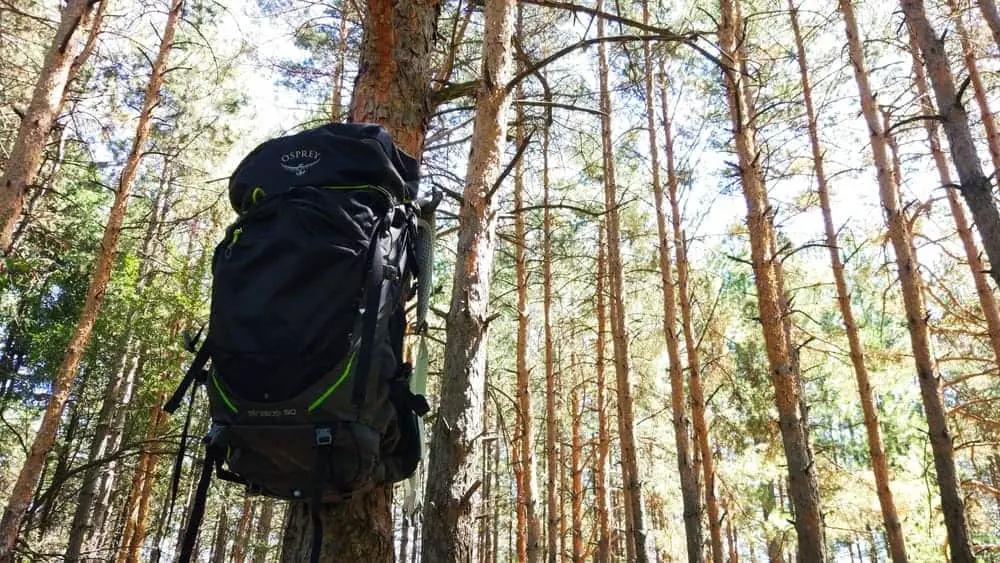 A Must-Read Osprey Stratos 50 Review [August 2021]
I'm so happy. A few weeks ago, I finally did it.
I purchased this Osprey backpack on an online sale after a friend of mine told me it was the most complete pack he's ever had.
Now that I own it, many folks keep asking me about my experience with it. So that's why I decided to write this Osprey Stratos 50 review – to give the world my two cents about this pack.
Since this is just an introductory summary, I'll directly give you my verdict – this is the most comfortable and body-friendly pack than I've ever had.
For me, it's undoubtedly the best bang for the buck.
What I like most about it is the quality of the ventilation and padding, and the extremely well adjustable suspension system that literally makes the pack a part of my body.
In the rest of this article, I'll reveal everything about the Stratos 50 so you know what to expect. I'll inform you about some little quibbles too. Let's begin.
Osprey Stratos 50 Review
I decided to buy a new pack because I desperately needed an upgrade for my 3-5 day trips. My old rucksack was a worn-out 40 L "Tashev" and I wanted something roomier, more ventilated, and with multiple compartments and pockets.
Besides, I was already familiar with the extreme comfort that Osprey packs offer, having tested the Stratos 24 and Rook 65 models (a review of the latter is on the way). My wife also has a Skimmer 28 L, and she loves it.
Moreover, I knew that Osprey have updated their Stratos and Sirrus series back in 2017, enhancing the overall structure and fit of their product line.
When I invest more bucks in a backpack that I know I'll use for many years to come, I'm very cautious and detail-oriented. I really want to be sure I'm making the best possible choice.
Otherwise, I just won't be able to sleep, knowing that I could've bought a better pack for the same money. That thought is always making me feel robbed.
That's why choosing the Osprey Stratos 50 L wasn't a fast or emotional choice. I compared it to probably ten similar backpacks before clicking on the "Buy" button.
I even went to a local retail store nearby to touch and feel the Osprey and some other packs. To be honest, I really liked the Deuter Futura Vario 50 +10 but the Stratos 50 prevailed because it was slightly lighter and generally more comfortable with its superb suspension and ventilation systems.
I admit I also liked the coloration more because I find the combination of black and green nuances very stylish.
Now let's jump to some details.
Who Is This Pack For?
The Stratos is a men's model. As already outlined in another review, the women's alternative are the Sirrus or the Skimmer models, for instance.
That doesn't necessarily mean women can't wear a Stratos but I guess it won't be as comfortable because the Sirrus packs are specifically designed to follow the frame of the women's body.
I bought the Stratos 50 exclusively for hiking because that's its main purpose but I've also used the pack when travelling and backpacking. It's very appropriate for these activities because it's highly adjustable and flexible.
For instance, you can remove the top lid if you don't need it, thus shrinking the pack. For that, you'll also want to use the compression straps to further tighten and stabilize the load.
You can even get rid of the rain cover and put something else in that zippered pocket. And you can use the straps to tie your sleeping bag on the exterior of the pack.
The pack is suitable for overnight hiking trips as well or when you hike in the woods, where you have to bring various types of camping gear.
Other than that, the Stratos 50 L could easily hold 30 - 35 lbs of load comfortably, which makes it perfect for 3-5 day trips.
I wouldn't recommend buying this pack if you hike once or twice per year. It just doesn't worth the investment. You'll be better off with a cheaper brand.
The point is, you don't need to invest over a $100 for a backpack that you won't use regularly. However, if you like to hit the trails as often as I do and need to carry various essentials, then you'll absolutely love the Stratos 50.
In the next section, I'm going to describe the features. Let's go.
Overview of Features
This pack is rich in features. That's what I love about it and that's why I bought it. Many folks out there find it confusing to deal with tons of pockets, straps, and buckles.
But if you're going into the wilderness for days, the presence of many useful features can only be a benefit. They are designed to make you feel comfortable wearing those 30 lbs of gear on your shoulders.
For instance, I love the floating lid, the walking pole attachment point, and the removable sleeping pad straps. These are all super practical.
The first thing I noticed when I took the pack in my hands was the rigidity of the internal frame. That one-stay frame is there to enhance support by transferring the load to the hips. That's cool when you hike for hours with heavy gear.
Check out the video below in which Base Camp Chris does a great job demonstrating the pros and cons of the Stratos 50. He's much more photogenic than me.
Now, I will quickly go through the specifications.
Size
The pack is 28" x 14" X 15" or 71 x 35.5 x 38 cm when filled. I feel you asking whether it will pass as a carry-on so my answer is most probably no.
However, if you shrink it enough and remove the top lid, you'll probably be good to go depending on the airline.
The maximum volume of the pack is (obviously) 50 L and it can comfortably hold up to 40 lbs of load.
Weight And Materials
Weighting 3lbs or 1.36 kg, the Stratos 50 is slightly lighter than other similar packs that I tested. At first, I thought it was somewhat heavy but when compared to other packs in that range, it's not the case.
The main weight comes from the alloy peripheral frame that stabilizes the pack. In brief, it's a perfect weight for a 50 L backpack. Nothing bulky.
As with many other rucksacks, the material here is waterproof nylon. It's pretty solid and tear resistant and it will save your gear from light rain. If you happen to be under a thunderstorm, then you better use the integrated rain cover.
Let's see about the comfort.
Comfort And Usability
Similarly to its little brother the Stratos 24, the Osprey Stratos 50 also excels when it comes to comfort. Sure enough, the bigger model has improved benefits and more features, which is normal given its purpose to accommodate a 2-5 day hike.
With a risk to repeat myself, I'd like to mention once again that after several hikes already, now I'm certain this is the most comfortable and smartly organized backpack that I've ever had. And this is my unbiased, objective opinion.
In the following sentences, I'll try to describe some features that I like very much and that make the pack super comfy.
In brief, I am very impressed with those comfort-oriented features because that makes all the difference when I compare the Stratos 50 with other backpacks.
In the next paragraph, I will talk about the pocketing and the organization of the pack.
Storage And Compartments
Smart organization is another thing I was looking for when searching for the best pack for me. I wanted my future backpack to have enough pockets and compartments so I could arrange all my stuff worry-free, including some of my summer dry bags.
I hate to fill everything in the main compartment because of the lack of enough separate storage spaces. Everything becomes a mess pretty quickly.
Make fun of me if you want but I counted every pocket and compartment of every pack I tested.
I almost bought the Osprey Rook 50 because it was slightly cheaper than the Stratos and it had pretty much the same features. However, I counted 5 exterior pockets on it versus 7 on the Stratos.
That and the fact that I liked the colors of the Stratos 50 made it my preferred choice. Oh, and the fact that it had three access points against 2 on the Rook model.
Let me explain what the pack has in terms of pocketing and organization abilities:
Okay, that was long but useful to you, I hope.
If I had to nag about something I'd mention that the sleeping bag compartment it too tiny. I couldn't fit my sleeping bag in there, which is a bit bulky, so I had to buy a more compact one. Keep that in mind.
Another possible con would be the tightness of the hip belt pockets. I don't have problems with that but some people complain that they couldn't fit larger smartphones there.
Other than that, Stratos 50 offers plenty of options for strategic packing. You'll be able to bring a lot of items and organize them both internally and externally to make sure you have a well-distributed load.
How To Use This Backpack?
I needed to look at the user manual to understand how to customize the backpack based on my body requirements and how to use efficiently all the features such as straps, adjustable torso panel, etc.
I suggest you do the same.
The most important thing you have to do is to achieve the best possible fit for you. That happens after you pack your backpack.
That's because the volume of the pack is different when it's empty, therefore it stays differently on your body.
The most important thing you should do is to adjust the torso panel to follow the curves of your spine. Then when the pack is on your back, buckle up the hip belt and the sternum strap and pull the straps on the hip belt to tighten it up. You should feel how the pack embraces your body.
Don't forget to modify the length of the load lifters to better position the upper part of the pack to your back and shoulders. Here's a quick explanatory video.
If you're travelling, you'd probably want to consider locking your backpack. "Better be safe than sorry" is my motto.
For everything else, consult the manual. It explains how to take the most advantage of all the bells and whistles of this pack.
As for attaching external items such as a shovel or ice axe, use the gear loops and straps. There are plenty of them so make use of those!
Alternatives
Based on my research and experience, there are four other backpacks that are similar to the Stratos 50.
If price is a strong factor for you, I can immediately give you a lot cheaper, yet great alternative. That's Teton Sports Scout 3400.
It's similar in volume (55 L) and it still has detachable rain cover and a sleeping bag compartment. You can also see it on our list of the most affordable backpacks this year.
Don't expect miracles from the ventilation system, though.
I also advise you to consider one of Osprey's all time bestselling backpacks – Atmos AG 65 L. Let the bigger volume not scare you.
It's an incredibly well-fitted and versatile pack with some amazing features such as the highly ventilated Anti Gravity Suspension System, detachable top lid, and many more. It's arguably Osprey's best backpack for multi-day trips. You'll see that from the price too. Nevertheless, it's a great investment.
Another option would be Osprey Rook 50 or 65 L. The Rook is an excellent model that is reasonably priced and you're sure to receive what you pay for – unbelievable comfort.
The 50 L model is very similar in features to the Stratos 50. Both have great ventilation and suspension (AirSpeed™), they weigh 3 lbs, have a sleeping bag compartment and an included rain cover.
The main difference comes from the number of pockets and compartments and the access points. That's why the Stratos costs a bit more.
Last but not least, check out another popular hiking backpack – Kelty Redwing 50. It's slightly cheaper than the Stratos model.
It combines great durability, adjustability, and storage capacity. A friend of mine has it and he's thrilled with it. Kelty is a well-recognized brand and their PerfectFIT™ Suspension is very well thought out. Plus, the front organizer pocket with multiple separate compartments is super convenient.
FAQ

What is the size of the sleeping bag compartment?
What is the height of the pack without the lid?
Can I bring the Stratos 50 as a cabin luggage?
What size of water reservoir I'll be able to fit in?
Final Verdict
I use the Stratos 50 as my main hiking backpack for months now and I love it. It's a pleasure wearing it and it serves its purpose with ease.
What I like most about it is the AirSpeed™ suspension system that provides great fit and unbelievable ventilation. Thanks to that, the backpack always feels lightweight no matter how load I stuff in it.
The presence of multiple access points and a good number of compartments, both internally and externally makes me love this pack even more.
Except everything else, I can easily store my sleeping pad and sleeping bag for my nights into the wilderness. And my gear is protected by the rain cover if I hike on rainy days.
Yes, the price is a bit high, but as is the quality and the comfort you receive in return. In brief, you're unlikely to find a better solution for the money. At least I didn't.
---
Thank you for reading. I hope this review was helpful to you. Don't hesitate to share your impressions with the Stratos 50 in the comments below. I'd love to hear your thoughts.
Founder of this website, Asen is a passionate hiker and writer who is also a gear nerd. He's been featured on many established hiking websites where he gives hiking advice & tips. When he is not trekking with his family or friends, he is writing articles and product reviews. Asen spends most of his time in Bulgaria but he constantly travels the world in seek of more unforgettable experiences. Read more about Asen here.