4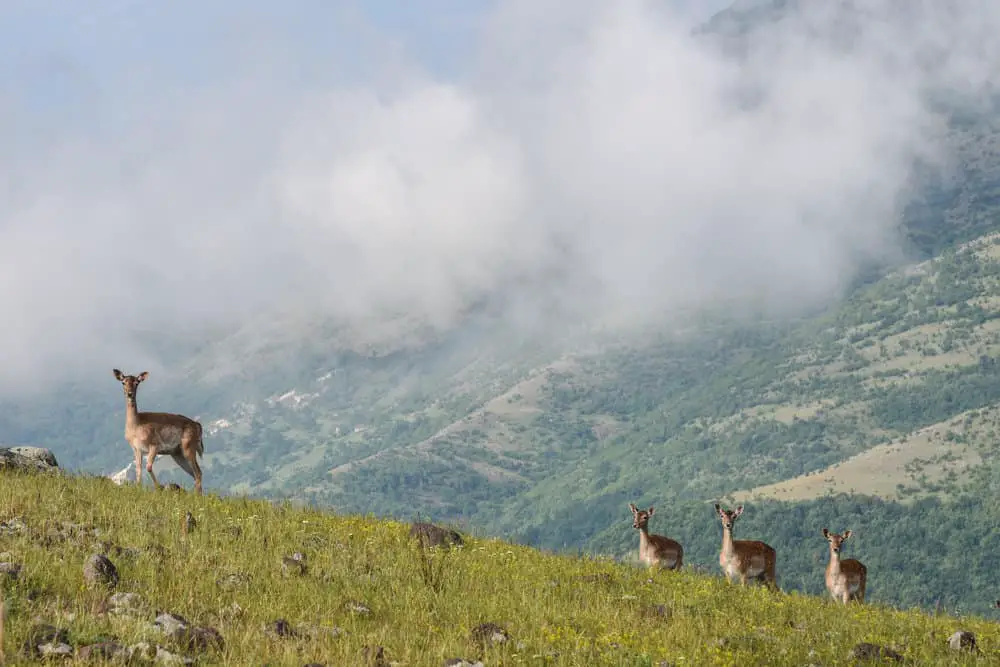 Here's Why Hiking In Rhodope Mountains Is Totally Spellbinding
Mystic. Haunting. Beautiful.
These three words immediately pop up when I recall my recent experience in one of Europe's wildest places.
With the country slowly returning to normal following the lockdown caused by the Coronavirus pandemic, it was about time to do some hiking in Rhodope Mountains, Bulgaria. Finally.
We had four days to spend (say hi to the wife) so we could afford going to a more distant place this time. I just hate to drive for hours knowing that I have to drive back again on the same day.
We booked a cozy place to stay in a secluded mountain village called Borovo. I've never been there before and it looked magnetic. That's why it immediately grabbed our attention.
I loaded my Osprey pack with clothes and snacks and we were ready to go on a long-awaited adventure.
But first, do you know anything at all about Rhodopes?
5 Intriguing Facts About Rhodope Mountains
Situated in southern Bulgaria and the rest of it in Greece, the mountain range impresses with its sheer beauty and captivating wilderness.
Spanning 14 700 square kilometers and with an elevation of 2190 meters, this is a land of enchanting legends, rich wildlife, and abundance of picture-postcard views.
Here are 5 facts you might find interesting to know about Rhodope Mountains.
#1 It's Touristic, Yet Never Overcrowded
Popular among tourists who visit Eastern Europe, Rhodope attracts many hikers, backpackers, and travelers from all over the world.  
And still, it's easy to have a peaceful time in nature without being disturbed by noisy crowds. That's because most of the folks who visit Rhodope do it during the winter.
The popular ski resorts in Pamporovo and Chepelare attract tourists with cheap prices, delicious local food, and fancy spa hotels.
During summer it's usually calmer, especially if you've come to explore the many fabulous hiking trails. If that's the case, you can spend days in nature without spotting a living soul, depending on where you go.
#2 Rhodope Is A Home Of World-Renowned Music Festivals
Each year, thousands come to the mountains to enjoy various shows. In the recent years, the most famous one is "Meadows In The Mountains".
It takes place in June, in the picturesque village Polkovnik Serafimovo. Artists and musicians from all over the world gather to celebrate life and party like rock stars under the sky, among grass and pine trees.
There's a camp on site as well as several stages where different kind of music is played. So get your groove on!
Another meaningful cultural event is "Beglika Festival". It occurs each August at the beautiful meadows near Golyam Beglik dam.
This fest too has a campsite but unlike "Meadows In The Mountains", its program includes not only modern house vibes but also traditional Bulgarian folklore music, theater art, live representation of various handcrafts, and even a circus.
It's quite impressive and a top thing to do if you want to get a touch of the Bulgarian culture. If you're camping there, don't forget to take a good tent for stargazing. On a clear night, you will have a magical experience. 
#3 The Highest Peak Is Golyam Perelik And Climbing It Is Forbidden
Elevating at 2191 m, the summit of Rhodope is not difficult to reach from the district town Smolyan. It's only 19 km from it.
Hiking Golyam Perelik is relatively easy. Unfortunately, that's not allowed as there is a military establishment of the Bulgarian army on top.
As you can see, the peak is not high and going on the top is kid-friendly, and even senior-friendly.
Unlike the other two big Bulgarian mountains Rila and Pirin where the terrain is more mountainous, technical, and rocky, the charm of Rhodope lies in the accessibility of its vast green forests.
#4 There Are Many Ghost Villages, Some Of Them Off The Map
In the past few years Bulgaria has experienced an interestingly sad phenomenon – a gradual depopulation of the small villages.
Because life in the tiny rural communities is poor, people abandon them in search of better opportunities in the biggest cities.
That's why there are many mountain villages with only a few inhabitants. Moreover, villages with zero population are not a rarity.
In fact, you can walk in a ghost village and feel like in a zombie movie. There are long-abandoned old houses and if you're brave enough, you can enter and explore them undisturbed. Often, you can even find ancient furniture and black and white photos of its old residents.
Actually, two of the depopulated small villages in Rhodope mountains are the ones with the highest altitude in Bulgaria. Those are Manastir (1500 m.) and Chamla (1700 m.).
Another ghost village that's especially beautiful is located in Eastern Rhodope -Zherka. Walking around it, among that gorgeous nature will make you feel like you're the only living creature on Earth.
#5 Rhodope Houses Ancient Thracian Sanctuaries That Are Energy Vortexes
Adventurers and mystery hunters are often attracted by the mystical aura of Rhodope Mountains. It's a historical fact that many centuries ago, ancient tribes inhabited the region. The most famous one was the Thracian.
They were known to perform various religious rituals in sanctuaries, almost intact by the time even today.
People believe that since those places are sacred, they concentrate high levels of spiritual energy. And some say it's true – when you go there, you often feel more energetic.
Probably that's because of the electromagnetic fields present on those places, or because of something different, more paranormal. You'll have to go and decide for yourself.
One such place is the awe-inspiring Karadzhov Kamak (Karadzhov Stone).
It's archeologically proven that the site served as a sanctuary during the Roman historical era in 3th – 4th century. I will tell you more interesting stuff based on first-hand experience about the place later in the article.
Another popular sanctuary is Belintash, in the central part of Rhodope. It's close to Karadzhov Stone and it's a tiny plateau that offers a breathtaking lookout view to the mountains.
It's a cult rock formation that represented an old temple. The place has a top area of 5000 square meters and you can actually spot traces from ancient human activity. You can see petroglyphs that scientists believe are an ancient Thracian alphabet.
There are cuts in the rock that some consider being a stellar map. Legends even tell there is a hidden treasure somewhere close to Belintash.
The rocky plateau is in a close proximity of other rock sanctuaries in the mountain – In Kaya, Pitvoto, and others. The rumors say this is not just a coincidence.
Arriving In The Picturesque Village Borovo
Can you remember the last time you drove from the big city to a distant, secluded village?
If you do, then you also remember the instant feeling of serenity that starts to crawl in you shortly after spotting the first houses from a distance.
Today the population of the village is only 86 people and the first thing you notice is the staggering silence. It's engrossing.
Location And How To Get There
Situated in the Western part of the Rhodope massif, Borovo is only 50 km away from the nearest airport in the city of Plovdiv.
If you come from the capital Sofia, however, the distance is bigger – 160 km. The best way to go is by car (you can rent one in Plovdiv or in Sofia) and it will take you around three hours.
The road is in a very good condition but a big part of it is mountainous and expectedly there are quite a few turns that might get your head dizzy.
Places To Stay
If you plan on spending a night or two in Borovo, there are several guest houses and small family hotels. We stayed in such a hotel called "Varnentsi" (Варненци).
We had a spectacular view to the green mountains and to a vast meadow in close vicinity. There was a binocular in the room and often we could spot wild animals coming from the forest and grazing on the huge open space. There were mainly deer and wild boars.
And my favorite part – the cuisine, was top-notch. There was a small but perfectly maintained garden full of flowers, fruits, and vegetables. Because we arrived during the week, we were the only guests in the hotel.
That's why we got a really personalized treatment and a super friendly attitude from the staff. In fact, the staff was a local old lady who was at our disposal all the time.
She was telling us interesting stories and legends related to the life in the village and its history.
She told us that bears often come to the village during the autumn to search for food. In some occasions, they even dare to enter people's yards and poke the street trash bins.
As I mentioned the food was fantastic and the old lady did an extra mile by preparing us delicious sandwiches for our hikes during the day. For dinner, she served red wine made by her husband.
Another well-rated place in the village is guest house "Boryana" (Боряна).
Things To Do In Borovo And Around
The village and the area around are an important place for orthodox Christians. Borovo sits in the heart of the holy Cross forest.
According to the legends, a small piece of the Holy Cross lies buried in the land near Borovo. That's why many people from all over Bulgaria come to Cross Forest to seek hope, praying, and finding piece.
There are many monasteries, temples, and small chapels in the area. Such a remarkable place is the chapel sitting on top of the village.
It's within a walking distance from the center of Borovo (15 mins). Since it's on a hill, you can bet there's a fantastic lookout view. The chapel is well-maintained and very beautiful both on the outside and on the inside.
Near it, there's an open shop where you can buy honey, local herbs, and traditional Bulgarian home-made food such as lutenitsa, for instance. If you have binoculars, you can enjoy some birdwatching and wildlife viewing.
In a very close proximity is the hunting reserve Kormisosh. It spans 42 hectares and is a home of a variety of wildlife – roe, deer, bears, wild goats, horses and many more.
A popular point of interest among tourists is the "Holy Trinity" monastery. It's 7 km away from Borovo, and you can either go by car or by walking on the narrow asphalt road. There are plenty of gorgeous views on the way.
The monastery is fairly big and quite interesting. It's situated among pines, deep in the forest.
There's even an accommodation facility. It's a resting point for many hikers who spend a night there and continue on the many trails that start from the area.
This is the only monastery in Bulgaria that serves a night vigil each Friday starting from early spring until late autumn.
It is believed that if you spend one night there, sleeping under the stars, you'll receive divine enlightenment and answer to your prayers.
Furthermore, there are many impressive natural landmarks in Borovo. Such is the unusually shaped rock formation Orelova Skala (Eagle's Rock). You'll see it rising on top of the village and revealing a breathtaking view.
There's a huge metal cross on it. It's a short but strenuous hike until you reach it. You can also spot many caves in the cliffs surrounding the village.
Only 3 km away from Borovo is another picturesque village – Belitsa. Shortly before entering it, you'll spot the natural rock phenomenon known as the "Shapran dupka" (Shapran Hole).
It's a naturally shaped bridge formed by river Belishka, that washed out the rock, giving it a peculiar shape.
Very near, after you exit Belitsa is the Guiumberdzhiata waterfall. If it's too hot, you can pop in and enjoy the coolness of the mountain water.
Now let's get to the point.
Hiking Trails Near Borovo
Sure enough, we went for the hiking and we made a good research. There are plenty of trails surrounding the area all of them offering various length and difficulty.
Let's start with the one that impressed us most.
Hiking To Karadzhov Stone
Karadzhov Stone is a beautiful rock plateau at an altitude of 1448 m. It's in the hunting reserve Kormisosh and it's one of the most well-known attractions in Rhodope mountains.
A huge round-shaped rock is stuck between its tall vertical walls, making it look as though giants played football and left a long time ago.
An archaeological research led in 2003 revealed that the place was an ancient Thracian sanctuary during 3rd and 4th century.
That's why the place is considered as radiating high levels of energy. Besides, it's located close to several similar ancient sanctuaries in the area.
The first floor of the sanctuary has narrow holes in the walls. When a Thracian died, his family put adornments inside.
Reaching the second floor is a bit tricky but totally rewarding. You have to climb the vertical wall via a rope ladder.
It might be a challenge for those with fear of heights but if you walked for hours to get there, it would be a pity to miss the gorgeous view on top.
And the view is really amazing. You can see mountains and skies colliding in an impressive way. The surface is large enough for you to walk around and take pictures from several angles. We even had a picnic there.
We hiked to Karadzhov Stone from the "Holy Trinity" monastery in Holy Cross forest. We drove for 20 mins from Borovo and parked outside of the monastery.
Then, we took the marked trail that goes for 2 hours. You can also extend your trip by walking directly from Borovo (that will add 1h45 mins for 7 km.), but since we had other trails to hike on that day, we decided to earn some time by driving.
The trail starts from the asphalt road on the left side of the monastery. Then, after 150 m you have to turn right and continue through the forest. After all you need is to follow the yellow mark.
Even though the maximum elevation is not high – 4763 feet, there are some steep sections that require more effort and lung capacity.
The path is picturesque, and there's a variety of splendid sights and interesting vegetation. We stopped several times to take photos and catch our breath while enjoying nature.
Depending on the time you have, you can make it a round trip or continue on one of the trails that goes after Karadzhov Stone.
The distance is around 6.5 km but we hiked 2 km more on a trail that goes to a small cottage in the woods. In total, it took is 2h45 mins.
Hiking "The Way Of The Heart" Trail
The good news is that Borovo is a starting point of many hiking trails and that was one of the reasons we chose to stay in that village.
Another marvelous trail that we hiked has the cinematic name "The Way Of The Heart". Conveniently, it starts right from the center of the village, very close to the church.
It's a trail that comprises three different paths, each having different length and difficulty. The itineraries connect most of the chapels near Borovo.
They also pass through some of the most beautiful spots in the area – panoramic hills, small chapels, Thracian sanctuaries, peculiar rock formations, and alcoves.
The first trail is called "The Path Of The Smile". It's the easiest one. It took us 3 hours. The mark you have to follow is the blue one. The trail starts with a steep incline that leads to a rocky fountain with healing water. Make sure to have stretchy hiking pants if you o that trail.
Then we continued on a sweeping route through a century-old beech forest. We walked slowly, haunted by the greenish beauty and feeling as though we were in a silence capsule. The only noise was coming from the singing birds.
We stopped for a quick protein loaded lunch on a picnic table before reaching the highest point of interest – the chapel "St. Peter And Pavel" (1100 m).
On the way back, at one point, there's a trail connecting Borovo with the closest city, which is called Lucky. However, we decided to go back to the village and continue on the second trail.
The second trail is called "The Path Of The Faith". Again, it starts from the center of Borovo, right next to the local church.
Its difficulty is moderate and the mark you have to follow is the red one. It took us 2 hours to complete it with a few stops.
The trail starts with a very steep incline through thick vegetation and after 20 mins you'll see the last houses in Borovo, located on a high hill.
The weather was quite hot, and we felt lucky that the path went through a dense forest where the burning sun rays had troubles finding us.
At one section of the trail, we had to go through a dark cave where the locals used to breed animals long time ago.
We spent 15 minutes there catching our breath from the strenuous hike so far, enjoying the coolness of the air.
Continuing through the jungle-like forest, and after a while we reached the beautiful tiny chapel "Saint Spirit". It's located on a vast meadow.
In a very close proximity, there's a spectacular rocky terrace with a breathtaking lookout view towards Borovo and the neighboring villages.
Suddenly, we heard a loud clatter coming from the woods, briskly disturbing the peaceful silence. "Look, honey, that might be a horse", my wife said.
But it wasn't. When I instinctively turned around startled by the sudden noise, I saw a majestic animal. A huge male deer was galloping, crossing the trail, only 20 meters from us.
It took it only several seconds to enter his kingdom – the dense woods. And for those several seconds, time has stopped.
All that existed was the sheer beauty of nature, represented by the stunning wilderness surrounding us and the presence of the gorgeous creature, disappearing into the pine forest.
It was a magical moment and one that we will remember for a long time.
On our way back to Borovo, we marveled at another tiny chapel, nested on a hill – "Saint Sunday".
On the next day, we went on the third trail called "The Path Of The Light". This one starts from the "Saint Spas" monastery, located on top of Borovo.
It's a 15 min walk from the center of the village, on a panoramic trail. This time, we decided to walk on the asphalt road and take some pics from a different angle.
The difficulty of this trail is moderate, and it took us 2 hours to complete it. The marking we followed was the yellow one.
The trail has some steep inclines that again reveal fantastic lookout sights. After an hour or so we reached a tiny chapel called "St. Konstantin And Helena".
But the real highlight of the itinerary for us was the area called "The Steps" (Stapalata). It's a place between two large meadows where you can spot rare vegetation species.
There were plenty of peculiar and sweet-scented flowers and peculiar rock formations showcasing the powerful diversity of Mother Nature.
Conclusion
Leaving Borovo and its surroundings after nearly five days wasn't easy. The place has a catching beauty, and we easily got used to the relaxing peacefulness of hiking every day.
We said a warm goodbye to our host in the hotel and we promised to go back. And we will. But Rhodope Mountains is so big, abundant, and diversified, that there are many other places awaiting us to explore them first.
To be continued.
---
Founder of this website, Asen is a passionate hiker and writer who is also a gear nerd. He's been featured on many established hiking websites where he gives hiking advice & tips. When he is not trekking with his family or friends, he is writing articles and product reviews. Asen spends most of his time in Bulgaria but he constantly travels the world in seek of more unforgettable experiences. Read more about Asen here.