8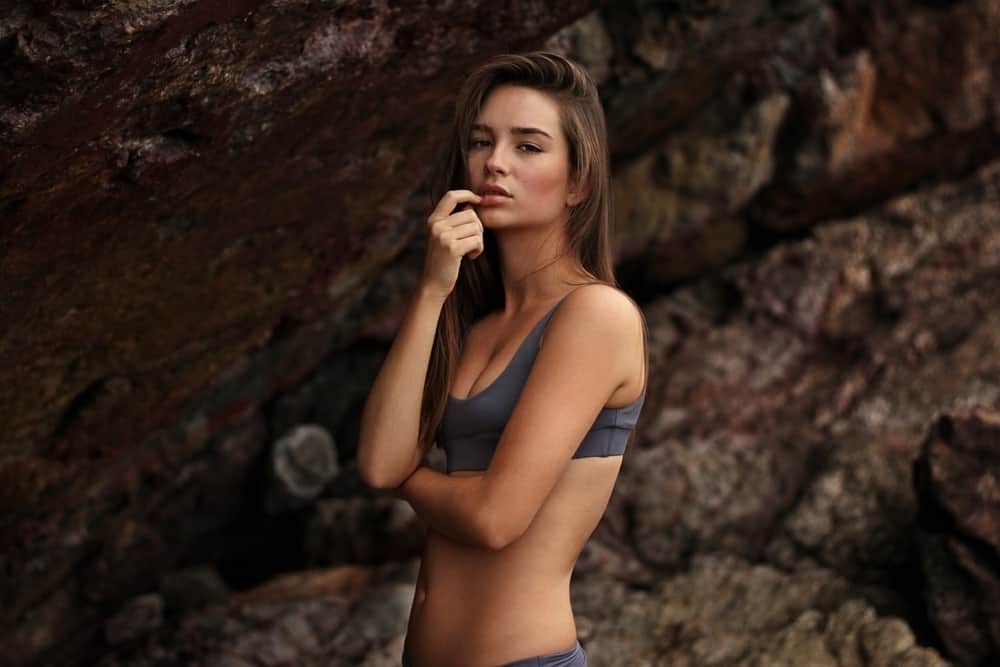 6 Cool Tips On How To Last Longer (In The Mountains)
Admit it!
I got you with the title, didn't I? Maybe with the beautiful face staring at you from the image?
Well, I'm glad you are here. You should be happy too because you are about to learn some valuable advice that can help you increase your endurance when you're hiking, trekking or simply walking on long distances.  
When I was younger and unexperienced, I often ended up disappointed when I was mountaineering with my friends. It's just that I was getting tired too quickly. I was groggy only after a mile or after climbing the first steep hill.
I remember feeling embarrassed so many times because I couldn't catch up the distance and the others had to wait for me. And I was far behind them with my tongue sticking out like I was some kind of exhausted dog.
I hit the bottom when once, a girl offered to take my backpack and I didn't have a choice but to accept her offer. I was so smashed.
With the years, I changed. I learned how to be prepared and now, even at a greater age, I feel unstoppable when walking extensively on difficult terrains. My secret? It's much simpler than you think.
Please continue reading because in the following sentences I am going to show you what you can do to increase your overall strength and endurance when hiking.
#1 Exercise, Exercise, Exercise
Being in a good physical shape is obviously the first and most important step towards achieving your goal.
Besides getting rid of the extra pounds, you need to concentrate on two main aspects of your training:
Developing and maintaining leg muscle strength

Improving your cardio fitness

There are tons of informational videos on YouTube on the subject so check some of them. It would be much clearer for you to see how to perform the exercises instead of reading about them. Here are several exercises that work great for me:
Of course, it's also convenient to exercise by hiking on trails as much as you can as this will give you an idea of your progress. Besides, it's a great physical activity.
#2 Stay Hydrated (The Right Way)
Dehydration is one of the biggest enemies to endurance performance. When your body doesn't have enough fluids, it stops functioning the way it should be. According to various studies, it's recommended to consume around 2 liters of water on a daily basis.
Now imagine the quantity needed when you are on a 10-mile hike on a rough terrain during summer. A good rule of thumb is to drink a liter every hour while trekking on hot days.
Here's a pro tip:

Don't wait to get thirsty to pull your bottle. Feeling the thirst is the first sign of dehydration!
I tend to bring with me the Super Sparrow water bottles but also sport drinks that are rich in potassium, electrolytes, and B vitamins. It recharges the muscles fast.
#3 Mind Your Own Pace (Don't Rush)
A popular rookie mistake is to walk too fast at the beginning when you feel pumped and energetic. In fact, it's natural, almost like an instinct. But if you want to be a good athlete, you need to start thinking in long term.
And that means realizing how vital it is to save all that surging energy and distribute it as much evenly as possible throughout the entire trip. The last thing you'd want is gasping for air shortly after the beginning.
Another thing worth mentioning is the importance of following your own tempo. No matter with whom you are, don't forget that people are different. Some walk faster than others and that's totally fine.
Trying to catch up with someone who's far more experienced than you is a mistake because it could cost you superfluous energy.
That's why when I don't hike solo, I always go with someone who is willing to set a common pace and follow it. Keep in mind though that this is difficult to achieve when you are in a larger group.
#4 Wear Comfortable Shoes
By comfortable I also mean appropriate for the terrain you are going to walk on. You need shoes that support your ankle and have cushioning on the midsole and arch.
In addition, if you are a beginner, avoid shoes that are too heavy no matter how awesome the other features are.
Generally, you need something light, well fitted, and stable. Keep in mind the terrain and supply yourself with 2-3 pairs because shoes that work well on one terrain might not feel as amazing on another.
Don't hesitate to invest more money on comfortable hiking shoes because I promise you, this makes huge difference. It also has a direct impact on your resilience.
#5 Choose The Right Backpack
How backpack weight could affect your stamina? Allow me to explain.
If it doesn't fit well to your body, it starts to shift causing you to swing side to side, thus hurting your back and shoulders. As a result, tension arises slowly on your muscles and soon the tiredness hit your whole body abruptly. This also happens if you fail to organize the load evenly both internally and externally.
If you don't have an experience with hiking backpacks, I suggest you test one in a specialized store and seek advice from a sales consultant. He/she will help you measure your torso length and help you make the right choice.
If you are purchasing online, search for packs that have adjustable shoulder, waist, and chest straps. Having those provides good stability. Furthermore, I'd strongly recommend wearing a backpack with padded, ventilated back panel as this keeps the heat away and it doesn't hurt your back. That's crucial for long hikes.
#6 Use Walking Poles
These long sticks are very helpful if you suffer from bad knees. That's because they provide extra stability during walking, especially on steep terrains. By using walking poles, you also use your hands for support.
In that way the tension doesn't concentrate primarily on your legs but it is distributed to the entire body.
Guess what!
That means your legs don't get tired as fast as they would without the usage of walking poles. Walking becomes a whole-body activity, which is good for your overall strength.
See You On The Trail!
Increasing your physical endurance is not hard. It just requires dedication, practice, and desire. Believe me, it is worth it. When you are in good shape and don't get tired easily, you are able to see more and to experience the most out of your hiking adventure.
I hope the tips I shared with you will enable you to be a better hiker. And to last longer in the mountains.
Happy trails!
---
What helps you the most to last longer while hiking? Leave a comment below!
Founder of this website, Asen is a passionate hiker and writer who is also a gear nerd. He's been featured on many established hiking websites where he gives hiking advice & tips. When he is not trekking with his family or friends, he is writing articles and product reviews. Asen spends most of his time in Bulgaria but he constantly travels the world in seek of more unforgettable experiences. Read more about Asen here.