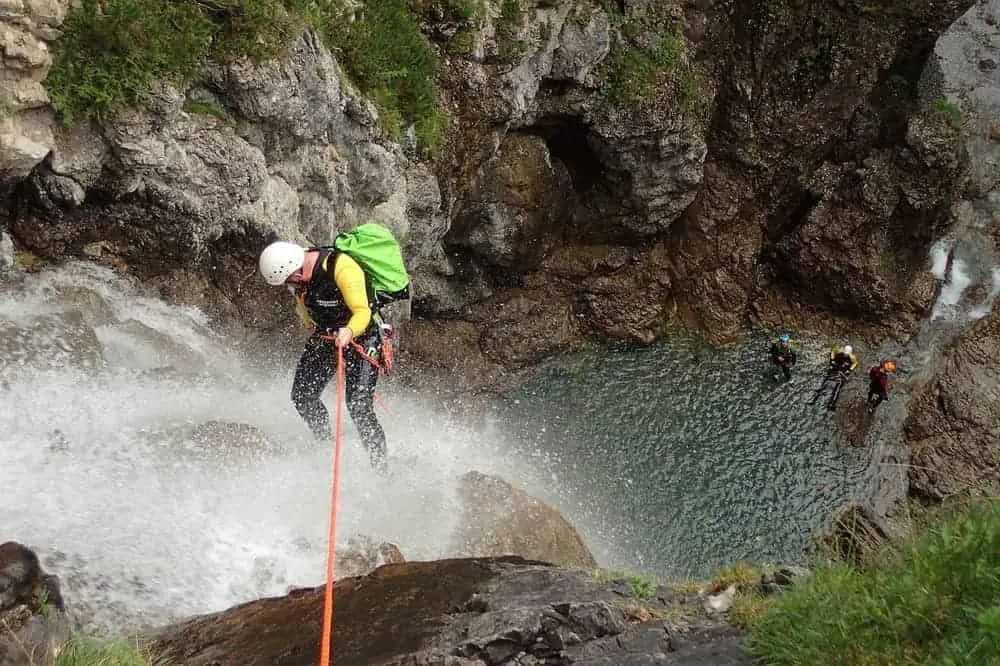 8 Best Waterproof Backpacks For Hiking Of 2021 [MUST-READ]
You must be very lucky!
You just found the most comprehensive list of the best waterproof backpacks for hiking.
Do you know what the best part is?


AT A GLANCE: OUR TOP 5 PICKS FOR WATERPROOF HIKING BACKPACKS
I am going to show you the high-performing packs that are with great quality, but are also top-rated and inexpensive! Being a passionate hiker, I know the importance of having a reliable and comfortable backpack that will endure even the roughest weather conditions.
Most probably you'll be very interested to also check out our list containing the best dry bags for hiking of 2021. Besides being fully waterproof, these bags are super popular right now and for a reason!
I admit I've often found myself regretful and with a soaking wet gear because of a bad backpack choice. But I've learned my lesson, and I tested many packs.
Now I can't wait to share these valuable insights with you.
In short: if you want a dependable hiking backpack that is weatherproof and will serve you well, then you'll definitely love this list.
I did my best to describe not only what is to like about these packs but their little snags too.
Let's get started.
Our Top 3 Recommendations
Best overall value
The Candy boasts with durable waterproof materials combined with impressive storage capacity and an included rain cover. It's definitely a pack you can count on for many ears to come!
FEATURES:
Durable water resistant fabrics and an included rain cover
Padded and breathable back panel
Pocket-rich and feature-rich
Hydration-ready
Runner Up
Not just a backpack, but an adventure-ready dry bag, Platinum Sun offers reliable protection for your most valuable essentials and stunning functionality, courtesy of a renowned brand.
FEATURES:
Made of fully waterproof and durable 500D PVC tarpaulin
Amazing carrying comfort thanks to advanced suspension
Surprising number of pockets for easy gear organization
Breathable and adjustable
Best budget choice
You can submerge this pack with no issues and it will keep your gear dry like the Sahara desert. Besides, it comes with bombproof ergonomic design and convenient waterproof smartphone pouch.
FEATURES:
Super affordable
IPX6 waterproof rating
Lightweight and extremely rugged
Very comfortable suspension
The most popular choice is Diamond Candy 40 L. It's a high performing backpack that surprises with great functionality coming at an affordable price.
The strong material is tear and water-resistant. Besides, in a small bottom pocket, you'll find an easily deployable and custom-fitted rain cover that adds extra protection for your precious essentials.
Diamond Candy has quality SBS zippers that don't stuck and is hydration-ready. You'll be able to put a 3 L water bladder in a padded sleeve or your 16" laptop. The padded and well ventilated back panel offers fantastic comfort and breathability on longer hikes. 
The second contender is Vitchelo 30 L. It's a high-quality dry bag that's rugged, lightweight, and extremely comfortable to carry. What makes it exceptional is the solid material.
Vitchelo is made out of vinyl tarpaulin that's durable but also fully waterproof. Therefore, you don't need to deploy a rain cover to ensure maximum protection of your gear. 
The roll-top closure seals the main opening, thus providing full protection even from prolonged heavy rain. In fact, you can swim with this pack with piece of mind.
Your essentials will stay protected no matter what. On top of that, Vitchelo offers the functionality of regular hiking packs. It has a very comfortable harness and cushioned and breathable back panel.
Our third best choice is Platinum Sun 30 L. This is a dependable dry bag that you can count on when you go beast mode. This little monster is made out of 500D PVC fabric that's completely waterproof and bombproof. 
Similar to Vitchelo, the pack has a watertight roll-top closure that seals your contents. Platinum Sun is surprisingly rich in pockets, allowing you to organize your gear for quick and easy access.
It has side pockets for water bottles, and corded exterior when you can store additional items such as a rain jacket, for instance. The harness is fully adjustable and includes a chest strap and a hip belt for better load distribution.
And below, you will find a neat table organizing all the backpacks that made it to this list.
Best Waterproof Backpacks For Hiking: Quick Overview
Cheap and lightweight this pack is roomy enough to handle a 1-3 day hike. It is made of high quality water-resistant nylon that doesn't let the rain soak through. That's not all. For an extra protection, Diamond Candy comes with a rain cover stored in a small bottom pocket. The mesh shoulder straps are breathable and the padded back is super soft. That make the pack perfect for those seeking maximum comfort and easiness of use for long-lasting walks in the outdoors.
The weight of the Candy 40 L is 2.6 lb or a little over than 1 kg. Its dimensions (12.6"x 7.9" x 19.7") allow you to carry it on a plane as it meets most of the airlines standards. Let's quickly take a glance at some of its features and see how you can benefit from them:
Built with an excellent storage capacity for an easy internal and external organization, this backpack will keep all your essentials secure and dry for multi-day adventures. The material used is a reinforced nylon of superior quality that is water and tear-resistant. There are plenty of pockets and straps so you can store everything you need without worries. I personally like the bottom pocket where you can stout shoes. The ergonomic design of the back structure guarantees you a comfortable wearing while the ventilated mesh pads keep the heat away for a sweat-free hike.
On top of that, Outlife 60 is surprisingly lightweight for its volume – only 2.2lbs or 1 kg. One downside for me is that it's not hydration-ready. However, the rest is certainly awesome for the price:
This monster is made of sturdy rip-stop polyester that quickly slides the water aside not giving it a chance to penetrate. Besides, Seenlast gives you even more security with an additional layer of protection thanks to the detachable rain fly. The 50 L capacity is perfectly organized with compartments and pockets and it allows you to experience a worry-free 3-4 day journey in nature. Here the back ventilation is top-notch – the Airstripes back system provides all-around cooling for a dry hike.
Here are the most important things you need to know about Seenlast:
It's not a surprise that Loowoko holds the prestigious "Amazon's choice" award. This hiking model is budget-friendly, highly adjustable, and super comfortable to wear. It could be ideal for those going on a day hike but the pack will also hold enough gear for an overnight weekend trip. You can easily carry up to 88 lb (40kg) load with it. Besides, Loowoko is sturdy and lightweight at the same time with its 2.6 lb (1.2kg).
Now allow me to present you more details so that you know whether this pack is right for you:
#5 Såk Gear BackSåk 25/35 L

If you want to day-hike during insanely extreme weather conditions and still stay reassured that your food or clothes will be 100% intact, then this is the pack for you. Think of BackSåk as more of a dry bag. The heavy-duty materials used for this little monster make it a solid shield against water, snow or sand. It is compact, lightweight, and durable. Make no mistake that even though it is designed to endure tough adventures, this backpack is super comfortable.
The good part is that you have a choice for the volume, as there is also an option for a 25L pack. Anyway, here's why BackSåk has so many outstanding customer reviews and made it to this list:
Vitchelo will grab your attention immediately with a killer sleek design. But let's not judge a book by its cover. This is not just a backpack. It's a dry bag created for adventure hiking. No matter if you need to pass under a waterfall, cross a river or simply get wet because of heavy rain, Vitchelo will always take care of your belongings. It offers maximum weather protection via the extreme sturdiness of its material that lets nothing to touch your stuff. Just wait to see how snug it is.
Let's have a quick overview of what Vitchelo has to offer and make your adventure even more exciting. On a side note, check our review of this Unigear dry bag. It's excellent if you need to really seal your gear for wet adventures.
#7 Fe Active Cloudbreak 30 L

Feel like you wanna jump off a cliff into water in a hot day? No problem! You can easily do it with this dry pack on your back. Because it will keep the insides perfectly dry even if you go underwater. That's why surfers and other aqua sports athletes love it. Cloudbreak 30 is the ultimate choice for your utmost hiking adventures. It's super light, roomy, and easy to maneuver with.
This pack receives a ton of praise these days. It is considered as one of the top choices for activities involving significant amounts of water, be it downpour rain during hiking or crossing a mountain stream while trekking. It's not just watertight, it's weatherproof. Check this out:
With this remarkable adventure backpack, you better be ready to push your limits. Because this pack is made just for that. It can easily withstand sand, snow, mud, and water. It's a multipurpose rucksack for those who like to go one step further. You can use it for kayaking, rafting, travelling, and any kind of water sport. It's very flexible, adjustable, and comfortable to wear and that makes it fantastic for hiking in rough conditions. Make sure to check it out.
Platinum 30 has been successfully tested for leaks when fully submerged under water and the insides remained intact. And that's not all:
How To Choose The Right Waterproof Pack For You?
The first thing you need to understand before making your choice is the difference between water-resistant and waterproof. Without entering into nerdy scientific details, I'll just emphasize on the fact that water-resistant is weaker than waterproof.
In a recent article, our experienced author Winston explains in details how to know if a tent is waterproof or water-resistant. The same applies to backpacks as well.
On one hand, when a material is water-resistant, it can withstand to a certain amount of water/rain but after some time it will eventually start to leak. On another hand, when a product is waterproof or watertight it can endure significant amounts of water with little to no risk of getting wet.
The Waterproofing Ratings Explained
To expand more, there are specific waterproofing ratings. For example, the IP (Ingress Protection) rating gives an estimate on how a given device (or in our case fabric) withstands water.
To measure that, the system uses two digits. The first digit is from 0 to 6 and defines the level of protection of the material from sharp objects and dust. As you might suspect, the higher the number, the greater the protection.
The second digit is from 0 to 9. It shows how waterproof a fabric is. Again, the higher the number, the better the protection.
Fabrics and devices that have a rating of IPX5 and IPX6 are considered being water-resistant. That means such a backpack could keep your items dry against high pressure water jets. Most dry bags have ratings of IPX7 and above up to IPX9.
Based on the IP scale, they are able to stay dry even when submerged deeper than 1 meter and sometimes beyond, depending on their protection. Pay attention to that ratings when choosing a waterproof hiking backpack. If your adventure will lead you to go crazy and quite wet, go for a dry bag with higher IP rating.
Another widely known waterproofing rating system is the one that measures how well a fabric holds up to a certain amount of rain in millimeters. Here's a descriptive illustration for better understanding.
For example, the minimum rating for a fabric to be called rainproof is 5000 mm. Usually that means it stands up to light showers and drizzle. In heavy rainfall, the material will get damp wet.
Why is it important to know the difference?
Because that will have a huge impact on your purchasing decision depending on the type of adventure you are planning to go on. That leads us to the next crucial point.
Keep The Type Of Your Hike In Mind
The second thing you must carefully consider before buying a pack is your hiking plan and itinerary.
Are you going mostly on dry places with small chances of rain?
Or are you planning to go rough and hike waterfalls, swim across rivers, and walks in areas where downpour is expected?
You might want to think in long term too.
If it is option 1, then you should consider narrowing your choice down to the first four backpacks on this list. All of them are water-resistant and if heavy rain occurs, they have rain covers included for maximum protection. Keep in mind though that if you submerge your pack under water, it will leak.
The first four packs are also larger in capacity and easier to organize, so you can plan a longer hike (2-6 days).
If you are the type of guy or gal who likes to go extreme, then you are in option 2. In this case, you wouldn't want to make any compromise and risk your tablet or car keys getting saturated with water.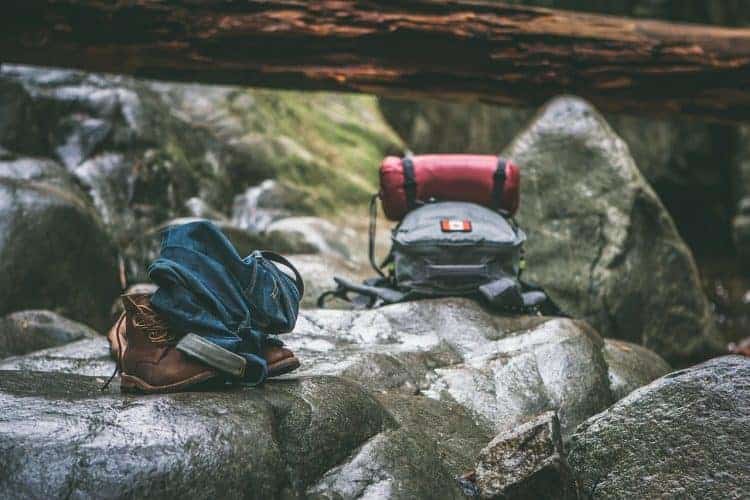 That is why I advise you to concentrate on the last four backpacks on the list. These are all dry bags with heavy-duty water protection that will guarantee maximum safety for your essentials. They will be dry all the time no matter what you do.
Such dry bags are also very comfortable to wear because they are compact and lightweight. Wearing one of those is very convenient if you are hiking on technical terrains where getting wet is inevitable. For instance, if the trail leads you to a beach or some splendid waterfalls. 
Conclusion
I hope that now you have a clearer idea of which waterproof backpack for hiking to choose for your next adventure. Overall, you can't go wrong with either of them. All the above-mentioned packs are bestsellers that continue to receive insanely good customer feedback.
They have been tested numerous times and proved to be solid.
Just make sure to have an easy answer to the question "what am I going to need this pack for exactly?"
Any comments or questions are highly appreciated so speak up your mind in the section below.
Have fun and thank you for reading!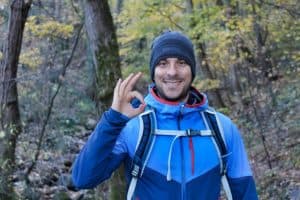 Founder of this website, Asen is a passionate hiker and writer who is also a gear nerd. He's been featured on many established hiking websites where he gives hiking advice & tips. When he is not trekking with his family or friends, he is writing articles and product reviews. Asen spends most of his time in Bulgaria but he constantly travels the world in seek of more unforgettable experiences. Read more about Asen here.