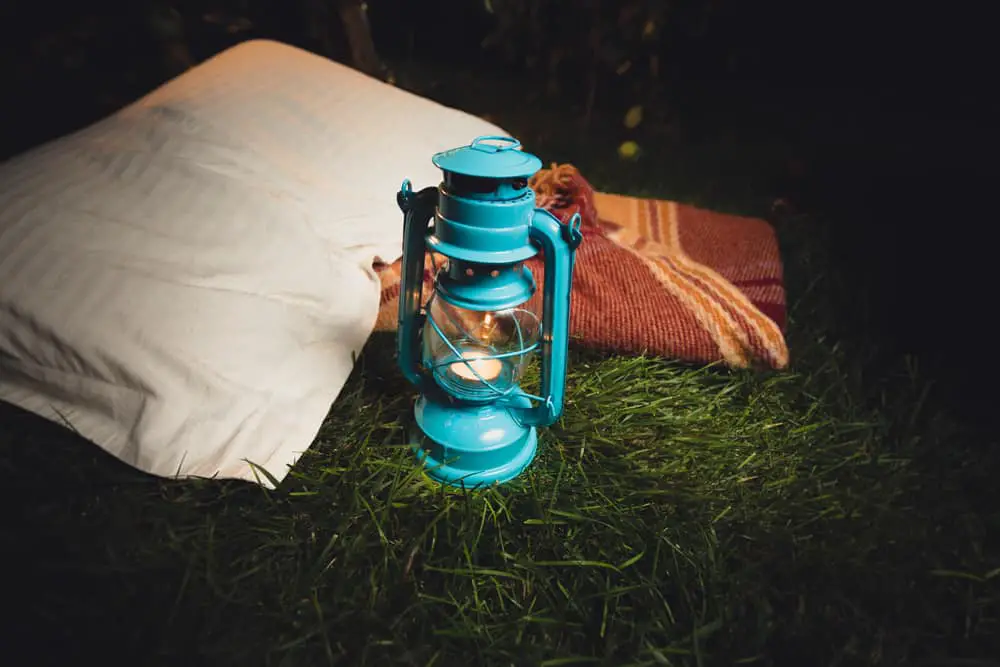 What To Use As A Pillow When Camping? [10 Comfy Options]
I don't know about you, but I find a comfortable pillow to be the key ingredient for a good night's sleep.
Doubly so when you're out on an overnight hike – the ground is definitely not as soft as a mattress!
Not only does a camping pillow protect your head from pointy rocks, it guarantees much better sleep. You won't want to hike with a cricked neck or start the day without energy.
You might be standing over your hiking pack, pondering: what to use as a pillow when camping? Well, you're in luck! Several camping equipment can double as a pillow for camping, from your water bladder to folded clothes, a stuffed sleeping bag sack or even your backpack.
Nevertheless, we have outlined alternative options to camping pillows so you can find your best fit.
Better yet, I have used all options and I know they work!
Let's get to it.
Do You Need A Pillow For Camping?
As camping experts on our team will attest – no, you don't necessarily need a camping pillow.
Understand that there are specialized products for everything, and camping pillows are no different.
They're more compact, lightweight and waterproof than traditional pillows, as backpackers can only carry so much. For avid campers, they're functional and sensible gear.
On the other hand, camping pillows tend to be pricier than a regular one, with prices ranging from $13.99 to $40. If you don't already have one or don't plan on investing, you can use some alternatives listed below.
What to Use as a Pillow When Camping?
Camping gear doesn't have to look like it came from a catalogue to be effective – it's all about what is ideal for you. What is ideal for backpackers may not be ideal for car campers and vice versa.
We found some alternative things to use as a pillow when camping.
A regular pillow
Glampers and campers who get to park on-site can haul along regular pillows – the ultimate luxury option.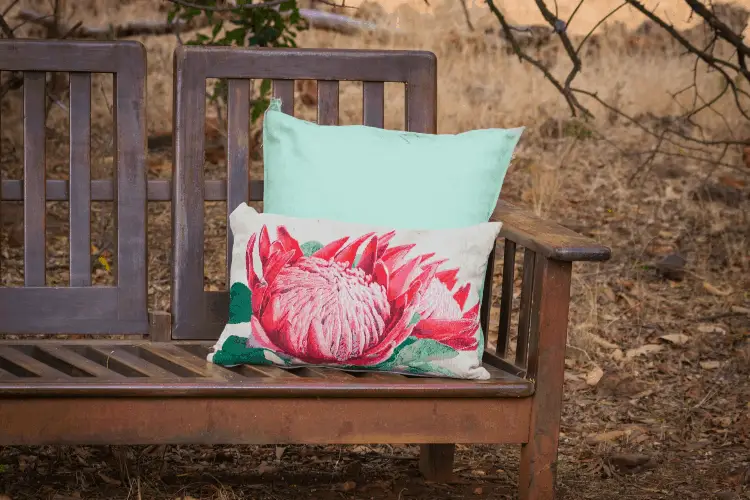 There's nothing wrong with seeking comfort, especially if you deal with health issues like chronic neck pain or lower back issues.
That said:
Don't bring your regular pillow. Campfire smoke and condensation isn't something you want to spoil your everyday pillow with; bring an older one you won't mind getting dirty.
If you're backpacking, attach them to your backpack with bungee cords, since they don't fit inside packs.
The heavier weight isn't suitable for multi-day treks – I suggest only using these on one-night trips.
Packing cubes
Packing cubes are the closest pillow equivalent – they're usually rectangular, of a certain size and stuffed. We happen to have a fantastic guide on the top packing cubes for outdoor use.
They don't demand more space than necessary, and the clothes inside provide soft support.
You don't have to prep them to use either. Simply pull them out from your backpack and position.
Do opt for one without mesh to protect your clothes from condensation or campfire smoke.
If one is too flat, layer with another one.
Dry Bag
Similarly, a dry bag acts as a "pillowcase". Simply stuff your dry bag with clothes or towels and drop off into sleep! I've done that with my Unigear sack.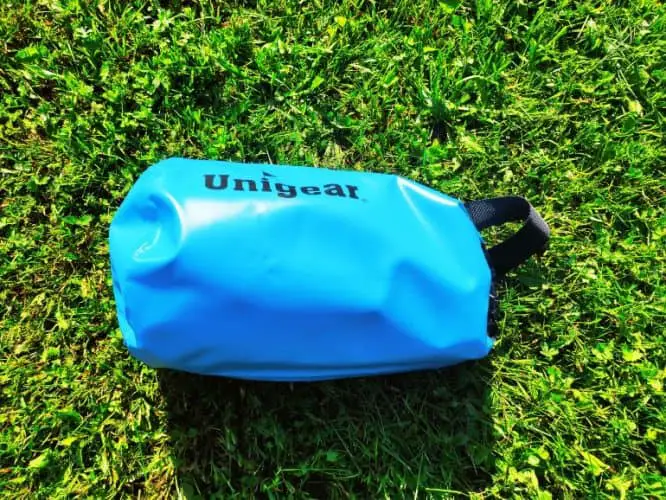 Your dry bag can also double as a dirty laundry bag – the material is usually thick enough to keep smell in.
Another pro of dry bags is the waterproofness. You don't have to worry about condensation if you're shoved into a corner, right up against the tent walls.
A Water Bladder
It's probably best to say "hydration bladder",
On the fly, a water bladder works as a pillow when camping too. As long as it's large enough to support your head (and not have it tip backwards), it functions pretty well.
We do have some tips to make this more comfortable:
Make sure to fill it up almost completely full. This offers firm support without the glug-glug-glug water sounds.
Wrap it up with a fleece or shirt for extra softness.
If you're out of water, you can fill it up with air. You can refill from nearby streams or lakes as well.
Boxed Wine Bladder
Also understood as a bag-within-a-box, a boxed wine bladder is an alternative take on the water bladder. The 'boxed' part of the equation offers a more structured pillow.
To avoid smells, rinse out the wine well.
You can also fill it with air if you're out of liquids.
Folded Clothes
Sometimes, the solution really is that simple. If you've ever fallen asleep in a pile of laundry, you know how comfortable folded clothes can be.
Use a folded jacket, pants, sweater or any other skin-friendly item and tuck it under your head. Do make sure it's padded high enough to support your neck if you're sleeping on your side.
A Backpack
In a pinch, your backpack can become a pretty comfortable pillow too.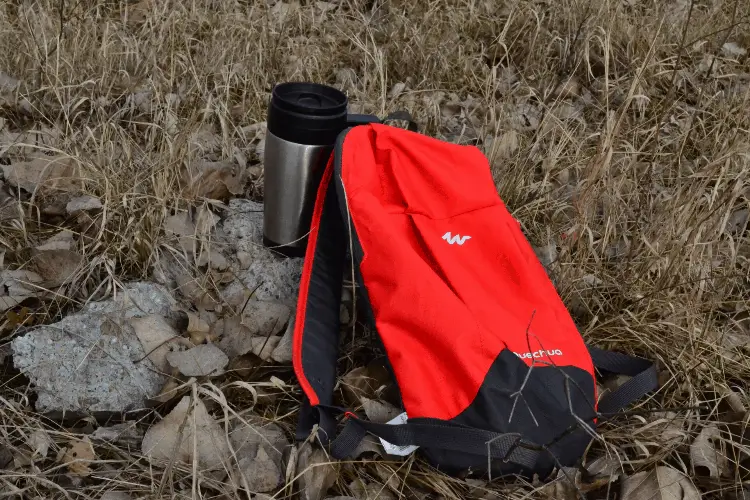 With backpacks, you can adjust the height by removing or adding stuff into the compartments. The only downside is that the material might be harsh on your skin.
Get it to lay as flat as it can so you don't sleep with your neck tilted.
Turn it on its front; the back is a lot smoother so you won't accidentally scratch your face.
Take out the pointy, hard objects for maximum comfort.
Sleeping bag sack (tent sack)
Really, you can use anything that doubles as a pillowcase and stuff it. This includes your sleeping bag sack or your tent compression sack or regular tent bag. And even your synthetic or goose down bag itself as well.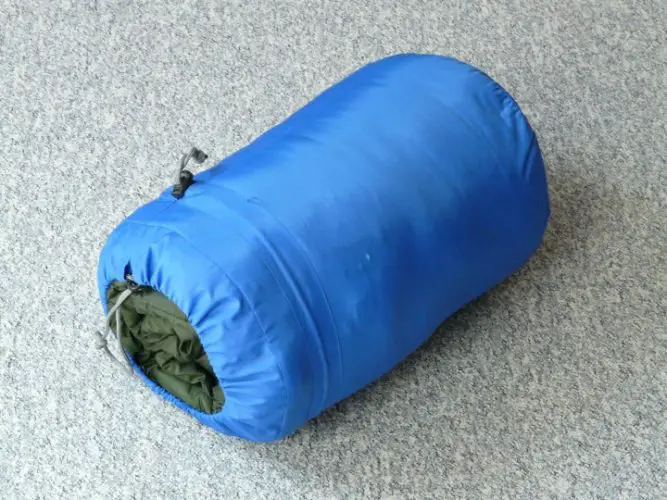 Your sleeping bag sack is often just the right size as it offers compact storage. Meanwhile, your tent sack is probably longer than it is wide.
This actually works perfectly if you're sharing 2 – 3 people per tent; you can all share a single long pillow!
If your tent sack is made of scratchy material, you can layer a towel or shirt over it for comfort.
A towel
Don't want to carry more than necessary?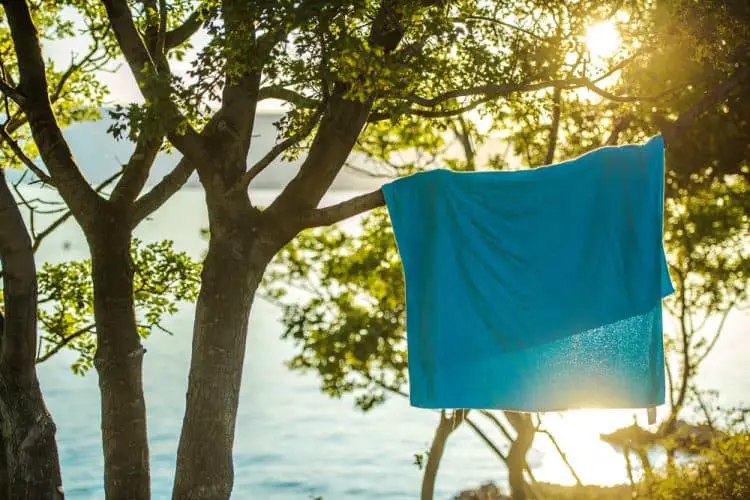 Your towel is great to use as a pillow when camping. Simply roll it up (or fold it up) to your preferred height and adjust where needed.
However, I don't recommend sleeping on a damp towel – you can easily catch a cold this way, especially since temperatures drop at night.
Stuff some leaves under a fabric layer
If you're sleeping rough and have no towels, t-shirts, sacks or backpacks to spare – try stuffing some leaves beneath your tent to use as padding.
It's much better than sleeping on rocky terrain. You can also bring along a sizeable baggy and fill that up instead.
Sometimes, it's all about improvising with what's around you! Heck, you can even end up using your tent carpet if it's clean and comfortable enough.
Basic Criteria for Camping Pillows
Remember that camping pillows are made for temporary, tent use – more compact and lightweight.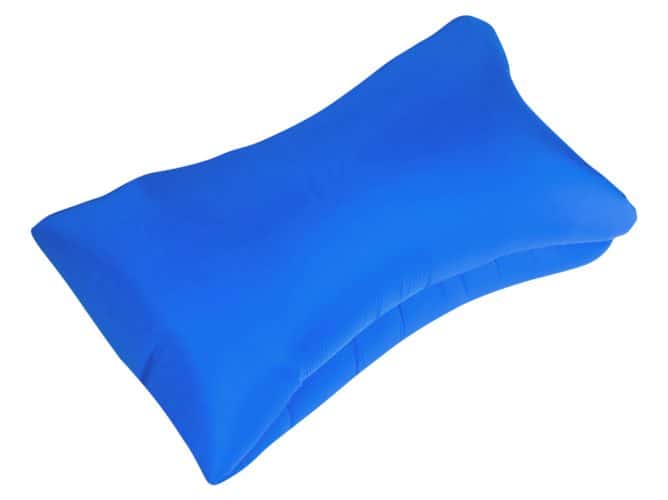 There are both non-inflatable and inflatable options, but even the former is smaller and designed for compacted storage.
Before purchase, check:
Dimensions
Camping pillows are built narrower and smaller than regular ones. Make sure that it is big enough to support your head, while taking up the least storage space as possible.
If you end up going for a non-inflatable option, ensure you have the carrying space for it.
Weight
With regular pillows weighing around 13 ounces/368 grams, your camping pillow is ideally much less than that. Inflatable pillows come as light as 3 ounces/80 grams.
Storage and accessibility
You'll find that the best camping pillows are inflatable – some even come with loops to help you compress and roll it up when not in use.
Waterproofing
The pillows themselves are rarely waterproof but some are made of nylon fabric to provide some water resistance. This comes in handy to keep your gear dry and comfy.
3 Popular and Affordable Camping Pillows
Having said all that, if you prefer a classic sleeping bag and camping pillow set up, here are 3 popular options that are made for your comfort.
Therm-a-Rest Compressible Travel Pillow
Coming in 4 sizes, Therm-a-Rest's compressible pillow comes highly reviewed and rated. The recycled urethane fill comes straight from Thermarest mattresses while the polyester cover is soft against the skin – comfort is a priority with this design.
The foam expands 4-inches thick to provide ample support.
It's relatively light for a compressed pillow (9 ounces); a drawstring and cord lock keeps it compact when stored away.
Simply shake it out to restore the lift before use. It also comes in various colors and patterns for customization!
Trekology Inflatable Camping Pillow
The Trekology inflatable camping pillow is a more traditional take, but with an ergonomic design for neck and lumbar support.
One of the most compact pillows on the market, it folds down to 5x2 inches and weighs 3.9 ounces. Simply inflate by mouth (5-8 breathes) and deflate with a Quick Deflate feature.
What makes it so versatile is the material – highly durable and elastic, the TPU fabric also boasts water resistance to make camping in the mountains and on sea possible.
The pillow back is imbued with anti-slipping rubber dots to keep it in place as well.
Teton Sports Camp Pillow
While it doesn't boast any cool, modern technological features, the Teton Sports Camp Pillow's more than affordable pricing and comfort-ratings makes it a popular choice.
Many users appreciate that it's washable, allowing longer trips out. The pillow and pillow case can be washed separately for convenience.
The poly-flannel casing sits soft against your skin while the poly-fiber fill lofts up on its own. You'll really appreciate its non-inflatable nature when you're too tired to do more prep work. When done, simply pack it away into the storage bag with a barrel lock closure.
In Conclusion
The compact, lightweight and relatively water-resistant nature of camping pillows makes it a great option if you have to deal with condensation, or simply don't have the carrying capacity for something bigger.
On the other hand, you might favor comfort. You might be a no-pillow sleeper. You might not want to carry more gear, period. When it comes to what to use as a pillow for camping, it all boils down to creativity.
As you're debating on pillow choices, consider your camping conditions, storage capacity and trip duration. All these factors will help you decide whether to prioritize comfort or function.
Founder of this website, Asen is a passionate hiker and writer who is also a gear nerd. He's been featured on many established hiking websites where he gives hiking advice & tips. When he is not trekking with his family or friends, he is writing articles and product reviews. Asen spends most of his time in Bulgaria but he constantly travels the world in seek of more unforgettable experiences. Read more about Asen here.