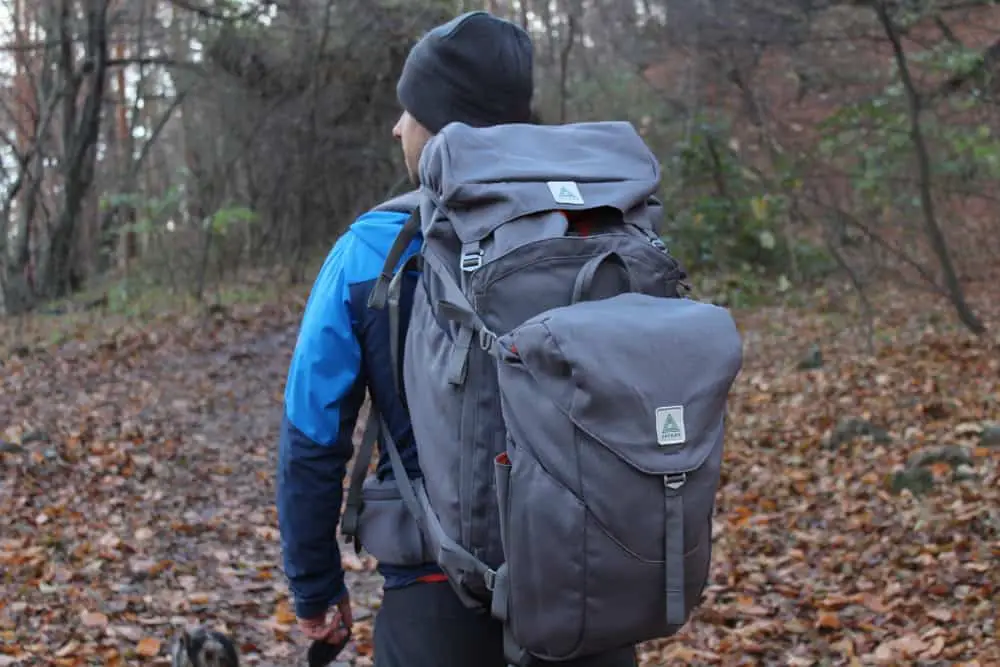 7 Gorgeous Backpacks With A Detachable Daypack [2021]
Imagine you're on your dream hiking vacation for several days.
You camp at a gorgeous green place surrounded by breathtaking trails just a stone's throw away from your bivouac. To quickly explore those nearby trails, you need a bottle of water, a jacket, a small snack, and probably your camera.


AT A GLANCE: OUR TOP 5 PICKS FOR PACKS WITH A DETACHABLE DAYPACK
Now imagine what would be like to use your bulky 55 L pack just for that. Totally unfitting, right? Or you travel for a week in Europe with your 60 L rucksack and you decide to explore Paris for a day. It would be tough to walk in such a busy city wearing a voluminous pack on your back.
Fortunately, in our modern world we backpackers can use backpacks with a detachable daypack. In similar situations, they are a true treasure. More importantly, they can ease your life. See the best of them NOW!
No matter if you're looking to buy such a backpack or you're just trying to find more information, you're at the right place. In this article, you'll find the best packs on the market that include a removable knapsack.
We analyzed and carefully selected these backpacks based on their features, specifications, and customer reviews. Some of them, we tested ourselves, so we know their pros but also their cons. The competition was rough. Each pack has beaten other packs to deserve a place in this catalogue.
You're about to see the final result – a comprehensive list containing only top-notch backpacks that perfectly fulfill their task no matter if it's for hiking, backpacking or travelling.
But we couldn't just leave you with a bunch of packs with a "Buy" button below. Naah, this isn't our credo. That's why we created a practical and informative buying guide combining some of the most common questions (and their answers) that people have prior to buying a backpack with an integrated daypack.
This guide will help you make the right choice according to your personal preferences. Moreover, it will expand your knowledge about backpacks in general.
Our Top 3 Picks
We tested Salkan extensively and now we understand the hype. This pack has some truly innovative features that are super handy, no matter if you're traveling or hiking. Backed up by a lifetime guarantee, free shipping, and 100 days free trial! Yes,for real!
Perfect for hiking and backpacking, the award-winning Baltoro is a long time best-seller for a reason. This pack is famous for its premium Response A3 suspension technology and the ultra-comfy SideKick detachable daypack. Check it out!
Osprey Farpoint 55 L
With a 13 L zipp-off daypack, incredible carrying comfort, and detachable structure, Farpoint is your go-to-choice for travel and light hiking trips. This pack impresses with ergonomic design and the renowned quality courtesy of Osprey. See for yourself!
Our top 3 picks all impressed us with impeccable reputation, carrying comfort, and superb quality of the daypacks.
However, if we had to recommend one backpack, that would undoubtedly be Salkan "The Backpacker".
For us, it's the ultimate backpack whose price is a reflection of impeccable quality and high performance. No matter if it's for traveling, hiking or backpacking, the Backpacker ticks all the boxes.
What makes this pack stand out is its incredibly versatile design, allowing you to increase and decrease the volume easily. The 20 L daypack is with an exceptional quality on its own.
The best part?
Besides having a lifetime guarantee and free shipping, this pack has 100 days free trial. That's right. You can test it for 100 days and if you decide that it's for yourself, then you can pay and have it. No other packs on our list and in general have this option. 
Enough praise, you will see it for yourself. Let's dive deeper.
Best Backpacks With A Detachable Daypack : Quick Overview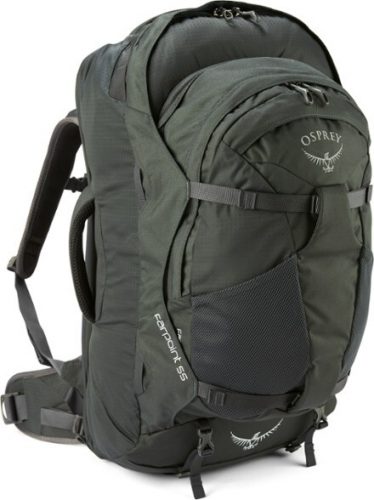 When you go for an Osprey you go for an exquisite quality, that's hard to match. With a volume of 42 L plus a 13 L zipp-off daypack, the award-winning Farpoint totals 55 L of fantastic organization and comfort. This pack has many flexible features that make it a great choice for both traveling and outdoor adventures. Of course, it comes with Osprey's legendary All Mighty Guarantee that protects your purchase for life.
The 13 L daypack that's attached on the front is easily removable with a simple pull of the zippers. The daypack itself is very well thought out. It has a laptop compartment, a protected tear-resistant stash pocket, and a lockable main compartment for maximum security. On top of that, there are side pockets for water bottles and a detachable spacer mesh harness that you can stow away in case you don't need it.
Another cool thing is you can wear the little pack on your chest the Kangaroo style when you need fast access to important essentials. You can hang it to the main harness of the Farpoint.
The entire pack can easily hold up to 50 lbs of load (23 kg) and its weight is 5.02 lbs or 2.28 kg. If you remove the daypack or squish it enough, it easily fits as a carry-on.
#2 Salkan The Backpacker 75 L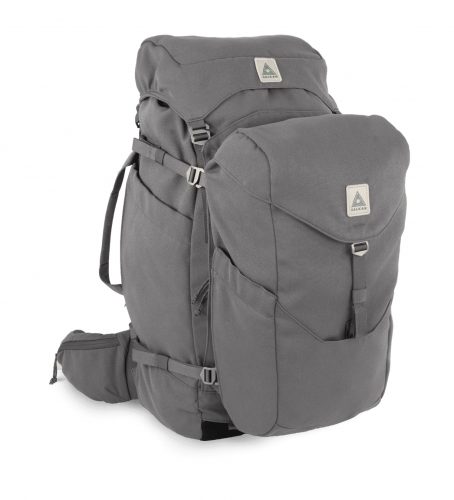 Battle-tested by ourselves, the innovative Backpacker has some outstanding features that you can't see anywhere else. It has a handy rollup laundry sling and roomy outside pockets with expandable volume.  The compression straps are fully customizable. The torso length is adjustable. You have double access to the main compartment. The best part? The pack has a lifetime guarantee and a 100-day free trial!
I took the Backpacker on an extensive 2-day winter hike that involved sweat, rainy weather, and plenty of gear to hold and transport. My honest opinion straight away – the bag exceeded my expectations.
It's an extremely well thought out pack with some badass features that are super practical no matter if you're traveling, backpacking or just like me – exploring different mountain trails.
In fact, saying that the Backpacker is versatile would be an understatement. Don't believe me? See below:
It has a customizable volume. The main pack is 45 L, plus an additional 10 L in the expandable hood. The day pack is 20 L. You can play with all the combinations and would have the following sizes – 20 L, 45 L, 55 L, 65 L, and 75 L. So the bag has you covered for different types of trips that require different amounts of gear.
The Backpacker has double grab handles – one at the top and one at the middle. The latter is especially handy when you need to carry the bag in hand. Often that's convenient when you have to move it quickly at the airport, for example.
You have double access to the main compartment – besides the main top opening, there's a large zippered compartment at the middle that gives you easy access to the interior. That suitcase opening allows you to reach some specific contents without digging endlessly and making a mess.
The torso length is adjustable (40 – 50 cm.)  ensuring a worry-free fit, especially if you change layers or pass the pack to someone else.
What about the integrated daypack? This is undoubtedly the best standalone knapsack of all on that listicle.
Unlike other packs on our list, the removable rucksack on the Backpacker is an exact copy of the main pack, just smaller. It's a solid, stylish-looking and feature-rich rucksack on its own. Its volume is 20 L.
The premium padding, the ventilation on the back panel, the pocketing system, everything is just like with the main pack. I really like the padded laptop sleeve that fits most 15" devices and the zippered water-resistant inside pocket. I usually put my e-reader there.
If you're like me and you travel a lot, you'll also love the hidden side pocket. It keeps your most valuable essentials safe. That's important when you go to crowded places such as airports, hostels or huts.
Conveniently, the sternum strap is removable but I like using it because it distributes and stabilizes the load very well.
The side water bottle pouches are roomy and stretchy. You can easily fit Nalgene flasks. I put my Super Sparrow bottles there.
It's truly a feature and pocket-rich daypack with a slim profile that looks good. It attaches to the main pack via G-hooks. When travelling, you can attach it on your chest so you can gain quick access to some items such as your passport, for example.
As for the main pack, what I most care about is the quality of the suspension and the ventilation. I must say that Salkan did an excellent job here.
I carried 20 lbs in the Backpacker for almost 3 days and the load stayed comfortably close to my body. No shifting, strain or early fatigue.
The embossed back panel is ergonomic. It has a porous foam that breathes well. The ventilation is not as good as on my Osprey Stratos pack, but it's very close.
Weighing a total of 7.4 lbs. or 3.4 kg this is the heaviest pack on this list. The main pack is 5.6 lbs. (2.55 kg.) and the daypack is 1.87 lbs. or 0.88 kg.
The bulk comes from the super sturdy material on both packs – 900D Cotna polyester with a wax finish. It's water-resistant and I can vouch for that.
It slightly rained during my hike, and my gear stayed dry. However, at some point I had to deploy the integrated rain cover. It's very elegant and stores in a bottom Velcro pocket. Pretty cool!
For extremely rainy weather, I like to store my gear in summer dry bags. We have a list of the best bags that I suggest you read.
What I also liked is that Salkan included a handy manual in the package. It's very descriptive and explains well how to operate with the backpack. And this might take some time!
Probably it will be enough to mention that this high-class Osprey model has once been on the cover of Time Magazine! Looking at its matchless quality, that doesn't come as a surprise. Equipped with mind-blowing features that you didn't know even existed and including an enhanced version of the topnotch AntiGravity™ suspension system, this is a pack whose legendary name speaks for itself. Be sure to check it out!
The Aether AG has a floating top lid that's easily convertible to a DayLid daypack with an approximate volume of 16 – 20 L. It's very easy to deploy and it has its own cool features such as a ventilated harness and a chest strap with multiple positions.
In addition, this little pack comes with a zippered stash pocket on the front, an external hydration sleeve, and even a removable ice axe loop. And don't worry – when you remove the top lid, you are still able to cover the opening of the main pack thanks to the FlapJacket™ integrated cover.
Osprey Aether AG is capacious enough to be used on multi-day outdoor expeditions and comfortable enough to serve you well when backpacking or simply travelling. The super strong materials (210D nylon dobby) make the pack bombproof. Its weight is 5.04 lbs or 2.29 kg.
An especially useful feature is that the pack has three access points to the main compartment. You can reach the main interior via the top, bottom (using the divider in the sleeping bag compartment), and via a side zipper that makes the pack open like a luggage. This comes in handy when you have to take out a specific item that's located in the middle, without making a mess pulling everything else out. 
Let's check out the major pros and cons.
#4 Roamm Nomad 65 L + 15 L
Feature-rich and extremely well-built Roamm Nomad surprises with its affordable price. This multi-day pack is a great go-to choice whether it is for traveling, hiking or camping. Its sturdiness, ample capacity, and detachable structure make it excellent for rough expeditions into the wilderness, no matter the type of terrain. It comes with a lifetime warranty, adjustable torso length, and a sewn-in rain cover to protect your precious gear. Check it out!
Roamm Nomad has a volume of 65 L and an easily detachable 15 L daypack that sits on the front. That makes 80 L in total.
The small rucksack is perfect for day hikes and short trips when you need just a few items with you. It has dual side water pockets, padding on the shoulder straps, and loops on the top and bottom with cords to attach an ice axe or walking poles.
The entire backpack can hold comfortably up to 55 lbs or 25 kg. The weight is 5 lbs or 2.4 kg, which is awesome for a pack of this size. The durable fabrics (500D Nylon) and the reinforced, yet lightweight alloy frame reflect its purpose – to stay intact as long as possible in raw conditions.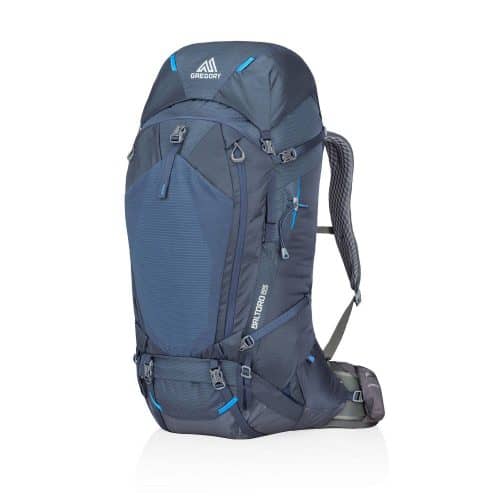 In 2018, Gregory upgraded their multiple award-winning Baltoro model in their efforts to create a masterpiece of a backpack. Say hi to a new, improved version of a celebrated outdoor product. Packed with innovative comfort technologies featuring the latest Response A3 Suspension this pack lets YOU shape it according to your own body measurements. It's designed for long distance hauling and offers amazing organizational options.
A big hit among backpackers and hikers, the Baltoro has an internal hydration sleeve that's removable and serves as a daypack. It even has a name – the SideKick daypack! Its volume is approximately 10 L, and it's ultralight – only 0.132 grams.
Beyond the main drawstring compartment this little pack has a shoulder harness including a waist belt and a zippered stash pocket on the front. It's super convenient for carrying items you need for a short day hike no matter if you're on the trail or in the city.
Other than that, the Baltoro can carry up to 55 lbs or 23 kg and its weight is 4.85 lbs or 2.2 kg. What's particularly good is that you can completely remove the shoulder harness and the hip belt to swap for different sizing. That gives you a customized pack fit.
The improved 2018 model is lighter and the materials on the harness and the hip belt can dry quicker. Also, the hip belt pockets are much bigger serving as pouches able to accommodate even the biggest smartphones.
Expectedly, the fabrics are rugged allowing for an extensive use – 420D Honeycomb Cryptogrip Nylon with a combination of High Tenacity Nylon.
Imagine having a well-fitted backpack that is roomy, carry-on compliant, and packs as a suitcase. Honestly, it would be nearly impossible to find a better organized pack than Thule Landmark. Designed for traveling and backpacking, this pack features so many different sized pockets and compartments that it will be a challenge finding all of them. Seriously, you'll fall in love with the quality that comes straight outta Sweden!
Thule Landmark has a main body of 40 L plus a 20 L removable daypack. The daypack is highly functional. The good part? You can also hang it on the shoulder harness so that it sits on your chest while you're also wearing the main backpack. That gives you a hands-free carry when you need full capacity and easy access to important essentials.
The daypack has a well-ventilated back panel and a tech sleeve where you can safely store your 15" laptop. Furthermore, it has a sternum strap for added stability and an internal pocket for money and documents. There's a deep side pocket for a water bottle too.
Thule Landmark is a heavy-duty backpack suitable for carry-on which is great when you use it extensively for traveling. The materials are super sturdy – 420D Dobby Polyester and 600D Polyester. The weight of the pack is 4.05 lbs or 1.83 kg with the add-on daypack.
#7 Hynes Eagle 2 in 1 48 L
Great for your urban commute life, travelling, and light backpacking trips, Hynes Eagle impresses with its sleek design and efficient organizational features. Verified buyers call this backpack comfortable and practical, and we can't agree more. Hynes Eagle is designed for long durability and has plenty of possibilities for strategic packing. It's water repellent, and it even has a place for your shades on one of the shoulder straps. See it for yourself!
The volume of the main pack is 38 L. It contains a stylish zip-off daypack with an additional volume of 10 L. For a little daypack, it's well-organized and very handy. It has side pockets and a main compartment with multiple small organization compartments.
There's a front zippered pocket too where you can fit a 12.9" electronic device of your choice. You have the option to adjust the shoulder straps as well.
Hynes Eagle weighs 3.64 lbs or 1.65 kg. And yes, it's carry-on compliant – both packs can fit under plane seats and in the overhead compartment.
Benefits Of Detachable Daypacks
Let's quickly reveal the main advantages of having a pack with a removable daypack:
Are They Different From Standard Backpacks?
Backpacks with a removable rucksack are not different from a regular pack when it comes to fabrics, size, volume or features. They don't require different care either. They act like standard backpacks that have an additional rucksack attached to the front with a zipper.
In other cases, the daypacks are convertible, meaning that the top lid of the main backpack detaches and transforms into a fanny pack, sling pack or a standard daypack. Sometimes, it's the hydration sleeve that is designed to serve as a daypack. A good example of that is our Editor's Choice - #5 Gregory Baltoro 65 L.
Often, the standard daypacks look like twins to the main backpack – they are the same color and are very comfortable because they also have shoulder straps, chest straps, and hip belts. If it's a really good backpack, it may have great compartment organization too.
Picking The Best Pack With A Removable Daypack
When you're buying a backpack with a removable daypack, first you have to pay attention to some standard factors. The main three of them are:
These are cornerstone factors that will more or less define what kind of backpack exactly you need. Think about why you want the pack and the purpose for which you're buying it.
For instance, are you going to use it mainly for traveling or for outdoor adventures and trekking? How long are typically your trips or outings? It's totally fine if it turns out you might need a multipurpose pack.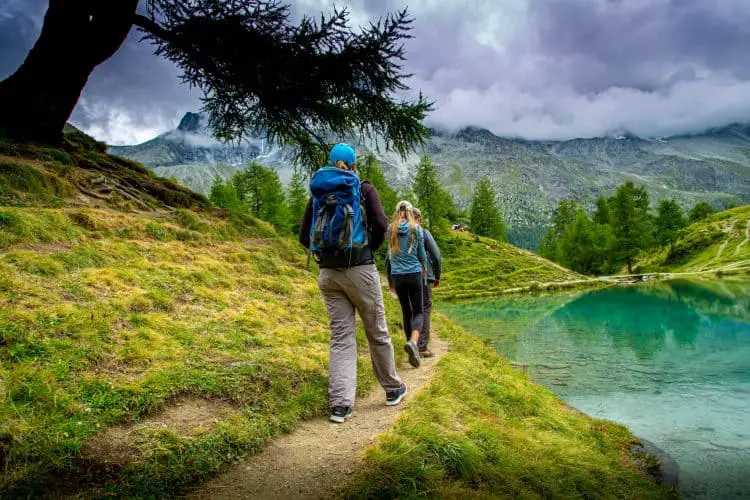 Here's a more detailed guide on how to buy the right pack for you based on some standard criteria and best practices.
After you determine the basics, it's time to move on and choose a specific backpack with a detachable knapsack. For that, take a closer look at our list that comprises 7 top rated packs.
An important thing to notice is that packs that include removable daypacks are bigger in size and volume. Usually the minimum volume starts from 50 L and above and may reach up to 130 L. These packs are fabricated for long journeys and expeditions (5-14 days), especially those designed for hiking or backpacking.
As you may notice, there are backpacks that are designed exclusively for travelling. Such packs are, for example, #1 Osprey Farpoint 55, #6 Thule Landmark 60, and #7 Hynes Eagle 2 in 1 48.
These are insanely well-organized, airline approved, and easy to transport and carry. Travelling with them is a breeze. However, keep in mind that they are not appropriate for long walks and extensive hiking or long backpacking.
The difference between traveling and hiking packs is big and could be the subject of an entire article. What you need to know is the frame of travel backpacks is not designed to distribute and hold the load as comfortably as hiking packs.
They also lack the specific suspension system present on hiking backpacks. That's why it's not a good idea to walk on technical terrains with a travel pack on your back.
Here's something interesting that will help you narrow down your choice:
"It's possible to travel comfortably with a hiking backpack, but in most cases it's very difficult to hike with a travel backpack."
So if you're rather planning to use your new pack with integrated daypack mostly for traveling or city commuting, then any of the three options described above would be an excellent choice for you.
On the other hand, if you are the kind of person who plans on using your new pack for thrilling outdoor adventures, then go for a backpacking or hiking pack. The good thing is that you can still travel with it, transport your gear easily, and feel comfortable.
As a remainder, the four hiking backpacks on our list are #2 Kelty Coyote 80 , #3 Osprey Aether AG 60, #4 Roamm Nomad 65 + 15, and #5 Gregory Baltoro 65 .They are long-hauling packs with great suspension and ventilation and are versatile enough to serve any purpose.
Now let's quickly see what to look for in a removable daypack.
Understanding Detachable Daypacks
If you remember, we already mentioned the three different types of removable rucksacks that you can find on backpacks. Again, here they are:
You'll see several integration options – either the daypack is zipped on the front of the backpack, either it's a floating top lid that converts to a small rucksack. Sometimes, it's an internal (hydration) sleeve with foldable straps that you can pull out and use as a daypack.
Here's a video describing two of Osprey's most successful models with removable daypacks – Aether AG and Ariel AG.
What's The Best Type Of A Detachable Rucksack?
They are all useful, but the most comfortable one to carry is undoubtedly the standard daypack. That's why we recommend buying a backpack whose integrated rucksack is also a regular pack, just smaller in size and volume.
In fact, all backpacks on our list are such except #2 Kelty Coyote 80 whose top lid converts to a sling pack that is very comfortable.In general though, nothing can do a better job than a pack with two shoulder straps and a waist or a sternum strap.
In that way, the load is stable and evenly distributed for easier carry. That also reduces fatigue, especially when you hike on steep terrains. Moreover, these daypacks are better organized with more than just one or two pockets, which is super practical for short trips. The fanny packs and the sling packs are just not as comfortable.
F.A.Q.
Are packs with detachable daypacks more expensive than others?
Are backpacks with removable rucksacks comfortable enough?
Are packs with integrated daypacks waterproof?
Are the removable packs easily deployable?
Are packs with removable rucksacks heavy?
What is the volume of the removable daypack?
Conclusion + Bonus
Before I leave you, I'd like to thank you for reading this post, which I hope you find helpful. Packs with detachable daypacks are very practical and choosing one is easy when you know how to look.
If you're wondering how to wear your daypack, check the bonus infographic below for inspiration and have fun!
Feel free to leave any questions or comments in the section below. We are always here to help you find the best pack for your needs!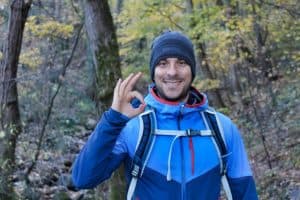 Founder of this website, Asen is a passionate hiker and writer who is also a gear nerd. He's been featured on many established hiking websites where he gives hiking advice & tips. When he is not trekking with his family or friends, he is writing articles and product reviews. Asen spends most of his time in Bulgaria but he constantly travels the world in seek of more unforgettable experiences. Read more about Asen here.