10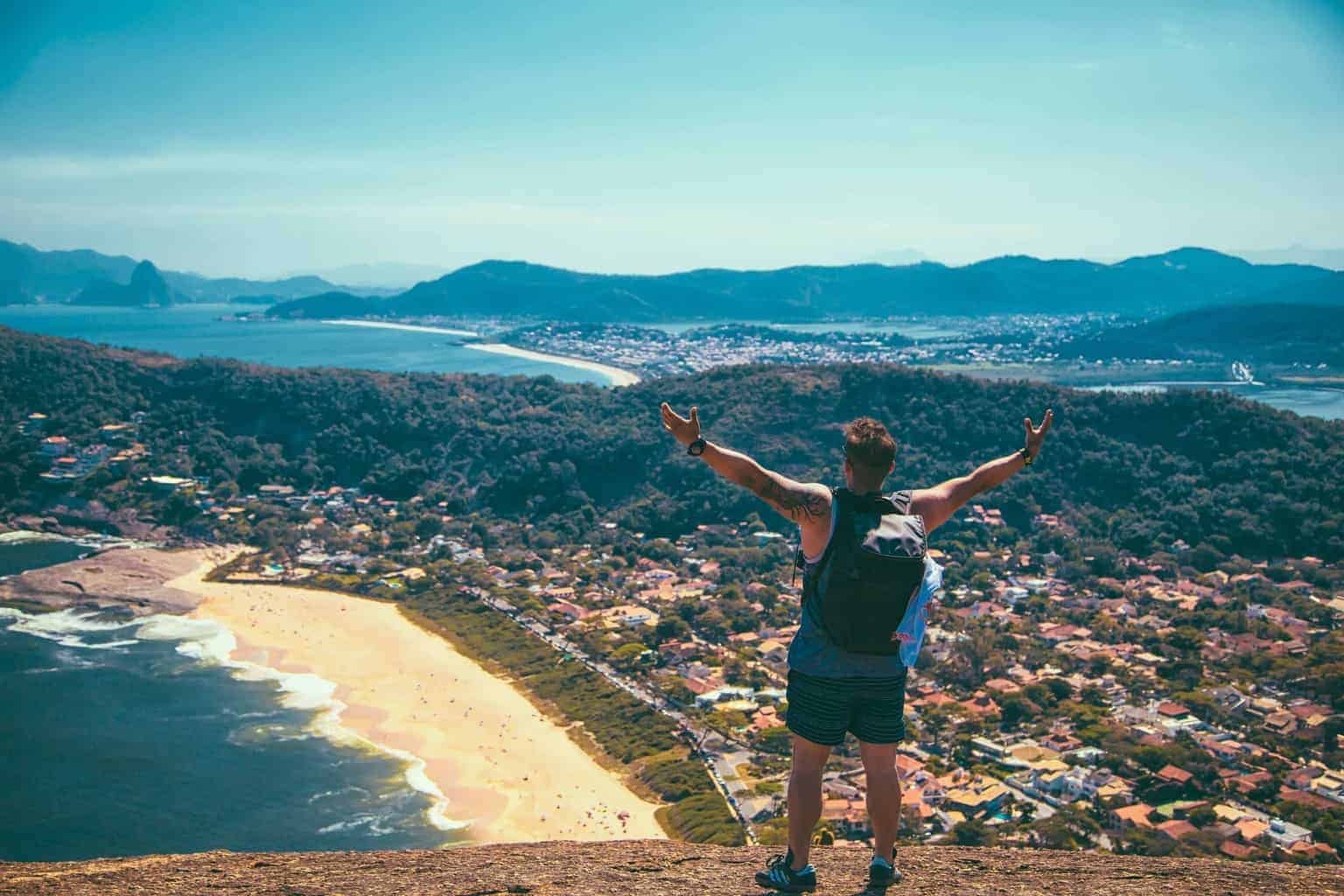 13 Stunning Hiking Trails With A Beach (MUST SEE)
When you imagine your dream hike, there is a good chance that you are thinking of something special.
You are probably visualizing a perfect scenario where you are walking on a trail surrounded by some beautiful version of nature.
When it comes to considering what most people want out of a hike, it often involves strolling through an eye-pleasing location with an exciting highlight. For instance, a waterfall or a scenic lookout view.
Hold tight because in this article, I'm taking you on a journey around the world to marvel at some amazing hiking trails with a beach.
You might be surprised to learn that some trails really have some almost fantasy elements. In fact, there are countless hiking itineraries that are even equipped with a variety of exciting features, including beaches.
Walking on a trail that includes a beach is like bringing the best of both worlds together. On one hand, you get the opportunity to enjoy a beautiful hike on a lovely trail. On the other, you get to enjoy a beach that will not only provide amazing views but great opportunities as well.
Many hikes that open up to beaches are perfect for swimming. You might just find that the best way to cool off after a long hike is to go for a swim! This is why we brought together this list of spectacular locations for you to hike and get your beach day on too.
Let's go!
Torrey Pines Beach Trail Loop, California
This California hike is the perfectly combines beauty and a fulfilling hiking experience. At a mere 2.3 miles, this trail is considered easy, and it's perfect for any skill levels. You will love exploring this gorgeous scenery.
It provides a beautiful ocean overlook that can make for an even more thrilling experience if you decide to go the beach.
You will have a great time logging miles while also breathing in the salty air of the ocean. This is a hike that everyone will love no matter if you prefer the mountain or the sea.
And if you decide to sleep in a tent on the beach, you will have an amazing stargazing night if you're lucky. So make sure to take a dependable stargazing tent. 
Ho Chi Minh Trail, California
No, we're not in Vietnam. Since California houses so many beautiful beaches, it is easy to see why they would have amazing trail crossovers.
This is an incredibly simple hike next to San Diego coming in at a mere 0.6 miles in total, but that doesn't mean it isn't worth it.
You can use this short walk as a bonding experience with just about anyone. It is easy to spend time chatting and marveling over the beautiful beaches along this trail.
Though there are warnings about slippery ledges, this is an otherwise unproblematic itinerary. Still, you will not be disappointed taking a brisk walk out beside the sea.
Valley of Five Lakes And First Lake, Canada
This Canadian trail near Jasper, Alberta is one that you will want to spend more time photographing than walking on. Seriously!
While you might not think of Canada when you think of beaches, there are some lake views here that you will not want to miss.
You can marvel at the crystal clear blue waters while you do your best to navigate this 4.5 km hike. This is a trail that is completely pet and family friendly as the elevation gain is below 200 m.  
As an added bonus, you can spend time playing in the water. Though it might be cold at certain times throughout the year, you can definitely find a pleasant beach experience here in summer.
Seward Waterfront Shore Path, Alaska
Wild Alaska is known to be a mesmerizing area filled with stunning feats of nature. This is why it comes as no surprise that it is home to this beautiful trail.
It's a moderate 1.9 mile hike perfect for everyone who is looking to enjoy a brisk walk and see some attractive waters and interesting wildlife at the same time.
You can enjoy views of the water and mountains all while you walk around and enjoy yourself.
This path is good for people who are looking to spend some time outside by the water, but you probably won't be going swimming here anytime soon. Most of the time it's chilly.
The Bight to Money Bay, British Virgin Islands
If you are looking for a good hike on an island, look no further than this marvelous trail.
Located on Norman Island, it offers an expansive visit to a stunning beach. At a length of 5.6 kilometers, you can enjoy this exciting out and back trail that offers amazing views of the beach.
The hike itself is relatively easy and is considered being kid and dog friendly. You might just find it perfect for a little time spent outside while on vacation.
Some use it for trail running too. It is impossible not to marvel at just how beautiful this trail is.
Santa Maria Beach Path, US Virgin Islands
The Virgin Islands offer a surprising amount of great hiking opportunities.
This trail, located on St. Thomas Island, is awesome for exploring the island in a more intimate way. You will thoroughly enjoy taking time to explore this trail and all its gorgeous features.
Short but pleasant, spanning 1.6 kilometers, this easy hike is perfect for everyone who is looking for a relaxing journey rather than a challenging physical exercise.
According to the locals, this is a great place to see the beauty of the island and marvel at the local wildlife.
Just make sure to take some durable tent stakes for strong winds, as the weather could get quite windy there.
The Baths To Devil's Bay Trail, British Virgin Islands
If it's not the name that strikes you, the awesomeness of this place certainly will.
This is another island part of the British Virgin Islands that you don't want to miss. Despite its intimidating namesake, this trail is full of nature's divine beauty.
Very close to the city of Virgin Gorda, it offers not only a beach, but also a full cave experience complete with beautiful crystal blue water.
You won't believe that the trail is only 1.1 kilometers. Knowing that anyone could do this easy hike any time and see this place can be enough to make your head spin.
You won't be able to resist the call of the beautiful waters on this easy and family-friendly hike. Just be sure to watch the kids if they get close to the water.
Moreover, if you plan to spend a night or two under the stars, take a hot-weather tent that breathes well, because the temperatures can get pretty high there.
Cabo Rojo Lighthouse Trail, Puerto Rico
Welcome to the Caribbean region.
It's not just a place where you can dance, drink cocktails and lay on the sand. You can also hike!
This 2.4 kilometer trail in Puerto Rico is a thrilling experience. You will love taking in the sights, sounds, and smells as you make your way along this path.
You can enjoy a beautiful trail that makes you want to explore the water alongside the beach or marvel at the integrity and structure of the old lighthouse as you walk by. Since this is an easy hike, it is perfect for even the laziest ones.
Caladesi Island State Park Trail, Florida
We are moving to the sunshine state.
Florida is home to plenty of beautiful beaches, and this delightful trail is here to share the sights and sounds of this magical place with you. You can enjoy exploring this fun and beautiful 2.8 mile trail located on Caladesi Island. It's beyond perfect for families.
You might just find there is more than meets the eye as you carry on down this trail. Besides providing you with a nice beach view, you can enjoy a collection of plants and animals to observe while you take your stroll around the exotic state park.
The trail is pet-friendly, making it perfect for all members of your family.
Santo Espirito To Maia, Portugal
Time to go to Europe! How's your Portuguese?
Portugal is a country with beautiful beaches, mouth-watering cuisine, and exciting scenic views. You will find this trail on one of the nine Azore Islands. It's called Santa Maria, and you'll wonder if time even exists there.
But let's get to business. Walking this entire 4 km trail will take you from the village of Santo Espirito to the village of Maia. The difficulty is moderate to easy and you will find that it is well worth the effort.
Along the way, you will see a waterfall, vineyards, a museum, and the beautiful coasts of the North Atlantic Ocean.
When you pair this with the general energy of the area and the crashing of the waves, you might wonder if you should ever go anywhere else. You won't want to miss this one.
Samaria Gorge Trail, Greece
If you think that the only thing you can do in Greece is go to the beach and drink ouzo, you're wrong.
Known for having beautiful beaches with vibrant blue waters, the country's wonderful sights are often used in film. However, when on the island of Crete, you can explore the surroundings while you hike them.
The Samaria Gorge Trail is 16 km long and its rating is difficult. However, it is well worth it if you can rise to the occasion.
The elevation gain here is 2800 m. so prepare for a strenuous exercise. It starts high in the mountains and descends a dried river bed. If you are a beach enthusiast, you'll feel motivated by the lookout views of the sandy shores of the Aegean Sea. You might have a close encounter with a donkey, too.
This one is open year-round, so pick the best time for you and meet you there!
Summit Mount Alban, Canada
As far as Canadian loop trails go, this one really takes the cake when it comes to providing mind-blowing views. This 8.2 kilometer moderate hike is perfect for getting out and exploring the natural side of Quebec.
You can enjoy stunning views of the beach as well as observe an impressive collection of plant life and birds that will make you wish the trail would never end. It's an amazing area to get closer to nature and see the beauty of the world around you.
It is a nice way to get some great exercise, too. The trail is dog-friendly and if you decide to go there, let's better be from April until September.
Ciudad Perdida And Tayrona Park Colombia
This captivating trail located in Sierra Nevada de Santa Marta is a true reflection of the amazing marvel of nature.
You can enjoy a variety of sights and sounds as you backpack along this 26.7 kilometer path. The length of this one makes it so only some people are interested in it, but it is well worth pursuing.
The Lost City (Ciudad Perdida) is an archeological site. You will feel like Indiana Jones walking through that wild and picturesque jungle area. If you're interested, there are tour guides too.
You better be in shape because often you will walk on a steep terrain and you will need to cross a river.
It is rated as difficult, but the experience that you get walking on this path is totally worth it. You will be thrilled to be out exploring the beautiful natural elements of this stunning and vibrant location.
And after that you can jump to Tayrona park, which is only 34 km away from Santa Marta. You will enjoy some relaxing and breathtaking beaches there.
Conclusion
When you are looking for an adventure, the right hike can absolutely do the trick. Beaches are something that we commonly affiliate with vacations, but when you pair them with a hike, you get a more concrete sense of nature.
Finding a good hike is always a thrilling experience, and we made sure that all trails on this list are without question worth checking out. The world has so many beautiful sights and sounds to offer, so don't miss out on your chance to find something truly special wherever you go.
A beach hike can be a dream come true. Just don't forget to take your bathing suit so you can take a quick dip!
---
Have you ever hiked on a trail with a beach? Leave a comment below!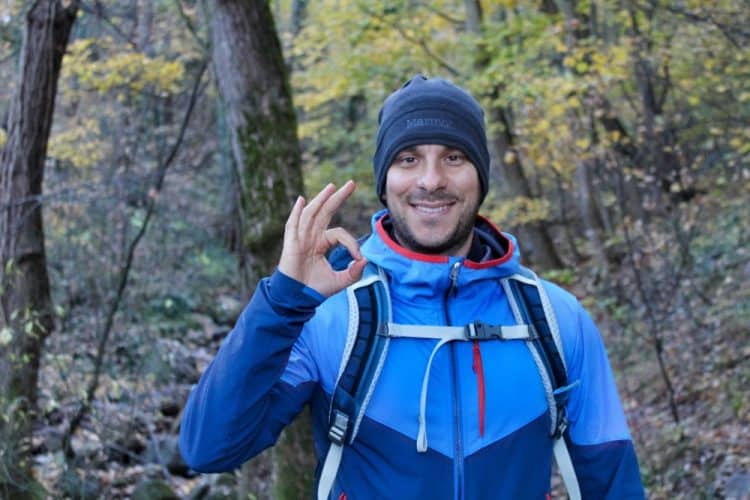 Founder of this website, Asen is a passionate hiker and writer who is also a gear nerd. He's been featured on many established hiking websites where he gives hiking advice & tips. When he is not trekking with his family or friends, he is writing articles and product reviews. Asen spends most of his time in Bulgaria but he constantly travels the world in seek of more unforgettable experiences. Read more about Asen here.