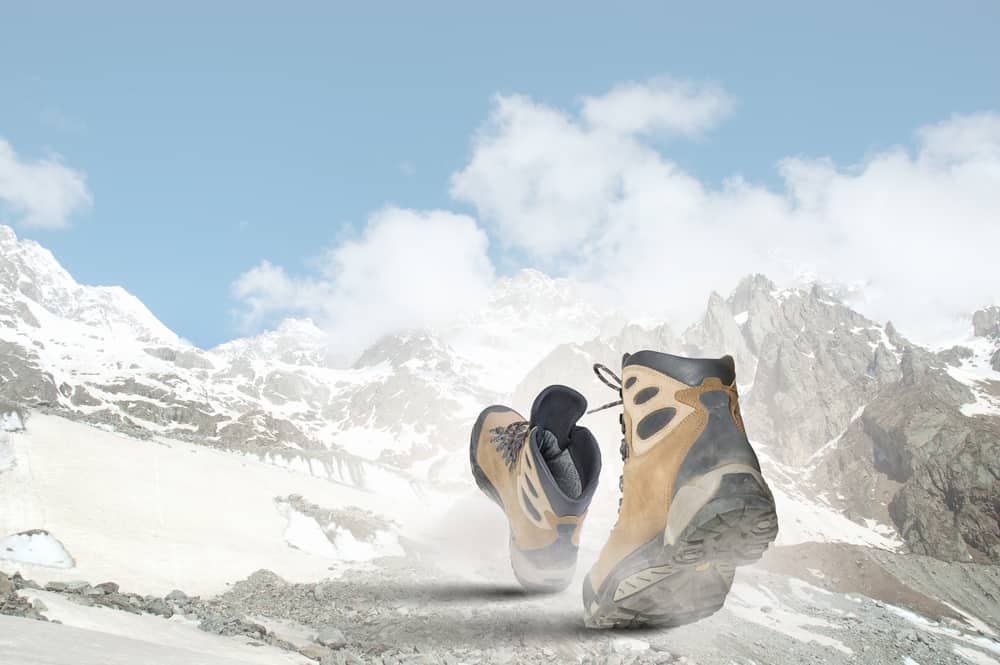 Are Hiking Boots Good For Snow? A Genuine Answer [2021]
Anyone serious about hiking has the compulsion to properly outfit themselves, starting with a pair of solid hiking boots. After all, our feet are our tools.
But before making any investments, you want to make sure they can be used all year round. Because why limit yourself to sunshine days and earthy treks? Crisp winter air and fresh powdered snow clinging to treetops make for brilliant adventures.
I've had friends ask me, "But will we need another set of equipment? Are hiking boots good for snow?" Yes, hiking boots are good for snow – if they meet certain criteria. You'll want winter hiking boots that are waterproof, insulated and fitted with an appropriate rubber sole.
With proper care and some helpful accessories, your winter hiking boots can bring you through both regular dry trails and snow-covered ones.
Let's see some interesting details.
When To Use Hiking Boots In Winter
Generally, regular boots hold up well against light snow. If there isn't a thick layer on the ground or you're walking over packed snow, boots for hiking offer better traction than traditional winter shoes.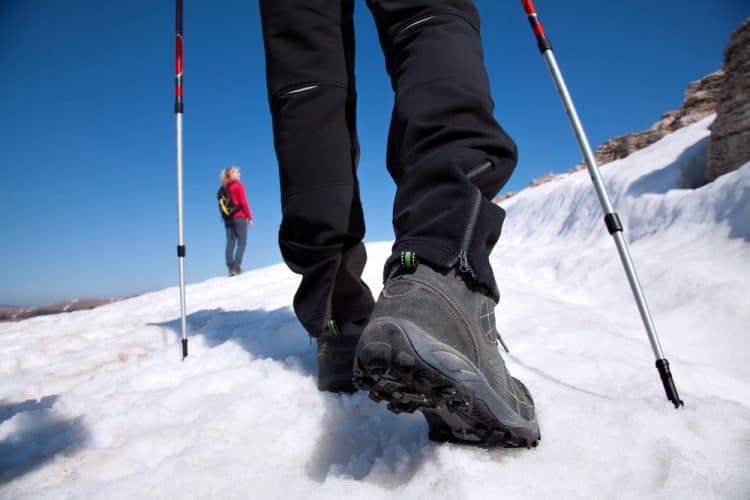 Most are made of water-repellent material as well, so they'll keep you moderately dry for short periods outside.
For those who live in areas with light fluffy snow fall, you can either winter-proof your hiking boots or invest in proper winter hiking boots or even mountaineering boots.
However, we don't recommend regular boots for hiking in snow that's too deep (anything over a few inches).
Even if your pair is waterproof (Gore Tex), regular models aren't designed to keep snow from entering up top or through the seams. We suggest you wear snow shoes if you're going to play in the snowbanks.
You might wonder then: are backpacking or mountaineering boots good for ice? Yes, unless we are talking about Converse sneakers.
While they provide a decent amount of traction, they are made to grip rough surfaces opposed to slippery ones. You'll have to pair them with microspikes when walking on icy surfaces. 
And you could also read our guide on how to increase the comfort of your backpacking boots. There's plenty of valuable information there.
Hiking Boots VS Snow Boots
So what's the difference between boots designed for hiking and snow shoes?
Hiking boots and mountaineering boots are made for activity, meaning they're built to offer ankle support and traction on uneven terrain. And ankle support is crucial in such cases.
Since a regular hiking boot is not designed for snowy season specifically, the biggest issues you'll face are insufficient waterproofing, insulation and traction. Read on to see how we can tackle these problems!
Snow winter hiking boots, on the other hand, are made with winter in mind – they're designed for wet conditions and provide great ankle support. Generally, they also have better rubber sole.
This means waterproofing, mid to high-cut designs to keep snow out and better insulation for maximum warmth of your winter hiking boot. Of course, to feel warmer, you'd want to pair them with an appropriate hat and well-insulated leggings.
But because they're meant for unpacked snow, the soles are not designed for packed-down surfaces or rugged ground. Snow boots are better suited for light winter activities.
What Makes Hiking Boots Good For Snow?
Three main components decide whether or not your winter hiking boot is really suitable for winter hiking.
Sturdiness
Because the terrain changes drastically between different snow conditions, your winter shoes tend to be heavier and stiffer.
Crucial features on your hiking boot include secure ankle fit and high ankle collar to keep snow out of your winter hiking boot. Soles come with higher traction and thickness to reduce slip-factor.
Insulation
Whether you enjoy good blood circulation or are extremely susceptible to the cold, make sure your winter hiking boot is insulated. Every decent hiking boot should be.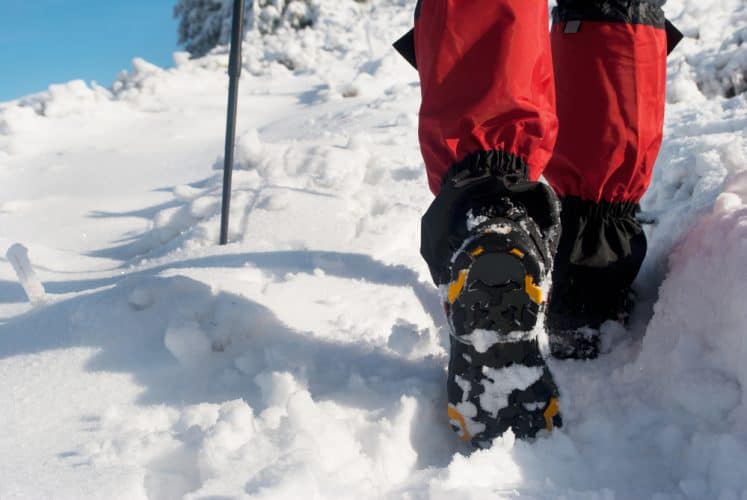 Insulation comes built-in or removable. This can range from 200-g to 800-g insulation made from synthetic or natural materials.
Waterproofing
Wet feet are dangerous when you're out hiking in the winter as cold temperatures make them freeze.
You definitely won't want to suffer from frostbite! And your hiking boot is directly responsible for that.
Now, regular hiking boots may be water repellent, but you want winter boots to be waterproof. Your hiking boot needs to lock water out completely while retaining some degree of breathability.
From my experience, hiking shoes for winter take these three components into consideration in the design process. Their pro-snow characteristics include:
Reinforced toe caps for extra protection against the elements and terrain. Also allows you to attach snow-compatible accessories like microspikes or crampons without damaging the boot.
Gusseted tongue on your hiking boot to guarantee no water and snow leaking through the underside of the laces.
Mid-cut to high-cut design for ample ankle support while keeping the wet out.
Removable liners are preferred over built-in insulation in case your boots get wet. These can dry completely so you don't have to wear damp boots the next day.
Note that winter shoes tend to be on the heavier side due to the insulating and winterized sole.
Well, they are not as heavy as boots with a steel cap, though. That said, there are light-weight mountaineering boots on the market for serious adventurers.
Ensuring Proper Fit
Ultimately, proper fit is the key criteria. It is directly responsible for your health. And your comfort and health is priority. Boots too tight can cut off circulation while boots too loose risk injuries.
Test by:
Wiggling your toes. You should be able to move them without sliding the heel.
Rotating your ankle. There needs to be a degree of flexibility alongside the support.
Walking around in them. Make sure there aren't any painful pressure points or potential blister spots.
Wearing your winter hiking socks. Winter socks are thicker, so account for the extra material.
Also, pay attention to the ankle support. The boot should wrap your ankles nicely. 
Using Hiking Boots in the Snow
There are definitely ways to making winter hikes in the snow more pleasant for you thanks to your boots. Here are some tips and accessory recommendations to keep you dry and toasty.
Wear proper socks
This means thick wool socks that are moisture-wicking and retain heat. Pack a backup pair of wool socks for longer hikes just in case they get wet, from sweat, snow or otherwise.
Use Extra Accessories
Sometimes it's worth using extras like.
Here are the most commonly used winter boots accessories.
Gaiters: Ranging from ankle to knee-length, gaiters work year round to keep out snow, mud, insects and other unpleasant things out of your winter boot.
Crampons: Essential gear for mountaineering or extreme winter hiking to help secure footholds on ice and frosted surfaces. Make sure your boots are compatible for attaching crampons.
Microspikes: Can be used on level terrain as well; used for traction on packed-down snow and icy surfaces. Easily attachable and compatible with most hiking shoes and winter boots.
Snowshoes: If you have new, deep snow, these will help you walk over it instead of sinking in and getting your winter boot wet.
Waterproof Your Hiking Boots
Synthetic boots in particular, absorb water. Treat your boots to a waterproof coat even if you're dealing with very light snow!
The process is similar to waterproofing your tent – you need to apply durable water repellent (DWR) coating. Not only will it keep you dry, but it protects the material of your shoes as well.
More on that in the section below.
How To Waterproof Hiking Boots
If you don't feel the need to invest in proper winter shoes, you can always turn your regular ones snow-ready! At least to some degree.
Understand that different materials may require different waterproofing, but the general process is as follows:
Check what material your boots are made of: full grain leather, nubuck leather, synthetic material or Gore-tex.
Check if your boots require immediate waterproofing or if they already have a protective base layer – some may simply require a light spray while others require waxing.
Clean off any dirt and mud via brush.
Remove the laces before washing boots with mild detergent. Soak if necessary.
Rinse with water.
Towel dry.
Apply your waterproofing.
Now, as mentioned, that's the general process. Different material might require slightly different approach. Here's what I mean.
Leather boots: Waterproofing treatment works best when the boots are still wet. Wax is best suited for full grain leather as it'll settle into any pores while leaving a smooth finish.
Nubuck leather: This suede-like material needs a lot more TLC due to its brushed finish. Don't soak them in water as it'll ruin the material, but make sure it is damp enough to absorb the waterproofer. We suggest using nubuck-specific spray-on waterproofing that coats the individual fibers.
Synthetic materials: With close to zero natural waterproofing, you'll need a surface coat that repels water. Look for a treatment with DWR coating.
Do your research beforehand so that you find the most suitable waterproofing treatment for your boots.
In Conclusion
This guide has outlined how and when boots made for hiking are good for snow. The snow conditions around you play a huge role in deciding between regular hiking boots and winter boots made specifically for snowy weather.
Hiking boots, while perfectly appropriate for light snow conditions, require more preparation before they can be used in harsher environments.
Winter boots, on the other hand, come with pro-snow features. This means longer lasting comfort and adaptability.
Boots made for the purpose of hiking are incredibly versatile, taking you through dirt trails to snow-laden treks. The key to finding the perfect pair is thinking about what you need when purchasing a pair of boots.
Are you a casual hiker or an avid one? Do you go for short treks or long expeditions? Will you be using them on slightly snowing surroundings or when you're ankle deep in snow?
Let us know which winter hiking boots you've used and what features you think matter most!
Founder of this website, Asen is a passionate hiker and writer who is also a gear nerd. He's been featured on many established hiking websites where he gives hiking advice & tips. When he is not trekking with his family or friends, he is writing articles and product reviews. Asen spends most of his time in Bulgaria but he constantly travels the world in seek of more unforgettable experiences. Read more about Asen here.