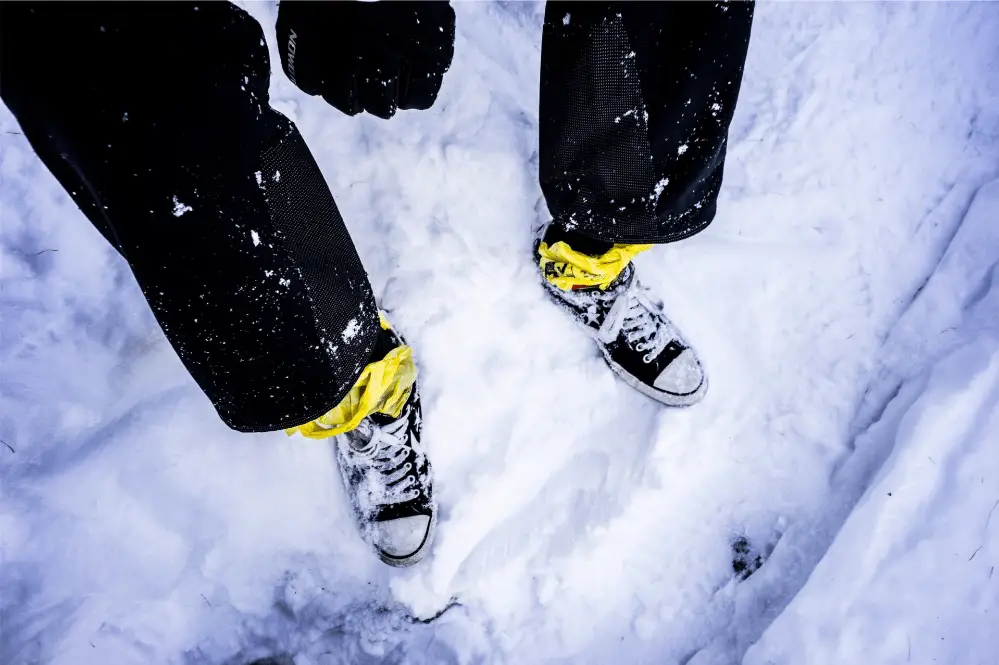 Hiking In Converse? Here's What You Need To Know [2021]
The internet is so great because it allows folks to ask questions that experts wouldn't think to answer.
I've written many times on footwear for hiking, but it wasn't until we checked out questions that were being asked that we found that a lot of people wanted to know if you can go hiking in Converse?
To give more than just an opinion, I dug a pair of Converse out of my closet I use when I lift weights and tested them out by going on some hikes.
The short answer is of course you can hike in Converse but they aren't the best suited shoes, especially in the late winter conditions I find myself in here in Canada.
Read on to understand the limitations of hiking in Converse and what options might be better suited for hiking.
What Are Converse shoes?
The Converse Chuck Taylor is the old-school basketball shoe that is the pre-cursor to the modern skateboard shoe.
They come in low and high top. Most are made from canvas material, but you can also get some upscale leather models.
They are more stylish than they are technical with the same design for the last 50 years. My pair is classic black with white rubber around the sole.
Can you Go hiking in Converse?
As I've said, you can hike in Converse, but you probably don't want to hike on anything more demanding than park paths. It's like hiking in jeans. You can do it but you won't be as comfortable and safe as wearing regular outdoor pants.
I've hiked the Appalachian Trail so you get to see a lot of hikers. Believe it or not, I've seen people hiking in sandals, Walmart running shoes, and even those minimalist toe shoes. So you can hike in just about anything, including Converse.
But if traction, support, and foot protection are important to you, then Converse isn't the best option.
Is it recommended to hike in Converse shoes?
We don't recommend hiking in Converse. These are great to lift weights and look cool, but they offer none of the benefits of modern hiking footwear.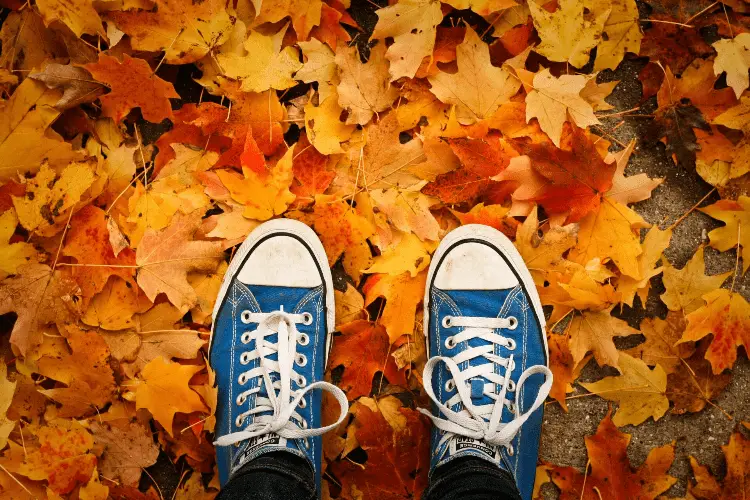 The biggest attraction for many people is the low cost. Still, it isn't worth it because you can get your feet hurt.
Why Converse are a poor choice to hike in?
I found hiking in them to be uncomfortable as there is a little cushion, and they are flat. This is why I chose Converse for lifting weights, but you feel every rock through the bottom when on a trail.
The upper is just a layer of canvas so there is almost no structure to the shoe, which means your feet and ankles have to do all the work to stabilize.
This is great training when working out in the gym, but on the trail, I like to have a bit more support around my foot.
I find when putting a lot of miles on the lack of anatomical shape to the upper can lead to rubbing, which will often result in blisters. And blisters suck.
The canvas upper isn't waterproof so your feet will get wet and the shoes seem to take a long time to dry compared to a synthetic trail running or hiking shoe.
Canvas is made of cotton, so it isn't surprising that they don't handle water well. In the outdoors, we say cotton kills because once it gets wet it stays wet, which can lead to getting cold.
The other big issue is that the sole has very little tread. When on hill climbs or descents they are very slippery as they have no lugs to bite into the soil. The rubber isn't the best when it comes to friction on rocks either, especially when it is wet out.
What model Converse shoes are most suitable for hiking?
If for some reason you are set on using a pair of Converse shoes for your hiking adventures, then look to get the Chuck Tailor Utility All-Terrain High Top.
These have more structure and tread than the standard. While not waterproof like a Gore-tex shoe, the leather upper is more water-resistant than the canvas versions.
The price is higher, which negates the reason a lot of people look to hike in Converse. At the price, you can find other hiking shoes that are more capable.
Trails On Which You Could Be OK wearing Converse shoes?
Having worn Converse on various surfaces, from smooth gym floors to rocky trails, I quickly figured out that anything beyond a crushed stone path starts to get uncomfortable.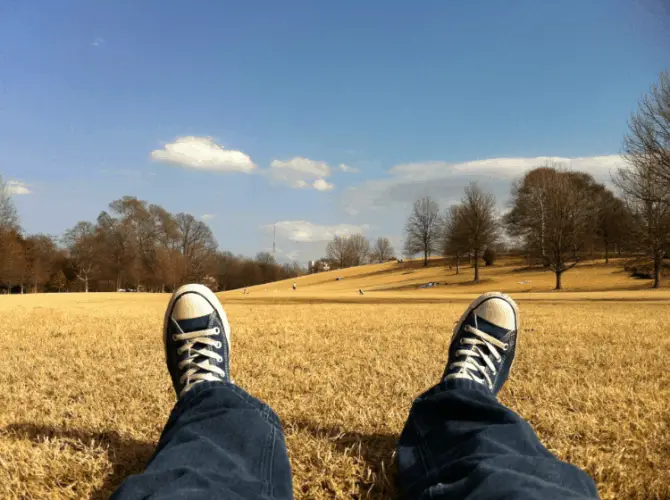 You can feel roots and sharp stones through the bottom of the shoes. If you are young and nothing bothers you, then you could probably go a few levels rougher, but you will still have a problem with traction if it gets wet.
With that being said, you will be just fine on short half day hikes on super easy terrains.
Are Converse good for winter hiking?
I recently tested this out and can answer with a resounding no. Converse shoes are not good for winter hikes.
The lack of traction on dirt, rock, and mud is made worse when tackling snow and ice. The spring melt has started here in Canada, so in addition to the snow, there is a lot of water.
My feet got soaked. The shoes don't stand up to being wet at all. The canvas isn't waterproof and there are vent holes that let water in near the base of the shoe. This didn't surprise me based on how the shoes are made, but for the sake of science I still went out.
I'm glad it was only for an hour as my feet were numb and burned like crazy as they warmed up when I got home.
If you are in the situation where you have to go out in winter with Converse shoes, then put plastic bags over your socks before you put on your shoes to help keep your feet dry.
What hikes to avoid when wearing Converse shoes?
If you are going to hike in Converse, it is best to avoid the wet as this is when you will most likely find mud and other slippery conditions. Steep and rocky terrain is another area that is best to hike with other footwear options.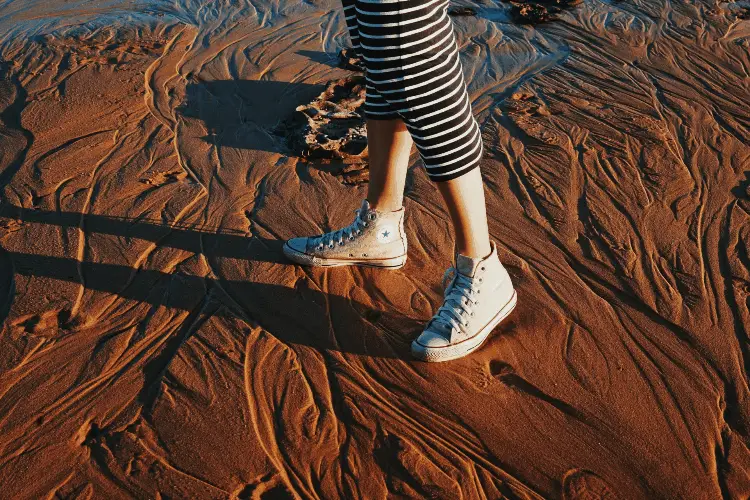 Consider Converse your easy terrain shoe with more aggressive options for the gnarlier trails.
Tips on hiking in Converse shoes
Here's some solid advice that will definitely help you if you still decide to hike in Converse.
Wear high-quality hiking socks made from Merino wool (we recommend merino as a top choice for winter tights) such as Darn Tough or Ice Breaker. This will help the feet dry quicker and reduce the risk of blisters.
Keep to easier terrain.
Stick to dry weather.
Build up the miles before going on long hikes to get your feet used to the extra stress that comes from hiking in less supportive shoes.
Put in after-market arch supports such as Superfeet to help reduce foot fatigue.
Use a canvas waterproofing spray to improve the water-resistance of the canvas to help protect your feet.
Similar Brands Better Suited For Hiking
If you want light and affordable shoes for hiking, then look towards trail running shoes from brands such as Salomon, New Balance, or Adidas.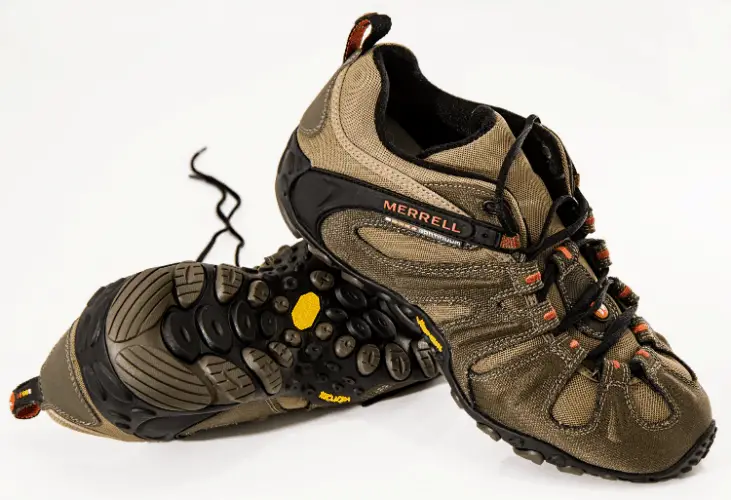 Since they sell them in both outdoor and sporting goods stores, you can often find deals putting them in a similar price range as Converse.
Merrell is probably the biggest name in outdoor shoes and has a lot of affordable options. Don't forget also to read our guide on how to enhance the comfort of your hiking shoes.
Whether it is a trail running or winter hiking shoe, they are another good choice as they offer excellent performance at a fair price.
Expect to pay about $20 more for a shoe with a waterproof breathable membrane. I recommend this for all but summer, where the benefit of external waterproofing is offset by the fact your feet will be hot and sweaty.
Think of it as wearing a raincoat in the summer heat, just on your feet. In these conditions, I recommend a ventilated shoe made of quick-drying materials so your feet breathe, but dry quickly if you get wet.
Final Verdict
In the world of footwear for hiking Converse rank pretty poorly. Little support, traction, or cushion make these old-school sneakers high on style points but low on functionality.
You can hike in them if they are the only thing you have, but you would be better served if you get yourself a pair of trail running or hiking shoes, especially when the trails turn steep and rugged.
Having worked in the outdoor, fitness, and cycling industry his whole life, Winston brings a wealth of real world knowledge on the topics. Rock climbing, backpacking, cycling and wilderness survival are his life. As both an athlete, coach, and outdoor educator, his practical experience translates into his writing to help people better pursue their outdoor passions. Read more about Winston here.