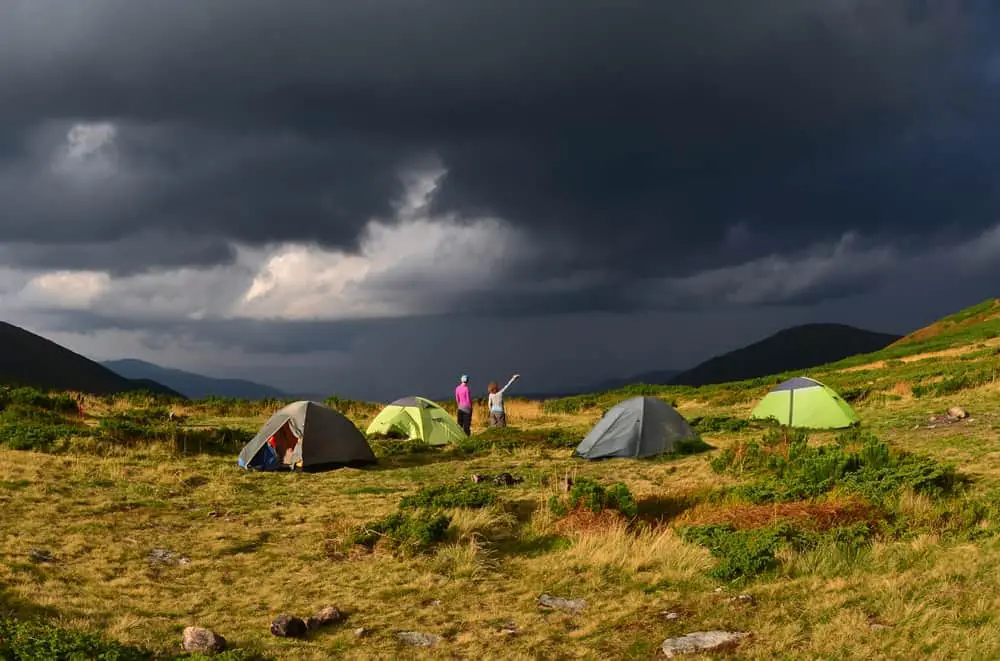 Are Tents Waterproof? Full Answer From A Real Expert (2021)
I've been sleeping in tents for over 30 years and I've experienced both good and bad tents as far as waterproofing goes. Nothing is worse than waking up in the middle of the night with a steady stream of water soaking your sleeping bag.
When camping, your tent is your home away from home. It protects you from the elements and gives you privacy if you are around other people.
One of the main things you need protection from is rain, so it's important to know if tents are waterproof. So, are tents waterproof? The short answer is that many tents are waterproof but to differing degrees depending on design and the intended use.
How waterproof of a tent you need will depend on where you camp and the weather conditions. Not all camping trips are the same, so not all camping tents are the same.
We aim to cut through the noise and make it easier for you to make a smart decision when it comes to understanding if a tent is waterproof or not.
In this guide you will also learn how to waterproof your tent. In the end, you will have a true answer to the question "is my tent waterproof".
But first things first.
Why are not all tents waterproof?
Not all tents are waterproof and we will dive deeper into that.
Later in the article, you will learn how to waterproof a tent. Tent waterproofing is quite an important skill to master.
A tent may not be waterproof for a few different reasons. It is more expensive to fully waterproof a tent (than to waterproof a tent bag), so you will tend to find lower price tents are water resistant rather than fully waterproof.
This depends on the hh rating (hydrostatic head). It is what makes most tents waterproof. Waterproof tents have high hh rating.
This rating shows how much water the material can hold before starting to leak. More on that later.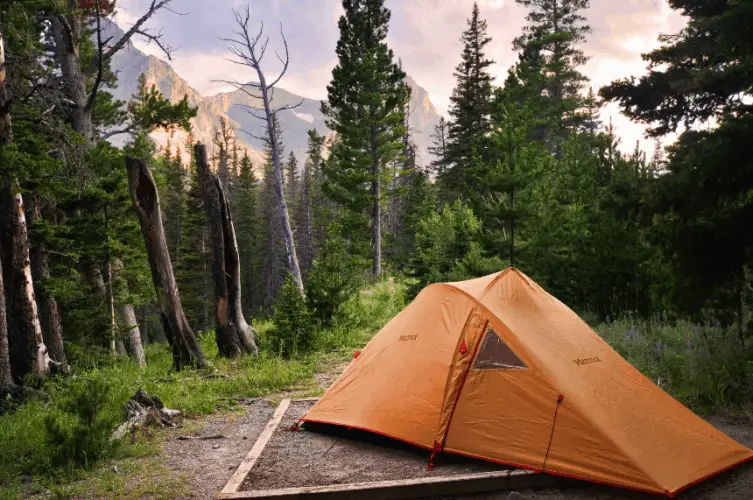 Secondly, it may be by design as the tent isn't designed for extreme weather. Often super light tents offer lower waterproof ratings (which show how much water the fabric can resist) as it is a tradeoff you get to have the lightest weight gear. So think about getting the right tent for your trip.
Finally, the tent may be designed for conditions such as snow or wind and doesn't need to withstand torrential downpours. So it's not waterproof.
Here's what you need to know straight away.
All tents are a compromise. If you get the best weather protection, you will usually be paying a higher price.
Since most people aren't camping in monsoon season, it is still possible to get a tent at a reasonable price that will keep you dry during the conditions you are likely to encounter. In other scenarios, you need to waterproof your tent.
Moreover, if you happen to camp in areas where the rain is accompanied by wind, you have to make sure to stabilize your good tent to the ground with special stakes for gale force winds.
What makes a good waterproof tent?
A combination of good design and materials are necessary to make a quality tent as waterproof as possible so that it could hold back a column of water at least 1000 mm in height. And this can make or break your camping trip, right?
This is what makes most tents waterproof these days.
Think of an umbrella with a hole in it. The materials would block water (usually the correct measurement is column of water), but you will still get wet through the opening.
The fabric of the tent needs to be sealed well to withstand both rain and standing water (be waterproof). Every high quality tent has that feature to prevent water entering on the inside.
The tighter the weave and the thicker the water resistant fabric, the more waterproof it has the potential to be so it keeps you dry during your camping trip.
The downside is that thicker tent fabric adds weight, which isn't a problem when car camping but is a major negative when hiking or backpacking in the wilderness. 
All the seams need to be sealed after it is stitched, as holes have been put through the fabric which will allow water through if not addressed. Even better would be if all the seams are taped (not just sealed seams), but this adds weight, so many companies just use a polyurethane coating to plug the hole made by the thread. But having the seams taped is a good advice.
So pay attention to the seams as those are usually the weak points of any tent.
When it comes to design, the shape of the tent will play a big role in how waterproof it is. The steeper the sides, the easier water will flow off of it, thus making your tent less waterproof. The best tents that are waterproof don't have steeper walls than it's needed.
Shallower angles can let water pool which increases the odds of a leak developing.
The shape of the waterproof fly affects the waterproofing low down on the tent. This is one of the things that makes tents waterproof. And an expensive tent will always have that feature.
If your tent doesn't have a rain fly, buy one as it offers additional protection. And you need that additional protection in harsh weather.
If the fly doesn't go low enough, you can get leaks from rain that is blown in or slashing. Waterproof tents have flies that go low.
A fly with vestibules that cover the doors of the tent will increase the weather resistance and give you extra storage space for gear.
Placement of the zippers and vents will have an effect on how waterproof the tent is as well. We suggest looking for tents with a storm flap that covers the zipper to keep it from leaking.
Moreover, most high quality tents have a plastic cover that protects the zippers.
A waterproof top does little if the bathtub floor of the tent leaks, so most tents are made with a bathtub floor that is impervious for water that wraps up the sides. The higher this bathtub construction goes, the more waterproof the tent will be.
Last but not least, and as mentioned before it's the hh rating, also known as the hydrostatic head rating that defines whether a tent is waterproof or just water-resistant. If your tent has a high hh rating, that means it's more waterproof. 
And if it turns out your tent is not waterproof and you realize that when already camping in the rain, then your much needed sleeping bag better be.
What are waterproof tents made of?
Waterproof tents can be made from several different materials, but the most common for lightweight camping and backpacking tents is nylon or polyester tent fabric treated with silicon or urethane. The urethane coating makes the tent quite durable as well.
These fabrics makes most tents waterproof. And as you probably know the polyester is a sturdier fabric than the canvas, for example.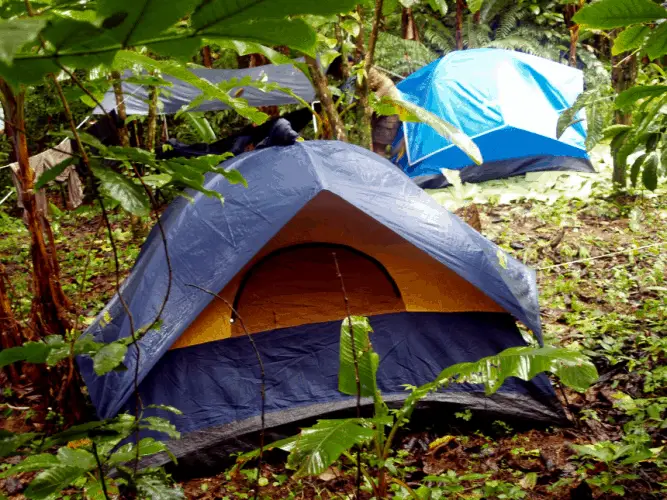 The surface of the tent fabric will also be coated with a durable water-repellent treatment (DWR) that causes water to bead and run off from the tent bathtub floor.
This is the same durable water repellent treatment that waterproof breathable jackets are treated with. It's essentially a waterproof coating.
Then the seams are sealed with polyurethane. This can be as a tape that is applied with heat or a liquid sealant. Sealed seams are a crucial factor to the waterproofness of your tent.
Of course you can also waterproof your tent based on the type of materials it is made of. More on that later. We will also learn how to waterproof a tent the right way.
How to check if a tent is waterproof
A waterproof tent will absolutely prevent water from entering your tent.
Any reputable company will often give a rating of the waterproofness of their camping tents if they are considered waterproof. 
As already discussed, a high hh rating means the tent is able to withstand more splashing water. So a high rating would mean that you won't end up with water entering on the inside of your tent.
This will be for the tent floor and rain fly. As we will see later in this article, waterproof is different than water resistant. 
You want to verify that they have treated it with a DWR coating to improve the beading and run off of rain water. When you treat it with DWR, make sure to use a damp cloth to remove any extra DWR.
Also, keep in mind that the vast majority of the tents are just water resistant. 
Don't forget to check for some material flaking away. If you notice some of the fabrics flaking away, repair it as soon as possible. 
Additionally, if you check a summer tent out in the store, inspect the sealed seams to see how they are sealed exactly.
Look at the zippers and see how they are covered to resist leaking. Don't hesitate to ask directly the tent manufacturers.
And finally, it doesn't hurt to read reviews about how users have found them to stay dry in the real world.
Usually the tent manufacturers specify the hh rating (hydrostatic head). This is a defining factor showing how waterproof a tent is. This is mostly what makes tents waterproof. 
If it has drop cloth, which is quite durable, then most probably it has some waterproofing
Waterproofing ratings explained
Companies use the Hydrostatic Head test (hh rating) to rate the waterproofness of the tent fabric. 
The hydrostatic head rating is in millimeters of water the tent fabric can take before 3 drops of water are forced through.
Generally speaking, for tents, a hydrostatic head rating of 1000 mm is considered waterproof. For things like rain flies this is usually more than adequate but the floor of the tent will often be much higher. Anything else is just water repellent no matter if there's drop cloth or not.
The reason for this is that the floor is subject to much more abrasion and wear, so they treat it with more sealant to have it last longer.
If you are looking for light weight then the lower resistance rating under 2000 mm will do for the fly but be aware that you will have to treat it more gently.
This tends to be the case with most very light tents as you trade durability for a less load on your back.
Plus, the lower hh rating rating the tent has the more frequently you will have to retreat the waterproofing and seam sealing. For the latter, you can apply seam sealer. Most camping tents are made this way.
Difference between waterproof and water-resistant
That's also very important when it comes to tent waterproofing. The main difference between waterproof and water resistant based on waterproof ratings. 
And that is dependent on the tent material to a certain degree. It's what makes tents waterproof or just water resistant. 
Waterproof tents will withstand long duration heavy rain. Whereas water resistant (or water repellent) ones will protect you from light sprinkles but not full on rainstorms .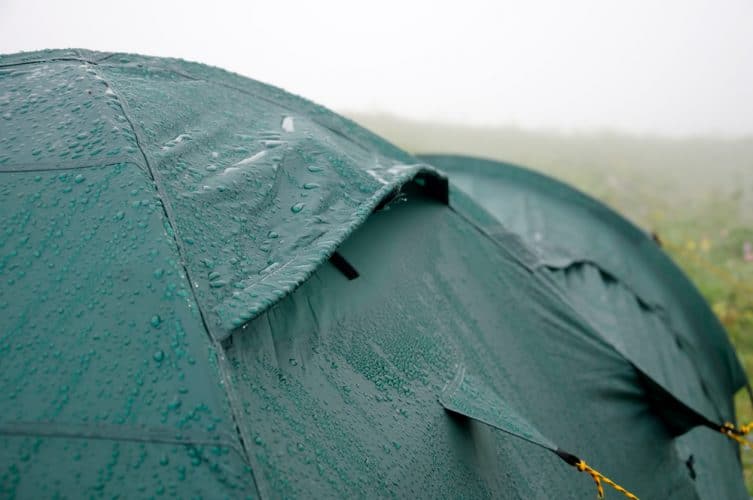 To know the difference, check the waterproof rating (hh rating) and the materials. If a company has waterproofed their tent, they will make it clear as this is a strong marketing point.
Look at the construction and see if the vestibule will block blowing rain. By the way the vestibule is a handy feature that also helps in keeping the bugs out of your tent.
In addition, check the seams to see if they are sealed. And as mentioned, the easiest way is to check the waterproof ratings. You will easily spot if a tent is just water resistant. 
When you need a waterproof tent
In the desert, when you are stargazing in your tent, for example, or other area with little risk of heavy rain, you can get away with a tent that isn't waterproof and just water resistant. Such tents can easily hold up to light showers.
Check the waterproof ratings on your summer tent to know that for sure. For instance, does the floor have urethane coating?
The same goes in winter where you are going to experience snow rather than rain.
We recommend to have a durable water repellent coating for any moisture you encounter, but complete waterproofing is less of a concern. In any conditions where you can reasonably expect rain, especially thunderstorms which can be quite heavy, then a waterproof tent is a must.
On longer trips (thru-hikes, for example) that may see varying weather conditions, you have the option of not putting your tent fly on if you have a night with little chance of rain.
managing condensation 
In my many years in the outdoor business, one of the most common complaints I hear from people is that they got wet in their tent. Sometimes it happens even when it doesn't rain.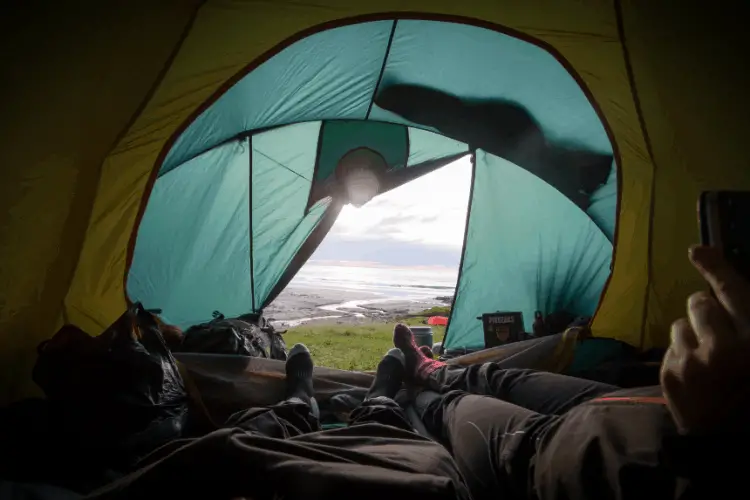 This is from condensation. Our bodies are constantly emitting moisture both in our breath and from our skin.
Especially when you're camping with your date. Agree? When it is cold enough, this vapor condenses into liquid when it hits the tent walls of the inside.
Usually, it will run down the inside of the fly, but if the angle isn't steep enough or there is a lot of it, it can drip down on you and spoil your perfect camping trip.
Moreover, it isn't unusual to brush against the side of the tent which can send a stream of water down onto the urethane floor of the tent or on your sleeping bag.
This condensation build up can be especially bad when you have to have your tent all zipped up during stormy weather. Managing that condensation is a skill that keeps tents waterproof one way or another.
The combination of lack of ventilation combined with increased humidity in the air will make condensation almost a certainty.
If you don't want to get wet from the inside, you can do some things to minimize condensation in camping tents. Here are 4 actionable tips that work well.
Choose a tent that has vents located high on the fly. Since the moisture coming off our bodies is warmer than the surrounding air, having the vents up high will allow a lot of that moisture to vent.
Stake out the base of the rain fly to increase airflow. The cooler air coming in from ground level will create a convective current and help take the warm damp air out the vents.
Unless you are expecting heavy rain, keep the door to the vestibule of your tent partially unzipped. If your tent has two doors, do this on both sides to create a cross current.
Use a hanging candle lantern. A UCO Candle Lantern does wonders to dry out your tent. Burn the candle for 30 minutes before bed and upon waking in the morning to dry out your tent dramatically. Since you are burning a candle, even you contain it in a glass lantern, make sure you are careful lighting it and there is adequate ventilation.
Managing condensation is an important skill to master, as in fact is warming up your tent without electricity.
Those skills will also greatly help in drying out your tent if it gets wet. That's also a skill that will keep most tents waterproof. At least partially. 
Are Ozark Tents Waterproof?
For campers and hikers on a budget, Walmart's line of Ozark Trail tents is attractive. It's a quality tent.
They are reasonably well made at a very low price, but are Ozark tents waterproof?
The short answer for most of them is "no". That makes them suitable for short overnight hiking trips with low chances of rain.
But in our experience and that of many users, it is easily fixed by sealing the tent seams and spraying them down with a waterproofing spray or a seam sealer.
It may seem to be a pain to do that to a brand-new tent, but even when you factor in the price of the waterproofing, they still are only a fraction of the price of tents from Marmot or MSR. Still, Coleman are cheaper tents. 
At 21 lbs, it is too heavy to take backpacking, but if you want a place to hang out during all day rainstorms with enough space to cook in the vestibule, then look no further. It's perfect for hiking and camping with your kids.
Don't forget, though that if you have an Ozark tent, then most probably you don't have a waterproof tent. It might be water resistant.
The waterproof rating of an Ozark tent is rarely high. Still, they can withstand light showers. However, if you treat it with the right waterproofing products, it could get the job done. We mention such waterproofing products below.
And most of them are heavy duty tents meaning they don't easily show signs of wear and tear.
How to Waterproof Your Tent 
Do you have a waterproof tent already? One that is able to hold to more than just light showers?
If you are not sure if your current tent is waterproof or just water resistant, you can test this by setting it up in the backyard and create a steady rain shower with the garden hose or sprinkler.
Are there any water droplets on the tent? If so, the waterproof rating is quite good.
Plus you can easily waterproof your own tent as we're about to explain. If it leaks inside from an extended spray, then you know you need to give it a waterproof treatment.
Here's a fantastic video courtesy of REI:
Make note of where the leaks are to make sure you get those spots. It is best to do this before you go out rather than experience getting wet on the trail.
The tent seams are the most common place for your tent to leak since the stitching process pokes holes in the waterproof coating.
The factory sealing is added after it is stitched and can peel off, so it needs to be refreshed on a semi-regular basis.
It's a good idea to redo the seam seal ever few years or whenever you notice a leak. Give it a nice polyurethane treatment. "Gear Aid Seam Grip" is the best option for the typical nylon bodied tent.
You can find it in any hardware store. You just paint on the sealant on the inside of the rainfly with the supplied applicator.
Another handy tip is to renew the DWR coating on your tent every few years. This helps water bead and run off, keeping the fabric from wetting out and potentially leaking.
A thin layer of Grangers Tent plus Gear Repel spray will work well to waterproof the main body of your tent rainfly which is usually made of water resistant fabric. Also, regularly apply seam sealer spray. 
Waterproofing your tent is not as tough as you might think. If you want to go one step further, use an alcohol tent sealant.
In general, applying waterproof coatings is one of the easiest way to waterproof your tent. Except the above mentioned sprays, some good waterproof coatings are Nikwax and Skotchgard.
You can spray a thin layer of that coating to the tent and let it dry. 
4 Proven Tips To Keep Your Tent Waterproof
Want to have a waterproof tent longer? Grab your seam tape and let's begin. This section is not only about waterproofing your tent but keeping it that way for long time. No matter its waterproof rating. 
Here's some tried-and-true advice that I've found work really well based on years of experience with camping gear.
They will help you waterproof your quality camping tent and even increase its waterproof rating. But it's not all about the hh rating as you will see.
Conclusion
Now you have an answer to the question "are tents waterproof" or at leat maybe "is my tent waterproof".
Since your waterproof tent is your home away from home, it is nice to know if it is waterproof. As we've seen, tents can be waterproof when made from the right materials and well designed.
With your new knowledge, it should be easier for you to sort through the different tents available and get the one that will keep you dry while out in the wild. And you will be able to look after your tent to keep it waterproof for years to come.
Happy camping!
Having worked in the outdoor, fitness, and cycling industry his whole life, Winston brings a wealth of real world knowledge on the topics. Rock climbing, backpacking, cycling and wilderness survival are his life. As both an athlete, coach and outdoor educator, his practical experience translates into his writing to help people better pursue their outdoor passions. Read more about Winston here.