3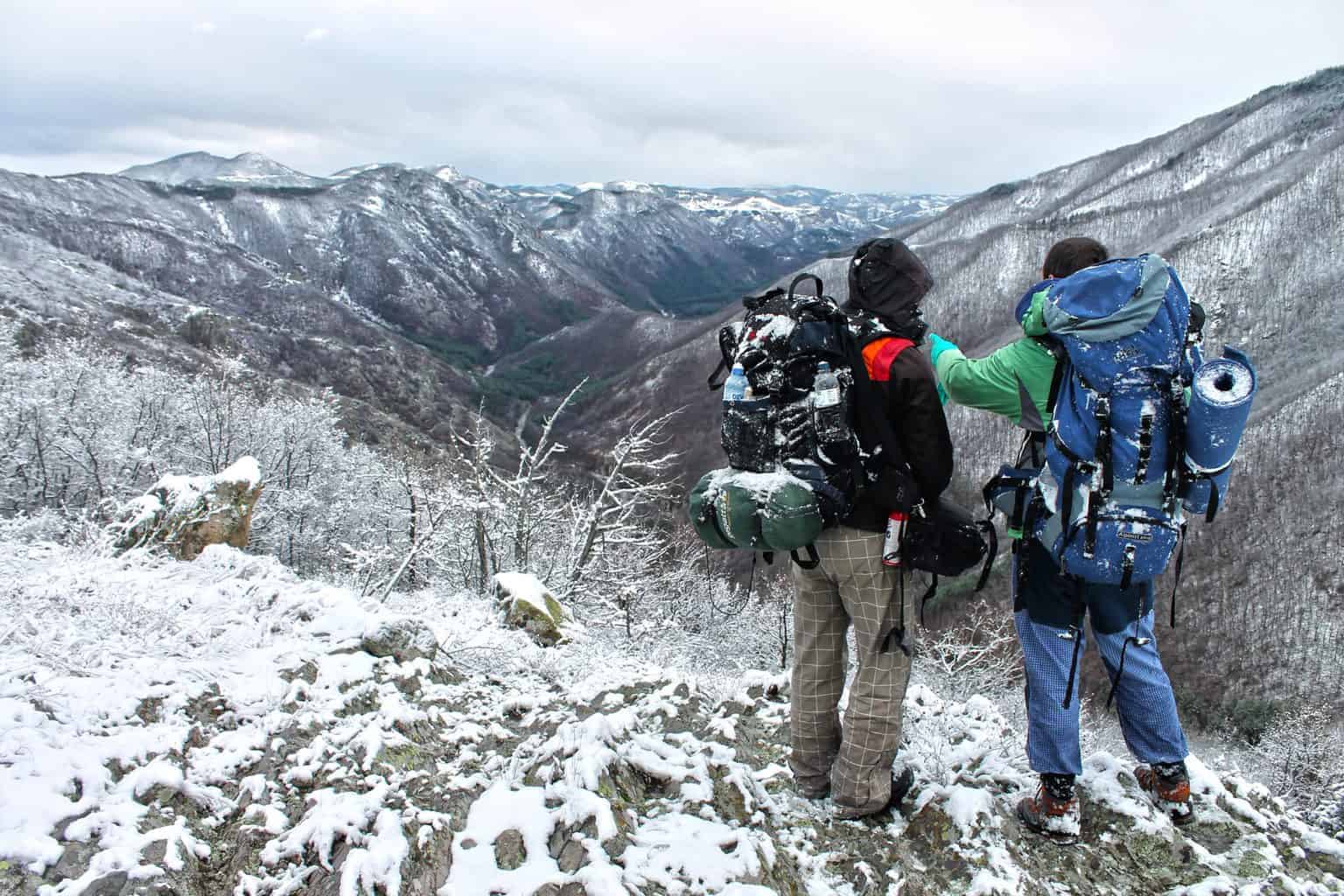 Winter Hiking Checklist For 2021: A Full Guide (Plus Bonus)
Weather conditions are never an obstacle for a passionate hiker. The thrill, excitement and eager anticipation of an immense joy while spending time outside and exploring nature on foot remain the same.
The only difference is in the preparation process for your winter day hiking experience. To help you on this point, here is a comprehensive winter hiking checklist for advanced hikers.
Follow it and prepare properly for this winter adventure and you will feel the amazing emotional benefits of hiking very soon.
What Kind Of Equipment Do You Need For Winter Hiking?
Gearing up for winter hiking is demanding because you need to find the appropriate equipment that will suit a wide range of temperatures.
Furthermore, it needs to be appropriate for various wind speeds that can be up to 50 mph.
The sun can be intense or hidden behind heavy grey clouds. You might need to hike across various surface conditions in blowing snow or freezing, heavy rain.
It all goes to show that a typical winter hiking checklist should include a great variety of items that can cover your needs in diverse weather conditions.
Start With Choosing A Winter Hiking Backpack
As an advanced hiker, you know very well how choosing a hiking backpack is important. Considering the amount of equipment you need to take with you when going hiking on a typical winter day, you need a durable backpack of the appropriate size.
It must provide you with easy access to the tools and accessories that are of key importance when hiking in these conditions.
This means that getting a backpack with external loops and adjustable and padded harnesses is the solution to go for.
Moreover, it is highly advisable to use a lightweight pack spacious enough to put all the essentials.
If, however, your backpack still turns out to be too heavy and likely to endanger your balance on the trail, using the compression straps can tighten up the rucksack and stabilize the load.
Shifting and chafing is something you'd want to avoid when hiking in rough conditions with bulky gear.
Depending on the duration of your trip and the amount of gear you need, some good examples of winter hiking packs are Osprey Stratos 50, Teton Sports Scout 3400, and Gregory Stout 65. It's also a good idea to consider having a waterproof backpack in case it's raining or snowing.
Having a rain fly is another option you should explore. Many good packs have an integrated and easily deployable rain cover.
Appropriate Footwear Is A Must
Having comfortable, high-quality footwear should be among the top priorities on your checklist.
Firstly, you need insulated winter mountaineering boots that will provide you with the necessary comfort during long hikes and when going above the treeline.
Ideally, they should be up to a full size larger not to affect your blood circulation once you put on a pair of thick socks which are inevitable in winter times. Socks can be woolen or made of whatever other material you prefer.
If you use a sock liner as well, you get the perfect protection and comfort for your feet during the full-day winter hike. Finally, you can also opt for high gaiters if the snow is too high and you want to keep your socks and feet dry.
Avoid steel toe boots if possible as they are heavy and your toes could freeze because if the steel toe cap. Another footwear to avoid are Converse shoes since those are super thin and not appropriately cushioned. 
Hats And Gloves
When it comes to hats and gloves, two pairs of each are necessary. The two hats have to be of a different type – one for higher temperatures with some sunshine and the other for the times when the temperatures drop.
It is vital that these are made of lightweight fleece or wool for the first option and heavyweight fleece or wool for the latter.
We have an extensive guide on the best winter hiking hats for this season. Don't miss checking it out!
Two pairs of gloves are a minimum. The best option is to use an insulating glove as a base and then a waterproof shell mitt. This is the only strategy that will provide your hands with the necessary warmth without affecting dexterity.
At times when you are hiking intensively and your movements cause your hands to heat up, you should have lighter gloves, preferably softshell ones that are fully breathable and will not let considerable amounts of snow stick to them.
Get The Proper Clothes – Layering Is Necessary
When going on winter hiking to satisfy your passion, knowing how to dress properly is of key importance. Layering is the approach that solves all your problems.
You will need a lot of clothing items suitable for the times when you are hiking or resting so you need to bundle up.
Base Layer
Typically, the winter hiking checklist includes getting a woolen or synthetic long sleeve jersey, long thermo underwear, and boxer or bikini underwear for your base layer.
Remember not to use cotton items because these cannot dry quickly so they are definitely not a good option.
Instead, choose those that will transport sweat from your skin further to the next layer of clothes. For example, check out our detailed guide on the best winter hiking leggings.
Mid-Layer
When it comes to mid-layer insulation, you are free to experiment with numerous options and choose what suits you best. It should be something that makes you feel comfortable, warm, and you can be able to move freely and easily.
Items made of wool or fleece are the best choice because they will keep you both warm and dry. Fleece jackets, pullovers, wool sweaters – decide according to your personal preferences.
Pants
When choosing pants for your winter hiking adventure, there are two options – hardshell or softshell pants.
Each of these have their own for and against reasons, so you have to define what effects you want to achieve.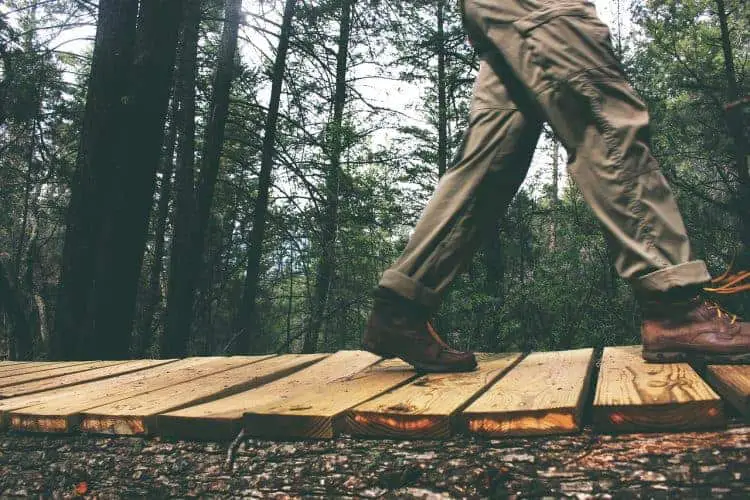 Hardshell pants are windproof and waterproof. They have zips along their sides so you can easily take them off at high temperatures or put them on when the weather conditions change without taking off your boots.
Unfortunately, they do not provide much warmth, so long underwear is necessary in this case.
On the other side, softshell pants are water and wind resistant but they are neither waterproof nor windproof, which can be a serious flaw when the precipitation is high and you are still hiking in bad weather. However, they are more breathable and much warmer.
As many newbies ask "can you hike in ski pants", avoid those on longer hikes as they are usually too baggy, not flexible, and heavy. 
Last but not least, consider getting pants with knee pads. That extra protection, flexibility, and insulation is something you'd want during winter hikes.
You'd want to avoid wearing sweatpants on winter hikes. The cotton is the worst fabric for cold, wet weather. 
Choose A Jacket Smartly
Similarly to pants, you will also need a hard shell and a softshell jacket.
Hardshell jackets are worn while you are hiking because they will not make you feel uncomfortable or too warm. They offer perfect protection from wind, rain, and snow.
However, you also need a puffy insulated jacket at times when you stop moving and you need to keep warm for some time. Keep this jacket at hand in the backpack to help you handle frigid weather when necessary.
Don't Forget Some Spare Clothes
When preparing for winter hiking, do not forget to bring some spare clothes. Although you need to take care of the load you bring with you, having a spare pullover, jersey, socks, and underwear is vital.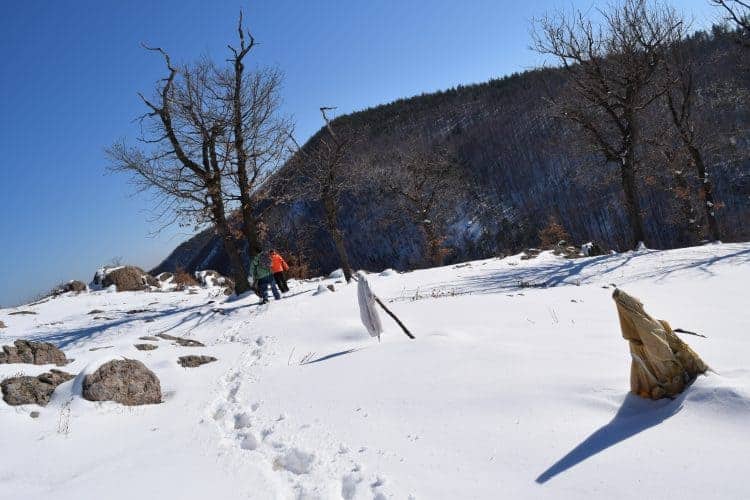 You can relax and enjoy the adventure knowing that you can change clothes if you get too wet due to the weather conditions or an accident.
Bring Food And Water Supplies
Since you will need a lot of energy to meet the challenges of winter hiking, you need some food and water to stay hydrated.
Opt for water bottles with wide mouths to prevent it from freezing quickly. If you need to carry these bottles outside the backpack, make sure you put them in an insulated sleeve to protect them even better.
Many prefer using hydration systems that also come in handy. Moreover, many packs have insulated sleeves and water bladders that maintain the temperature of the liquid, thus preventing it from freezing.
The Essential Equipment You Need For Winter Hiking
Every hiker going on a winter trip should bring the following equipment:
Conclusion Plus Bonus Infographic
Do not feel intimidated by harsh weather conditions in wintertime. Prepare yourself properly, make smart choices and decisions according to the above-mentioned item list, and you will have no reason to worry. Check this infographic that showcases the majesty of The Great Smokey Mountains National Park - a gorgeous place to hike.
Hiking in winter may be more demanding than usual, but it is a real challenge and pure joy. So, enjoy it!
---
What is the one winter hiking item you can't live without? Leave a comment below!
Founder of this website, Asen is a passionate hiker and writer who is also a gear nerd. He's been featured on many established hiking websites where he gives hiking advice & tips. When he is not trekking with his family or friends, he is writing articles and product reviews. Asen spends most of his time in Bulgaria but he constantly travels the world in seek of more unforgettable experiences. Read more about Asen here.