4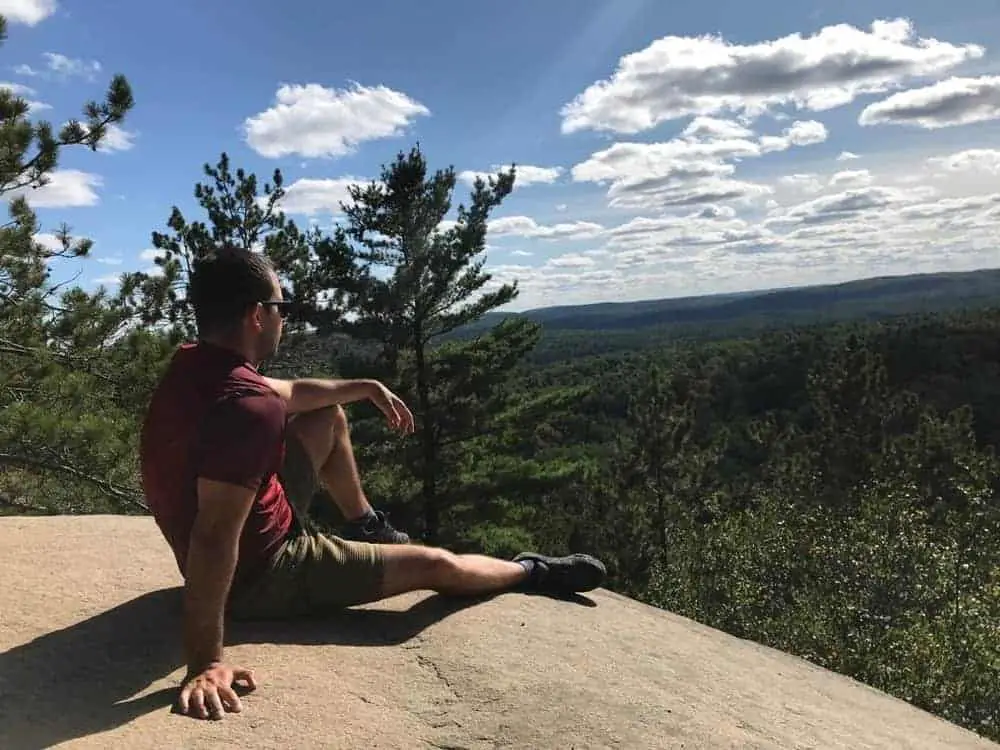 Hiking In Algonquin Park, Canada Completely Blew My Mind
Canada.
What's the first thing that comes to your mind when you hear that word?
For me it was maple trees and the syrup. And the friendly moose too.
Being from Europe, I was extremely excited to plan my trip to Canada in August 2019 and hike in one of the most famous Provincial Parks in the world.
In this article, I share my thrilling experience and some useful information about the park. Hopefully, you will feel even a tiny bit of what I felt during my encounter with this magical place.
Without a further ado, let's begin.
What Is Algonquin Provincial Park?
Probably you'll be surprised to learn that some people believe provincial parks are just like city parks. While there are some similarities, it's still far from truth. Provincial parks are much bigger and the nature is wilder, to start with.
Spanning 7 635 square kilometers of breathtaking bogs, forests, lakes, and rivers, Algonquin Provincial Park is a world of its own.
Established in 1893 and located in southeastern Ontario, Algonquin is the first (and oldest) provincial park in that area. A local told me that the name comes from the native people who lived along the Ottawa River. They were called Algonquins.
One thing I was mesmerized by is this place's rich cultural history. Inside the park, you'll find not only visitor's centers, trails, and campsites but a Logging Museum and an Art Center. They track the history of logging from the end of 19th century to this day.
Being to Algonquin includes not only hiking the trails, canoeing the lakes, and reconnecting with nature. There's plenty of history and culture to explore there too. And it's fun.
Getting To Algonquin Park
Depending on your starting point, reaching Algonquin is easy and there's a lot of information on how to do it.
The park is situated 280 km from Toronto and around 260 km west from the capital Ottawa. We left from Toronto early in the morning and took highway ON-400N and then ON-11.
The drive took us a little over 3h and we stopped for a coffee break in the city of Gravenhurst. There was a splendid small cafeteria where it turned out they served some delicious homemade vegetarian meals. My wife was very happy.
As for other types of transportation, you can also take the bus from most of the major cities. You can find some guided tours as well, but in most of the cases, the locations you will visit are fixed.
However, your best option is to go by car. If you don't have one and you can drive, then rent one. The park is huge, and you'd want to move around easily and get to the various trails.
Also, if you plan on doing a day trip, leave not later than 07h00 a.m. Believe me, the early wake-up is totally worth it because you'd want to spend as much time as you can in the park.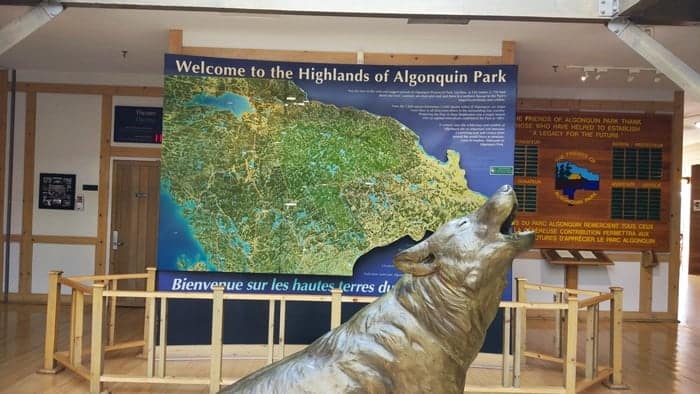 The park has many access points depending on where you leave and where you want to go. There are two major gates – the East and the West, which are located on Highway 60.
To give you an idea about the location, the West Gate is 45 km away from Huntsville and the East Gate is very close to the city of Whitney.
The distance between the gates via Highway 60 is 56 km, and you can stop along the way to explore different trails. There are parking spots too. Just follow the signs and watch for moose!
After an abundant breakfast in Toronto (thanks, auntie!) and a scenic drive through the Provence, we arrived at the West Gate at around 10h00 in the morning.
Excitement was building up already in our small group of four and when I saw that glorious sign welcoming us in Algonquin park, I already knew the day was going to be terrific.
Things To Do In Algonquin Park
The first thing we had to do was to take a vehicle permit for the day. You can buy one at the visitor's centers at the gates. The price is $17 CAD and if you want to camp overnight, you have to pay $12.43 CAD per night (adult price).
A funny thing was the wallboard in the visitor's center where you can note down the date and the animals you've encountered during your stay. There were people who have seen bears, moose, beavers, and white-tailed deer. Pretty exciting!
There, you can also get a map of the place. You'll also find merch stuff like cap hats and t-shirts but it's quite expensive.
The day-use permit that you must put in a visible place in your car enables you to drive along the 56-km strip along Highway 60 in the southwestern part of the Park. Here are some of the things to explore:
You can also swim in selected areas (too pity I didn't have the time to do that), fish, and even hunt there, which, of course is subject to regulations.
There are organized activities too such as canoe trips, hiking trips, photography trips, wildlife safaris, etc. You'd want to book in advance, though.
Hiking In Algonquin Park
Since we went in Algonquin for the joy of hiking, we were particularly interested in the trails and like already outlined, there are 15 of them along the Highway 60 corridor.
That's why we supplied ourselves with an information guide that was very descriptive. It included the length and difficulty of the walking paths and how EXACTLY to locate them on the highway.
What's cool is that each trail presents different aspects of the environment. For instance, the Lookout Trail offers a rewarding scenic view of the forest after you reach its end and the Whiskey Rapids Trail features splendid rapids along the river. So you can choose based on what type of nature beauty you prefer. Needless to say, they're all worth it.
Most of the trails are beginner and kid-friendly at the same time, so if you are in a decent shape, you won't have any troubles walking them. Make sure to have a comfortable backpack and refer to this guide on how to hike in the woods for general tips and recommendations.
As for those who like to hike with their dogs, note that pets are not allowed on all paths. You can check if a trail is dog-friendly in the informational guide. There are also signs at the beginning of each trail.
The shortest trail – the Hardwood Lookout whose highlight is an amazing sight from a rock is only 1 km. The longest one is Mizzy Lake, and you can walk on it for 10.8 km while enjoying the many ponds and wet areas.
We started from the Algonquin Logging Museum trail after parking our car in front of it. Its length is 1.3 km, and the terrain is flat and easy. This is a cultural kind of trail because it showcases outdoor exhibits on Algonquin's logging history. There's also a theatre and a bookstore.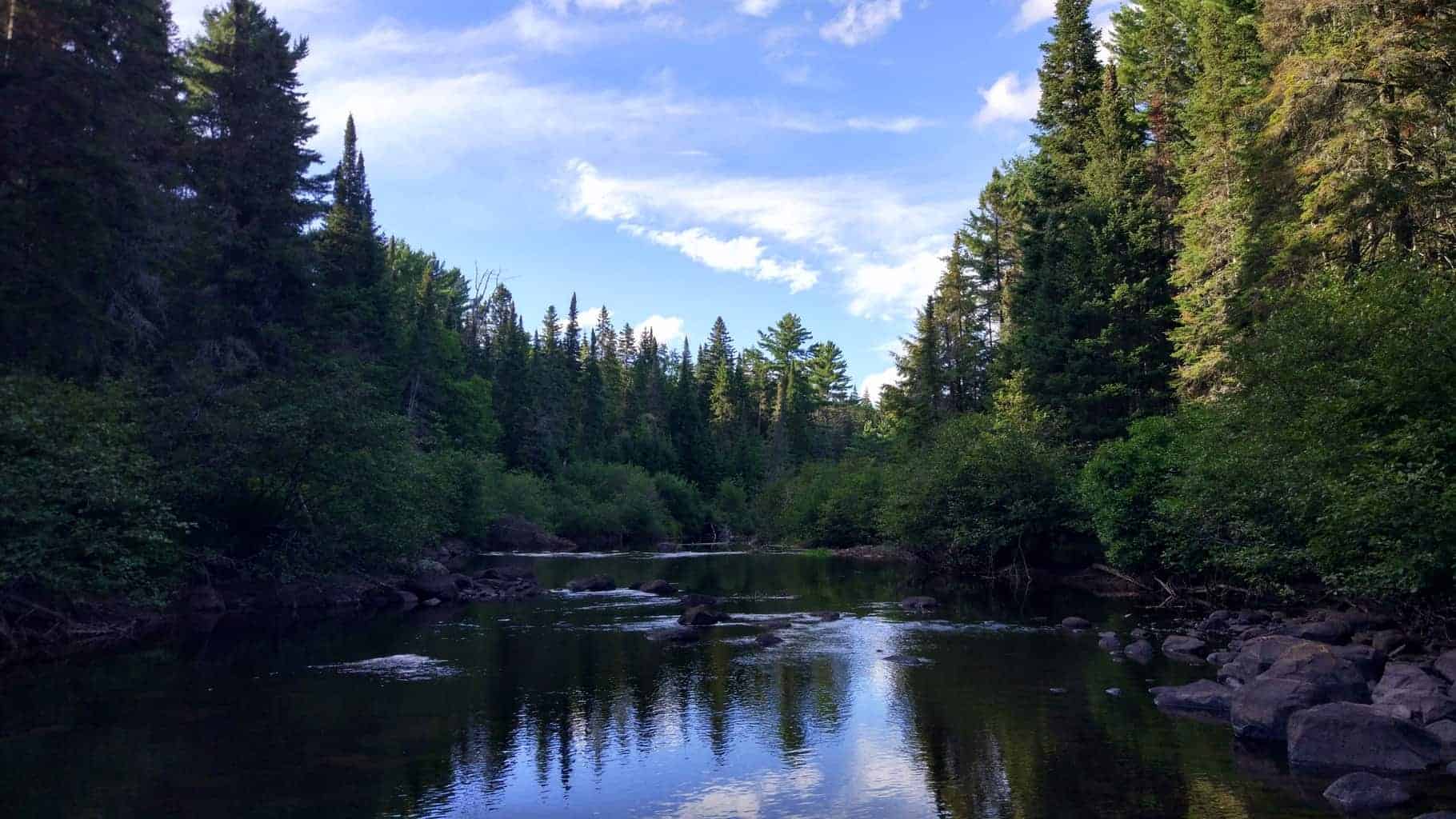 Along the way, we explored the many ancient cottages and logging tools masterfully recreated to make history live in that wild green place. We spent our time taking as many pictures as we could, breathing the fresh air, and exploring each and every inch of that gorgeous trail.
During our walk I had the feeling that time didn't exist and that we have entered a magical world. I guess I haven't been far from the truth because my companions felt the same way.
After that, we continued with the Lookout trail that was hiding a scenic view. It's only 2.1 km long and lies on the 39th km of Highway 60. The sun was at its peak already and it was hot. That's why we were all very happy that this trail was shady with thick vegetation.
There were several slightly steep sections, but overall the path wasn't physically demanding. We stopped several times to inspect some peculiar insects and birds. We also spotted several friendly squirrels.
After a while we reached a really gorgeous view from a big rock that revealed the splendid forest from above. Mesmerized, we sat on the ground to enjoy the moment and to eat our sandwiches (again, thanks, auntie).
Check out my video below in which I captured this splendid view and excuse me for the shaky hands!
Time was ticking away, and we had to move if we wanted to see as many trails as possible for the day. Next in our plan was the Whiskey Rapids trail. On our way, we stopped by a fabulous campsite on a lake and that was one of the most fantastic places that we saw that day.
Even though there were people preparing their tents and caravans for camping in the forest near the lake beach, it was somehow quiet and peaceful around. The lake was placid.
A small green island lay majestically in the middle of the lake beautifully mirrored in the clean, transparent water. That visual masterpiece was solidified by the presence of several colorful canoes lazily floating in the water. It was nature at its finest.
The Whiskey Rapids is a 2.1 km trail located 7.2 km away from the West Gate of Highway 60. We parked and eagerly began our walk. The trail goes along a river and we spotted many scenic rapids and amazing sights.
There were small rocks in the river so we could walk on them. Sometimes it was even possible to cross the river on foot. In case you want to do that, make sure to have the right gear and particularly a waterproof backpack.
On a tall, peculiar tree we saw two chipmunks and later on we even spotted moose (or deer) tracks.  Based on the informational guide, the time needed to finish the trail was 1.5hr but we spend there more than two hours exploring the dense forest and the rocky river coast.
The End Of Our Day
As much as we didn't want to go, we had to because it was already 7h00 pm and we were heading at a 3.5 hr drive back to Toronto.
I thought our day hike wouldn't be enough to reconnect with the amazing nature in Algonquin Park. But we were all exhausted and very satisfied that we were able to take the most of our short but meaningful trip.
Going for the day in the park is totally doable. And believe me, it's worth it. Just make sure to go during the summer when the day is longer and to be there as early in the morning as possible.
Sure enough, it would be best to spend a few days there hiking, swimming, canoeing, and exploring the breathtaking surroundings. There's plenty of options to stay there that include not only cozy lodges and cottages but picturesque campsites where you can settle in with your caravan or tent.
I can almost feel what it would be like to listen to the night sounds of the local nature and to wake up and smell the trees.
I'm already planning to go back to Algonquin Park for a longer time. Heck, can't wait to do that!
---
What about you? Have you ever spent some days in a Provincial Park? Leave a comment below!
Founder of this website, Asen is a passionate hiker and writer who is also a gear nerd. He's been featured on many established hiking websites where he gives hiking advice & tips. When he is not trekking with his family or friends, he is writing articles and product reviews. Asen spends most of his time in Bulgaria but he constantly travels the world in seek of more unforgettable experiences. Read more about Asen here.