10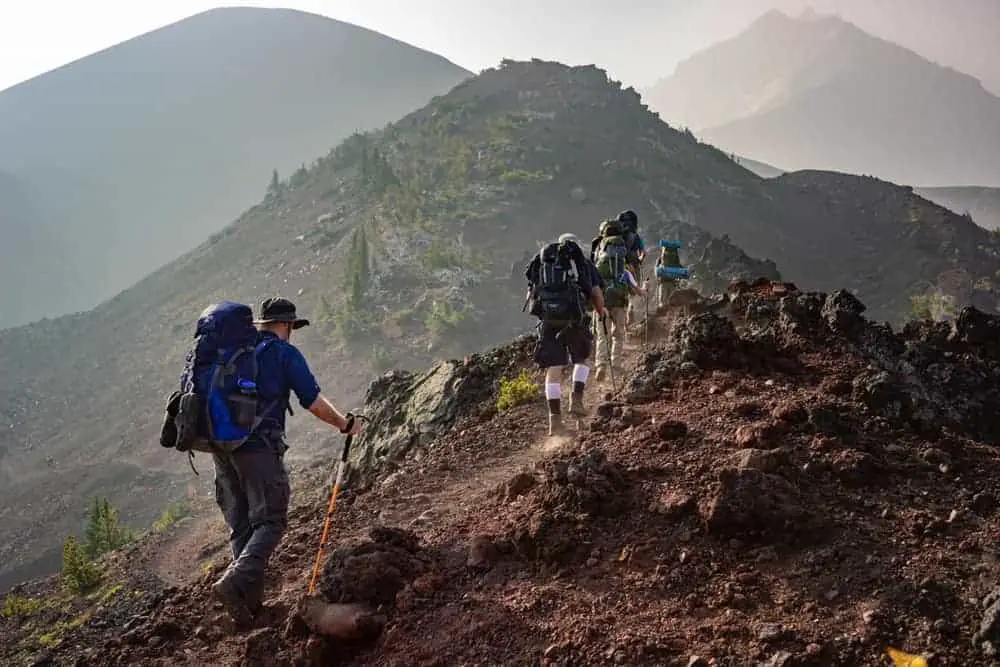 10 Crazy Useful Hiking Backpack Supplies You Must Have
When you head out for a hike, the only thing more important than knowing where you are going is making sure that you have the right kind of gear. Unless you're going out for a casual stroll, you will absolutely have your trusty hiking backpack with you.
This means that you will need to pack at least some hiking backpack supplies to get the most out of your hike.
After all, it might be a little strange if you take the backpack and leave it empty. Unless you're out for the sole purpose of picking herbs, maybe.
Having the right tools in your pack can keep you comfortable, healthy, and even safe. You don't want to add any additional weight to your pack if you can avoid it, but some things simply are a must when you are considering venturing out into nature.
In the rest of this article, I will show you some really handy, yet often overlooked items that can ease your life on the trail.
Let's get ourselves rolling.
Functional Tools For Your Hike
In this section we will examine some general functional tools that can not only ease your hike but make it even more enjoyable.

Carabiners
I'm quite sure that there has never been a true hiker alive who didn't rely heavily on carabiners. Carabiners are the glue of outdoor experiences because they are durable and reliable.
Besides, every hiking and camping tool in the world can hang on them. Hint - you can attach your sleeping bag.
These hooks, which can range from basic to custom designed for rock climbing, to S-Biners are much beloved because of their simplistic design and multi-use functionality. Not to mention they are cheap and rock solid.
If there as anything that you want to make sure you will not lose, putting it on a carabiner is a great way to ensure that even if it is out of sight, it is never out of mind.
These are also great for hooking things that you want to access easily onto your bag since all hiking backpacks are covered in loops made especially for this purpose.
Some objects you can hang on a carabiner are keys, ropes, hiking boots, ice axes, canakins, and pretty much everything that you decide must be outside of your pack.
Hydration System
If you have a hiking rucksack, investing in a hydration pack is revolutionary. Gone are the days of carrying several water bottles and welcome are the times of easy hydration all packaged into one single pack.
Hydration packs come in various sizes depending on the amount of time and energy that it will take to complete your hike.
In fact, these are so popular that plenty of hiking packs come with an insulated pocket especially for them or with an entire hydration system.
Hydration packs are almost always equipped with a tube-like apparatus that ends in a mouthpiece designed to allow you to drink easily without having to worry about digging through your bag for a bottle.
If your bag doesn't have a specific route for these tubes, you can fix the mouthpiece to your backpack using a carabiner. For a hot day, these packs can be frozen to keep your water cool and refreshing.
Check out this list of some best hiking backpacks with water bladder.
Multi-Tool
Carrying a good multi-tool on your hike might not seem like something that you would immediately jump to doing, but having one of these can be unbelievably helpful.
Multi-tools provide you with the ability to repair gear fast and easy, while you are out on the trail. They could be utterly useful in a pinch by providing you with scissors, blades, and several other handy devices.
Some multi-tools come with fire starters, which can be beneficial if you end up lost in the wilderness or simply if you're going out for an overnight hike.
Whatever your need, a multi-tool has one if not three things that just might help.
Things To Help You Manage The Elements
These can help you by protecting you from nature elements. Let's check them out.
On-The-Go Sunblock
When you are hiking, the need for sunblock is high. The thing about nature is that there's (luckily) plenty of sunlight, even if it is being filtered through the clouds. And with the sun comes the dreaded sunburn.
Every seasoned hiker knows the experience of returning from a hike and realizing too late that he (she) is absolutely fried. Therefore, placing an on-the-go emergency sunblock in your bag is so unbelievably helpful and important.
Since it is easy to sweat of sunblock, being able to use a small device to reapply is great when you don't want to slow down. In fact, they now make entire sunblock sticks that can be helpful for keeping your face and the tops of your ears safe.
Last but not least, having a sun cream is especially important when you hike with a baby.
Tarps
I think you'll agree with me that nature is relatively unpredictable.
In the event that you are out during a rainy season or find yourself caught in a flash flood, having a tarp on hand can be the difference between safety and comfort, and absolute misery.
There is nothing worse than finding yourself stuck in nature, unable to move, and ridiculously drenched.
Of course, many folks prefer rain covers but please, don't underestimate a good tarp.

A tarp can act as a makeshift shelter if you need it to. In addition, and on a less severe note, a nice tarp can act as a form of protection between you and the ground.
That's cool if you would like to enjoy a nice picnic or want a comfortable place to read a book.
Tarps are incredibly versatile and lightweight than a regular tent. You will never regret taking one with you. 
Hiking Umbrella
Okay, I see you frowning. Allow me to explain.
Comparable to a tarp, an umbrella is a must-have in any backpack purely because you can never quite know when you are going to need it.
In the event you find yourself caught in a rainstorm with no cover, having an umbrella can be the difference between comfort and being horribly irritated as you trudge down the mountain with squishy shoes.
Umbrellas can also double as protection from sunlight if you happen to forget sunblock and find yourself beginning to fry under the fierce gaze of the sun.
Check out the video below that describes the most common pros and cons of bringing an umbrella on your nature outing.
This particular accessory is one that you won't miss until you need it, but getting caught in a summer thunderstorm and not coming out completely soaked will make you glad that you came prepared. Plus, there are hands-free umbrellas that are quite comfortable to carry.
Another tool, especially handy in winter is a snow spade. It works wonders when you hike in deep snow or in avalanche country. More info here. 
Emergency Accessories That Are Good In A Pinch
Every experienced adventurer knows the exteme importance of always having emergency items. Consider the following as must-haves.
First Aid Kit
If you think you can go for a hike without taking a first aid kit, I suggest you think again.

A portable first aid kit is absolutely crucial for any person who plans on spending time in nature. That's purely because nature makes it very easy to get hurt.
Having a good first aid kit on hand can help if you end up getting blisters from new boots, scraping your knee when taking a fall, or if you get pierced by an unusually sharp pinecone.
This is one of those accessories you will be glad you packed when the right moment arises. And that's particularly true if you find yourself in a dangerous situation.
A small first aid kit is an item that you will never regret taking, but will always regret not having.
Clip-On Flashlight
As far as emergency essentials go, a clip-on flashlight is a wonderful tool that can come in particularly handy out in nature.
This item can help you out if you end up getting lost after dark or can just be convenient for navigating without having to carry a larger flashlight on you.
Some existing models even have strobe effects and other options designed to deter wildlife in the event that you find yourself out after dark and start thinking something might be following you. Creepy, huh?
Unlike your cell phone flashlight, this device runs on long-lasting batteries. That allows you to see in the dark and preserve your cell phone battery if you need to call emergency services or just text your beloved ones and tell them you're fine.
Clip-On Compass
Whether you are going on a trail you know well or exploring a new area that you have never been to before, having a compass on hand is a basic necessity that can help you if you get lost.
A major problem for lost hikers and backpackers is that they end up turned around and either don't realize how close to civilization they are or they end up going in the completely wrong direction.
That often happens when you hike in the woods, for instance, where the surroundings are confusingly lookalike.
To avoid being the person who is rescued ten miles outside of the city, always take a small compass with you just to be safe. It can come in handy if your internal compass or other navigation technologies ever fail.
Space Blanket
Though you might not have heard the name before, you will absolutely recognize this item as the metallic blankets that first responders put around people when they go into shock.
These whacky blankets are not only good for people going into shock, but can be a lifesaver if you unexpectedly end up in the forest at night and do not have the appropriate equipment to stay warm.
These blankets are heat reflective and can be super useful for making sure you are not a complete victim of the elements.
Conclusion
There you have it.
Being well prepared for your hiking trip is the best possible way to make sure you'll enjoy it.
Whether it means stocking up on convenient snacks, protection from the elements, or taking along your favorite emergency tools, you will always be glad that you have everything you need to freely enjoy your time in nature.
I hope that this list of helpful, yet often-disregarded hiking supplies will give you some practical ideas.
A common sentiment among hikers who have been lost is that if they hadn't prepared appropriately, they might not be alive. You can always find comfort in making sure your needs are met and that you are truly ready to go out into the wild.
Now go and rediscover the adventurer in you. See you on the trail!
---
What is the most essential thing you always bring with you on a hike? Leave a comment below!
Founder of this website, Asen is a passionate hiker and writer who is also a gear nerd. He's been featured on many established hiking websites where he gives hiking advice & tips. When he is not trekking with his family or friends, he is writing articles and product reviews. Asen spends most of his time in Bulgaria but he constantly travels the world in seek of more unforgettable experiences. Read more about Asen here.