8 Best Hiking Fanny Packs That Everyone's Crazy About [2021]
You woke up, and you're suddenly in the mood to plan a short hiking trip. You start thinking of the personal things you need to take with you, and that's when the bulb lights up: you don't have any intention of getting dragged down by your huge, hiking backpack.


AT A GLANCE: OUR TOP 5 PICKS FOR HIKING FANNY PACKS
Settling for the small, regular bag is out of the question too, due to lack of storage and durability. So, what can you do in this situation? It sounds like you need to look for the best hiking fanny packs. See our top 3 recommendations now!
Well, if you're worried that your search for a hiking fanny pack would take ages, we're here to help. We always make sure to offer valuable information when it comes to picking hiking gear, and hiking fanny packs are not an exception.
We spent 35 hours collecting information, digging for the best products in this selection, and finding something that will definitely make your short hiking trip a success.
Thankfully, we came across a range of products that many people have fallen in love with, and so we compiled the list you're about to read.
In the following paragraphs, you will read about some of the top-notch hiking fanny packs on the Internet. Shortly after, a comprehensive buying guide will be awaiting you, with the mission to help you choose the right product for your journey.
Let's get to it!
Our Top 3 Recommendations



Most Popular and Affordable Choice
Best For Carrying Extra Loads Comfortably

Most Popular and Affordable Choice

Best For Carrying Extra Loads Comfortably

Last update on 2021-02-26 / Affiliate links / Images from Amazon Product Advertising API
Three bum bags definitely stand out from the rest. We picked them up to narrow down your choice and make it easier.
Roomy, durable, and smartly organized, our first recommendation is #5 Mountainsmith Day Lumber Pack. It's especially designed for hiking and outdoor carry. That's because it's robust, water-resistant, and unbelievably comfortable.
You'll notice that it's larger than the others. Its volume of 13 L allows you to store everything you might need for a safe day hike. You can take enough amount of food, clothes, and other gear such as a medical kit, sun protection, knife, a headlamp with extra batteries, etc.
You can even take your tablet in a padded internal sleeve. The side mesh pockets are very spacious and you can put big water bottles in each of them.
As for the comfort, Mountainsmith excelled here. They decided to create a heavy-duty, yet lightweight bag that's well-padded on stress points. Besides, the back panel and the waist fins have a spacer mesh that provides fantastic air circulation.
Our second choice is #1 Waterfly 5.2 L. This is also our top recommendation for those on a budget. It's water-resistant to protect you from the light drizzle on the trail. It's also lightweight and very portable, with a well-padded back panel. It's not as roomy and durable as the Mountainsmith, though.
Our third best recommendation is #4 Osprey Talon 6 L. This is an extremely comfy fanny pack, but you can't expect any different from Osprey. It has an exceptional back panel that's super breathable and cushioned. That makes carrying the lumbar pack extensively a breeze. Make sure to check out all features.
Below you will find all fanny packs organized in a comparison table.
The Best Hiking Fanny Packs: Quick Overview
#1 Waterfly Outdoor Fanny Pack
Take a look at this Waterfly fanny pack – isn't it beautiful? It's crazy to think you can pack enough for your hiking trip in this small-sized pack. However, it was purposely designed for short trips and, on top of that, it comes with a variety of features to make the best out of your adventure. The coolest thing is that the pack has multiple pockets, so you can sort your items properly and store even more things.
The fanny pack's design makes it very comfortable to wear throughout your hiking adventures. It's easy to adjust for your comfort, so it will fit multiple heights.
And considering that you also want to maintain your sense of style even while hiking, this fanny pack is a good choice. The multiple color combinations you can choose from make it a wonderful match for various clothing.
This fanny pack is flexible, as it has an adjustable waist belt size, ranked 22"-52". It's useful when you don't want to feel any pressure on your waist. Moreover, the design allows you to store water bottles on both sides.
You can also choose to hand carry it if you don't want it on your waist, as it's a multi-functional pack. In addition, due to the PV valentine breathable pads, the inside of the pack will get better ventilation.
Also, the ribbon is quite durable. The weight of this pack is only 0.22 kg or 0.48 lbs.
Now, let's see the pros and cons of this pack.
Check out this uniquely designed hiking fanny pack. Doesn't it make you just want to go hiking all the time? There's a lot to love about this pack. Despite its detailed design, the pack is quite lightweight, and it also comes with multiple pockets for more storage options. Since you can also carry two whole bottles on each side, it is perfect for an outdoor adventure with your partner.
This Bp Vision fanny pack is a great pick if you want something easily adjustable. The strap that attaches it to your waist can be adjusted between 26 to 50 inches.
In addition, the water bottle holders can fit 3" diameter bottles, so around 25 oz bottles. This pack measures 11 inches long, 5 inches wide and 6 inches tall. You get a warranty with it too, respectively a 12-month one.
Besides, if you're not satisfied with your purchase, you have a 30-day money-back or replacement guarantee.
Made of nylon, the pack has different color schemes, and it is also quite durable and spacious. The weight measures 20 oz /567 grams.
What's especially great is the presence of zippered pockets on each side of the waist belt. Super useful!
We've established the key features – now let's see what we liked and what we didn't like about this item.
Meet one of the best hiking fanny pack models – the Gopacka insulated pack. It can be a great investment for anyone who needs enough storage for their belongings during a short trip. It's a must-have when you are looking for proper insulation, and it can work amazingly as a gift for hiking enthusiasts. Check it out, and you'll be pleasantly surprised!
It's amazing seeing properly manufactured fanny packs with high-quality insulation, and that's why this Gopacka product is such a worthy mention.
What makes it a feared competitor by other similar packs is the thermal insulation and the slim gel ice pack. If you are the type of person who needs a nice, cold can of beer or soda, then you can rest assured that this product will do the trick, even while you're away from home.
The 3-can capacity ensures that you always stay hydrated. It also fits two water bottles, juice pouches, and many others – which is perfect if you don't want to miss your daily amount of liquids. Plus, the insulation will make sure you have cold beverages for up to 4 - 6 hours.
The adjustable waist strap makes it easy to handle, and it also ensures a perfect fit. And for more storage, there's a zipper pocket as well. The bag's measurements are 9 x 3 x 5 inches. The weight of this cool pack is only 6.5 oz or 184 grams. Amazing!
But now, it's time to see what we liked and didn't like about the item.
Get this fanny pack, and you'll be able to hike with style. The Osprey waist pack was made for men who want crazy comfort, but also a good amount of storage space for whatever they want to bring on their trip. With bungee retention straps, padded bottle sleeves and a front panel zippered slash pocket, this product can change your life as a hiker in a positive way.
Being the reputable brand that they are, Osprey couldn't settle for bad quality fanny packs. Of course, they had to step up their game with this beauty. Having quite a vintage look, the pack measures 15 in width, 3 ¾ in depth, and 7 ½ in height.
In terms of weight, it's 15.6 oz or 442 grams, which makes it lightweight enough, especially when combined with the breathable padding that alleviates pressure. The bottle volume is 570 ml., and in fact, the package comes with two bottles included!
That's not all, though – two zippered hip belt pockets have been added too, giving you quick access to snacks or any item you choose to store there. Again, as with most Osprey products, the quality of the fabrics and the zippers is impressive.
It's time to see the pros and cons of this model.
#5 MountainSmith Day Lumbar Pack
Let's take a look at this hiking fanny pack, shall we? This Mountainsmith product can be your good friend in your hiking journeys – particularly if you are in need of a spacious bag. As it comes with the proper amount of padding, it is suitable for carrying multiple belongings, from snacks to smartphones and even your tablet. Let's see it!
When you need a fanny pack for hiking, one thing is clear – you cannot settle for one that cannot store everything you need for the day. You should go for something such as this pack from Mountainsmith, as it is more than suitable for most people's short nature adventures.
This version of the Day collection might be the best one. There are multiple features that make it worthwhile, such as the removable shoulder strap and the tuck-away waist belt.
These help you with carrying the pack easily and with no discomfort. Yet what stands out is the storage capacity. Apart from the side water bottle holders, there is also a headphones port, as well as a waist belt pocket for smartphones, interior tablet sleeve, and zippered front panel pocket with a key clip.
Measuring 13 x 6 x 12 inches and having multiple pockets, organization is well-guaranteed. The weight of this waist pack is also good for its size and capacity – only 1 lbs.12 oz or 793 grams.
Let's check out some important things about this solid fanny pack.
#6 MountainSmith Knockabout Pack
This is somewhat smaller Mountainsmith fanny pack, but it feels just perfect for a short hiking trip. Well, that's if you don't want to take the entire house with you. This lumber bag offers plenty of pockets to give you various storage options and better organization. And let's be fair - you need to stay organized during your trips. So, check it out!
You should stop and consider this Mountainsmith creation because you can get it in multiple colors – something that allows you to maintain your style while hiking. Of course, that's not even close to being the best thing about it.
Among the things that make this lumbar pack such a blessing is the number of pockets available. You get a zippered main compartment that has an organizer sleeve. With that, it's more than easy to organize some of your belongings.
Other pockets include a front panel accessory one, back panel hidden stash one, and a headphone port. Measuring 10.5 x 2 x 7 inches, it's enough for a one-day trip.
This pack is super light – only 7.2 oz or 204 grams. Perfect for a day ultralight hiking adventure at the nearest trail.
What are the things we liked and disliked, though?
Classy and super functional, this bestseller is a worthy travel companion, especially when you want to ensure your hydration along the way. The pack comes in two nice colors, and it also has a sturdy build, as well as water resistance for safety. Coming with two water bottles in the side holders, you will never run thirsty on your hiking days.
Backed by the Genius Earth's 100 percent guarantee, the fanny pack has been manufactured following a meticulous testing, to make sure you get a wonderful experience. This fanny pack won't disappoint you. Just read the reviews.
One of the biggest benefits you get is the fact that it fits most waist sizes. A man, a woman or child can smoothly carry the pack with no troubles.
What makes this possible is the adjustable belt – it can adjust from 18" to 50" for your waist. The bag has a 13-inch length, 5-inch width, and 6-inch height. Although small and cute, it is still spacious and able to fit various things inside. You even get 2 free 20oz BPA-free plastic bottles with it.
Without the bottles, this cool pack weighs around 10 Oz only or 283 grams. The volume is close to 4.3 L, which is totally fine for a light day-hike.
Here's what made us love this product and what we didn't really like about it.
#8 NZII Sports Fanny Pack
Excellent for a quick hiking trip, this versatile fanny pack will not disappoint when it comes to storage. Designed to make you fall in love with it, this pliable bum bag has six separate compartments for storage, so you'll like it if you're the type of person to take multiple items with you on a trip. Plus, it allows for many wearing styles. Don't miss checking it out!
The biggest advantage of this top-rated NZII Sports fanny pack is that it has a lot of space. The volume is 5 L. Its dimensions are 13.5 x 7 x 6 inches, and it also features multiple compartments. This gives you the freedom to pack everything you need for your trip with no exceptions.
There are six different pockets of various sizes with the main one being very spacious, and the additional ones being a little smaller.
The other pockets include two small ones in the front and two on the sides, as well as one on the back. They make it easy to store money, your phone, keys, or anything small. The big one is great for storing your tablet/laptop and other valuable items.
With a strong flexible belt, you will enjoy comfort while carrying the pack, and it's also durable and wear resistant. The bag itself is made from high-quality material that is tear-resistant. And the happy customer reviews confirm it – this buddy is solid.
The weight of the compact, yet comfortable bag is only 16 oz or 453 grams. Light as a feather!
There were indeed many things we loved about it, but also a few things we disliked.
Useful Tips On Choosing The Most Suitable Fanny Pack For You
As you already know, a fanny pack should be picked carefully because there are many features that come into play. Here are a few considerations to keep in mind when purchasing one.
Number Of Pockets
It shouldn't be a surprise that you might need a pack with as many pockets as possible. More compartments make it possible for you to store multiple belongings and will help you organize your stuff much better.
If you find an item that has water bottle holders, that's ideal. In addition, the pockets should be well sized and easy to access on the go.
Gender
Although most hiking fanny packs will be one size fits all models, there are also some products made specifically either for men or women. Since they have been designed this way, their features will have different body requirements. So consider this before you buy a pack.
Often a bag for men will nicely fit a woman and vice versa. What could be an issue is the belt. Does it adjust to your waist size? Don't forget to check that carefully.
Materials
The fabrics are an important consideration because it is what offers durability to a fanny pack. Since the environment is unpredictable and often the weather can get harsh, you need to go for a strong, durable fabric.
Nylon or polyester are usually the right choices, and they will also resist water. In case you're wondering how robust the material exactly is, look for the denier.
It's an important measurement of the density and sturdiness of a given textile. The higher the number, the better. In our selection process, we picked some quite robust fanny packs because that's a benefit when you hike.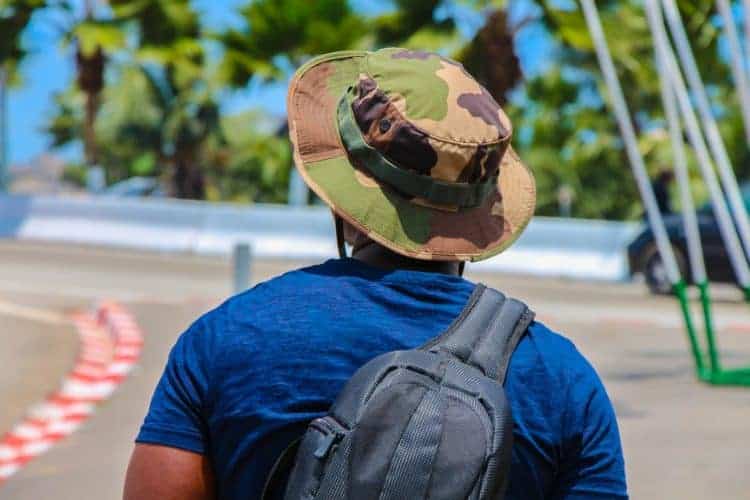 For instance, #5 Mountainsmith Day Lumbar Pack and #6 Mountainsmith Knockabout Lumbar Pack both are made with 610D Cordura nylon, which makes them quite dependable and durable.
When it comes to the comfort, it's highly recommended that your fanny pack has foam or neoprene padding. Moreover, the cushioned part (which usually is the waist belt and the back of the pack) should consist breathable material to provide air circulation.
This is crucial to your comfort when you hike extensively during the day, especially on rough terrains. Most of the fanny packs on our list have such a padding, and that's a main feature that makes them suitable for hiking.
Be extra careful when considering cheap fanny packs because often the craftmanship is bad as are the zippers. Sure enough, there are exceptions just like with the backpacks.
Adjustability
Make sure you find something with adjustable belts. This way, the pack will fit multiple people in case you're not the only one carrying it. Even if you take the product just for you, adjustable belts are helpful because they offer more flexibility when using the pack.
That's especially true when you wear it during the summer when you're not so dressed and when you wear it during other seasons when you have more layers. The latter implies that your waist size would be slightly bigger.
Pay attention that it's not only the waist belt that should be adjustable. The shoulder strap (if any) should be adjustable too. Also, it would be more comfortable if you're able to wear the pack as a sling pack (on either shoulder).
FAQ
Can fanny packs be used for more than hiking?
How a hiking fanny pack is different than a regular fanny pack?
Are there disadvantages to fanny packs in general?
How can I maintain my hiking fanny pack?
The Bottom Line
I truly hope that this detailed guide on how to find the perfect hiking fanny pack for your journey will be useful for you.
In general, you don't take that many things with when going on short trips, so you don't need the huge hiking backpack you're used to.
The hiking hip bags are smaller, but provide enough space to let you carry everything necessary for your trip. Make sure to analyze the pros and cons of the items and choose the most suitable one for your needs.
Enjoy and see you around!
---
Featured image by Nomalite on Flickr.
Founder of this website, Asen is a passionate hiker and writer who is also a gear nerd. He's been featured on many established hiking websites where he gives hiking advice & tips. When he is not trekking with his family or friends, he is writing articles and product reviews. Asen spends most of his time in Bulgaria but he constantly travels the world in seek of more unforgettable experiences. Read more about Asen here.