18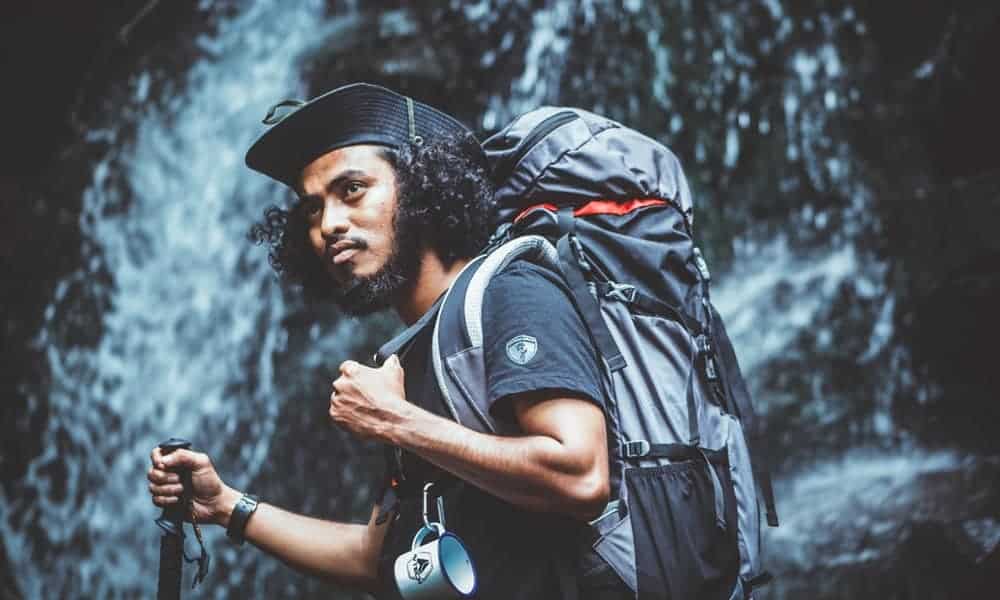 How To Buy A Hiking Backpack – An Ultimate Guide [2021]
Do you know the most common mistake that newbies make when deciding to go on a hike?
It's deciding to take a basic backpack. Surely, there is no unspoken rule that says under no circumstances can you take a school or work backpack on a hike.
However, the difference in experience that comes with taking a hiking backpack versus a traditional bag is quick to convince people the type of backpack matters.
Knowing how to buy a hiking backpack is a valuable set of skills to master when you decide to make the investment. Since hiking packs come in a wide range of styles and functions, it is important to understand your needs, as well as your preferences to find the right backpack for you.
Choosing the right backpack can help you bring your hiking experience to the next level.
In the rest of this article, I'm going to share with you some easy practical tips that will help you make the best choice based on your needs and budget.
Let's get ourselves rolling.
How To Find A Comfortable Backpack For You?
Do you know the number one criteria you should take into consideration when wondering which hiking pack to pick?
It's something that overrides the price. The comfort.
No matter how cheap or expensive your pack might be and no matter how many cool features it has, if it doesn't sit comfortably on your back and shoulders, then it's simply not meant for you.
Maybe I'll surprise you even more by saying that even if a pack comes from a fancy brand, it still might not be the ONE.
There are some important factors defining how comfortable a pack is. The most common of them are:
Let's quickly go through each of them.
Finding The Right Size
In the world of hiking backpacks, size means two things. First, it means the actual physical size of the backpack in relation to how it fits on your body.
Some backpacks are wider and shorter, while some are longer and thinner. Size in this sense matters in part because of aesthetics and in part because of general fit.
It is normal to want a backpack that doesn't look absurdly huge on you or put pressure on areas that you are not built to support.
Beyond the physical size of the pack itself, the size of your backpack also matters because it will determine how much you can actually hold.
Depending on the duration of your hikes and what items you plan on taking, the internal storage of your pack is not something you'd want to overlook. It is the difference between having enough room and having too little or too much.
Getting A Good Fit
Finding a good backpack that fits well can be the difference between a great experience and a miserable one.
Check the infographic below for tips on how to make your pack more comfortable.
An easy mistake that people make when looking for a hiking backpack is assuming that it is necessarily proportional to their height.
In fact, the real judge of how a pack will fit is the size of your torso and the width of your hips.
Most good brands will come with a size chart to help you determine what fit is right for you. When you have a backpack on that fits properly when all major straps are adjusted, it should be snug and comfortable without too much movement.
When a backpack fits well, it should alleviate a good amount of stress from your back when filled with supplies.
The Importance Of Padding
Padding on a backpack is important largely because it determines how comfortable the weight will feel on your back, shoulder, and hips.
Too much padding will cause awkward and uncomfortable pressures against your body over time that can ultimately lead to soreness or result in you holding your body in a strange way to ease the pressure.
A hiking backpack with too little padding will often not sit right, can have its load bearing abilities affected, and will not protect your body from the strains of weight. This can produce painful chafing or blisters across your body.
A decent backpack has padding on the back panel, on the shoulder straps, and on the hip belt strap.
These are the areas where your body bears the load at the most. As an example, such backpack is the Osprey Stratos 24 L model.
Generally, the padding consists of a soft foam. The most common one these days is the Ethylene-vinyl acetate, also known as EVA foam.
Suspension System – A Luxury Or A Necessity?
Now, keep this in mind – if a suspension system is good, you will hardly feel the weight of your backpack no matter if it is 15 L or 60 L.
A suspension system is a combination of belts, straps, frames, harnesses, and stays whose primary job is to distribute the weight evenly across your body.
When that happens, you don't feel the load of your gear only on your shoulders or back. It is dispersed all over your body so you don't experience the gravity of the weight.
As an example, watch the video below that explains in the detail the PerfectFit suspension on Kelty backpacks.
Here it's important to say that if you want to have a good suspension system, you need to invest more money on your backpack.
Nowadays, almost every hiking backpack brand claim to have a suspension system but in reality only some of them produce those of the highest quality.
Some backpacks having a suspension of an extreme comfort are Gregory Stout 65 with its TrailFlex system, Osprey Manta AG, with its advanced AG AntiGravity™ suspension, and Kelty Coyote 80 L, having an impressive PerfectFIT™ suspension technology.
So I'd rather say that if you're looking to buy a multi-day pack, a suspension system is a must. It will allow you to walk and maneuver more easily for a longer time.
In fact, the same goes for the ventilation technology. Let's see about that in the next section.
Why Pick A Pack With A Ventilation System
Imagine hiking over the weekend. For instance, somewhere where the weather is especially hot during the summer like in magnificent Tenerife or on these breathtaking trails near Colorado Springs.
Chances are, you won't last for more than a few hours with a dripping wet sweaty back. At least the experience won't be as magical as you hoped it would be.
You can easily avoid this by making sure your pack has a well-ventilated back panel. In that way, the heat and the sweat will evaporate before you even feel it.
Today, most of the outdoor gear manufacturers produce backpacks with ventilation systems. As with the case of the suspension system, those that do it properly are only a few.
For instance, the Sirrus and Stratos models by Osprey have an unparalleled AirSpeed™ technology that has a trampoline suspended mesh that stays between your back and the pack, allowing the pack not to touch your back.
In that way, you don't sweat because the heat evaporates through the mesh.
Deuter is another popular brand that has a well thought out ventilation on their packs. Their Aircontact System combines hollow chamber foam and soft cushions to keep the heat away.
Let me shout this loud – having a backpack with a ventilation system on the back is crucial to your comfort and performance.
Knowing Your Technical Requirements
When you're looking for a backpack, it's also important to keep a close eye on the technical specifications. Start by asking yourself the simple question "why I need a backpack". Here's what to look for.
Knowing How Much Storage Space You Need
Depending on what kind of hike you plan on going, the storage space of your backpack can be particularly important for making sure you have enough supplies to accommodate your hike.
A traditional daypack tends to range from 20 to 35 liters. The smaller size for daypacks is generally intended to help you carry enough supplies for several hour or partial day hike.
The larger end of these lines is designed to be able to hold enough snacks and water to last a full day of hiking.
These backpacks could also have a hydration system, which can vary depending on the size of the backpack.
Finding the right-sized hydration pack is a great and convenient way to stay hydrated on the go without the need to carry multiple bottles of water.
In the event that you plan on going for a longer venture into nature, a medium-sized backpack of approximately 40 to 50 liters is the appropriate size for a 2-4 day hiking trip.
These packs can hold more items and weight, and will help you carry your supplies without straining your back. A great example would be Teton Sports Scout 3400.
For trips longer than a few days, it is necessary to upgrade to a backpacking backpack to ensure that you can carry all essentials for outdoor survival.
For instance, you'd need something like Kelty Eagle 7850 or Arc'teryx Bora Ar 63.
And if you're attaching gear externally (such as a tripod, another pair of boots or winter shovel, make sure that your pack has gear loops and enough straps.
Choosing A Backpack That Can Support The Right Weight
When you set out for a hike or a backpacking trip, it is important to understand the limitations of how much weight you can carry depending on the type of backpack you are using.
For a traditional daypack, it is advised that you not carry more than ten percent of your overall body weight in order to avoid injury.
For backpacking and multi-day packs, the structural integrity of the pack allows for a higher weight capacity that will not cause injury. In that case, you can carry roughly twenty percent of your body weight.
Filling a bag past its weight capacity can be damaging to you and may result in the backpack breaking while you use it.
Fabrics Consideration
The materials used for making your hiking backpack can determine how well it will stand against the elements and with rigorous use.
In most cases, lightweight backpacks are made from a variation of nylon or Dyneema Composite Fabric (DCF).
These materials are lightweight and slightly waterproof. In general, DCF is lighter and more water resistant than nylon. However, this material costs more than nylon so the backpacks tend to be more expensive.
Furthermore, for most of the packs, you'll see in the description or on the label a combination of numbers and the letter D. For instance, 420D or 600D.
The D stands for denier. In brief, it is a measurement of resistance and durability. The higher the denier, the more hard-wearing the backpack is.
You'll find that most of the waterproof hiking backpacks consist of rip stop polyester with an extremely high denier.
As for buckles, it is important to test the structural integrity of the plastic. While a buckle is replaceable, a major inconvenience can occur on the trail if it breaks. Metal buckles are more durable, but they also weigh more and can get hot in the sun.
Styles of Backpacks
Let's quickly take a look at some general guidelines that can help you along the way.
Knowing The Importance Of Seasonally Appropriate Backpacks
Depending on when you plan on going for a hike, it is important to consider the kind of backpack you buy to avoid any conflicts.
For a summer hike, you will likely want a more lightweight and breathable backpack that will not heat up your back or bake whatever you put inside of it.
For a winter hike, you will probably want something able to hold more gear for safety purposes, and you can certainly get away with it being a little more dense since you won't be at as much of a risk of overheating.
If you are somewhere that is prone to inclement weather, making sure that your backpack can brave the elements and is relatively waterproof is also important.
A Case For Color
The color of your backpack is something that you might not have really considered, but it is a crucial detail when it comes to finding your backpack soul mate.
Choosing the color of your backpack is important for a few reasons. In a general sense, it is important because finding a color that you like will probably determine how well you appreciate the backpack.
In a more crucial sense, having a backpack that blends in your surroundings can play an important role for staying safe in a hunting country or blending in for some time spent observing animals.
Though you can certainly just choose a color you like, there is potential for the color to conflict with your intentions out in nature. So keep that in mind as well.
Finding A Backpack That Matches Your Budget
Though there are many considerations that go into finding the right hiking backpack, one of the most important ones is knowing your budget in advance.
Since hiking backpacks can range wildly in price with some well under a hundred dollars and some up over a thousand, it can be overwhelming not knowing where you stand in advance.
When you have determined what your backpack budget is, you should begin looking for bags in that range and then comparing them through reviews in order to ensure you get the best product for your budget.
Now the most important question - how much money should you spend on a pack?
You're the only person who can answer this question for yourself. The following is just our opinion.
In the outdoors's world, investing more money in a high-quality product is something that can make a massive difference in the long run.
On one hand, spending more bucks on a superior hiking backpack (>100$) is a great investment and something you won't regret. In that way you're purchasing a long-lasting product that will serve you well for many years to come.
Let this serve as a confirmation that the reliable, comfortable, and durable backpacks come at a higher price. Is it worth it? Absolutely, especially if you're planning to test it to its limits multiple times during the season.
On another hand, you'll be able to find a decent hiking pack below $100 and much less. Just check out Teton Sports Oasis 1100 or Sumtree 35 L, for instance.
Yes, there are some hidden gems too, so is the price a factor for quality? It surely is but don't overlook the cheap brands too.
In the end, it all depends on your budget, preference, and the purpose for which you're buying a backpack.
Conclusion
Choosing the right backpack for your needs can help you increase the comfort and convenience of your entire hiking experience.
Finding a rucksack that matches your very own requirements and body type can sometimes feel like a bit of a struggle. However, once you find THE ONE, you will be glad you kept looking.
When it comes to spending money on something that you want to use for the foreseeable future, we always recommend doing your research diligently and reviewing warrant plans prior to purchase.
When you find the right backpack, you will be itching to head out on the trails.
Founder of this website, Asen is a passionate hiker and writer who is also a gear nerd. He's been featured on many established hiking websites where he gives hiking advice & tips. When he is not trekking with his family or friends, he is writing articles and product reviews. Asen spends most of his time in Bulgaria but he constantly travels the world in seek of more unforgettable experiences. Read more about Asen here.