8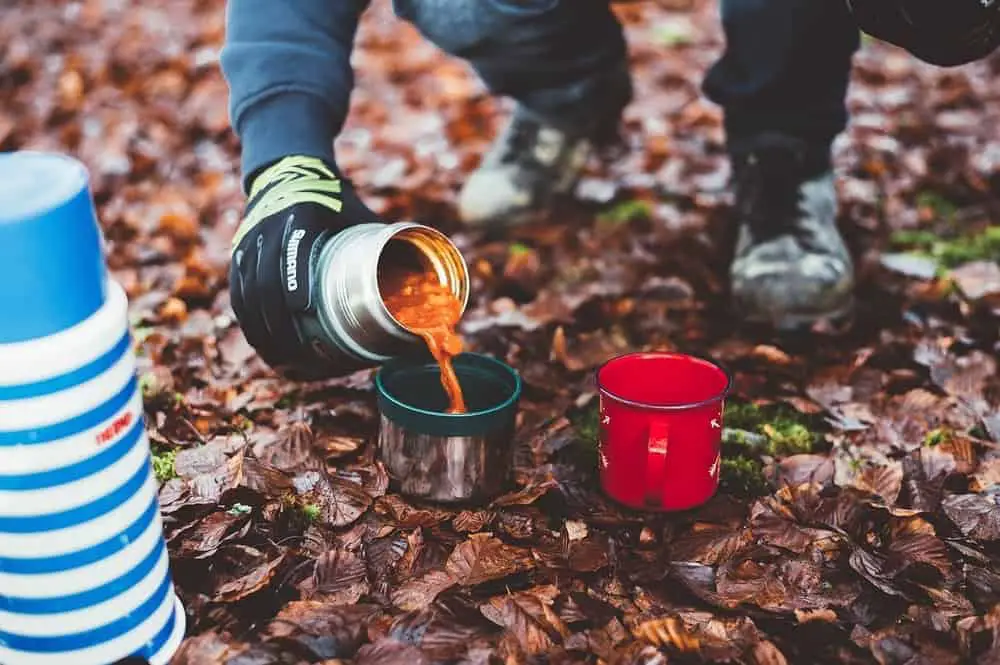 7 Best Hiking Meals That Will Skyrocket Your Energy [2021]
Let's be clear on this.
When you set out for a hike, making sure that you have what you need to keep up your energy reserves is crucial to having a positive experience.
The act of realizing halfway through a hike that you have low blood sugar is a great way to find yourself suddenly not enjoying a hike. That's particularly uncool if you have anything on hand to help rectify the situation.
This is what makes our list of best hiking meals so helpful for your daily needs.
Taking quick and easy hiking meals is an effective way to keep your energy levels up and consistent so you can enjoy your hike without worrying about feeling hungry or uncomfortable.
Knowing what type of foods you can take with you on the go is a convenient way to make your hikes more enjoyable and fulfilling. Besides, that will keep you from finishing your hike famished and ready to binge.
The Importance Of A Good Meal When Hiking
In order to feel good and strong when hitting the trail, you have to eat prior, during and after a hike. Continue reading.
Eating Before A Hike
Eating prior to a hike is a necessary thing to do because it will set the tone of your hike. If you go into a hike without having eaten, you will perform less effectively.
Besides, you risk damaging your body by causing it to strain without the necessary input to refuel it.
This causes your body to work harder and perform less all around, which can compromise the integrity of your hikes.
That's especially true if you are concerned with metrics. In addition, I bet you'll agree that being hungry on a hike is a miserable experience.
Eating During a Hike
Though most people think that eating before and after a hike is the most important part of maintaining energy levels, eating during a hike is an excellent way to help keep your energy levels consistent.
Furthermore, it ensures that your body has what it needs to perform as effectively as possible.
Make sure to check the interestig video below in which Alyse explains what she was eating during her hike on the Appalachian Trail.
By providing your body with consistent fuel, you allow it to run at optimum levels. And that can help with how well you perform as well as how quickly you recover.
Imagine you hike with a heavy backpack and/or with your baby, for instance. When you walk extensively on hard terrains with a significant load on your back, a great way to maintain your stamina and reduce fatigue is to eat.
Here, the proper intake is important.
The most efficient way is to eat small amounts of food on frequent intervals of time to avoid overstuffing and bloating.
If you overeat, the only thing you'll want is to lie on a meadow and sleep. I feel you thinking it's not that bad but it could slow you down and change your plans. So be careful.
Eating After a Hike
As is true with any kind of workout, eating after a hike is necessary to ensure equilibrium within your system.
Since hiking is an intensive process that can burn many calories, making sure that your body has what it needs to recover is almost as important as the workout itself.
If you do not provide your body with fuel to recover from what was lost, you risk getting muscle traumas and feeling groggy.
That's because of the micro-damage training does to your entire body. Proper intake of food is also relevant for building strong muscles.
Choosing The Best Meals For You
When it comes to picking out a good meal for a hike, you want to consider two primary things: health benefits and personal preferences.
For most instances, you want to focus on taking foods that are easy to prepare and eat as well as beneficial in terms of energy and protein.
As any avid gym lover will tell you, eating enough protein when you workout is crucial for maintaining homeostasis within the body.
On top of that, protein is necessary to help you build muscle and regulates a lot of functions within the body on top of that.
Making sure that you have snacks that will help provide you with energy is important so you can have an effective and enjoyable hike with no crashes or exhaustion. 
After all, you want to achieve your goal, right?
Proper energizing foods will help you to stay moving consistently and comfortably.
Easy Meals On The Go
Now let's get to the point. Here are some really yummy and easy to make and carry power foods that will keep you fueled on the trail.
The Power Of Jerky
As far as meals on the go, jerky in all of its many forms is a popular favorite for hikers, backpackers, and campers alike.
Aside from being insanely delicious, true jerky is packed full of all kinds of good substances to keep you energized while you're conquering another mountain. Like those fantastic trails near Colorado Springs, for instance.
Since jerky well combines fat, carbohydrates, and proteins, it is an excellent food source to keep you feeling good no matter how long your hike is.
Jerky requires no prep work and is a light food that makes it easy to shove in a backpack and go with absolute convenience. I like to combine it with fried eggs. Super delicious! 
Plus, you can always warm it up and even bake it a bit on the campfire. 
Trail Mix For The Trail
If you have ever been in literally any outdoor supply store, you have probably seen various kinds of trail mix being offered to patrons.
A good trail mix can be a lifesaver on the trails because it provides a wide array of foods, a delicious taste, and has what you need to stay going strong one mile after another.
Trail mix generally consists of nuts, some dried fruit option, seeds, and sometimes chocolate.
This food option is a healthy way to get the energy you need without having to worry about any kind of meal preparation.
You can simply haul out your bag and enjoy a few mouthfuls for continuous energy that will keep you comfortable and moving. Trail mix also helps keep you full longer, meaning a small chunks of it tends to go a long way.
Nut Butter For Quick Tasty Energy
It seems the more time passes, the more options there are for various nut butters in the grocery store.
Aside from the general fact that nut butters are absolutely delicious and super easy to store, they are growing in popularity because of how effective they are at getting you the essentials with a tiny amount.
Nut butters are high in protein, a good source of calories and vitamins, and they are filled with good fats.
These tasty treats provide you with all the essentials to stay going strong on the trail, and a small amount has large benefits.
They are also incredibly easy to store and can even be bought in squeeze tubes for added convenience.
Energy Bars Are Powerful
Every hiker knows that a well-made energy bar can be used as a quick, simple, and delicious way to keep moving. You can put them in the hipbelt pockets of your pack for easy access and you're ready to go.
Energy bars, like the popular Clif Bar line, are small bars packed with all kinds of delicious benefits that will help you stay full and energized on your hike no matter how long it is. 
Because of the ease and favorability of these products, you can find them in almost every flavor and combination to match any of your dietary needs or preferences.
A single bar can provide you with hours of energy by giving you a helpful combination of protein, carbohydrates, and vitamins.
As an added bonus, many of the bars on the market taste crazily delicious, making it easy to reach for them when you're on the move.
Protein Pouches For Easy Eating
One excellent way to stay well fed on the trails is the use of protein pouches. The most popular kinds of protein pouches that people enjoy are tuna, salmon, and chicken.
While you may not have considered eating tuna on the trails before, doing so is a great way to make sure you take in enough protein, and they are just plain delicious.
Pairing a protein pack with some crackers or flatbread is a tasty meal option that will give you the energy you need with little prep.
You can also just enjoy a good protein pouch alone to give you the perk of a favorite from home in the comfort of nature.
Oatmeal For Easy Energy
As far as meals go, oatmeal is a popular item that you can enjoy during any part of the day.
Oatmeal is often touted for its ability to give consistent and long-lasting energy, and this makes it so perfect when you are getting a full workout on the trail. Because in case, you were wondering, hiking is indeed a hard workout.
One way is to take oatmeal packets that can be cooked or mixed with hot water on the go. As an alternative, you can reach for popular overnight oatmeal options and take a container with you.
This can allow you the comfort of enjoying delicious pre-made oatmeal packed with any fruits, granola, or nuts that you might be interested in.
Dried Fruits And Nuts To Keep You Going
Dried fruits are the jerky of the produce industry. If you are a fan of fruits and want an excellent source of vitamins and fiber, look no further than these amazing treats.
You can easily snag most of your favorite dried fruits in bulk at the grocery store or you can dry your own fruits in your oven to save on cost and waste.
Popular dried fruits include raisins, apples, bananas, and mangos. Drying the fruits gives a subtle change in flavor and provides you with conveniently storage friendly food sources that don't need to be refrigerated.
Conclusion
When it comes to keeping your energy levels up, you can look to nature and human ingenuity to keep you going.
Whether you want to take your favorite trail mix or enjoy an energy bar instead, these products are designed to keep you healthy and happy while you find yourself in the great outdoors.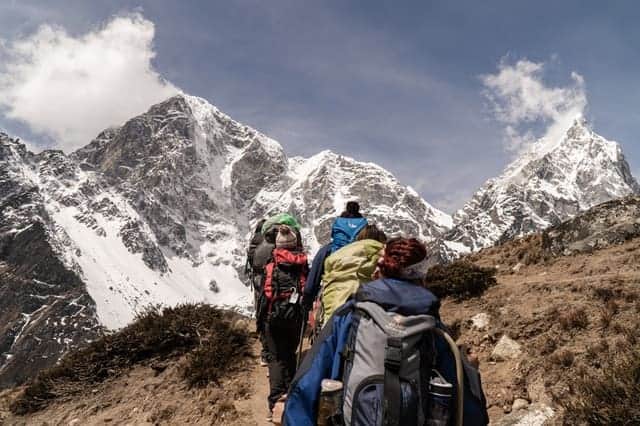 These popular staples are particularly effective when combined to create a more complex meal if your hike is one of particularly large length.
The key to success when it comes to eat on the trail is making sure that you have a steady input of all essentials and enjoy your small meals consistently for lasting energy that will keep you moving.
---
What kind of food you prefer eating when hiking? Leave a comment below!
Founder of this website, Asen is a passionate hiker and writer who is also a gear nerd. He's been featured on many established hiking websites where he gives hiking advice & tips. When he is not trekking with his family or friends, he is writing articles and product reviews. Asen spends most of his time in Bulgaria but he constantly travels the world in seek of more unforgettable experiences. Read more about Asen here.