2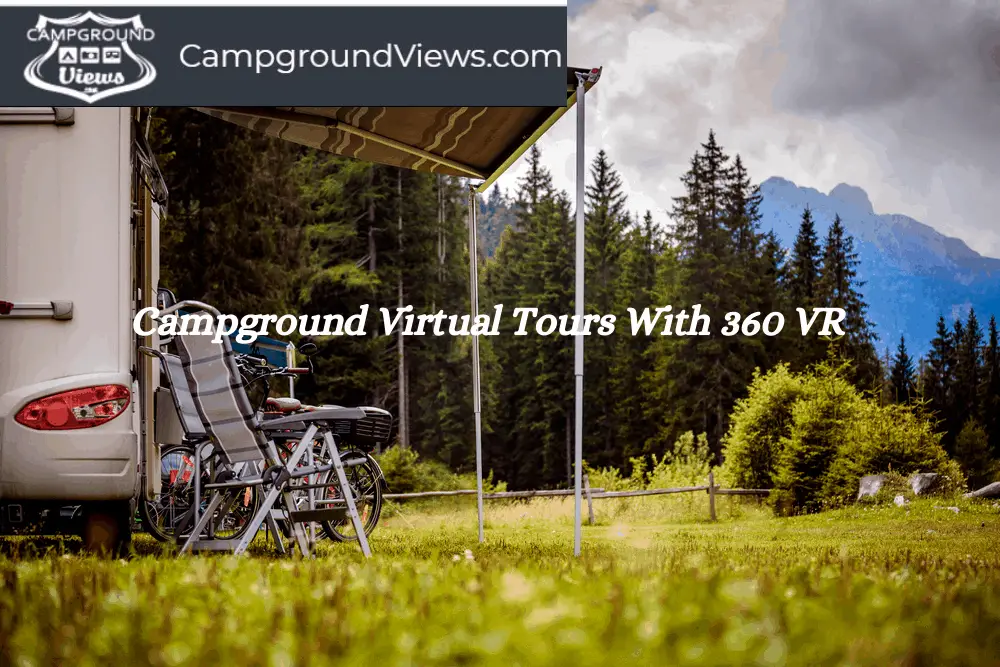 BREAKING: This Revolutionary VR Technology Might Be What Campers Didn't Even Realize They Needed So Badly (An Interview)
Hey camper!
Let's agree on one thing, shall we?
Camping is easy and fun.
Oh, yes. I see you nodding.
Napping in your tent or good old RV and lazily swinging in your hammock is all it takes to experience that unparalleled feeling of joy and freedom that only Mother Nature can give us.
Now let's agree on another thing.
Often, finding the right campsite is a real hassle. It involves a lot of pressure and uncertainty.
Sure, you can quickly pick up one based on internet research. The almighty Google knows everything, right? Well, not everything.
For example:
How do you pick up the site with the best view?
How do you make sure you'll really fit in there with all your equipment?
How can you see how close your neighbors ACTUALLY will be?
How do you find the perfect group camping set up?
How do you see ALL the roads, the sites, and the views in INSANE detail?
Yes, browsing the websites of the different campgrounds and looking at their photos is OK. But still, you have to dig, you have to search, and it all involves a lot of guessing.
Well, guess what?
The guys from the popular camp ground directory CampgroundViews.com have come up with a groundbreaking idea.
Introducing Campground Virtual Video Tours with 360 VR and AR.
What the heck is that?
The team at CampgroundViews.com went nuts and traveled a ridiculous number of miles with a VR camera to film 400 campgrounds in the most popular places in 7 states across the USA.
The result?
Imagine that you are able to virtually tour different campsites in a given campground before picking up the one that suits you best!
Think of it as Google Street View.
But on steroids.
No need to click the little arrows to move around. You just press "play" and tour the entire park. Get your pop-corn, sit back and relax.
You can drive through any campground and enjoy 360 views. Imagine all the details you can see. All the campsites. All the roads. The alleys. Even the squirrels on the trees.
The best part?
Thanks to the integration with Recration.gov, you'll be able to see the availability of any given campsite and book it right away if you decide to.
We at Gear Up Hiking are always ready to spread the word about any invention (no matter big or small) that will make the life of us hikers and campers much easier.
We believe that Camp Ground 360 Virtual Tours has the potential to remove many existing limitations when it comes to finding the right campsite for you. Thus, making your precious outdoor experience more fun and less stressing.
That's why I played the role of a journalist. I was thrilled to interview Mark Koep who's the founder and CEO of CampgroundViews.com
In the interview that I publish below, you will learn everything you need to know about Camp Ground Virtual Tours 360 and how it will benefit your camping life.
Here it is.
Q: Please tell us a bit about yourself, your team, and how did you come up with the idea of CampGround Views Virtual Tours?
A: My name is Mark Koep and for the last 12 years my family and I have lived as RV Virtual Entrepreneurs.
We travel the country in a RV living and experiencing all the great places while operating businesses virtually.
CampgroundViews.com was a result of these travels as we experienced first-hand the pain and struggle faced by millions who are simply trying to find the best campsite for themselves.
The concept behind CampgroundViews.com is to allow campers to "see where they are going" by focusing on image-based content, video and photos.
About 3 years ago, we started producing 360 video tours of campgrounds. Campers loved the 360 experience but were requesting a better experience and more information.
The virtual tours were born out of this feedback and we are now bringing them into the market.
We have put together a superstar team to implement this solution with a tech lead, business development lead, and operations.
Our team has bootstrapped everything to this point, and it is now time for us to get some backing for the camping public. Do they want to have this tool available to them… or not?
Q: I know you've been a full time RV-er for twelve years. Man, that's a lot, and it sounds like big fun. How did you decide to replace firm ground with four wheels?
A: Life is too short, too unpredictable, and too precious to not live to its fullest. Back in 2008 my, then newlywed, wife and I had a deep conversation about how we viewed our young life together.
We wanted to experience this country, adventure and be close to nature. We are both highly educated and, at the time, had no chains tying us down. 
I was running my own internet marketing business and was already working virtually from a home office. We figured "what is the worst that happens? We go broke and have to get jobs?". From there we spent a year planning and preparing, purchased a fifth wheel trailer and pickup truck, and hit the road.
The key thing to recognize is that there is no American Dream. Instead, life is about Your Dream and living it to the fullest.
We now have two children and have been around the lower 48 states twice. We are intimately connected to nearly every place within this country, the people, the culture and the outdoors.
The ironic thing is that we now think it is a little strange to live in one house in one place for too long.
Q: Now, please explain the whole concept behind the technology that runs CampGround Virtual Tours, how does it work and how would it benefit campers across America?
A: Think of it as Google Street View grabbing a video camera and going camping with TripAdvisor.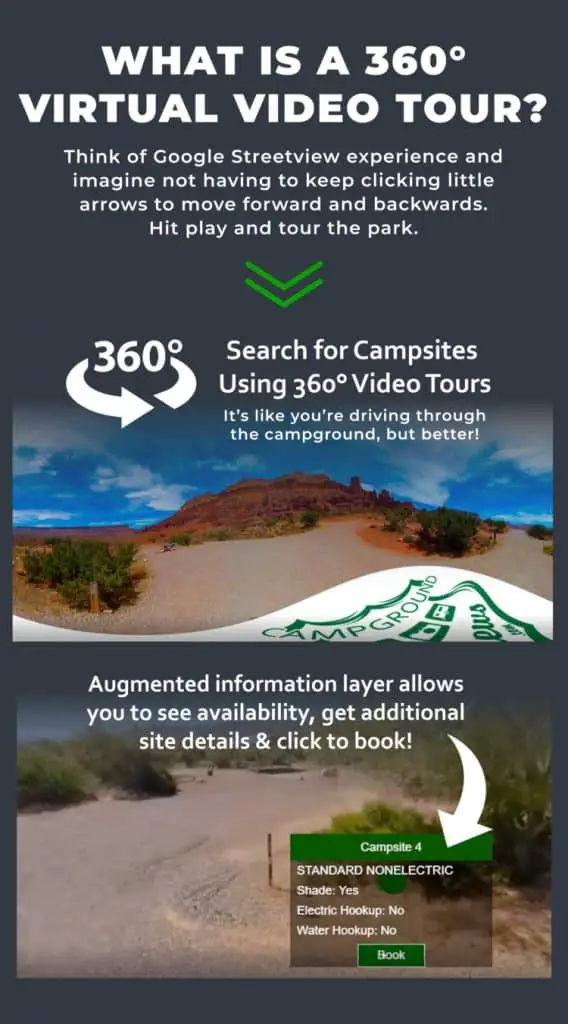 You are able to travel down the campground roads, "grab" the screen and look around, see what sites are available during your stay, click on the site to get more information, and finally click to book that site.
Anyone who has ever camped in a tent or RV knows that no two campers are the same. Everyone has different equipment, group sizes, and needs for a site.
The existing tools do not fully address this variability and as a result campers end up picking the non-ideal sites or campgrounds because of a lack of nuances and information.
Allowing campers to virtually tour, see and book their exact campsite addresses this core need and solves the biggest problem in camping. We believe that by providing more information and a wider choice set to campers, we can actually make the world a better place.
People need to escape, COVID proved this. The outdoors and nature is the best escape available. If we can make it easier and more accessible to escape, then we are doing our little part to help.
Q: How many campsites are available so far?
A: We just launched a crowdfunding campaign on Indiegogo to fund the final launch of this technology (it takes some serious capital to do something like this) yet we did the heavy lifting in advance.
We have captured 360 video of 400 Recreation.gov campgrounds covering nearly all reservable campsites under their system in the states of AZ, UT, CO, WY, MT, ID, and NV.
These states generate nearly 20% of all bookings under the Recreation.gov platform and allows us to make a massive positive impact very rapidly.
Upon the successful completion of the crowdfunding campaign we will have these experiences available for campers during the summer of 2021.
At the same time, CampgroundViews.com is a working and useful website already.
We have information, photos and video covering nearly 16,000 campgrounds across the US and have already been utilized by 5M campers over the years.
Q: Which states are available in CampGround Virtual Tours? Any plans to expand this in other countries around the world?
A: We built the campground virtual tours to be platform agnostic. This allows the technology to quickly and easily be used with any underlying reservation engine. To that end, our technology can be used in any geographic area and potentially in other industries.
Q: Ok, say we found our fantastic little campsite. How easy exactly would it be to book a camping spot?
A: Great question! The campground virtual tours sit on top of the underlying reservation system.
In our first iteration we are using the Recreation.gov platform. Recreation.gov handles reservations for the US Federal Government owned properties. 
When you click "Book Now" within the virtual tour, you will be immediately taken to the booking page for that site at Recreation.gov. You would be prompted to create an account or login followed by the ability to check out and book the site.
By integrating in this manner, we are providing the camper with value while not undermining the existing booking experience, consumer data protections, and post booking experience of the underlying reservation system.
Q: How current the information about a campsite would be when seeing it with CampGround Virtual Tours? In other words, how will you ensure the availability of any campsite?
A: Our system is dynamically pulling the data from the reservation engine.
When the camper enters the virtual tour, the site availability and site information will be accurate as of that moment. This real-time data pull is important, as so many people are now seeking camping as an escape.
A secondary benefit of the campground virtual tours is that campers will be able to easily see campgrounds they never would have considered. And by campers, I mean tent campers too.
Every season there are multiple reports of full campgrounds in the popular places. What is not communicated is that in the Recreation.gov system the average occupancy across the system is about 40%.
With this tool campers will be able to more confidently book a campsite in a campground they would have never been able to research before.
Q: What was the biggest struggle you and your team faced while working on CampGround Views Virtual Tours?
A: COVID. We were well on our way to bringing this solution to market last year when the COVID pandemic hit.
We had to hunker down, get lean and get creative to make it through that time. At the same time COVID did create massive awareness of camping and the outdoors as an escape and vacation option bringing millions of new campers to the outdoors.
As with everything in life, there is a yin to the yang of a situation.
Q: How long did it take to capture all the camp spots? What technology did you use?
A: We captured the 400 locations during the 2020 camping season. To say it was challenging is an understatement.
In addition to COVID shutdowns, our teams were literally dodging forest fires in their travels! We have developed a proprietary system of capturing the footage using both consumer grade and professional grade camera equipment.
Upon the successful completion of the crowdfunding campaign, we plan to capture all of the remaining Recreation.gov campgrounds during the 2021 camping season.
Q: When do you expect the service to launch?
A: After 2020 I am cautious about predicting anything beyond the next 24 hours, and good luck there too! If all goes according to plan, the campground virtual tours will be ready by the summer of 2021… so a couple of months from now!
Q: Now, the million-dollar question: how much we campers have to pay to take advantage of CampGround Virtual Tours?
A: The good thing is that it is not a million dollar question. There are two ways to get access. . 
First, our early supporters can get significantly discounted access by supporting the Crowdfunding campaign. After that, access will be available for a nominal fee with options for a week, a month, annual, or lifetime access. Lastly, we are in talks with a few large outdoor product suppliers to sponsor the experience and make it free for campers to use
Your readers can help the later, along by messaging their favorite product supplier and suggesting they sponsor this.
Q: How anyone interested in making CampGround Virtual Tours happen could support you?
A: First, go to Indiegogo and support the campaign. 
Second, go to CampgroundViews.com and register for the campaign.
Third, spread the word. Tell others about this. Shout it from rooftops.
Q: In conclusion, please share with us what's your favorite campsite in the whole world?
A: Haha… this is the most difficult question to answer! My best campsite is not going to be your best campsite, and it may not be mine either in the future.
Instead, I feel the best campsite is the one you are at while spending time with your family or friends, taking in a majestic view, reconnecting with nature or simply "being" for a moment.
Camping is the last best way to connect with ourselves, our family, our friends and nature. It is our goal to help you find the best campsite for you to go do the above.
All that being said, Fruita Campground in Capitol Reef National Park is pretty awesome.
---
I hope you liked the interview. I also hope you like the idea of Camp Ground Virtual Tours 360. If so, go back up those guys and let's make the idea a reality.
Don't forget to share this post so more people learn about it.
Founder of this website, Asen is a passionate hiker and writer who is also a gear nerd. He's been featured on many established hiking websites where he gives hiking advice & tips. When he is not trekking with his family or friends, he is writing articles and product reviews. Asen spends most of his time in Bulgaria but he constantly travels the world in seek of more unforgettable experiences. Read more about Asen here.