20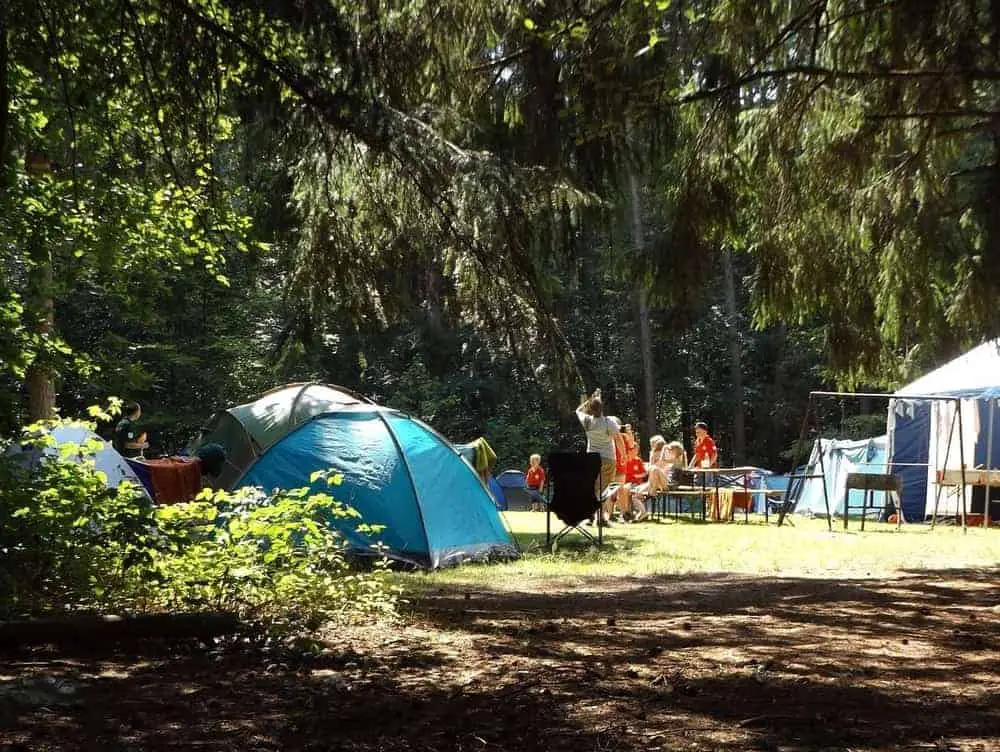 5 Tips On How To Save Space When Packing For Camping
We all know how fun camping can be. But in order for it to be epic and memorable, you will need to bring a lot of stuff with you. A lot of stuff means a lot of mess, both during camping and after that.
Once you start packing for camping, you will soon realize that both your car and trailer are overcrowded by stuff and it is almost impossible to get in. Yes, this happens to everybody, both first-timers, and more experienced campers.
But do not worry!
There is a solution for not overcrowding your camping storage! So, if you are interested, keep on reading to find out how to save space when packing for camping.
#1 Pack Clothes Military-Style
When going camping, you will need to pack a lot of clothes, believe it or not. This could be your number one item on your camping checklist. 
You will need something for the day, as it is probably hot, and you will need to get something for the nights, as it tends to get a lot colder.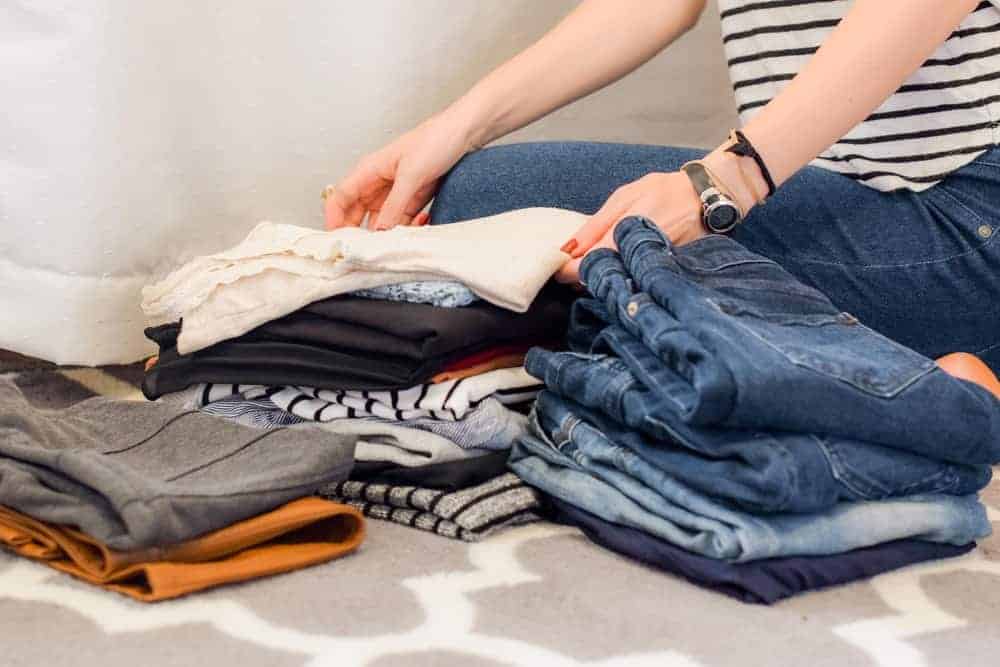 Moreover, you will need to bring a couple of shoes and everything extra in case you get wet or your clothes get damaged outside. Basically, even if you are going just for the weekend, you will need to pack for two or three weekends.
And these clothing items can take up a lot of your space. So, the easiest way to pack your belongings both safely and strategically that is also saving some storage space is to use the military-style of folding.
It is very easy - first, fold the items in half, and then roll them really tight. Just make sure you buy a good hiking backpack for storing all your clothes and other camping and hiking gear.
See the video below that shows how to pack your clothes in an easy and efficient way.
Before packing your clothes for camping, do some research to see what you really need. A sleeping bag?
You'll be surprised that often you don't even need one. 
#2 Use Collapsible Items
The things that take up the most space, both in the car and in the tent, are those bulky items like tables, chairs, dishes, etc. But those items are simply something we cannot do without. Every camper needs them.
So what you can do to save space when packing for camping is to replace your regular camping gear with a foldable and collapsible one. You could also think about what to use as a camping pillow. 
You can save some space by using foldable clothes, for example or stuffed sleeping bag sack.
 Here are a few ideas on what camping and backpack supplies you should have:
You can buy all the items mentioned above, either online or in specialized camping stores. Make sure to pack them properly and possibly wrap them in plastic foil.
If you're camping in winter, make sure your snow shovel is foldable too. We have compiled a list of the best ones here.
#3 Use Folding Tables And Chairs
Another great thing that can save you a lot of space during camping is using tables and chairs that can be easily folded.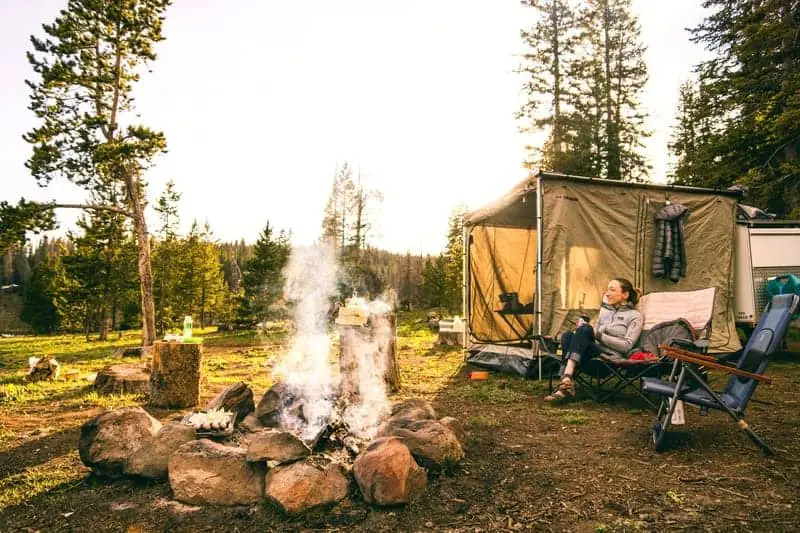 So, the next time you start thinking about whether to bring your bulky table set or to rather sit on the ground, consider investing in foldable tables and chairs.
They come in all shapes and sizes. Besides, when they are folded, they do not take up a lot of space and they are very lightweight.
Depending on the number of people you usually take on your camping trip, buy a set with the same number of chairs.
You can buy these foldable tables and chairs pretty much anywhere, and they are fairly cheap.
Foldable tables and chairs not only save you a lot of space, but they are also great for getting the family around the table for dinner.
#4 Choose Your Tent Wisely
When it comes to camping, the most important thing is probably the tent. That's why before you go on your camping trip with all your friends or family members, think about whether all of you can fit inside one tent.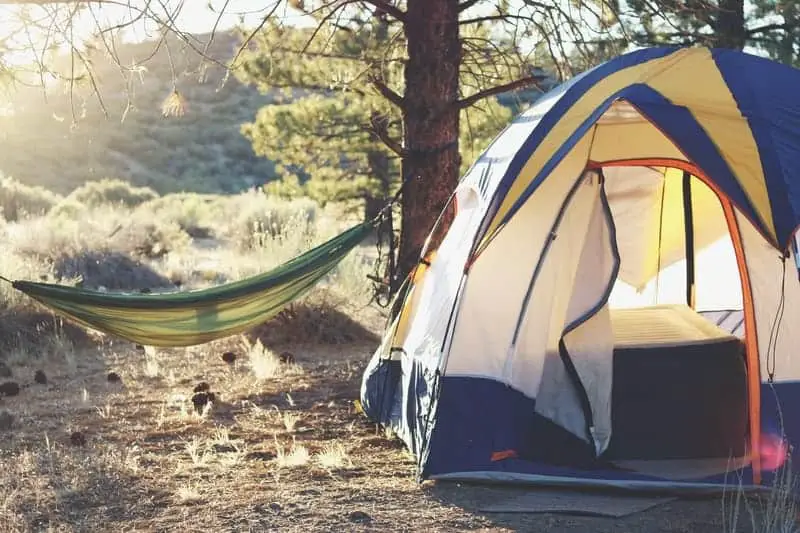 Even if you have a tent for four people, and there are four of you, you will still need extra space for placing your stuff there. It is always a good idea to invest in a bigger tent if you plan on sharing it with others.
Your stuff must be placed inside. That is the best way to have a pleasant camping experience.
And as a bonus tip, instead of sleeping only on your mattress or sleeping bag, consider sleeping on a stretcher.
Stretchers are great for two reasons - you will not be sleeping on the ground, and you can use the extra space under it for storage.
Do not hesitate to invest in a more expensive tent. Furthermore, it's a good option to have a water-repellent tent. 
In addition, acquire some skills on how to fight bugs and prevent them from entering your sleeping space. It's a valuable skill to have when tent camping.
Last but not least, you might consider putting your tent in a compression sack to save more space.
#5 Map Out Your Cooler
Many campers say that placing items inside your cooler is like playing the game of Tetris. The coolers we take on our camping trips are rather small and only the chosen items can be placed inside.
So think wisely and make a plan. If you are creative enough, you can put a lot of things inside one small cooler. It is also a good idea to buy some small plastic containers for keeping your food inside, as they are great for folding and organizing everything.
Conclusion
Remember, there's always enough room for space even when you think otherwise. The secret is to know how to create one. Using the above-mentioned tips will certainly help you along the way.
Happy camping!
Founder of this website, Asen is a passionate hiker and writer who is also a gear nerd. He's been featured on many established hiking websites where he gives hiking advice & tips. When he is not trekking with his family or friends, he is writing articles and product reviews. Asen spends most of his time in Bulgaria but he constantly travels the world in seek of more unforgettable experiences. Read more about Asen here.