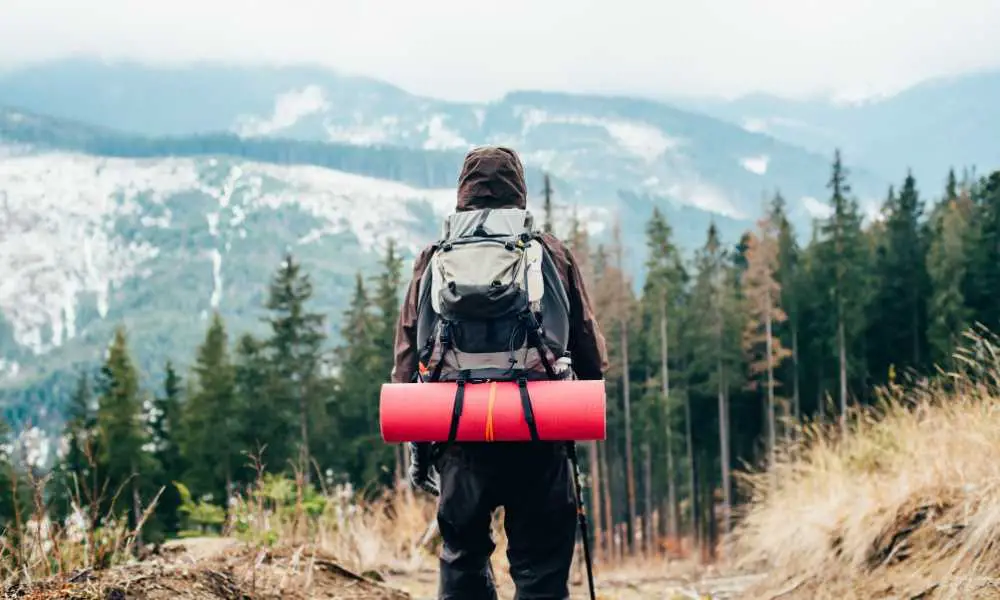 Teton Sports Scout 3400 Backpack Review 2021 [MUST-READ]
Are you on a budget and looking for a reliable rucksack that can be your best friend out in nature? If you are, then you will find the following Teton Sports Scout 3400 Backpack review very interesting. Why? Please continue reading.
"Teton Sports" is a solid brand, famous with its highly positive customer experience and this 55L hiking backpack is a perfect example of a great quality/price ratio.
Packed with plenty of features, robust, and designed to perform in all seasons, it is an excellent choice for multi-day hikes. Moreover, the Scout 3400 is also suitable for camping and travelling. You can easily carry it on a plane as it meets the size standards for airport carry-on.
What I really like about this pack is its comfort and versatility. Few are the backpacks priced so low that offer such customizability and the possibility to attach other gear to it.
Are you already wondering if this is the right equipment for you? Let's see by examining it in more detail.
Teton Sports Scout 3400 Backpack Review
"Teton Sports" are passionate about bringing the best possible customer experience and this is visible not only from the quality of their products but also from the high ratings they receive. I own some stuff from their gear including a backpack and a sleeping bag and I am very satisfied.
Who Is This Product For?
The internal frame Scout 3400 is the perfect solution for those on a tight budget who still need a large enough and sturdy backpack.
Do you often find yourself struggling to stuff everything in a pack? I know what it is like too. It can be frustrating especially when you are in a hurry. With its volume of 55 L this rucksack will allow you to fit everything you need for a light backpacking trip.
It's the right choice for 1-3 day mountaineering as well as for those who need to travel. You need to carry it on a plane? No problem, the size will fit. The easy adjustability of the backpack makes it suitable for all ages too. Even though the pack is designed for overnight outdoor trips, it's good for day hikes too.
What's Included?
The cool thing is that the backpack comes with an integrated water-resistant rainfly. Never let the rain surprise you when you are out in nature! The bright-yellow rain cover will make sure your gear is dry and safe.
Now, let's head to the most important section and check out what this backpack has to offer.
Overview of Features
As outlined above, what impresses me about the Teton Sports Scout 3400 is its versatility. When I go hiking, I usually spend at least 2 days out in the wilderness.
Often, I need to take many items such as a sleeping bag, solid tent, clothes, camping stove, and a mat. Well, the ease of use of this backpack and its features make that not only possible but easy. You'd definitely want to have something reliable on your back when you spend several nights outside.
Size
When filled the backpack is 30" x 17" x 12" or if you like centimeters 76.2 x 43 x 30.5. If you ask me, this is a perfect size for short overnight packing trips. It's not so big, and it's not small. If you go on a longer trip, like 1 week and more, you'll need something bigger though.
Weight And Durability
When it's empty, the backpack weighs 4.5 lbs or 2.04 kg. If I have to be honest that's a bit heavy. There are certainly lighter backpacks with the same capacity of 55L but the price is relatively bigger. Besides, the size and the robust material justify its weight and makes it stable.
The shell of the Scout 3400 is made of 600D Diamond Ripstop and 600D Oxford Canvas. Don't worry that was Chinese to me too. In Layman's language, this an extremely durable and solid polyester. It has excellent elastic, waterproof, and breathable properties.
This would allow you to stop worrying about quickly wearing out your backpack or hurting its surface when putting it on the ground.
Comfort And Ease Of Use
This is my favorite part and something I avoid overlooking when choosing a backpack. The last thing you want out in nature is not feeling comfortable with your pack on your back. This makes all the difference, and it has a direct impact on your stamina. Here are some of the cool features of the Scout 3400:
Compartments And Storage

Here come all the bells and whistles. Teton Sports Scout 3400 is ideal for strategic packing. The many compartments, straps, and pockets are there and smartly designed to carry your clothes and gear. Let's take a look at them:
How To Use This Backpack
This is a 55L pack and it's bigger than a standard size pack. Make sure you pack it the right way for maximum comfort. Use all the pockets, compartments, and compression straps to balance the load of all your gear and food.
Pro tip – put your big items in some of the external storage spaces. If you have a tent, put it in the side or front straps. Place your mat in the lower gear loops.
Alternatives
The good news is that you always have a choice. It just depends on your needs and budget. If you have many things to pack and need a bigger rucksack, then be sure to check out the Mardingtop 60 L Internal Frame backpack.
It's a great performer, and the price is reasonable. Another great option in terms of capacity and flexibility is the Kelty Coyote 80 internal frame backpack. It's intended for extended trips and it is super sturdy.
In case you need something smaller and lighter, then read our review of the Sumtree 35L daypack. It's very popular among many hikers because of its durability and comfort. Plus, the price will blow you away. When it comes to standard-sized packs, one of my personal favorites is the Neekfox 35L. It's very compact and lightweight. At the same time, it offers plenty of features too and it's inexpensive.
Before I end this section, I'd also advise you to read about Gregory Stout 65. It's proven to perform really well.

Conclusion
Teton Sports Scout 55 L is suitable for those who aim for a solid pack that is both budget-friendly and have all the bells and whistles needed for an overnight mountain trip. The pack stands out with its integrated foldable rainfly, plenty of compartments, and large sleeping back storage space.
It's not a surprise that Scout 3400 is a bestseller with a mind-blowing amount of positive customer reviews. It also has a lifetime guarantee.
Consider all this when making your decision. There you have it. I hope you liked our review. Happy hiking!