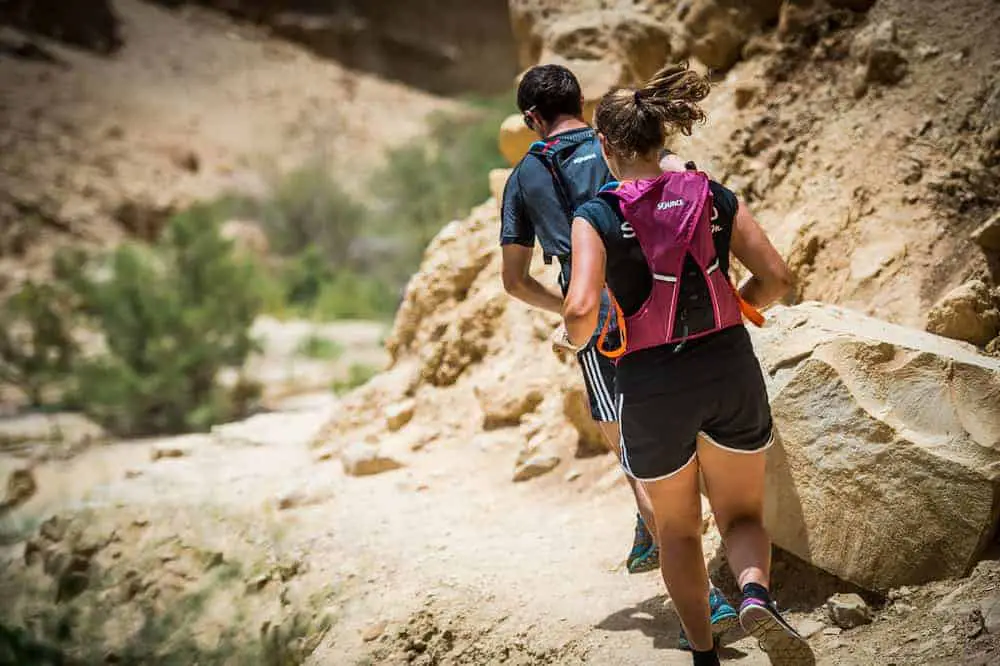 Teton Sports Oasis 1100 Review – High Value For Low Price
Teton Sports Oasis 1100: QUICK OVERVIEW
Review of: Teton Sports Oasis 18L Backpack
Are you interested in a budget-friendly, yet high-performing hydration backpack?
If you already feel curious, the answer is yes.
In the rest of this Teton Sports Oasis 1100 review we will explore in-depth all the features, benefits, pros, and cons of a pack that many hikers love (including me).
With its 18 L, the backpack is deceptively capacious but also durable. It includes some features that usually only the more expensive models have. For instance, the sewn-in rain fly stored in a Velcro pocket will protect your belongings on a rainy day.
The super comfortable thick padding is not only on the back panel but on the chest and shoulder straps as well. That will allow you to carry the pack effortlessly longer than you might expect. I really like that.
No need to mention the 2L hydration bladder, which is leakproof and carefully stowed in a large pocket with a Velcro strap for stability.
Easily adjustable to fit almost any frame, Teton Sports Oasis is absolutely a backpack to consider if you are on a budget but you don't want to make a compromise with the quality.
This article contains affiliate links. As an Amazon Associate I earn from qualifying purchases. That means if you click on a link and make a purchase I'll earn a small commission. This is at no extra cost for you. If that's the case, thanks a million!
Teton Sports Oasis 1100 Review
Being one of the best hiking backpack brands of 2019, Teton Sports are known for producing exquisite and priceworthy backpacks.
The Oasis 1100 is a great alternative to some more expensive hydration packs such as those manufactured by Camelbak or Osprey, for example. Often you get almost the same quality at a much affordable price. And this is something that we all love.
What attracted me to the Oasis was that the pack received huge amount of positive reviews. Another good thing is it comes with a limited lifetime warranty and the customer service of Teton Sports is outstanding. I hope you'll never have to use it but it's cool to know that you have a genuine support that is always ready to help.
Who Is This Backpack For?
Compact and lightweight, Oasis 18 L is suitable for all kinds of day adventures. The capacity and the features are convenient for:
Some folks even use the pack for everyday use but I prefer having a dedicated daypack for that. I find it more appropriate to have a separate rucksack for different purposes. One of the reasons is to minimize the risk of easily wearing out my backpacks.
Not every pack would fit both men and women. Check out Kelty Eagle 7850, for instance, and tell me if you think it would be suitable for ladies. No way. Being huge and bulky, it's too physically demanding.
That's not the case with Oasis 1100. Because of its size and weight, as well as the fact that the pack is highly adjustable, it will fit the frame of every woman or man.
Okay guys, let's see how you can enjoy the features.
Features Overview
Teton Sports designed the Oasis 1100 with enough features so you can feel comfortable, hydrated, and worry-free while enjoying the outdoors wearing your daypack. The quality of the water bladder is not as high, though and that's my main qualm. I'll mention that in a minute.
Other than that, you have a choice when it comes to the color. You can have the Oasis 18 L in bright green, orange, olive green, black, and bright blue. I always prefer the stylish black. But hey, let's jump to the pack's dimensions.
Size
Oasis 1100 is 18.5" x 10" x 7" or 47 x 25.5 x 17.8 cm. Totally normal dimensions for an 18 L daypack. Probably here I need to mention once again that the hydration capacity is 2 L or 70 ounces. If you remove the bladder, you can increase the space in the backpack. You can even store a laptop in its place.
The size of the pack will allow you to take anything you need for a day outing – enough supply of clothes, socks, sandwiches, water, a towel, etc. You can use the bungee cords to put flip-flops or a swimming suit.
Let's see more about the fabrics.
Weight And Materials
You'd expect that a daypack of this size would be lightweight and that's the case here. The weight of Oasis 18 L is only 2 lbs. or 0.9 kg when it's not filled. When you fully load the pack, it can carry up to 10 – 12 lbs of gear.
The backpack is quite durable for its price. The shell is made of 210D weatherproof honeycomb ripstop polyester and 600D PU (polyurethane). The rugged material is slightly water-resistant and abrasion proof. Overall, Oasis 1100 would survive for a long time in normal adventure conditions.
So far, so good! Let's move on.
Comfort And Usability
I'll start by the most important feature – the hydration bladder. While Oasis 1100 is a great backpack, its hydration capabilities are far from perfect. That's mainly because of the quality of the bladder. Don't get me wrong – it works fine. It's just that it could have been better.
What I and other users noticed is that the mouthpiece has a strong rubbery taste that doesn't go away even after a long time. Another thing that's a bit annoying is the fact that it's difficult to pull water from the kink-free sip tube. In other words, the water flow doesn't go smoothly and often you need to press or twist the hose to allow enough water to reach your mouth.
The bladder has its pros too. I like the fact that the opening is large enough (2 inches / 5 cm.) and you can easily put ice blocks through it to cool the water. Another good thing worth mentioning is the hex-welded system on the bottom of the bladder that is leakproof. It doesn't leak even after years of use so two thumbs up for that.
Apart from the hydration bladder, here are some other important features and its benefits:
That pretty much sums it up. Let's see how the pack performs in terms of storage.
Storage And Compartments

Oasis 1100 has a decent amount of storage spaces for its capacity of 18 L. Using them wisely will allow you to store everything you might need for a day hike. Don't expect too much though.
The only thing I don't like is that the rain fly is stowed in a Velcro pocket. The pocket is too easy to open up so it would be risky to put anything else inside if you decided not to carry the rain cover.
There are four areas from where you can access your gear. Here are the details:
For a daypack of this capacity, the storage space is pretty good.
How To Use This Backpack?
The most important thing you need to know relates to the hydration bladder. There are some rules you need to follow to assure safer and longer usage.
For instance, avoid at any cost filling the bladder with anything else but water. Alcohol or milk would stimulate the growth of bacteria so no matter how much you love hiking with beer, bring it separately.
To increase the life of the bladder, don't expose it to extreme temperatures – max is 120 Fahrenheit / 49 Celsius. Furthermore, try not to leave it exposed to UV light for a long time and clean it meticulously after each use.
Pro tip: to get rid of the bad rubbery / plastic smell of the bite valve and the bladder in general, rinse it with lemon juice, soap, and water. This helps.
Don't hesitate to remove the bladder and the rain cover to free up more space if you need it.
Alternatives
It's always better to see the whole picture when you make a choice and buy your next hydration backpack. At least, that helps me a lot to decide. For your convenience, here are four excellent packs of pretty much the same price range that are similar to Teton Sports Oasis 1100.
They are all high-rated and with impeccable hydration system. You might want to check them out.
Without wanting to broaden your choice too much, I'd advise you to check out Gonex 35 L or Zomake 20 L if you prefer using normal packs and not hydration ones. These both present great features that allow you to carry water in bottles. Plus, the space is bigger.
FAQ
Is the water bladder BPA-free?
Can I remove the bladder or change it?
Can I use a bigger bladder?
Does this pack have an internal frame?
What is the expandable size of the waist strap?
Can I carry a laptop in the backpack?
Final Verdict

Not without some flaws, Teton Sports Oasis 1100 is a great backpack with an unbeatable price for its quality. You will feel well hydrated and super comfortable on the trail. That's why the pack completely serves its purpose.
Founder of this website, Asen is a passionate hiker and writer who is also a gear nerd. He's been featured on many established hiking websites where he gives hiking advice & tips. When he is not trekking with his family or friends, he is writing articles and product reviews. Asen spends most of his time in Bulgaria but he constantly travels the world in seek of more unforgettable experiences. Read more about Asen here.