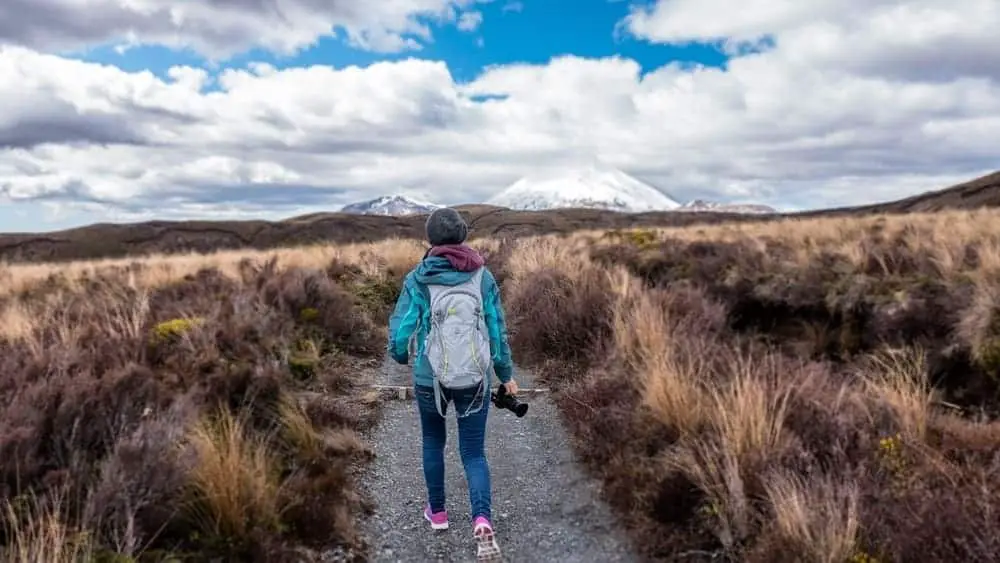 Gonex 35L Backpack Review – Attractive And Priceworthy
Gonex 35L Backpack: QUICK OVERVIEW
Review of: Gonex Updated 35L Backpack
Smile widely and relax.
You are about to read arguably the most detailed Gonex 35L backpack review on the planet.
The first thing that captures the eye when you hold the updated Gonex model is the beautiful design. It might be irrelevant for a lot of folks but I've to admit the pack certainly got a sexy look.
This is a decent daypack suitable for trekking, hiking, and travelling. It will also hold your items for everyday use because it is lightweight and with a good amount of pockets including a laptop sleeve for the tech geeks.
With the Gonex, you will enjoy a weatherproof backpacking thanks to the water resistant fabrics along with the presence of a cool rain cover, neatly stowed in a bottom pocket.
Wearing the Gonex is easy and comfortable. It has an amazing Motion Flex System that allows you to tailor the pack so it follows the curve of your back for a better fit and load distribution.
As usual, this is just a teaser. So let's dig into the details.
The sweetest thing?
The Gonex 35 L costs only a bunch of dollars!
This article contains affiliate links. As an Amazon Associate I earn from qualifying purchases. That means if you click on a link and make a purchase I'll earn a small commission. This is at no extra cost for you. If that's the case, thanks a million!
Gonex 35L Backpack Review
Gonex is a young Chinese company founded in 2015 that is gaining traction and popularity. Their quickly expanding portfolio consists of budget-friendly outdoor gear that includes series of hiking backpacks.
The multi-purpose 35 L model we are about to see has gone through some remodeling, which, in my opinion enhanced the pack. The company added a removable internal frame that provides extra stability to the rucksack. Before, it was only a foldable water resistant backpack.
Another great addition are the mesh cords on the front that allow you to store wet clothes or a jacket, for example.
Who Is This Backpack For?
With its capacity, size, features, and weight, Gonex 35 L is a versatile pack.
You can use it as a hiking daypack that will hold your items for an overnight trip too. It's not heavy, and it's comfortable enough to allow you walking effortlessly on technical trails. You can easily put carabiners as well and attach external gear such as a sleeping bag, protective boots or winter backpacking shovel.
Spacious and at the same time compact, Gonex will serve you well when you travel no matter the transport. There's a space for your camera, map, clothes, and electronic devices.
Sure enough, a backpack that is not big and heavy should be appropriate for everyday use. Gonex 35 will fit your needs no matter if you bring it at school, at work or while you walk in the park.
Moreover, the backpack would easily fit men and women.
I am sure you'd like to know what the features are so let's move on.
Overview of Features
It's rare for me to purchase a backpack without checking out its features first. In fact, I've never done it. Probably you haven't either. Getting familiar with every characteristic of a given pack is usually one of the most important factors when you decide if it is for you or not.
Let's start with the size.
Size
The rucksack's dimensions are 21" x 12.6" x 9.4" or 53 x 32 x 24 cm. As you already know, the volume is 35 L or 2136 cubic inches. For your ease, here's a useful guide on how to measure hiking backpack dimensions.
If you organize the space strategically, you can pack a lot of things – food, books, sweater, socks, shirts, laptop, earphones, usb cable, etc.
Weight And Materials

First, let's see about the weight. Gonex 35 weighs 2.3 lbs or 1.07 kg. Nothing special here. For its size, the weight is great and you can easily wear the pack without worrying that it's heavy. In addition, if you remove the aluminum frame, the backpack will become lighter. Keep in mind, though that it's a bit difficult to put it back, especially if you are not used to it.
As for the fabrics, again, things are pretty standard. Gonex used a combination of water resistant nylon and polyester for the backpack. Even though the material looks and feels thin, it's rather sturdy and durable. Still, you'd want to be careful with your pack.
Also, don't entirely rely on the fact that the Gonex 35 L is water resistant. Water still could soak through after some time, especially if you cross rivers or walk in heavy rain. Check the following article if you need a waterproof hiking backpack.
Now let's move on to something very important.
Comfort And Usability
I'll start by expressing my disappointment from the fact that the updated Gonex backpack is not hydration-ready. The previous 35 L model had a sleeve for a water bladder and a hole for a hose. But I guess this is a trade-off.
With that in mind, this backpack has some truly outstanding features that make it super comfortable. Here's what I mean exactly:
Compartments & Storage
The good news is that the 35 liters are well-organized into useful compartments where you can store various stuff. You have three big compartments from where you can access your essentials.
The main zippered pocket contains two big internal pockets. Let's start by the coolest storage space:
In brief, Gonex 35 L offers a decent amount of pockets and compartments. There are pouches for everything you might need to enjoy a 2-3-day trip. You have internal and external pockets that are zippered or meshed, including a well-sized bungee on the front.
How To Use This Backpack?
Gonex 35 L is a daypack so using it is easy as pie. There is nothing to mention here. Just be careful if you need to remove the aluminum internal frame because you might tear the rucksack. Also, putting it back is a challenge so I advise you to practice this a bit, because it may take you precious time when you don't have such.
Whenever you don't need the rain fly, leave it at home and use the bottom pocket for storing something else that would be of a better use for you – a towel, a foldable jacket, or a thermal blanket, for example.
Another important thing is to adjust the belts and straps so they tighten up the pack close to your back. Finally yet importantly, don't forget to tweak the frame on the back to follow the shape of your spine. In that way, the backpack will embrace your body and you'll feel more comfortable for a longer time.
Alternatives
It's always good to know your alternative choices. Here I'll briefly mention some other backpacks in the same price range.
For example, you might want to check the previous variation of the Gonex 35 L model. It has the same volume. I'll quickly go through the main differences. First, the price is even lower. Second, it is hydration compatible, having an internal sleeve for a bladder.
However, the material is of lower quality as compared to the updated Gonex model – it's just thinner and easier to tear. Another thing I don't personally like is the fact that it doesn't have an internal frame. Yes, this makes the pack foldable and lighter, but at the same time it is not stable.
Another option worth exploring is the 30 L Gonex backpack. The lower price here results in less volume and fewer features. There is no internal frame and no hydration compatibility. This model also doesn't have hip belt pockets. It has the comfortable 3D suspension system, though, which is quite good.
A great alternative of the same volume is Sumtree 35 L as well. Make sure to check it out.
If you want to spend more money for extra quality, then consider High Sierra Swerve. This is a pack from a well-established brand. It has some really amazing features to offer, and it's extremely spacious for its 36.5 L.
FAQ

Can I use the Gonex as a carry-on? 
What is the size of the laptop I'll be able to fit in the pack?
Can I use a hydration bladder with this pack if I have one?
How much load can the Gonex carry?
Can I attach external gear?
Final Verdict
Gonex 35 L is not a fancy backpack. It is a basic, practical, and budget-friendly backpack suitable for day hikes or city commuting. What I love about the pack is the amazingly comfortable Motion Flex System that supports your back when you carry heavy loads. The updated model is also surprisingly durable and spacious with good possibilities for strategic packing.
The laptop compartment and the accessory pocket are also a big advantage.
Don't let the low price fool you. It's not a trade-off for the quality. It is often the case, I admit. But I've found myself purchasing daypacks twice the price of the Gonex that were of a lesser quality. Lots of people are thrilled with this pack and chances are you will be too.
Thank you for reading my review and see you around! Read more about me here
Founder of this website, Asen is a passionate hiker and writer who is also a gear nerd. He's been featured on many established hiking websites where he gives hiking advice & tips. When he is not trekking with his family or friends, he is writing articles and product reviews. Asen spends most of his time in Bulgaria but he constantly travels the world in seek of more unforgettable experiences. Read more about Asen here.