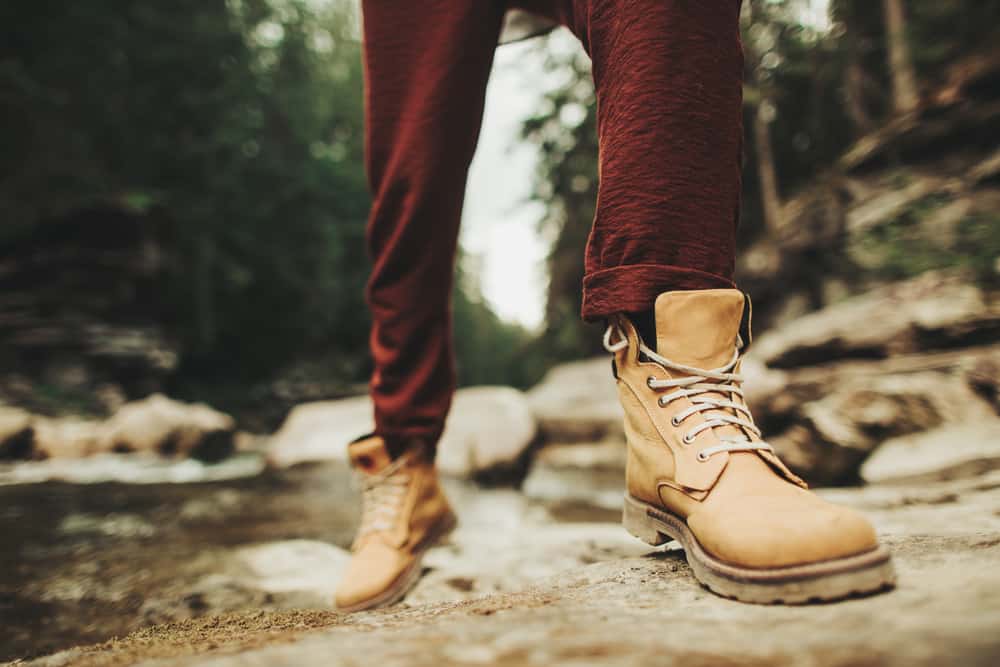 Are Timberlands Good For Hiking? A Definitive Answer
The classic Timberland boot has grown from the practical work boot to iconic fashion staple. For many years, the yellow boot has been a consistent shoe that has transformed itself into being one of the most well-known boots in the world.
Whether it be for working in the shop or tying together a top-notch outfit, the Timberland boot is one not to overlook.
What you put on your feet for any occasion is an important choice. You need to think about comfort, look, feel, and the overall build. Be proud and happy with what you are putting on your feet.
Now, with the rise of Timberland in terms of popularity, you need to understand what uses are best for the shoe.
With so many options out there, it is important to understand what is best for Timberlands specifically.
You may ask, are Timberlands good for hiking?
Generally, Timberlands are not good hiking boots. Because these boots are made for uses other than hiking, it lacks a lot of the attributes that hiking boots really need. This includes comfort, support, cushion and overall build. Although Timberland has other lines catered to hiking, the famous boot is not one of them.
If you want to understand more about Timberlands and how they relate to hiking, read on. In the rest of this article, we provide many useful tips.
Are Timberlands good for hiking?
Unfortunately, Timberlands are not good for hiking, at least the classic model is not. There are a number of reasons for which we will break down today.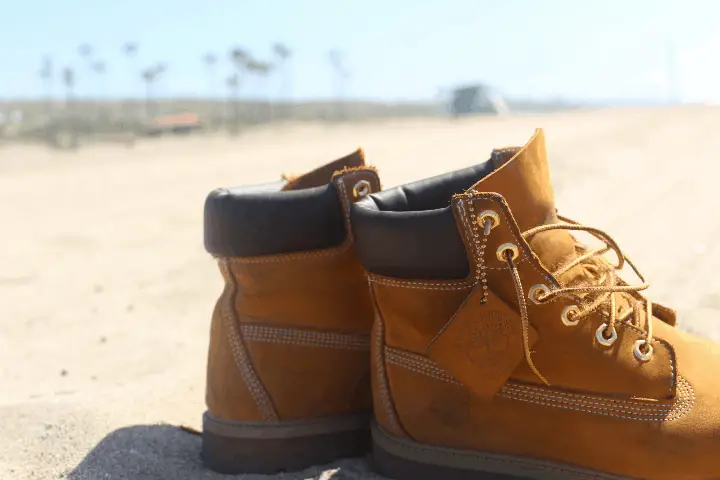 The main reason the boot is not good for hiking is the overall design, along with a number of other factors.
Here is some more information on hiking, Timberlands, and why they do not work well together.
Pros of hiking in Timberlands
Although we will get to why the classic Timberland is not the ideal boot, there are some pros when it comes to using them on the trails.
Price
Timberlands are quite affordable, especially when compared to some serious hiking boot brands that run the industry. Take Salomon or Merrell, for example.
You can get a pair easily and for a good price, so if you need something that will not break the bank, this is a great option.
Good for short hikes
When serious hiking and backpacking comes into play, Timberlands are not the way to go. However, these are great boots for short hiking trips.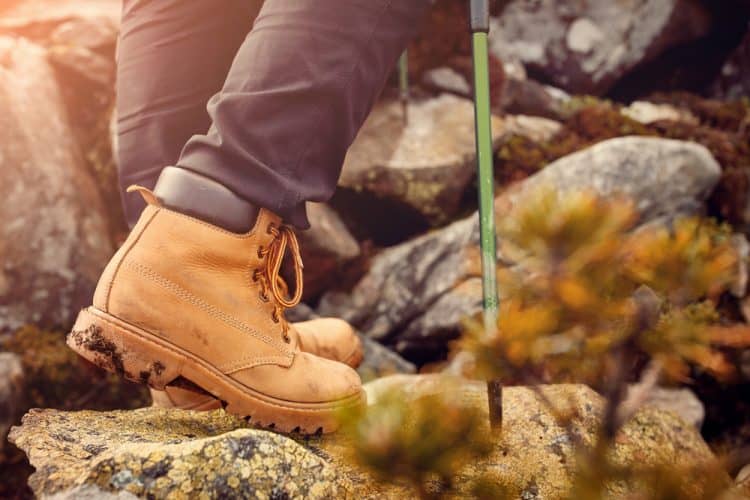 When there is not a high degree of difficulty and you're not doing huge chunks of the Appalachian trail, these can absolutely get the job done.
If the majority of your hiking falls under this designation, Timberlands can be a good option. This also allows you to use the boots as casual wear.
When you are not doing serious treks, you can double the boot as a hiking one and as something to wear casually on the streets. They are versatile, which is another advantage.
Cons of hiking in Timberlands
Now, to the cons of hiking in Timberlands
Overall design not for performance
The overall design of the classic Timberland is not designed for hiking. This is for a number of reasons.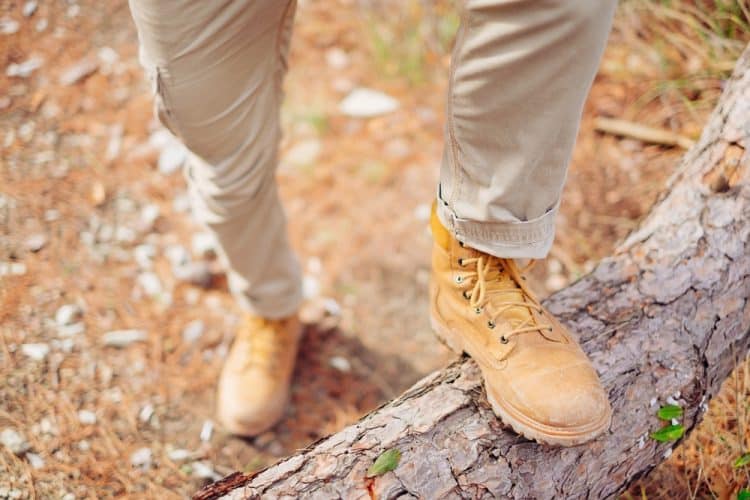 First, the arch support and midsole build both do not support you in the way hiking boots need to.
When you see a traditional hiking boot, you will see a reinforced arch because you are always hiking over rocks and mixed terrain.
Timberlands are relatively flat and will not put power in your arch.
Also, there is also no cushioning. You don't want your boots to be as soft as slippers, but you need some support for those long days on the trail. Timberlands have little cushion and support.
So, if you choose to hike in Timberlands, you cannot take advantage of the best technology that is in the industry.
Fashion statement
The classic Timberlands are made for fashion, plain and simple. Much like the good old Blundstones.
There are practical uses for the shoe, but they are normally used as casual wear to compliment fashion trends.
Whenever a company is going to value a boot's identity with fashion over practicality in use, there is a good chance that it will not get the job done on the trail.
Leather causes all sorts of issues
Leather is not the best primary material for a hiking boot. Although many boots used to be of this build, better technology has superseded the previous design.
When there is a ton of leather in the design, the chances of getting blisters is highly increased.
Plus, leather does not react well with water. So, if you have a more modern and comfy hiking boot, these will not be as forward issues.
Weight and materials
Plain and simple, Timberland boots are quite heavy. Coming in at over three pounds, these are some really hefty boots. In that regard, they resemble steel-toed boots.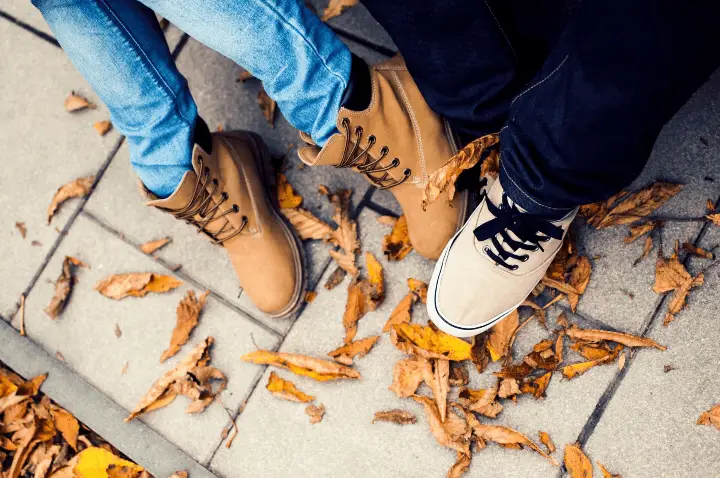 When you get a more modern pair of hiking boots, you will be closer to two pounds. Although this does not seem like a giant difference, you will immediately feel it.
These are also made from outdated materials. Real hiking boots use the likes of GORE-TEX, full-grain leather, split-grain leather, and other top-notch technologies.
Timberlands are very old school and do not have these features. This is a pretty important point to keep in mind.
Are Timberland boots waterproof?
Timberland makes it a point for the consumers to know that all Timberland boots are water-resistant. Not fully waterproof.
With that being said, even the classic yellow boot has been tanned and coated to seal the leather from the outside. The problems with water arise when it penetrates the inner part of the boot. Because of the leather, it absorbs water quickly and takes forever to dry.
So, as long as the water is not more than a couple of inches deep, these are good to go. With more traditional hiking boots, they can be waterproof and fairly quick to dry when they are wet on the inside.
Are timberlands good for snow?
One aspect of using Timberlands that works really well is in cold temperatures. Because the boots are so heavy and insulated, you will not be freezing if you have to trek through snow.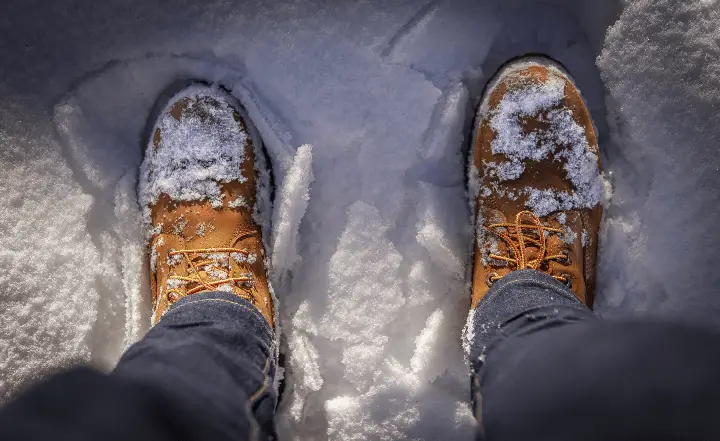 Plus, the tread on the bottom of the boot is pretty good for those slick, snowy conditions.
These aspects are coupled with the waterproofing factor. So, if you are going to pick a boot to wear in the snow, this is not a horrible option.
As the other points state, you will not want to embark on major treks with the classic version, even in the snow, but if you are camping or doing small hikes, these will do the trick in the snow.
History of Timberland boots
Although the history of Timberland really dates back to 1952, it officially became its own line and brand in 1973.
This was when the original Timberland yellow boot was invented and thrown onto the market. Unlike today, these boots were super practical for hard labor and getting work done.
Although the mission of giving a more rugged and dependable boot is still on the forefront, the mainstream view has shifted slightly. That classic yellow boot is both a working vessel and a fashion statement.
With the waterproof factor and the tough leather, these were the perfect boots for some rugged wear and tear.
But Timberland's history extends far beyond that one boot. In 1978, the brand's first casual shoe was introduced to the market.
This was followed by a boat shoe and a whole line of apparel.
Although the original boot catapulted the brand into the public eye, those next few years of development were crucial for the brand to grow to the level it is today.
Best Timberland models for hiking
Although we have really talked about the classic yellow boot for the majority of this blog, there are some other Timberland lines that work really well for serious hiking. Here are some of the best Timberland models for hiking!
1978 Waterproof Hiking Boot
This is an interesting one as the brand wanted to take the look of the classic boot and give it some more trail-friendly attributes. Check it out below:
So, you have that traditional look while the build and comfort levels are more aimed at hikers.
The biggest con of this boot is that the comfort does not come all the way around. Although it is improved from the classic version, it still lacks when compared to good quality hiking boots.
Mt. Maddsen
One super high rated hiking boot by the brand is the Mt. Maddsen. This features a leather design on top of a traditional hiking boot build.
It is outfitted with a super thick and strong rubber sole to keep the bottoms of your feet safe.
This is a higher boot that comes about mid-level from the ankle. There are definitely boots that go both higher and lower, so this is fairly middle of the road.
Although leather, these are waterproof, so keep that in mind.
White Ledge
As probably the most popular Timberland hiking boot, the White Ledge is absolutely one to consider if you are doing any serious hiking.
This is another full-grain leather option that has the waterproof feature. As you can see, Timberland really focuses on bringing a high-quality leather boot to the market.
This is a higher boot that is made to last a really long time. Although the price is a bit higher than some of the other Timberland options, you will absolutely get your money's worth.
Plus, investing in the brand's most popular line will almost always pay off.
Chocorua Trail
If you are a serious hiker that puts a ton of thought into what you put on your feet, the Chocorua Trail is a great option.
This still features the waterproof leather upper, but the sole is reinforced, and there are subtle changes in the design to really cater to constant hikers. Plus, this is a very affordable option, so you will not have to break the bank with a good boot.
If you want higher ankle support, this is a really good option. Some hikers prefer a sneaker style and some prefer strong ankle support. So, if you are the latter, this is the one to go with.
Those are a few of Timberland's best hiking boots that are actually made for hiking!
As we have already said, you can use that classic boot on the trails, but these will be so much better as they are actually made for the occasion. They come really close to a real hiking boot.
Breaking in and sizing for Timberland Boots
With any boot, there needs to be a breaking-in process in order for the performance on the trail to be at its peak.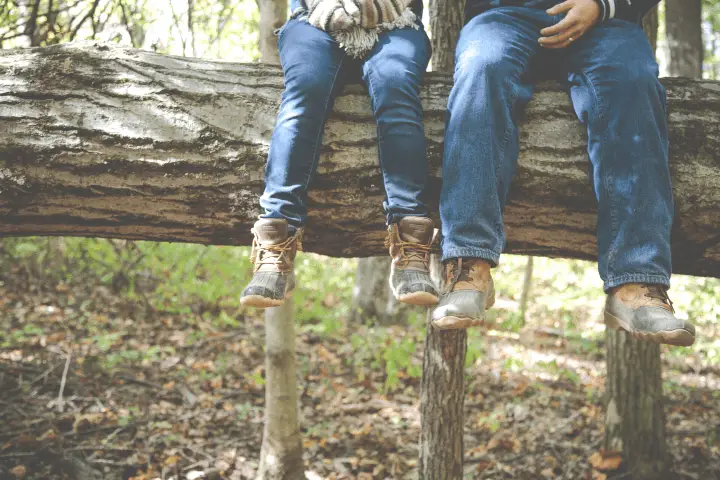 Especially when the build is almost all leather, you need to break in the boot in order for you to hike comfortably.
When it comes to this leather, it is all about stretching and softening the boots so they better mold to your feet.
When you first get the boots in hand, wear them around the house every so often. This helps to mold the boot without tearing your feet up.
One of the more interesting ways to break in your boot is to take a spoon and work out some of the tight leather areas. This helps loosen it up and stretch it out.
You also want to make sure that your boot is the right size. Obviously, the best way to get the right size is to try them on. If you have to buy them online, they tend to fit true to size.
Final Verdict
Timberland boots have a storied history and a really strong foothold in the footwear space. However, the classic Timberland boots are not made specifically for hiking and can cause some issues down the road.
Because of the build and the fact that they are there for fashion, strapping them on and hitting the trails will not result in the best-case scenario. Blisters and foot pain will come as you are not properly supported.
If you love the Timberland brand and want to do some serious hiking, there are a few other lines that are specifically made for hiking. Those will be much better options for putting some miles under your feet.
So, if you ask yourself "are Timberlands good for hiking?," you can understand that the classic yellow boot is not ideal for trekking. You can get away with shorter, easier hikes, but they will not do the trick for anything serious.
Founder of this website, Asen is a passionate hiker and writer who is also a gear nerd. He's been featured on many established hiking websites where he gives hiking advice & tips. When he is not trekking with his family or friends, he is writing articles and product reviews. Asen spends most of his time in Bulgaria but he constantly travels the world in seek of more unforgettable experiences. Read more about Asen here.