1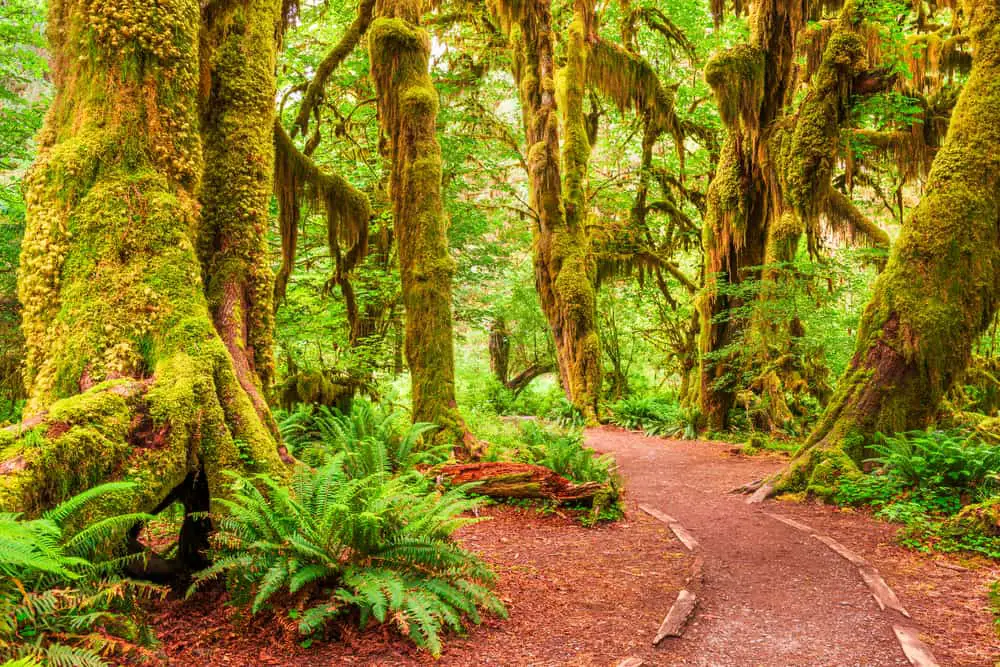 6 Beautiful Hiking Trails In Washington That You Can't Miss
There are few places in the world that can go toe to toe with the Pacific Northwest.
From the ocean wilderness with its whale sightings to the spectacular views in the mountain region populated by bears and moose, there are so many different opportunities for recreation and relaxation in nature.
Washington State itself boasts as many as three national parks, each with nature more mind-blowing than the next.
As hiking is one of the best ways to be active while seeing nature up close, here's our pick for the top hiking trails in Washington State.
Grab your backpack and let's go!
#1 Hoh Rainforest Trail
One of the top hiking trails in Washington is the Hoh Rainforest trail. It is located in the Olympic National Park.
This hike is fairly easy as the elevation gain is minimal (500 feet), though it can be quite long for beginners – 10.6 miles for a round trip.
The views, however, are incredible. Flanked by tall, mossy trees on all sides, with beautiful views of the Olympic Mountains rising above.
It's great for bird watching as well, and you might even be able to spot elks. There's a variety of different trails so you can start with a shorter one if you're feeling intimidated.
Bear in mind that there is an entrance fee on arrival if you don't have an appropriate pass.
#2 Little Si
Mount Si is one of the best trails in Washington. However, it is not recommended for beginners or those not up for a huge workout.
In its stead, you can do the Little Si trail, which is not as strenuous but still offers amazing views at the summit and beautiful nature along the way.
It is located in Snoqualmie, just a 40-minute car ride from Seattle. It is 4.7 miles long and has a 1,300-foot elevation gain.
The first and last leg of the hike are quite steep, but the rest of it is moderate and quite enjoyable. The summit can often be crowded, but the view that stretches around is breathtaking.
#3 Mount Si
Once you've cut your teeth on Little Si and other beginner trails, you may want to take it up a notch with the Mount Si trail.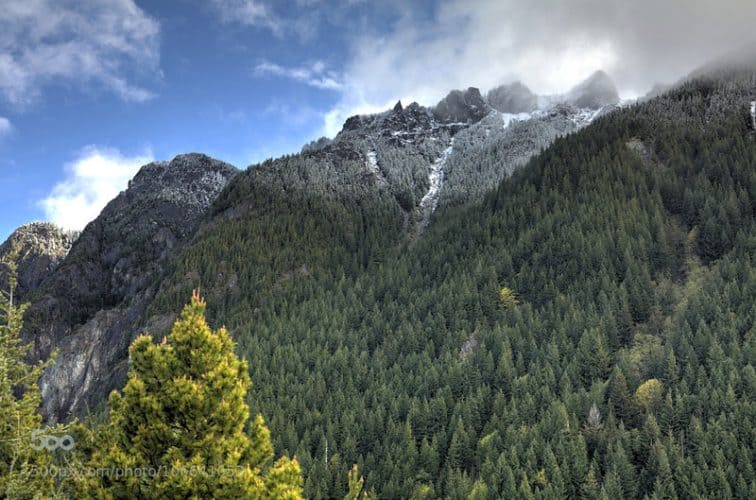 This is one of those top hiking trails in Washington that hikers feel like they can really brag about.
The reason for this is that it is quite strenuous, so it requires somewhat of a seasoned hiker to tackle it. It's around 8 miles for a round trip, with a staggering 3,150-foot elevation gain.
Those who have done it before suggest getting an early start because the trail can get quite crowded.
The initial climb is gentle and can be a great time to enjoy the surrounding nature. The summit offers great views of Mount Rainier (very often the next trek for those who summit Mount Si).
#4 Twin Falls
This easy, family-friendly trail is located in Olallie State Park just outside of Seattle. If you're coming to it from out of state, the nature is so breathtaking it might even make you consider moving and settling down near one of the trails.
At 2.3 miles for a round trip, it is quite short, but the park offers opportunities for so many activities.
You will easily be able to pack a day full of fun activities. The best part is definitely the waterfalls and the cascades that trickle down along the trail at various different points.
Besides hiking, you can also go mountain biking, rock climbing, fishing, or bird watching. You can even bring your dog as long as you keep it on a leash.
As with most of these trails, your best bet is to come on a weekday if you want to avoid the crowds.
#5 Wallace Falls and Lake
If you liked the sound of Twin Falls but would prefer something a bit more demanding, the Wallace Falls and Lake trail is one of the best trails in Washington.
It is located in Wallace Falls State Park 47 miles northeast of Seattle. This trail is a loop, and it runs for 11.1 miles.
The trail provide access to Wallace Lake and River, Jay, and Shaw Lakes. Its pièce de résistance is the three-tiered Cascade Falls that are 265 feet tall, making this park great for hikes with your family.
You can organize your day in such a way that you hike to the waterfall and then have a fun picnic by the lake.
Weekends can get pretty busy so either come early or choose a weekday to visit. There are even cabins for rent and two campsites in case you wish to spend the night.
#6 Skyline Trail
No list of top hiking trails in Washington would be complete without Skyline trail. This trail is located in Paradise in Mount Rainier National Park.
If you embark upon this adventure, we are sure that you would consider the place aptly named. The trail itself is not too long – a 5.3-mile loop.
However, forgetting to account for the altitude and its almost 1,500-foot elevation gain will give you a false idea.
There are several ways to go about the hike as there are different trails, intersections, and directions you can take. Your best bet would be to get a map at the beginning and make a plan.
Choosing to go clockwise will provide you with a steeper climb on the first half of the hike while you're rested and then a more gradual descent.
On the other hand, going counter-clockwise will mean fewer people and a switchback through a subalpine meadow bursting with blooms.
Whatever you choose, you will be rewarded with staggering views of glaciers, waterfalls, and a 14,000-foot volcano. It doesn't really get any better than that!
Conclusion
As you can see, Washington has a lot to offer when it comes to splendid hiking trails. Those six are probably the most scenic ones.
The best thing about the trails is that you can choose based on length and difficulty, depending on what your plan is.
In any case, you can't go wrong while spending time in such a marvelous place as the state of Washington.
---
Have you ever hiked anywhere in Washington? What was your experience? Leave a comment below.
Founder of this website, Asen is a passionate hiker and writer who is also a gear nerd. He's been featured on many established hiking websites where he gives hiking advice & tips. When he is not trekking with his family or friends, he is writing articles and product reviews. Asen spends most of his time in Bulgaria but he constantly travels the world in seek of more unforgettable experiences. Read more about Asen here.