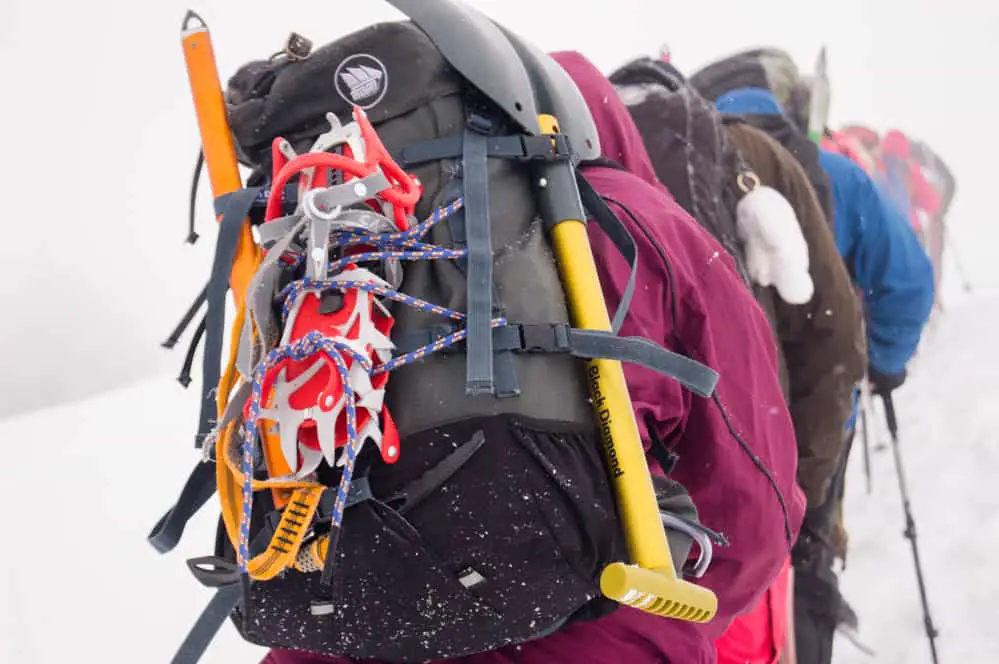 What Is The Best Backpacking Snow Shovel Of 2021?
So you're out snow camping with your friends, and they are swept away by an avalanche in the backcountry.
An uncommon disaster, but something that could happen nevertheless. Avalanche rescue doesn't have to be left to the professionals. With a handy piece of equipment, you could be the person to jump into action and save the day.
So what is this piece of life-saving equipment? And why is it becoming a must-have item for any winter camping trip?
The snow shovel!
AT A GLANCE: OUR TOP 3 PICKS FOR BACKPACKING SNOW SHOVELS
A tool perfect for campers, motorists, and lovers of outdoor adventures. On any trip, you should carry a snow shovel. Hopefully, you'll never need to use it, but it's always good to be prepared if that time comes.
Beyond avalanche rescue, the best backpacking snow shovel can also be a useful prevention tool. Motorists can also benefit from these amazing snow shovels.
Find yourself stuck driving home because the weather has taken a turn? The snow shovel will leap into action, and you will be free in no time!
There are many snow shovels available on the market, but how do you know which is the best backpacking snow shovel for you?
Unlike some other shady websites on the internet, we are proven experts in what we do – meticulous testing and intensive research. Our goal is to bring you the most trustworthy, unbiased gear reviews. Always.
Below we are going to be reviewing the 6 best backpacking snow shovels available on the market today.
Sit back, relax, and let's dig right in!
The Best Backpacking Snow Shovel: Our Top Choice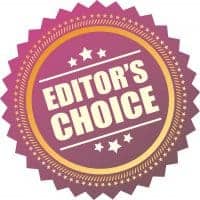 Say "Howdy" to the mighty winter beast - the Backcountry Access B-1 EXT Bomber Avalanche Shovel. Snow digging and ice chunking is now easy and fun with this top notch tool, praised by hundreds of happy buyers. We love it. You will love it too.
The 6 Best backpacking snow shovels Reviewed
#1 Backcountry Access B-1 EXT Avalanche Shovel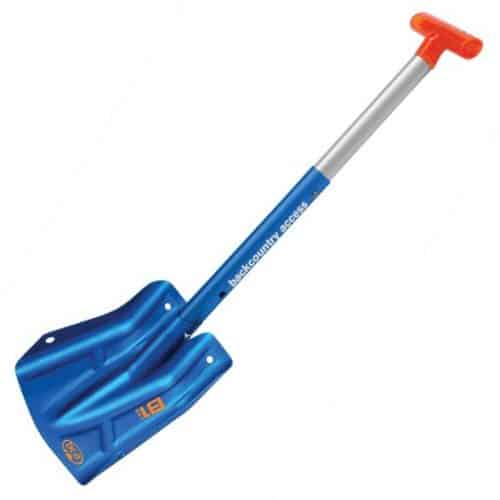 With a fully extendable handle, detachable design, and compact blade, this is definitely the most packable emergency shovel on our list. Need to make a snow shelter or snow pits? You'll be delighted by how easy that is. The oval eye shaft allows for weight savings and ensures easier disassembling. The T-grip handle is very comfortable to hold with gloves, and the shovel weighs next to nothing.
Weighing only 1.3 lbs. and being just 22.5" when folded, this tool is appropriate for any job snowpack conditions throw at you. The extended length is convenient too – 28.8". Super easy to dig without killing your back.
The guys and gals from Backcountry Access decided to name this shovel the Bomber because it is bombproof. As proven by hundreds of buyers, the tool has the best strength-to-weight ratio on the market.
That's because of two reasons
The blade shaft material is a premium one – 6061 aluminum that's T6 heat treated. In Layman's terms, it means it's super tough. You need just that when digging through tons of snow and ice.
The oval eye shaft allows to use little less metal in the construction, thus saving you weight down the road.
Another remarkable benefit of the oval-shaped shaft tube is that it is literally effortless to connect it to the blade, after it has been disassembled. Other shovels require you to spin and twist the tube until you line it up in the whole. With the Bomber shovel, that's really easy.
Another awesome benefit that makes the shovel packable is the lack of neck (ferrule) on the blade. Unlike other shovels that have a short neck, the Bomber saves you space and allows you to neatly store it even inside your pack.
Another smart feature that you will like a lot is the end cap on the shaft.
Why is it useful?
Because it doesn't allow the snow to build up on the inside. I hate it when my shovel becomes heavy because of the accumulated snow on the inside. With this one, this just doesn't happen.
There is a T-grip handle on this model that has been ergonomically designed for longer durations of use. Such handles are super comfy to hold.
The smooth surface and strength of the blade will handle gravel and other avalanche debris that you may come across. This shovel isn't only equipped for snow use, though. It moves well in sand and mud too.
Finally, there's a relief pattern on the front of the blade. It really adds up to the torsional rigidity of the shovel. So if you're digging in any hard snow, that will eliminate any flex and make the shovel a bit stiffer.
#2 Snow Claw Guide Snow Shovel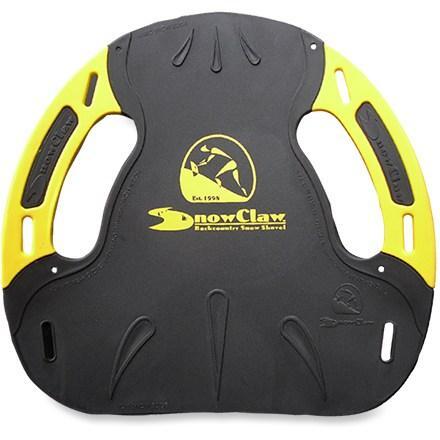 The SnowClaw Guide Snow Shovel is one of the most efficient and lightweight snow shovels available on the market. Weighing a tiny 6 ounces, these shovels are 70% lighter than the average. But don't let this lightweight size make you think there are compromises on quality. This snow shovel is at its best when inside snow shelters. The curvature of the blade is perfect for carving through the snow and ice. Check it out.
Along with its great snow shoveling features, the SnowClaw guide shovel can be used in different ways such as a snow anchor, snow plate, emergency splint or a sledge.
A glorious feature of the Snowclaw is the webbing holes that have been incorporated in the design. These holes are perfect for conveniently attaching the snow shovel onto a bag, great for hikes and winter camping trips.
Made from tough, high-impact copolymer, the SnowClaw snow blade is flexible but transforms into a rigid piece of equipment with a squeeze of the U-shaped handles.
The material is resilient too. Unlike other snow shovels on our list, the material on this one is both flexible and crack resistant from temperatures as low as -20°F.
This ability to continue to work in low temperatures makes the SnowClaw shovel blade more than capable of any avalanche rescue situations you may face.
What about the length? It's only 12.5". Very convenient for storing and transporting. However, it might be tiresome to work with it for long, due to the lack of long handle.
#3 Lifeline Sports Utility Snow Shovel
From Lifeline comes the 4017 Aluminum sports utility shovel. Available in 6 different colors, these shovels are efficient, stylish and practical. With a variety of build options and extensions, these shovels are also your ultimate choice for pretty much any suitable task.
If you're looking for the perfect avalanche rescue shovel or a snow shovel ideal for snow cave building, camping, and getting your vehicle out of trouble, this could be the perfect backpacking snow shovel for you. Besides, these snow shovels feature a T-grip and a generous blade size, making clearing snow quickly a doddle.
The Lifeline shovels are perfect for storage. They can be broken down into 3 separate pieces that are also good for transportation.
You can leave out the long middle section of the shovel's construction if you want to cut down on weight hiking or backpacking.
The max extension of this avalanche shovel is 32-inches long. That's just awesome for removing the snow quickly and dealing with multiple snow conditions. You can easily adjust the length from 25" to 32".
However, it's not the lightest tool on our list. Its weight is 1.3 lbs., making it a bit heavy. Still not a deal breaker, though.
The Lifeline 4017 Aluminum sports utility shovel is a first aid quality snow shovel available in 6 different colors. The coloring is applied with a high-quality powder coat resistant to any fading that could occur due to repetitive snow use.
The aluminum construction is a high-quality material that is also lightweight and able to withstand long rugged use. This aluminum material is ideal for even the coldest of conditions, making the Lifeline 4017 a true avalanche shovel.
Verified buyers call this "an amazing little shovel" and "great winter accessory".
#4 SubZero Heavy Duty Aluminum Shovel
The SubZero Snow Shovel is the ultimate winter emergency tool, perfect for any avalanche rescue situation. The versatile dual-function design of this avalanche shovel has been developed to fit for easy storage in your vehicle and your backpack. Sure enough, it's fully collapsible
You can change this two-in-one snow shovel from a traditional design to more of a scoop, thanks to its ability to move the handle into the blade. It's very useful when you need to get your car out of any tricky situations. And it's available in multiple different colors. See it!
With a maximum extension of 30 inches, this avalanche shovel makes light work of large snow build-up, along with any avalanche debris that may occur.
Because it is monstrously robust, don't expect to replace this avalanche shovel any time soon. Those who use it can vouch for its rigidity.
Do you know what differentiates this shovel from others?
There are two configurations for this avalanche shovel. One being a more traditional upright setting, and the second sees the blade having a side mount. This use of a side mount is handy if your car is stuck in any snow and you're looking to get out of trouble. In that way, using this tool is much easier.
Made from heavy-duty aluminum, the SubZero avalanche shovel will always step up to the challenge. With a great blade size, this shovel is a must-have if you're backcountry skiing and looking to make the perfect run.
This choice of aluminum materials makes for a lightweight shovel, suitable for backpacking and carrying it on hikes, camping, and walking.
You'll see that the SubZero avalanche shovel features a comfy T-grip handle that has been designed with the user in mind, comfortable for various situations, even after long durations of use.
The length of the shovel is 16.5" and the weight is 1.15 lbs. You will find it extremely easy to carry it in a backpack.
#5 Cofit Retractable Avalanche Shovel
A highly rated and popular snow shovel, Cofit can deal with all your snow troubles. An essential tool in your snowpack, the Cofit is just ideal for car use, winter camping, snow and ice removal, and even gardening in those seasons without snow. It's conveniently long, so you won't have to bend when using it. At the same time, it's collapsible enough to fit in your pack. Building snow pits and snow shelters with your family? Out in avalanche country and you need to rescue an avalanche victim? The Cofit adjustable shovels are perfect for any job!
You can fold the Cofit in 5 different ways. That's perfect for tall folks and kids alike. Ranging from 26 inches all the way up to 47 inches, forget about bending over to do your job. That's right, no back pain from digging any more.
The D-grip handle has been ergonomically designed for a more comfortable fit for longer durations of use. This D-grip handle is also great for hanging up in your shed or garage, making a great space saver.
If you want to take the Cofit shovel with you, it comes in a handy storage bag. Just throw it in your car or take it with you on hikes and adventures if you happen to come into any trouble in avalanche country.
The entire shovel construction is made from reinforced aluminum with powder coating, keeping the weight at a minimum, but the durability and strength of the shovel at an all-time high.
The aluminum blade is sharp, cutting through snow easily. This design makes the shovel suitable for building and shaping snow shelters out in the cold. Just don't forget your gloves or mittens and warm hiking hat.
What I like about the Cofit is that the size of the premium alloy blade lets you remove snow quickly and easily. This, combined with the ergonomically designed D-grip, makes removing snow easier than ever before. You can even you it as an ice axe.
The best part? The shovel is not just collapsible, but retractable. If the space is an issue, you can directly disassemble it. Cool! Every customer would love that. I know I do.
The weight is 1.78 lbs. or 800 grams. Not so lightweight, I agree.
#6 Yukon Charlie's Sport Utility Shovel
The Yukon Collapsible shovel is a must-have tool for adventurers, motorists, and outdoor enthusiasts. The lightweight foldable design is perfect for storing in the boot of your car or attaching to a backpack, keeping you prepared for any occasion. For lovers of snow camping, this snow shovel is a must-have piece of kit.
Having a collapsible design, the Yukon snow shovel is ideal for storing compactly on your backpack or in the boot of your car.
The shovel length is only 14" when collapsed. It's fully adjustable (26" – 33") along with the blade angle, giving you loads of options when faced with different situations.
Weighing only 3.52 ounces, this handy tool is perfectly suitable for winter hiking. From being on your hands and knees to move snow to free your vehicle, to avalanche rescue, and even creating snow pits and a snow shelter.
What I really like about it is the strong 6000 aluminum construction and the non-slip handle. It's really easy to work with because it's lightweight. Plus, as happy buyers report – the shovel is super durable.
This snow shovel is a must-have for day trips away to the backcountry, winter camping, and much more.
The snow shovel has been ergonomically designed with a T-grip handle providing slip-proof technology ensuring you're never caught stuck in the snow on those winter camping trips.
Choosing The Best Backpacking Snow Spade
Based on our experience and research, here's what to look for primarily.
Durability
When it comes to snow shovels for backpacking, durability is something you want to really focus on.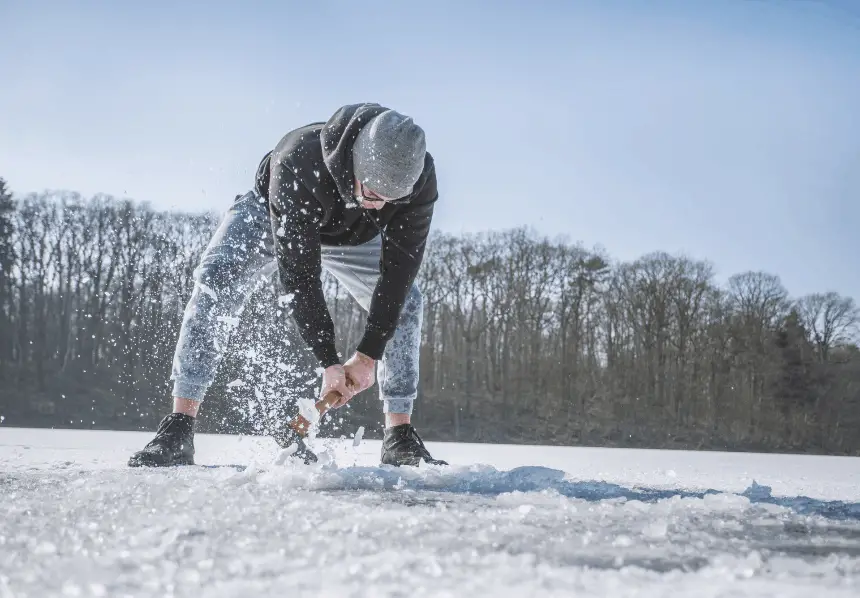 A blade that only has a couple of uses in its lifetime is no good when you're backpacking with no way of getting a replacement. Not to mention that in some extreme situations, the robustness of the blade, shaft, and handle, can save your life. This durability can come in the blade material itself, or the fastening components used.
Look for aluminum shovels and avoid plastic ones.
Weight
The weight of your shovel will always be something to think about before you're buying.
These shovels may need to be carried around for long durations of time, and even if your shovel folds away into a compact size, the weight could become a strain over long periods of time.
Weight isn't just for when you're transporting your shovel; you want a snow shovel that is going to be easy to use. A good snow spade for hiking is an important part of your lightweight gear and winter checklist.
Materials
When it comes to materials, you will have 3 to choose from, aluminum, plastic, and carbon alloy. All of them have their own benefits and can be great in different situations.
Aluminum

- Aluminum is a lightweight and durable material that makes the perfect shovel in an avalanche. These lightweight designs make the ideal choice as a backpacking shovel. The thin blade will cut through snow easily and handle low temperatures with ease.

Plastic

- Plastic is a cheap material to use. If you're looking for a budget option, then this is the material you want. The durability is not going to be as good as the aluminum and alloy choices, and there is a chance of damage when facing avalanche debris or gravel.

Carbon Alloy

- Carbon alloy is the strongest of the lot, and can be used for multiple tasks. The carbon alloy blades often have a serrated edge that you can use for cutting and sawing. You can also use this solid material as a hammer showing the true nature of its strengths.
Portability
If you're looking for a comfortable backpacking snow shovel, portability is a must-have! A retractable shaft, telescopic shaft, and foldable design all make for better transportation.
The most popular option is to attach it on the exterior of your backpack, using the side straps. Check out this article for more details. It's describes how to attach a tent, but the idea is similar. If the shovel is compact enough to fit in your pack, that's even better.
What are the different types of shovels?
When it comes to shovels, you can purchase around 11 different types, all with divergent strengths and weaknesses. Here is a list of some of the best:
Edging
Trench
Flat
Power
Handheld
Snow
Pointed Digger
Scoop
Root
Plant
Post Hole
Each shovel has its own area of expertise, and there isn't really a one shoe fits all.
Which shovel is most suitable for hiking?
A snow shovel is perfect for exactly that, snow! Usually with a large rectangular blade that is scooped to get more snow. They are made from different construction materials ranging from wood, plastic, aluminum, and alloy.
For hiking and backpacking, the best shovel is going to be an aluminum snow shovel that's foldable. If you can completely disassemble it, even better. Aluminum is strong and durable as well as being light in weight.
Perfect for carrying around for long durations of time and great in the lowest temperatures you may face. That's very important – many snow shovels don't withstand temperatures lower than minus 20 degrees Celsius. If you're backpacking in freezing weather, finding a shovel that's temperature rated is a must.
How to use a snow shovel
Using a snow shovel is similar to lifting boxes and keeping yourself safe. It is always best to bend with your knees and lift with the extension of your legs. Keep the blade close to your body and swap between muscles, using both your left and right hand as the leading arm. Here's a useful video. Watch it.
Remember you do not need to completely fill your shovel even if it has a large capacity. Lift within your means and don't overwork yourself.
Conclusion
The best snow shovels for backpacking come in all shapes and sizes. Designs with an extendable shaft are great for all different snow conditions and tasks you may need to face.
Having the perfect tool for an avalanche or simply getting your car out of snow trouble is necessary for everyone. Throw it in the boot of your car ready for when the time is right, or attach to your backpack when you're out camping or hiking in the backcountry.
Hands-down, aluminum construction makes the best avalanche shovel, great for its ability in low temperatures and its strong durability handling avalanche rubble. The ideal choice in emergencies and pretty much any situation it is faced with.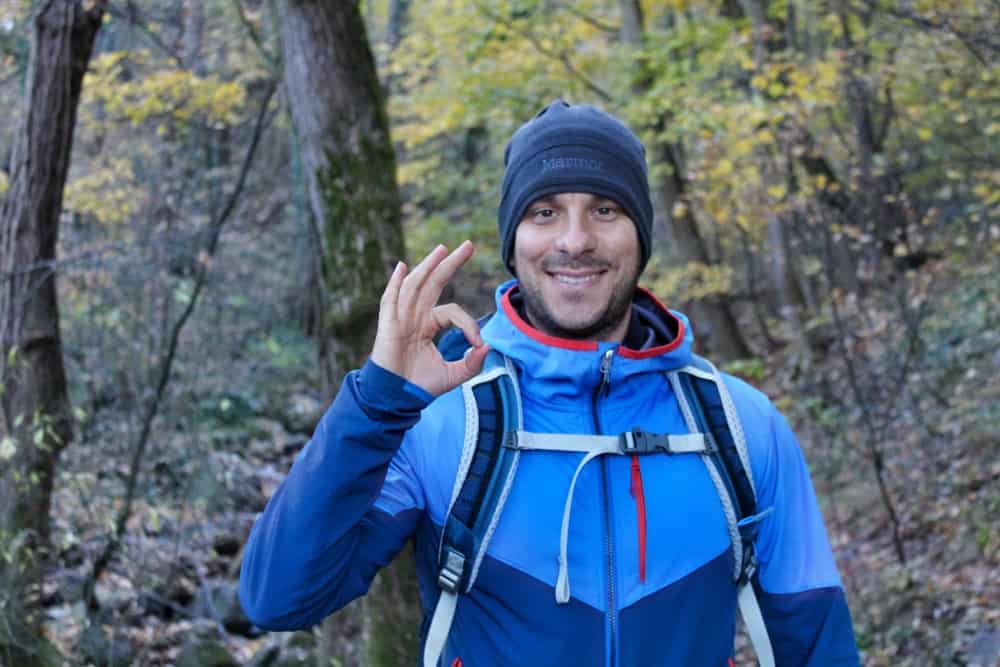 Founder of this website, Asen is a passionate hiker and writer who is also a gear nerd. He's been featured on many established hiking websites where he gives hiking advice & tips. When he is not trekking with his family or friends, he is writing articles and product reviews. Asen spends most of his time in Bulgaria but he constantly travels the world in seek of more unforgettable experiences. Read more about Asen here.