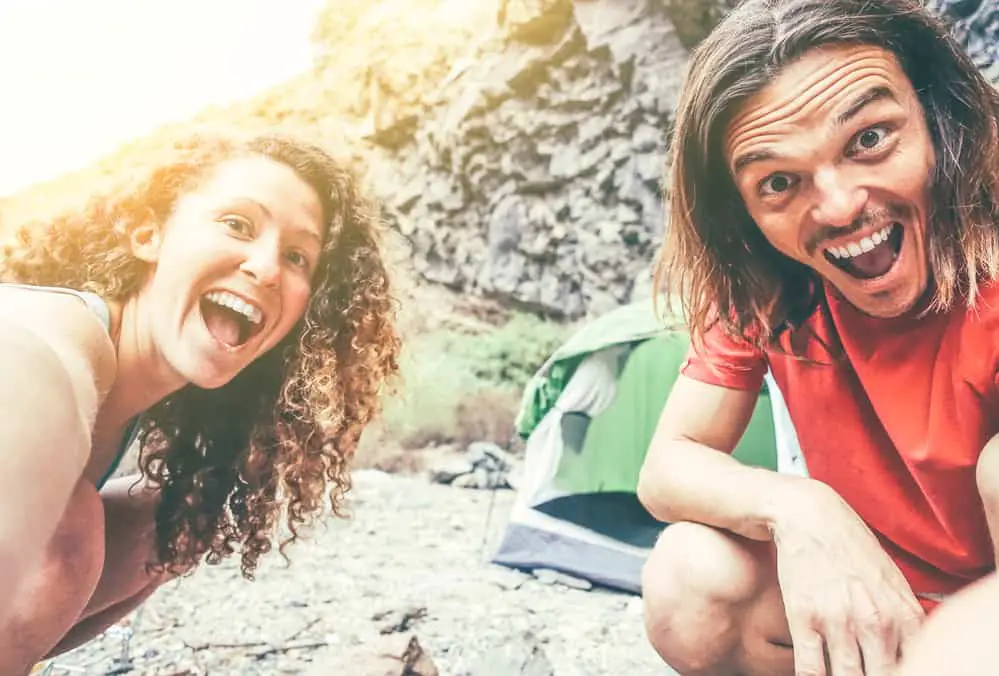 How to Hike With A Tent Comfortably: An Easy Guide (2021)
Hiking and camping are popular outdoor activities, and it doesn't hurt that the gear and equipment made for these sports are becoming higher in quality and safer all the time.
Chances are good that if you're going hiking, you'll be carrying a tent with you for that point where you are ready to bunk down for the night, but what are you supposed to do with the tent in the meantime?
If you've ever wondered how to hike with a tent so it isn't uncomfortable, wonder no more.
Once you keep a few tips in mind and you know what to look for when you're purchasing your tent, backpack, and other equipment, it will be much easier than you think to hike for even long periods of time without experiencing any pain or discomfort.
Let's dive right in.
Choosing Your Tent – What You Need To Know
Before you take off for that first hiking trip, you need to be fully prepared, which means finding the right backpack, tent, and all the other gear you'll need to make the most out of this adventure.
Before you learn how to properly pack your tent in your backpack, you have to choose the right tent and the right backpack! This means you have to plan ahead so that you purchase the right items in the first place.
Let's start with the tent.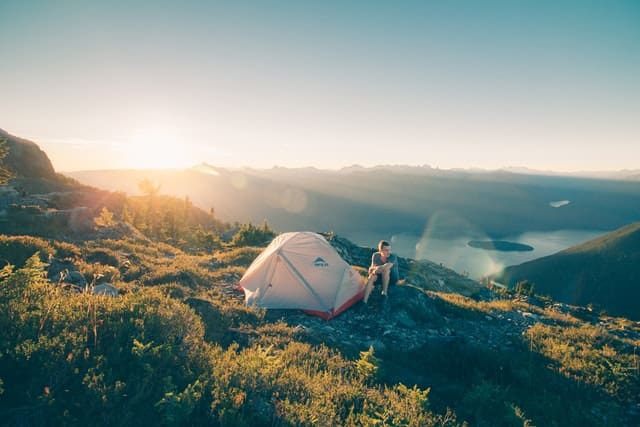 Naturally, there are hundreds of tents on the market today, but the good news is that companies make tents specifically for hiking and backpacking, which means they are made to fit right when you pack them in your backpack.
They are lightweight yet durable, and compact enough to fit into your pack easily.
If you're shopping around for the best backpacking tent, try to get one that weighs no more than 2 lbs per person.
This way, you'll know it can accommodate you both while you're hiking and once you stop to settle in for the night.
If you're going hiking in high altitudes, you can even find mountaineering tents, which can deal with the snow and the high winds.
And if you're camping in areas where the wind is strong, it's important to get tent pegs for high winds. We have a fantastic list of the best ones here.
When it comes to the weight of the tent, in addition to the "2 lbs per person" rule, you should try to get a tent that weighs no more than 7 lbs regardless of how many people are going to be in it each night.
If it's any heavier than that, it simply won't be comfortable while you're trekking across various terrains to get to your destination. You certainly want it to be as lightweight as possible.
That would make all the difference when you go on a long-distance trip when it's recommended to know a thing or two about ultralight hiking.
In addition to all this, you still have to find a tent that can accommodate you. Don't just buy a tent because it is made to be easily stored in a backpack.
Make sure it has what you're looking for in a tent, whether that is a certain size, how many seasons it can be used comfortably, or its durability. Make sure your tent is waterproof if you're out on a rainy night. And get a breathable tent for high temperatures if you plan on camping in summer.
Fortunately, you can easily find a tent that suits your needs thanks to the large selection available today.
Indeed, once you decide on the type of trip you're taking, for example, backpacking long distances, this is your first step to finding the perfect tent in the end.
It is easy, therefore, to find a high-quality tent that will meet your needs and one that will still be simple and lightweight enough to tote around from place to place.
And if you like to observe the stars when lying in your tent at night, make sure to go for a tent for stargazing.
Another useful tip is to pay attention to the tent fabrics. Nylon and polyester are easier to dry and provide good level of waterproofness. Canvas tent, on the other hand present the opposite characteristics. 
Tips On Utilizing And Carrying Your Tent So You Feel Good All Along
Tents are made to be compact, but what about backpacks?
If you haven't yet purchased your backpack, you may want to consider finding one that has an internal frame instead of an external one, as these tend to have more room. Plus, they are comfier to wear.
If you already have a hiking backpack and you find the tent you just purchased is too big to fit into the backpack, you can use a compression bag so you can pack the tent as tightly as possible.
In fact, that's the same compression stuff sack that most of use hikers use to attach our sleeping bags to our backpacks.
You also need to fold the tent the right way so that it fits correctly in your backpack. To do that, follow these simple steps:
Lay the tent flat out on the ground and keep the poles in their bag.
Place the bag on the side of the tent – not in the center.
Roll the tent up while keeping the bag as close to the side as possible the entire time.
Once you've rolled a few rolls, place the peg bag down on the side of the tent like you did the pole bag.
Once it's rolled up completely, place it into the backpack.
You should also keep in mind never to fold or pack a tent while it's wet. Only fold and store dry tents because wet ones become too difficult to work with since they're so heavy.
If you already have a backpack and it has an external frame instead of an internal one, simply pack the tent on the outside of your backpack instead of on the inside. You don't have much choice.
If your tent is a little bulky and it can't fit in your pack, the best option is to attach it to the exterior of your pack. And this video from REI could come in handy if you're wondering what type of tent to buy.
In most cases, this is done by securing it with the bottom or top straps of your backpack. Some backpacks, like, for example, the Osprey Stratos 50 even have removable sleeping bag straps.
That allows you to attach easily any kind of burly gear on the exterior such as a sleeping bag, mat or a tent. Moreover, you can always remove the straps when you don't need them.
Securing the tent on the exterior is pretty intuitive. There are some debates as to where to put it -at the bottom or at the top of your pack.
There is no straightforward answer. It all depends on your preference, so test how it's more comfortable for you.
In general, it'd be better if it's at the bottom of the pack because in that way you'll be able to move more freely.
It's important to tighten up the tent, so it doesn't shift around when you walk. That's essential when you hike on alpine terrain where there are plenty of hills.
In such cases, the best option (if possible) is to have a compact, ultralight tent for one person that fits in your backpack.
Imagine having to carry a big, heavy tent on the outside of your pack while climbing a steep hill or a summit.
As you can see, the location and the duration of your hike can play a role in the way you wear your tent. For example, if you hike in the woods, keeping your tent in your pack is better than having it hang on the exterior. That's because it will most likely snag on a branch and basically, it's easier to damage it or even worse – you could lose the backpack at some point and not even realize it.
That's why - use backpack straps or compression straps, closed loop ties, carabiners, or anything else that came with the backpack itself or which you bought yourself for this specific purpose.
You should also cover the tent to protect it from the elements. Yes, most tents are waterproof, but a little extra protection never hurt.
If just a tiny bit of dampness or water gets into the inside of the tent, it could spell trouble for you later on.
Your Common Sense Is Your Best Friend
In addition to making it easier to carry the backpack, packing the tent the right way also makes your entire walking experience much more comfortable.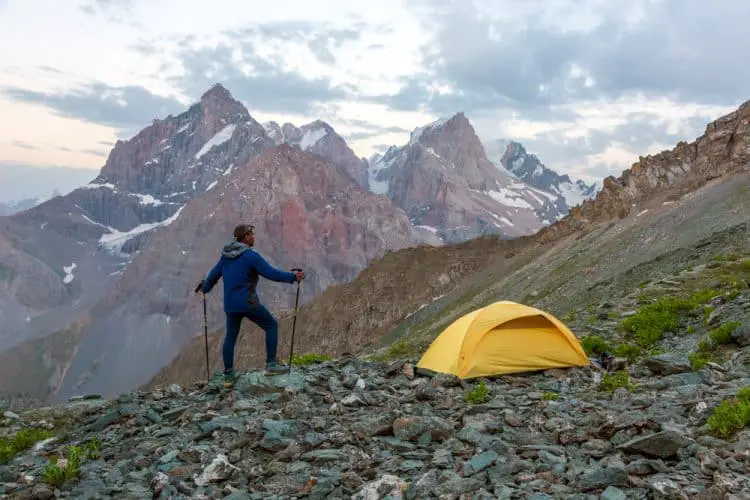 In fact, it really doesn't do you much good to find the right type of tent if you don't pack it correctly in your backpack.
Folding and storing the tent incorrectly can cause the feel of the backpack to be cumbersome and difficult.
Whether you pack the tent on the inside or on the outside of your pack, successful backpacking always starts with finding the right backpack and the right tent.
Learning how to properly fold and store the tent is a must if you want your next hiking trip to be a success.
A lot of these tips are common sense, but it still helps to take a "whole picture" approach to going backpacking and finding a tent that will not only keep you comfortable as you hike but which will suit your needs once you stop to set up camp for the night.
To do this, you have to know exactly what you need beforehand so you can find the right tent, backpack, and anything else you need to get the most out of your trip.
Extra Tips That Can Be Helpful
Learning how to hike with a tent and be comfortable at the same time starts with planning ahead of time for the trip so that you're as prepared as possible, which means you'll be less likely to be uncomfortable as you're hiking.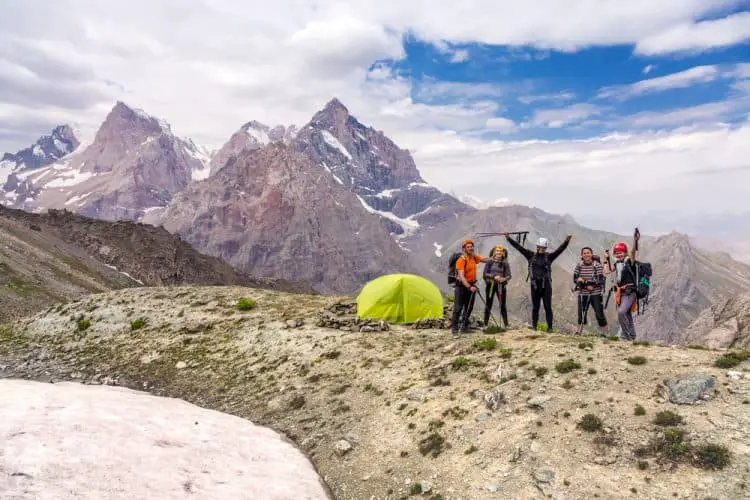 Remember that in addition to your tent, you'll be putting other items in your backpack as well, which is why it's so important to find a lightweight tent before you do anything else.
You can also make the trip more comfortable by following three simple tips that include:
Consider using nearby rocks to tie down your tent, instead of stakes that you have to bring along with you. You can be successful if you use enough rocks, and you'll automatically have more space in your backpack.
Get yourself a scale and weigh everything that will be going into your backpack. This way, you'll know if it's going to be comfortable for you to carry. As a general rule, your backpack should weigh no more than 20 percent of your total body weight.
Make sure your clothing is also very lightweight. Companies make lightweight hiking shoes, jackets, and other clothing items. This is yet another way to make sure you are not too uncomfortable while on your backpacking adventure.
Fortunately, you can find tents, clothing, and just about everything else that is well-made but also lightweight. When it comes to hiking with a tent, lighter is always better.
Last but not least, learn some skills related to keeping insects out of your tent. Bugs are not only annoying but sometimes even dangerous. 
If you're the type of person who likes to be as close to nature as possible, you probably won't bring any electrical heaters with you. If that's the case, learn the skill of heating up your tent without electrical power. 
Conclusion
Hiking is a great activity to be involved in, but it can be a nightmare if your backpack is too heavy or cumbersome.
Since you need to pack a tent more often than not, it is important to learn what type of tent to buy, what type of backpack to use, and the right tips to make the trek a lot easier on your lower back and even your psyche.
As you can see, it doesn't have to be difficult. If you follow the above suggestions and use a little common sense, your trip should be one you'll remember for a very long time.
---
How do you carry your tent when you hike? Leave a comment below!
Founder of this website, Asen is a passionate hiker and writer who is also a gear nerd. He's been featured on many established hiking websites where he gives hiking advice & tips. When he is not trekking with his family or friends, he is writing articles and product reviews. Asen spends most of his time in Bulgaria but he constantly travels the world in seek of more unforgettable experiences. Read more about Asen here.