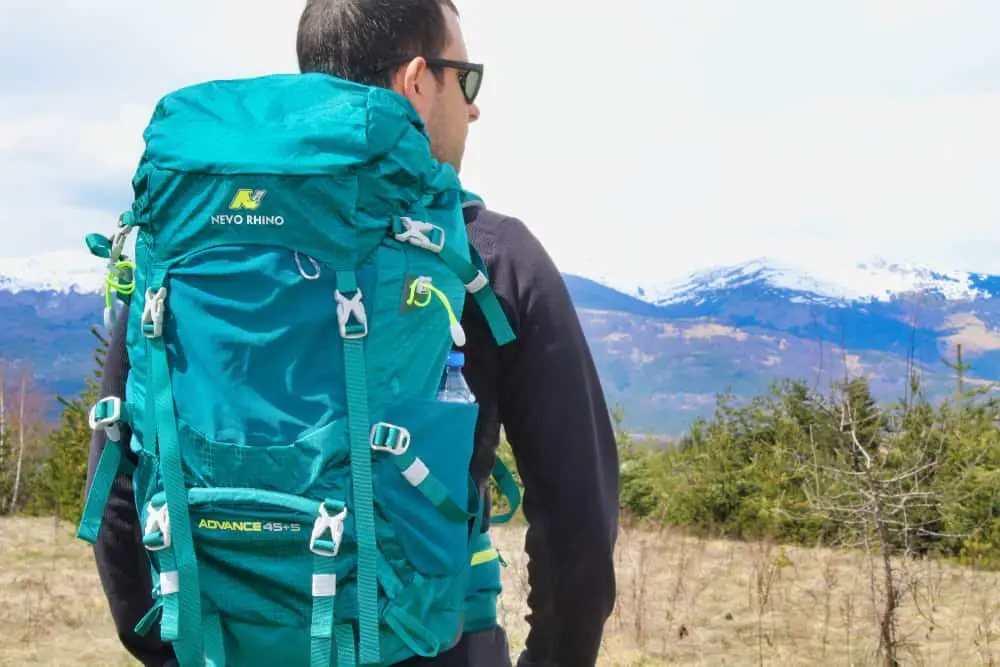 The 8 Best Cheap Hiking Backpacks Of 2021 [#3 Is A Total Hit]
Do you know what's better than a good quality hiking pack?
It's a good quality hiking pack that's cheap! I think we can shake hands and cheerfully agree on that. Today, cheap is a dirty word when it comes to product quality. But let's not forget that cheap is a synonym for affordable.


AT A GLANCE: OUR TOP 5 PICKS FOR CHEAP HIKING BACKPACKS
I know how hard it could be to find a decent backpack when you're on a budget. The good news is no matter what you hear, it's possible. Such packs do exist. It just takes more time and effort to unravel those hidden gems.
It took us a tremendous amount of time and effort to research and find the best cheap hiking backpacks that fit our criteria for both quality and price. Click HERE to see them now.
But I'm glad we did it. I am because we managed to create a comprehensive list that will help many outdoor enthusiasts who want to buy an affordable yet quality pack. We hope that it will help YOU too.
During the process, we looked for many features and characteristics, the main four of them being:
We also did our best to expose not only the pros but also the cons of each backpack in our list. And I'm not only talking about the advantages and the flaws WE noticed, but the feedback reported by others who have used the backpacks.
We looked at customer ratings and reviews so you don't have to. We asked our friends and also hikers that we don't know on social media about their experience about a given backpack. They all contributed to this list.
Sure enough, we bought a few samples and battle-tested the backpacks ourselves. We really wanted to create an objective and complete review guide.
We also added an informational and (I hope) useful buying guide. It will help you narrow down your choice and you'll learn what to look for when buying a low-priced hiking pack.
When it comes to the price, probably you'll agree that it's a relative notion. In general, we tried to include reliable packs that don't break the bank. Also, don't forget the price may vary depending on the volume, the fabrics, the features, and the brand.
Without a further ado, let's begin, shall we?
Our Top 3 Recommendations (Best Bang For The Buck)
Best overall value
With a stunning functionality and unmatched price, it's not a surprise that the Scout is one of the most popular backpacks on the market today.
FEATURES:
Adjustable torso length
Sleeping bag compartment
Included rain cover
Plenty of externa storage options
Runner up
We hiked with this dirt cheap backpack loaded with 27 lbs. of gear. It completely blew our mind. Safe to say, it outperforms some of the most expensive backpacks out there.
FEATURES:
Amazing suspension provides great carrying comfort
Fantastic back panel breathability
Generous storage and expandable volume
Huge hip belt and water bottle pockets
For light hikes
Thousands of hikers are raving about this backpack. We know why – it's impossibly cheap, surprisingly durable, and conveniently lightweight.
FEATURES:
Easily foldable into its own sack
Ultralightweight
Water-resistant and abrasion-resistant
Well-organized and durable
We picked the three backpacks that stand out from the rest.
Our winner of the "Best Cheap Hiking Backpack" competition is undoubtedly #3 on our list - Teton Sports Scout 3400 (55 L). This versatile pack is proven to perform outstandingly. That's based on thousands of positive reviews leading to its excellent rating.
Our own experience with it proves the same.
The backpack is roomy, with a good number of compartments. It has a sleeping bag pocket and a sewn-in rain cover, stowed in a bottom zippered pouch.
Besides it's super sturdy (600D polyester) and has a multi-position back length adjustment. That allows you to achieve a perfect fit based entirely on your own body type.
Last but not least, Teton Sports Scout 3400 is the best bang for the buck with a QPR (quality-price-ratio) that's hard to beat.
The second contender is #2 – Nevo Rhino Advance 45 +5 L. Besides being ridiculously low-priced, this pack has an incredibly well-thought out suspension. I hiked with it and I can vouch for its impressive quality.
It has a solid internal frame and a suspended mesh on the back panel similar to top brands such as Osprey. That allows for a flawless ventilation. However, it doesn't have an adjustable torso length like Teton Sports Scout 3400.
The third best pack that you definitely should check out is #1 on our list – Neekfox Field Operation 35 L.
If you want an ultralight, yet roomy, and sturdy pack – this is your choice. It's a foldable rucksack suitable for light day hikes and even overnight adventures when you don't need a lot of gear.
Consult the table below to have a quick overview of all the backpacks that we shortlisted.
The Best Cheap Hiking Backpacks Of 2021 At A Glance
#1 Neekfox Field Operation 35 L
Honestly, it would be difficult to find a cheaper backpack with the quality and size of Neekfox. Compact and lightweight, yet spacious and well-organized, this surprisingly well-made pack will easily accommodate a weekend hiking trip. You just won't believe how many pockets it has. You can even store your laptop in the main compartment and there will be enough space for some snacks or clothes. In addition, Neekfox can protect your essentials from the rain for a while because it's water repellent! Read our full Neekfox review.
A good thing about this buddy is that it's foldable. The lack of internal frame definitely has its advantages – you can neatly fold the pack in its front pocket so it becomes a tiny bag that you can bring with you when you don't need its full capacity.
#2 Nevo Rhino Advance 45 L + 5 L
Highly versatile and packed with tons of useful features, it's safe to say that Nevo Rhino can rival the big brands. It has everything you'd want for a 2-5-day outdoor trip at a remarkable quality. It's great for everyday use too. The pack is hydration ready, has a sleeping bag compartment, a sewn in rain cover, great number of pockets, including on the hip belt, and the ventilation system on the back really surprised us.
To create a helpful and honest review, I tested this backpack on several hikes with different length and difficulty.
On a 4-day mountain hike, I loaded the Nevo Rhino with 27 lbs. of gear. Want to know my opinion?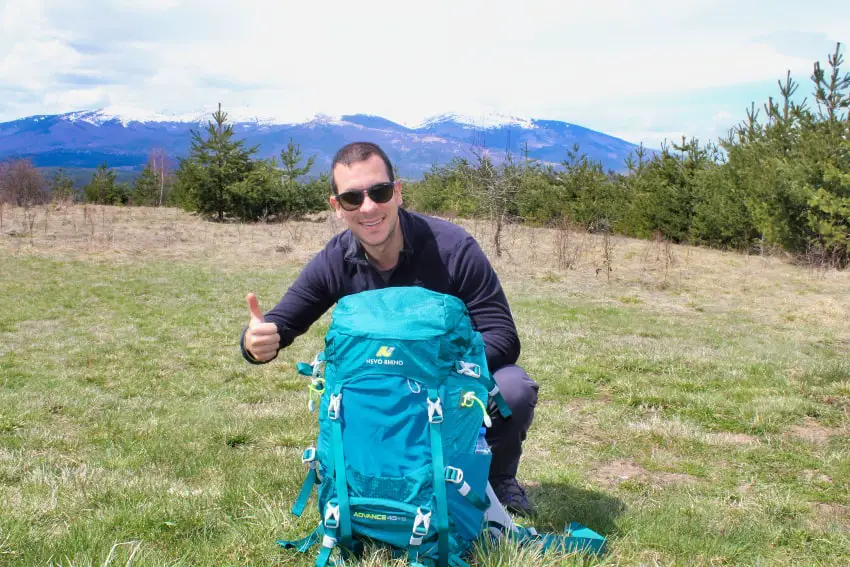 First, I really like the color of this backpack. I ordered the dark green with a blend of yellowish-green. Safe to say, besides being the cheapest, that's the most stylish pack that I own.
So when I loaded the pack with tons of gear and put it on my back, one thing struck me. I didn't expect to be so easy to adjust the fit on the go. Normally you have that option on expensive packs. I have such an option on my Osprey Stratos pack.
After you buckle up the hip belt and the sternum strap, you can easily, with a simple pull of the straps, tighten up all belts. In that way, the pack lays closely to your body.
I didn't experience any load shift or rubbing against my shoulders. The entire load was stable and evenly distributed across my torso and hips.
That's thanks to the independent hip top and bottom adjustment on the split dual wishbone waist pad.
Many cheap brands fail at that stage. On the surface everything looks fine and shiny, but once you put the pack on your back, you start noticing that it's not quite comfortable to walk with it.
On one hand, that's simply because it's hard or even impossible to properly adjust the backpack to fit your frame. On another hand, this lack of comfort happens because of poor suspension and load distribution.
Well, I can safely say that's not the case with Nevo Rhino. I was really surprised how comfortably the pack "connected" with my body once I adjusted it.
The aluminum internal frame is super durable, and it held my heavy load in a stable way throughout the entire hike.
The other positive thing that I was impressed with was the padding and the ventilation. No other backpack on our list provides such quality of ventilation.
Nevo Rhino uses a porous suspended mesh on the back panel similar to Osprey's AirScape system. So the back panel doesn't touch your back.
The heat easily evaporates through that mesh, and you don't end up with sweaty back. I hiked for long hours under the sun and I didn't feel clammy. What a pleasant surprise!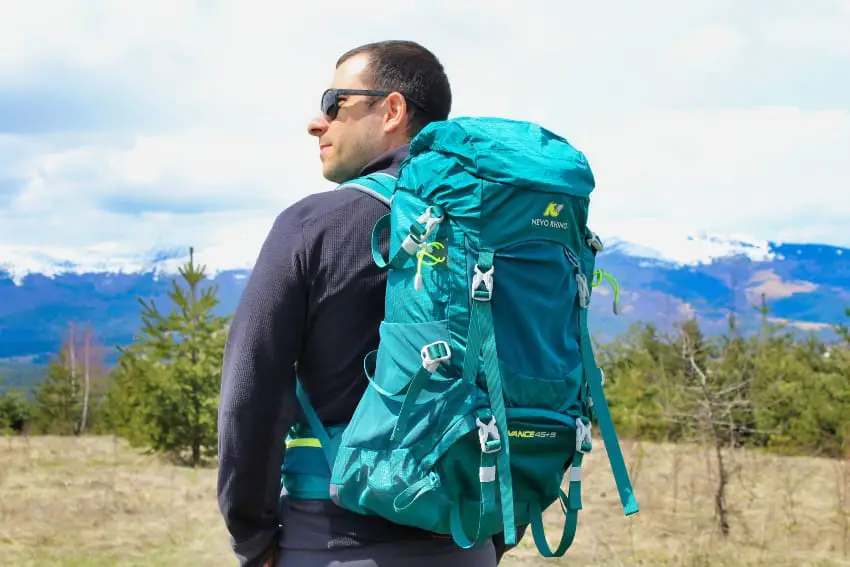 The foam padding on the entire harness, including on the back panel, is quite thick. Like already mentioned, I loaded the Nevo Rhino with 27 lbs. worth of gear on my shoulders.
I didn't experience any discomfort whatsoever even after long hours of hiking. The shoulder straps are wide, S-curved and thickly padded.
As for the organization, this pack delivers and then some. There are plenty of pockets everywhere.
Again, unlike other packs on our list and other inexpensive backpacks in general, the hip belt pockets and the side water bottle pockets are huge.
I used a water bladder, so I stored additional clothes in the side mesh pockets. I didn't have an issue with that. Yep, those are super roomy.
This is a 45 L pack, but there's an extension collar at the top. With it, you can expand the volume with 5 L and obtain an overall 50 L pack. Awesome.
I really struggle to point out something negative about my Nevo Rhino. I just love it. Still, I suspect that probably the pack will fail at some point in terms of durability.
I haven't used it for a long time to vouch for that yet. Other buyers say that the durability is just fine, based on years of usage. The fabrics are strong too – the shell is made out of 600 D Ripstop nylon and 600D Oxford Canvas
However, the plastic buckles feel a bit flimsy. I will update this review after a while to share more info about the durability of the pack.
Overall Nevo Rhino Advance rivals the shiny brands and in some aspects, it outperforms them. Crazy, huh!
We found the backpack lightweight for its volume of 50 L – only 2.6 lbs. or 1.20 kg.
#3 Teton Sports Scout 3400 (55 L)
It's not a surprise that this 55 L backpack suitable for 2-4 - day hikes continues to be a top seller and aggregates thousands of 5-star reviews. Besides being super comfortable to adjust and wear, it also has a sleeping bag compartment, and an integrated rain cover to protect your gear from rain. Read our full review of Teton Sports Scout 55 L and you'll see why we love it so much.
This pack is perfect not only for hiking but for camping and travelling too. It fits the carry-on requirements of most of the airlines and the materials (600D Ripstop) are solid enough to last years of rugged use. Its weight is 4.5 lbs or 2 kg, which we find a bit much.
The storage is awesome and there is plenty of space for you to organize your gear such as your trousers with reinforced knees, for instance.
As compared to our other top pick - Nevo Rhino, the back panel of the Scout is not as efficient and the pack is heavier. However, you can adjust the torso length for an ultimate fit. That's not the case with Nevo Rhino.
If you want a roomy backpack for 2-5-day trips that gets the job done without breaking the bank, you'll love the ESUP. This pack has all trail-friendly features you need to carry your gear comfortably and safely. It comes with an efficient suspension and Air Stripes system on the back panel for maximum ventilation. On top of that, this top-rated rucksack surprises with a rain cover and multiple pockets. Don't miss checking it out!
Highly rated, ESUP is a unisex hiking pack. Based on the feedback of a verified buyer who hiked the El Camino De Santiago route for 103 km with it, the pack is quite sturdy. Especially given its low price.
ESUP is made of tear and water-resistant polyester that's reinforced at the bottom. The zippers are with big pulls and not as lackluster as many would expect for a pack of this price. In fact, the pack has SBS zippers. You don't see those often on a pack priced as low as the ESUP.
This is a frameless backpack. That's important to know because if you overpack it, it could get uncomfortable if you're headed out on a prolonged trek. There is no stay to support the load on your back.
Wirth that being said, the ESUP is heavily padded and rugged enough to withstand rough hiking comfortably if you don't overload it. The maximum load you can carry with it is 88 lbs. or 40 kg.
The weight of the pack is 2.6 lbs. or 1.17 kg, which is more than good for a pack of this size. So it won't slow you down.
Check out the major pros and cons.
Gonex is yet another affordable brand that produces practical and highly performing backpacks. This superb model impresses with a combination of functional features, tons of well-organized space, and comfortable design. Besides, the pack is durable, made out of hard-wearing nylon and it's also breathable and thick padded on stress points to alleviate tension. With Gonex you get more than you pay for. Check it out.
The updated Gonex model is similar in features to many other packs but what makes it stand out is the unbeatable price. Plus, verified buyers report that its quality is surprisingly good for a cheap brand.
It's a unisex knapsack that's perfectly suitable for 2-3-day hikes when you don't need to bring a lot of stuff.
The pack weighs only 2.6 lbs. or 1.3 kg. You might be interested in reading our full review of the attractive and priceworthy Gonex 35 L.
What makes Gonex super comfy is the ergonomic load bearing system. You can adjust the aluminum frame bar to match your torso size and shape.
Another cool feature that stands out is the padded sleeve on the front. It's very helpful when you need to store and protect an electronic device. Even a laptop fits in there. This makes the Gonex a great laptop daypack.
Let's see what else.
#6 Mountaintop Traveling 40 L
One of the top rated hiking packs on our list, Mountaintop offers stylish design, great functionality, and a price that's unbelievable. It has plenty of space that comprises multiple pockets (the smallest of them hidden), and straps for external gear attachment. Oh, and the rain fly is included in a bottom zippered pocket. Be sure to check out this pack.
With a volume of 40 L and excellent storage space, Mountaintop is best used for 1-3 day outdoor trips. The size of the backpack makes it fit as a carry-on and the weight is reasonable too – only 2.05 lbs or 0.90 kg.
Mountaintop boasts with an efficient Airstripes system on the back panel. It contains beefy padding with an air channel for maximum ventilation. As per users reports, this works fantastic, keeping your back cool when you hike.
Another feature that you normally see on more expensive backpacks is the YKK zippers and buckles. Even though the buckles are somewhat thin, they are sturdy and with a good quality.
And yes – the pack comes with a rain cover. It's very easy to deploy and keeps your valuables protected in sudden rainfall.
An absolute bestseller, OutdoorMaster is a spacious beast with whom you're sure to have a great time in the big outdoors. At first look, the pack seems modest in capacity but don't let it fool you. It enlarges to a point that Peter Dinklage from "Game Of Thrones" could fit in. Seriously, this backpack is multipurpose, tough, and packed with a good amount of insanely useful features. See for yourself.
OutdoorMaster comes in 10 different colors to choose from and with a rain fly thanks to which you can sing "Let It Rain" and don't care about harsh weather conditions. The weight of the pack is 2.4 lbs or 1.08 if you like kilograms.
#8 DavidNile Adventure 40 L
Beautifully designed and offering fantastic functionality and storage capacity, you'll love this backpack even more than its price. With Adventure, you don't have to worry that you won't be able to take stuff you might need. There are multiple options for stashing items of various size and weight. As for the level of comfort – it's higher than you expect! Check it out!
Made out of anti-abrasive and water repellent nylon, DavidNile Adventure 40 is perfect for weekend trips or 1-3 day nature escapades. This cutie can hold up to 20-23 lbs of gear and it's super lightweight – 1.87 lbs or 0.85 kg. Sure enough, it has a bottom rain cover pocket.
Buying Advice And General Guidelines
Choosing a low-budgeted hiking backpack doesn't differ much from choosing a regular pack. With that being said, there are some differences to consider.
We will quickly go through some important rules that you need to follow to make sure you're making the right choice for you.
Firstly, you have to determine the size and the volume of your future pack. Of course, this depends on the type and duration of the trips that you usually go to. For the size, ask yourself whether you'll take it as carry-on and for the volume – what quantity and kind of gear you need.
Watch the useful video below to have a better understanding of different backpack sizes. There's a nice comparison too.
An ideal solution would be to have a pack with adjustable torso length and belts (chest and waist). In that way, you will be sure to achieve a fit based on your own body measurements. A pack with an adjustable torso length on our list is #3 Teton Sports Scout 3400.
If you're mostly a day hiker, a good size would be anything between 15 – 35 L. For weekend trips a good volume is 30 – 40 L and for extended trips in the outdoors (3-6 days) you'll need at least 50 – 60 L and sometimes even more.
In case you're wondering too much about the volume, don't overthink it and pick a pack with a bigger volume. It's easier to shrink it (hint: compression straps) than to expand it. Plus, you'll be relaxed that you'll be able to take items you haven't thought of in the last moment.
It's even better if the backpack has a detachable structure so that you can reduce its size and weight in case you don't need its full capacity. Such a pack on our list is #8 DavidNile Adventure 40 L.
Secondly, carefully choose based on features that provide comfort. Avoid packs with no padding on stress points (shoulder straps, back panel, and ideally on the waist strap).
This is important to ease physical tension, reduce tiredness, and prevent rubbing and strain, especially when you hike extensively with heavier loads.
The same matters when it comes to the ventilation system. When you hike in hot days with a backpack that doesn't allow the air to circulate freely, you'll be soon torturing yourself. Always aim to pick a pack that's well ventilated on the back panel in order not to retain the heat and the nasty sweat.
For more tips and information, feel free to check our detailed guide on what to look for when deciding on a hiking backpack that best fits your needs.
Now let's concentrate on what's different when going for a dirt-cheap hiking rucksack.
Buying A Cheap Hiking Pack – Things To Consider
Let's get one thing straight right ahead – when you're purchasing a low-priced backpack from a lesser-known brand you're making a trade-off.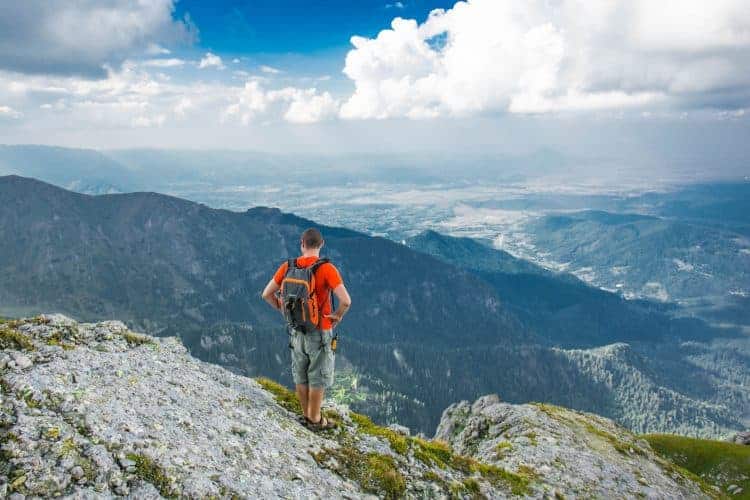 You give less money, but in most of the cases you have to be prepared to make a compromise with the quality you receive. You just can't expect that the ventilation system of a Chinese backpack for $40 will cool your back as efficiently as an Osprey backpack for $160.
Don't worry, though. There are exceptions. There are backpacks that offer a surprising level of quality for their price, and they will serve you well for years if you take a proper care of them. All the packs on our list above fall into this category.
In the following sentences, I will first show you what to look for when buying a low-cost pack for hiking. Then I'll quickly go through some best practices when it comes to maintenance and care.
What To Pay Attention To When Picking A Cheap Pack?
Like every car model has its Achilles heel (Volvo S60 has a small cargo space, for example), even the most expensive backpacks have their weak points. That's why we include some cons worth considering in every product review that we write.
Finding a worthy yet inexpensive pack from a cheap brand comes down to two major criteria:
It should meet your needs in terms of size, volume, number of pockets, and all that practical stuff already mentioned earlier.
It should have as less weak points as possible.
How many weak points you're OK with, that's only you to decide. Probably the kind of trip or adventure you're typically going to doesn't always require many pockets, so that's not a disadvantage for you. Or maybe you just don't care if the backpack has compression straps or a hip belt.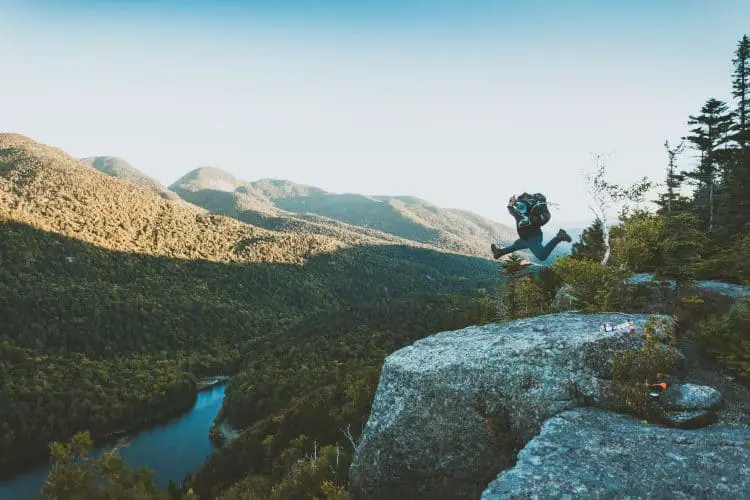 However, keep in mind that cheap packs generally have the following weak points. When choosing, pay attention to those and examine them thoroughly:


Zippers quality – this is regarded as a major problem of cheap brands. No one wants to deal with zippers that either get stuck or break easily. Inform yourself well about the quality of the zippers by skimming customer reviews, reading the product description of the backpack or asking questions online. It's best if the zippers have big handlers and are manufactured by the two major companies YKK or SBS.
Poor fabrics – a material that's too thin isn't good, no matter how lightweight it is. That means it might tear easily only after several uses of the pack. A good specification for fabric resilience is the denier. It measures the thickness of the individual threads used to create the material. Most of the backpacks are made out of nylon and polyester. Most of the product specifications mention the value of the denier. The higher the denier, the higher the durability. A decent hiking backpack has to have fabrics with a denier anywhere between 100D – 600D.
Low-quality stitching – the craftsmanship of cheap backpacks sometimes tends to be poor. Look for that as well. Some packs like, for instance, #6 Mountaintop Traveler 40 L have reinforced stitching on major stress points to enhance load supportability.
Limited or no warranty at all – a good brand no matter if it's cheap or expensive would stand behind its products and clients by providing clearly stated warranty and reliable customer service.
Now let's mention some quick tips in regards to backpack maintenance.
Taking A Good Care Of Your Pack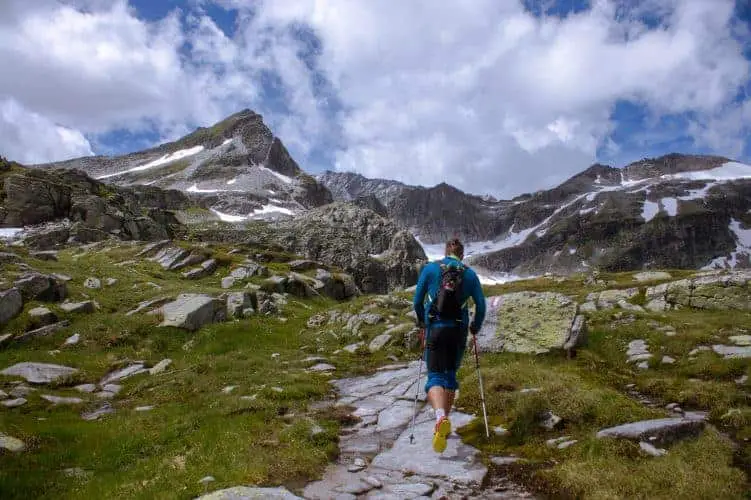 In general, cheap packs are more fragile and easy to break. Therefore, they require more care and attention. The following easy tips will increase the life of your hiking pack:
Conclusion
There you have it, folks. Time to end this long article.
Finding an affordable and at the same time reliable hiking backpack is not easy and definitely not impossible.
You just have to know how to look and what to pay attention to when choosing among the many sleazy brands on the market.
Cheap packs are often unjustly regarded as 'disposable' backpacks, but I strongly believe that you can discover some treasures out there. I hope the 8 treasures on our list will narrow down your choice significantly. And I also suggest to read the following article on how to further save money on hiking gear. 
See you on the trail. Have fun with your new backpack!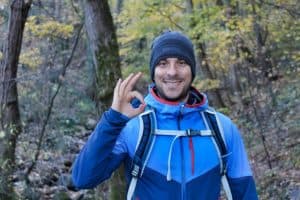 Founder of this website, Asen is a passionate hiker and writer who is also a gear nerd. He's been featured on many established hiking websites where he gives hiking advice & tips. When he is not trekking with his family or friends, he is writing articles and product reviews. Asen spends most of his time in Bulgaria but he constantly travels the world in seek of more unforgettable experiences. Read more about Asen here.